4 Premier League Championsí Take On The Lost Art Of Defending
August 26, 2021 By Admin
---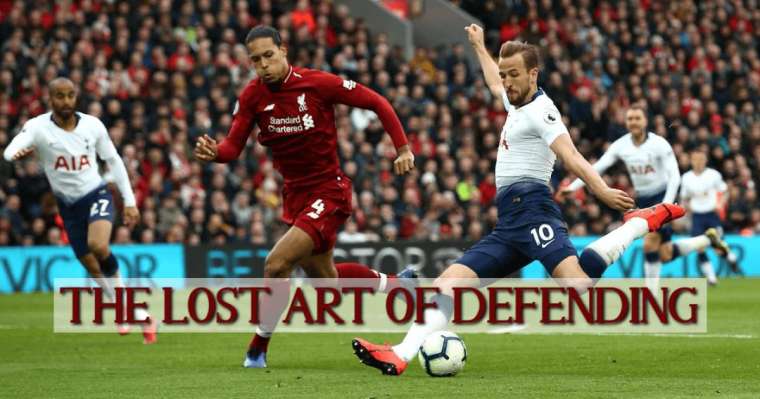 Preventing the opposite team from scoring goals is highly important as it can impact the win and loss in the game. And recently, four of the best former defenders, Mikael Silvestre, Gary Pallister, Lauren, and Nigel Winterburn talked their hearts out and expressed the evolution and the importance of the lost art of defending.
The evolution of defending techniques is a really big deal in football today, they said. Many modern formations feature a center-back or a full-back are key positions, unlike retrospect.
All four Premier League winners have praised and accepted the change that has taken place in football and have invented new ways to defend. And here, we are going to summarize the significant changes that happened till now.
The Lost Art Of Defending – What Champion's Say?
We knew we would only get the actual story of the evolution of defending in football from the players who have already tasted success. And for that, Betway Insider sat down with former Premier League winners and understood why and how it happened.
Mikael Silvestre
A French former professional footballer Mikael Silvestre is widely known as one of the best football defenders in history. He said that being a defender is not an easy task, you have to stay active and focused all-time in the field, not like strikers and midfielders who can rest their bodies for a while.
He shared his tactics and experience as a four-time Premier League winner with Manchester United on how much work defenders have to put in to compete at a high level.
Michael discussed new and old strategies used by defenders, to put your head where it hurts, to put your body on the line, which is now considered old-fashioned and no longer practiced. They have built new techniques and new ways of defending the opponent from scoring the goal.
He said, "Now you don't have to be as good defensively, but if you don't have that quality on the ball then you probably wouldn't get into a top team."
FIFA Confederations Cup winner Mikael has appreciated the evolvement and said the lost art of defending is not actually lost but yes new tactics couldn't be ignored for winning the cups and enormous success.
Nigel Winterburn
Another defending giant, Nigel Winterburn, is an English former professional footballer who played primarily as a left-back in some of the most popular football leagues from 1981 to 2003.
His words about defenders were a stone mark for all the upcoming football heroes like he said that, if you want to be renowned for centuries to come and beat the competition, you must have to be the one who practices all time and works extremely hard to outrank the rivals and be among the best first four teams.
During his discussions, Nigel added, "Now you don't have to be as good defensively, but if you don't have that quality on the ball then you probably wouldn't get into a top team."
As a defender, playing from the back was really tough and highly risky, but still, he becomes a most successful defender. Three league titles winner Winterburn has helped Arsenal to reach multiple awards including Football League First Division, Premier League, and European Cup Winners' Cup.
During his eight years of working with George Graham, Nigel shared his incredible experience. He said, "The way that teams are playing out from the back, modern defenders and full-backs have got be very comfortable on the ball because they're often in advanced areas."
"But we were always judged by what we did defensively under George." He then added, "Down my side, I could go and play, but you knew that Lee [Dixon] would have to tuck round alongside the other two center-halves and vice versa if Lee went."
While expressing his experience, Winterburn said, when he started his career, the game was a lot slower as compared to now, it has completely changed and much better than the prior tactics.
There has been a major change in the football grounds, which has had a huge impact on defenders' performance. Unlike the past, modern artificial turf pitches are more durable than natural grass because they are a hybrid of the two. That is also the big reason for the lost art of defending.
Gary Pallister
Gary Andrew Pallister is an English former professional footballer who played as a defender throughout his career. Among football fans, he is considered one of the best and most energetic players. Besides, he is also among the richest football defenders the world has ever seen.
In a recent conversation, he mentioned that the lost art of defending in football is the reason for this continuous growth, which is an amazing achievement and an ideal situation for all football fans and players. Four-time title winner at United, Gary also accepted the fact that pitches are completely changed as compared to now, and are more flexible and handier for all players, especially for defenders.
"A lot of the issues were to do with the pitches," says Pallister. He added, "If you look at the pitches I played on in the early part of my career, they looked like rugby pitches. Nowadays they're like bowling greens and you can take more risks if you trust the pitch."
PFA Player of the Year Gary further added that old players were more disciplined and creative than they are now, but today all footballers have much more equipment and do not necessarily have the same level of discipline.
Lauren
Former Cameroonian footballer of Equatoguinean origin Laureano Bisan-Etame Mayer who formerly played as a right-back for the Cameroonian national team. He has won multiple awards including African Nations Cup Player of the Tournament and PFA Team of the Year.
Widely known as an Invincible force in defense, he served his duty with some of the richest football clubs of all time. Lauren recently said that it's really tough to be successful in football because of the evolution, new equipment, and new strategies.
Yet it's a new era of football but still, not everything is good, one needs to follow the traditional skills and also advanced skills to get massive success. If any player believes that old tactics are lost, they are lying to themselves.
Lauren believes that defending is one of the best skills a footballer ever has, he really supports defenders as he says, "The game is not in their favor, some people would go as far as saying the art of defending is gone."
In addition, he said that he supports evolution. The change is good and we must follow new strategies, but ignoring the traditional skills will not lead to success.
Final Words
It's a very common thing that the world has evolved and everything has changed completely till now. So, yeah, we are all experiencing new things every day and get done more in less time. Exactly the same way football also has been revolutionized into phenomenal ways.
Competition and curiosity for being the best is a really big reason for having a different world as compared to the old times. The more we focus and make difference the more we grow.
So, that's all for today folks! Feel free to drop your queries in the comment box below!