Top 10 Best Sports Autobiographies You Must Read This Year
June 10, 2021 By Admin
---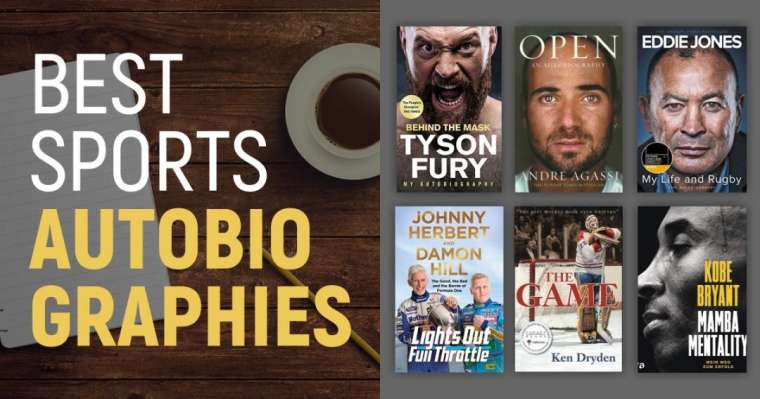 Numerous people around the world follow some of their favorite sports legends. Without any doubt, these superstars are the inspiration for their fans to live extraordinary lives. These favorites proved to the world that they are not something to forget sooner because they achieved so much in their lives with lots of effort. Some of them shared their efforts, struggle, and success for the fans in the shape of best sports autobiographies to learn from their lives. Here we will discuss the top 10 of them for you to read to learn some great lessons from the lives of your favorite stars.
Best Sports Autobiographies | All-Time Rankings
10. No Spin - Shane Warne (Cricket)
9. Able - Dylan Alcott (Athletics)
8. I Never Had It Made - Jackie Robinson (Baseball)
7. Between The Lines - Victoria Pendleton (Cycling)
6. How To Be A Footballer - Peter Crouch (Football)
5. Jonny - Jonny Wilkinson (Rugby)
4. There Is No Map In Hell - Steve Birkinshaw (Marathon)
3. Alastair Cook - Alastair Cook (Cricket)
2. How To Build A Car - Adrian Newey (Formula 1)
1. Sevens Heaven - Ben Ryan (Rugby)
Sportsmen are behind the success of all the most popular sports around the globe. But, most of their life stories are completely unknown to common man until now. Here are the best sports autobiographies you should read right now.
10. No Spin - Shane Warne (Cricket)
"No Spin" provides an insightful look at Shane Warne's cricketing career and personal life. A record-breaker and one of the greatest spinners in cricket history, Warne, changed the sports history. He is an iconic cricketer of the twentieth century, according to Wisden's list. Worldwide, he is regarded as an idol in the sport - a hot topic of conversation in the tabloids.
Although Shane Warne has been written and spoken about millions of times since he burst onto Test cricket's scene in 1992, his impact has only been scratched. Before this book, however, the real story was never told, and it has won accolades as one of the best sports autobiographies.
He grew up in suburban Melbourne, which shaped his life as a budding Australian Rules football player. With his 700th Test wicket, he made history by playing the legendary 'Gating Ball.'
He was involved in a controversy regarding diuretic pills in South Africa to his high-profile relationships with Hollywood stars like Elizabeth Hurley. Shane will not discuss anything, and he does it all with a sense of humor and directness. There is a lot more to read about the legend of spin bowling in No Spin.
9. Able - Dylan Alcott (Athletics)
Dylan Alcott, Australia's most inspiring athlete, was born in 1990 with a tumor on his spine a short time after he was born. Dylan, who was left with paraplegia after the surgery, was able to recover from the operation. Dylan grew up in a typical Australian family in Melbourne, where he was bullied and lonely. At the beginning of high school, his state was poor: depressed, overweight, and afraid of the future.
In a strange sort of way, he discovered sport, including swimming, basketball, and tennis. Dylan Alcott's book is one of the best sports autobiographies in history. In his 20-plus years, he has managed to accomplish a lot and share his great sports, media, and music event accomplishments.
Almost a decade later, the Order of Australia recipient has risen to the top of not just one but two sports, capturing a gold medal and a silver medal at the Olympics and in different sports. He has expanded his role beyond just sports to include motivational speakers, broadcasters, music listeners, keynote presenters, and youth mentors through his youth foundation.
Specifically, Able helps young disabled people in the media and sports fields see what is possible, which develops disability pride. It results in non-disabled people gaining the ability to overcome their prejudices and fears towards disabled people.
8. I Never Had It Made - Jackie Robinson (Baseball)
Initially published in 1972, the year Robinson died, the autobiography isn't about baseball: It's about Robinson's deeply held pursuit of justice for himself and all Americans. As the school's first four-letter athlete, he met Rachel, the woman who would become his wife, during his time at UCLA.
After WWII, Robinson served as a lieutenant in the army and was court-martialed for refusing to get on a bus in the back. After serving for three years, he received an honorable discharge. Before Branch Rickey of the Brooklyn Dodgers recruited him, he played for the Kansas City Monarchs in the Negro League.
One of the greatest baseball players, Robinson, threw a ball over the color line in the major leagues during the 1947 season, suffering terrible abuse. As he tells the story, he talks about his relationships with the sports figures he admired, like Rickey and his teammate Pee Wee Reese.
A most shocking chapter in the book concerns Jack Jr., who eventually recovered from his heroin addiction and died four years later in a car accident at age 24. One of America's genuine heroes provides a disturbing and enlightening self-portrait. The book of Robinson is known as one of the best sports autobiographies.
7. Between The Lines - Victoria Pendleton (Cycling)
For the first time, the Golden Girl of British cycling tells her story in sparingly candid detail about what drives her to compete in a sport she no longer feels passionate about. Donald MacRae, a two-time William Hill Award winner, co-wrote Between the Lines, THE Olympic life, making it one of the best sports autobiographies.
She won the first gold medal in 2005 at the cycling World Championships in 40 years. She continued to her success, winning gold medals at the Commonwealth Games in 2006 and another World Championship in 2007. In the 2008 Olympic Games, Pendleton was on top of the world and won again.
Behind the scenes, the cracks and strains began to appear on account of the press and the public's adoration. Pendleton retained her World Champion status in 2009, but it was a close-run thing, and her shield of invincibility started to drop. And since then, she was widely regarded as one of the greatest cyclists Europe has ever produced.
"Between the Lines" reveals Victoria's many lows as well as her well-known highs, detailing why she almost quit cycling before reclaiming her title as world champion in 2011. On the track, that was one of the most humiliating days of her life. Pendleton is told she is there for three groups of people by psychologist Dr. Steve Peters.
6. How To Be A Footballer - Peter Crouch (Football)
Love for soccer compels you to become a player. When you're a soccer player, you suddenly find yourself the stranger, most baffling person on the planet. Teammates are coming to training in bright red suits with matching top hats, canes, and sunglasses without any glass in them, and one is having so many sports cars they lose track of a Porsche they left at the train station.
One of the tallest footballers of all time, Crouch, has his funny bones intact. Almost every book's page is funny, wonderfully self-deprecating, and satirical of modern players' ludicrous ways. These interesting facts and answers make this book one of the best sports autobiographies in football.
We can tell what the registration plate is for a car by its name, so let's take a look in the dressing room and learn why many millionaires don't use shower gel and what Cristiano Ronaldo tells himself when looking in the mirror. These kinds of things keep this book entertaining and funny all the time. You can go for it if you want to spend some quality time and enjoy the current moment.
For the past 20 years, Crouch has been a professional footballer. He has 42 England caps and scored over 100 Premier League goals. I've enjoyed almost every moment of his career, during which he has won trophies, scored when he wasn't supposed to, been bought, sold, loaned, and abused.
5. Jonny - Jonny Wilkinson (Rugby)
In his career, Jonny Wilkinson has played in four World Cups and spanned three decades. As a result, he has accumulated many phenomenal achievements, world records, and an unforgettable drop goal. Jonny played the game with a peculiar calmness, masking a very different reality. In Jonny, he reveals how he overcomes incredible psychological obstacles to overcome the challenges of his sport.
These confessions make this book one of the best sports autobiographies in rugby. One of the highest-paid rugby players of all time, Jonny, spent most of his life searching for perfection and trying to be the best in his field. In this passage, he demonstrates that these two facets of his competitive nature took.
They had such a hold on him that they brought him to the top of the world, only to bring him crashing down in a spiral of despair. As his career progressed, Jonny experienced so many memorable highs and iconic moments. Then he faced an injury that led to depression.
The physical toll he knows his body has taken from rugby even since his youth is shown here. Although Wilkinson has spent most of his life playing kick-off, he admits that it wasn't always his intention to play that position. As he was about to leave the team, he adapted to the winning method Woodward devised.
4. There Is No Map In Hell - Steve Birkinshaw (Marathon)
Joss Naylor, the legendary fell runner of the Lake District, completed an entire circuit of all 214 Wainwright fells in only seven days and one hour in 1986, covering a staggering distance of over 300 miles. They said this team could ever break no record—the ultimate ultramarathon in the United Kingdom.
It would take more effort and suffer from the person who would attempt this superhuman challenge than ever before. As of 2014, Steve Birkinshaw was trying to break his record. He can work in the most challenging terrain as someone who has run elite outdoor orienteering races over rugged terrain for nearly forty years.
The Wainwrights challenge, however, is complex. To qualify, aspirants must complete two marathons and ascend over 5,000 meters every day for a week. Birkinshaw's account of his preparation, training and the mile-by-mile experience recounted in There is no Map in Hell describes the extraordinary demands he made on his mind and body.
This feat has both physiological and psychological effects. To reach the impossible, you must take the absurd challenge. His love of the fells, strength makes his book one of the best sports autobiographies. Those reading this book will be inspired by the tenacity of the athletes and passersby alike.
3. Alastair Cook - Alastair Cook (Cricket)
This is not a litany of events; date, who did what, where, and how. This is not a criticism. These details can be found elsewhere; Cook's views are much more challenging to locate. But sometimes, the context of what he says is confusing, and Alastair Cook the Autobiography can hop about in time and subject matter somewhat chaotically.
In The Autobiography of Alastair Cook, you will find thoughtful, exciting writing, and it is regarded as one of the best sports autobiographies. Essentially, it has the characteristic of a second book about it. It is common for cricketers to recall their early lives in an autobiography by providing anecdotes and opinions here and there.
A second book may be written later, perhaps after all his teammates have retired, which is a less reflective, more analytical, more opinionated, and more discursive work. One of the greatest left-handed batsmen, Cook, was a limited batsman and turned this into his huge strength.
He knew what he could and could not do, and he did the former and, especially when free from having to make white-ball runs, rarely strayed into the latter territory. It has, perversely, been harder getting by for someone like Ravi Bopara because his technical ability and agility enable him to concentrate on areas more potentially profitable than mine.
2. How To Build A Car - Adrian Newey (Formula 1)
It is Adrian's unique gift to understand drivers and race cars. He is incredibly competitive, but he is also delightful. This fascinating, powerful memoir is the writings of Adrian Newey, the world's foremost designer in Formula One. He is also the man behind some of the fastest pit-stops in F1 of all time.
Throughout the book, Adrian tells the story of his legendary 35-year career in Formula One, focusing on the cars he designed the drivers with whom he worked, and the races he participated in. The remarkable story of his journey makes this book one of the best sports autobiographies in Formula 1.
Adrian was already an engineering genius by the age of 12, drawing his ideas at 12 and taking a welding course the summer before. Throughout his racing career and his unprecedented success in Formula One, Button shares incomplete, entertaining, and insightful details about how a car works.
Mario Andretti, Nigel Mansell, Alain Prost, Damon Hill, David Coulthard, Mika Hakkinen, Mark Webber, and Sebastian Vettel are just a few of Adrian's most successful F1 drivers designed cars. During his career, there have also been incredible triumphs and tragedies, including the death of Ayrton Senna at Williams in 1994. All these exciting things make this one read a must.
1. Sevens Heaven - Ben Ryan (Rugby)
Ben Ryan's inspirational autobiography features the Fiji rugby coach who won the Olympic gold medal in rugby. The coach of Fiji's rugby sevens team, a red-haired, 40-something Englishman wearing spectacles, is given 20 minutes to decide whether he will become the nation's first-ever Olympic medalist. He has never been to Fiji. There have been no discussions about contracts or salaries.
It's no secret, however, that no one plays rugby like the men in these isolated Pacific islands, nor does anyone play football like the kids in the favelas of Brazil, nor does anyone run as fast as the kids in the Jamaican boondocks. The tremendous and remarkable career and entire journey make this book at the top of the best sports autobiographies.
Having only the bare essentials reduces the resources available to rugby nations. Because they lack money, help, and resources, their best players are left for more prosperous, greedier countries. He sets off on an unforgettable journey with that simple word, encompassing witchdoctors and rugby-obsessed prime ministers.
Sun-smeared dawns and devastating cyclones, intense friendships and bitter rows, and phone taps in the phone lines. A performance such as the one Ben and his 12 players will deliver in Rio will bring Olympic gold to the team and reach new heights in the sport and make them living legends at home.
Final Words
We hope you liked the list of our best sports autobiographies. Feel free to tell us in the comment section about the list.
FAQs Regarding Sports Biographies
Q. How much do sportswriters make a year?
Sportswriters earn an average salary of $30,00-50,000 a year. According to Glassdoor, sportswriters make an average of just under $32,000, while ZipRecruiter reports that they earn $49,000 on average.
Q. What basketball player writes a book?
It is a far more remarkable thing than A-Rod writing a book for kids. Dennis Rodman giving his two cents to young ones is something that can't be imagined.
Q. Was Kobe Bryant a good writer?
Among Kobe Bryant's accomplishments was his work as a storyteller and content creator. He spent his days creating inspirational stories for the next generation of athletes.