Top 20 Most Unforgettable Moments In Indian Sports
November 28, 2021 By Sourav
---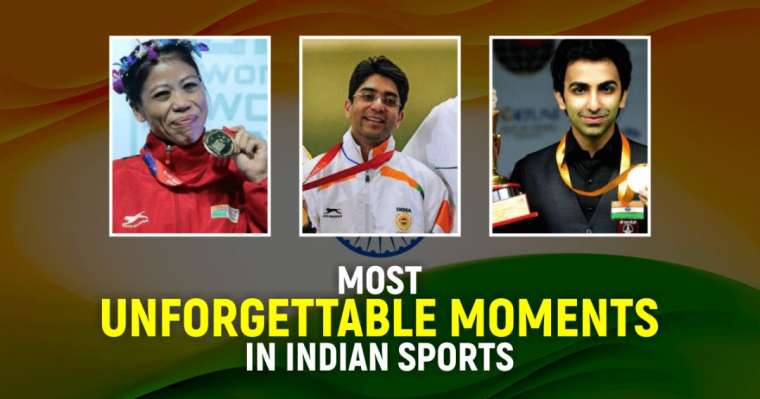 Brace yourselves for the sheer awesomeness of Indian athletes. The history of Indian sports has been awe-inspiring, let's have a look at the golden moments from history. And, here are the Most Unforgettable Moments In Indian Sports.
Most Unforgettable Moments In Indian Sports
For years India has produced several fine athletes who have showcased glorious potentials and managed to secure prestigious medals in various fields of sports. This is part 1 of my attempt to list some of the most memorable moments in the history of Indian sports.
20. When Kumble Nailed Brian Lara With A Broken Jaw
One of the most inspiring and not-to-mention grossly shocking moments in the history of Indian sports, hell, in the history of the entire sport was during the 2002 Antigua Test when one of the greatest spin bowlers of all time, Anil Kumble, emerged from the pavilion, ready to knock some batmen out with bandages around his head. He was suffering from a broken jaw at a time when the team needed him most.
So, he decided to forget the pain and give his best shot. Consequently, he dismissed Brian Lara to everybody's shock.
The next day he flew down to Bangalore to get his jaw fixed. What a man! And, this moment deserves its mention among the most unforgettable moments in Indian sports.
19. The Golden Era of Indian Football Between 1951 And 1962
It all began with the victory of the 1951 Asian Games hosted by India. The following year, the Indian football team continued their onslaught by winning the Colombo Quadrangular Cup in Sri Lanka.
Within the next ten years Indian Football team had won Colombo Quadrangular Cup 3 more times, finished fourth n the 1956 Olympics and the 1958 Asian Games, they also came out victorious in the 1962 Asian Games.
Sayed Abdul Rahim was the badass legendary coach and manager who lead the Indian national team during its golden year. It's no wonder back then the Indian team had ranked among the top 20 football teams of the world. This incident now holds its place among the most unforgettable moments in Indian sports.
18. When An Indian Won An Individual Olympic Medal For The First Time
His name was Khashaba Dadasaheb Jadhav. He was a wrestler and by winning a bronze medal at the 1952 Summer Olympics in Finland, Jadhav gave India one of its most glorious moments to revere in retrospect. But sadly despite all this Jadhav was the only Olympic medalist who didn't receive the Padma Award.
Post-Olympics Jadhav joined the police force and was praised for his work and dedication. But later on, when he had retired, he was unable to get a pension and died in poverty.
For half a century Khashaba Dadasaheb Jadhav was forgotten until 1996 when Leander Paes became the second person to win a bronze and Jadhav's name emerged as people recollected him being the first one. And in 2001 he finally received his long-due recognition with the Arjuna Award.
17. When P. T. Usha Sweep 4 Golds At The Asian Games
Talking of History Of Indian Sports, Born in a small Indian village with an extremely long name (it's Pilavullakandi Thekkeparambil Usha if you were wondering), Usha is today (though largely unknown) one the finest Indian athlete.
She is a track and field athlete nicknamed 'queen of Indian track and field' and sometimes called 'the Payyoli Express. During the 1968 Asian Games hosted by South Korea, Usha made everybody's head spin by sweeping off, not one or two or even three but four, goddamn gold medals.
Added to this she also managed to win a silver in the track and field events. No wonder they call her the Payyoli Express. And now, this one deserves its mention among the most unforgettable moments in Indian sports.
16. When Indian Won The World Hockey Cup
Speaking of History Of Indian Sports, On 15th March 1975, the Indian Hockey team made history by winning the World Cup after beating Pakistan with a score of 2-1. During the championship, legends like Captain Ajit Pal and Aslam Sher played one of the best games in their entire career.
This incident now deserves its mention among the most unforgettable moments in Indian sports.
Fun fact: This happened during the third Hockey World held in Kuala Lumpur, Malaysia between March 1 and 19, 1975. And it was for the first time that the Hockey World Cup was being hosted by an Asian country.
15. First Indian To Win All England Badminton Championship
Prakash Padukone in the year 1980 won the coveted England Open title, becoming the first Indian to do so. Encouraged by his father, who was also the Secretary of the 'Mysore Badminton Association', Prakash began playing badminton when he was quite young.
From then on he has flourished in the game, winning the national championship a record nine times. Prakash has been decorated with the Arjuna Award and the Padma Shri in 1972 and 1982.
Fun fact: Yeah, you've probably guessed it or maybe being an Indian (or Indian film fanatic) you know that Bollywood's dazzle darling Deepika Padukone is Prakash Padukone's daughter.
14. The First Indian To Swim Across The English Channel
In 1958 Mihir Sen, a long-distance swimmer became the first Indian to swim across the English Channel from Dover to Calais. And not just that, in 1966 he managed to swim across 5 channels including the Strait of Gibraltar, Dardanelles, Panama Canal, Bosphorpous, and Palk Strait.
Consequently, he was awarded the Padma Shri and the Padma Bhushan in 1959 and 1967 respectively. And this moment cemented its place among the most unforgettable moments in Indian sports.
13. When Milkha Singh Lost The Bronze By 0.1 Seconds
Not a glorious moment but a memorable one. Those of us who live in India, really need no introduction to this man, especially after the release of the blockbuster film 'Bhaag Milkha Bhaag' (2013).
But for everyone else know that Milkha, also called The Flying Sikh, was a track and field sprinter, and a famous one at that. In the 1960 Olympics, he gave a spectacular performance at the 400 meters final but finished fourth-place by 0.1 seconds.
But this didn't stop him from becoming India's most revered Olympian. This incident definitely deserves its mention among the most unforgettable moments in Indian sports.
12. The Indian Who Reached As High As No. 6 In Tennis Ranking
He was a man who was named Ramanathan Krishnan who shined brightly in the 50s and 60s. Krishnan didn't just reach World No. 6 but also made it to the semi-finals at Wimbledon in the years 1960 and 1961 respectively.
Krishnan's style of playing has been given various ridiculous names like 'touch tennis', 'pure oriental charm', and 'Eastern magic'. Besides, he also made his name among the greatest tennis players of all time.
He retired in 1968 and now lives in Chennai. Krishnan is the recipient of all three Arjuna awards, the Padma Shri and the Padma Bhushan in 1961, 1962, and 1967. It now holds its place among the most unforgettable moments in Indian sports.
11. Karnam Malleswari's Shining Performance At The Olympics
First off let me introduce you to Karnam Malleswari. She is an ass-kicking weightlifter who has had a decade of a glorious career. What did she achieve during all this time? Well, 11 prestigious gold, 3 silver, and an awesome Olympic bronze.
Now speaking of the bronze, she won that at the 2000 Summer Olympics hosted by Australia and consequently became the first Indian woman to win an Olympic medal.
She definitely made her name among the best Indian sportsmen of all time. And, this amazing feat of her now deserves its mention among the most unforgettable moments in Indian sports.
10. When Saina Nehwal Nailed The Indonesian Open
In the year 2009, Saina Nehwal by winning the Indonesian Open became the first Indian to win the most prestigious title of the BWF Super Series. She defeated the Chinese superpower, Wang Lin.
Nehwal assured herself of the No.1 spot in Women's Singles on March 28, 2015, becoming the first Indian woman to do so and the second Indian after Prakash Padukone.
Just so that you know Saina was a Bronze medal winner at the London Olympics 2012. She also has a brown belt in Karate, just saying. Besides, she also made her name among the best badminton players of all time. And now, this phenomenon deserves its mention among the most unforgettable moments in Indian sports.
9. Anju Bobby George's Glorious Long Jump
Anju Bobby George made a historic 6.70m long jump at the 2003 World Championship in Athletics. She was awarded a bronze medal, becoming the first Indian to ever win a medal at the prestigious Championship.
Again in 2005 at the IAAF World Athletics Final, Anju, in a performance that she considered her best, won gold.
Fun fact: In the 2005 IAAF World Athletics Final in Monte Carlo, Anju came second winning the silver but owing to the disqualification of Tatyana Kotova from Russia, she was upgraded, winning the gold medal.
8. Indian Kabaddi Team Won The First Kabaddi World Cup
The first Kabaddi World Cup was held in the year 2004 and unsurprisingly Indian team nailed the cup. Since 2010 the Kabaddi World Cup has become an annual event and India remains unbeaten to date (in both men's and women's categories).
For those of you who don't know what Kabaddi is, here was a tiny introduction to this amazing sport – The game has its origin in ancient India.
Largely popular in South Asia, the Indian Kabaddi follows four kinds of styles - Sanjeevani, Amar, Gaminee & Punjabi. It's also the national game of Nepal and Bangladesh.
7. Rajyavardhan Singh Rathore's Silver Win
In the 2004 Summer Olympics at Athen, Rajyavardhan Singh Rathore became a national hero after winning Silver at the Men's Double Trap with 179 points. Rathore is the second Indian sportsman, following Norman Pritchard's double win at the 1990 Paris Olympics, to have won individual Silver for the country.
Fun Facts: Rathore is a Rajput and a direct descendant of Bikaner's first King Rao Bikaji. He studied in the National Defence Academy and till 2013; he was a Colonel at the Indian Army.
Rathore is also a politician and under Narendra Modi's Indian government, serves as Minister of State for the Ministry of Information and Broadcasting.
6. Pankaj Advani Won The World Billiard Championship Like A Boss
During the 2014 IBSF World Billiards Championship held at Qawra, Malta, Advani nailed a 'grand double' by winning both the time and point formats, creating a sensation throughout the country.
Pankaj has a long list of achievements in the world of billiard and snooker. And quite obviously he holds a number of rare records like, being the only Indian who won the amateur title for both billiard and snooker, the only man who in a single season won all 5 regional, national, and world billiards tournaments.
Undoubtedly he has been showered with a great many national awards. And this feat of him now deserves its mention among the most unforgettable moments in Indian sports.
5. When Narain Karthikeyan Became India's First Formula One Racer
Narain Karthikeyan (has a rather long name - Kumar Ram Narain Karthikeyan, just saying) is Indian's first F1 racer who made his debut with the Jordan team in the year 2005.
And since that day, it has achieved its place among the most unforgettable moments in Indian sports. A little history behind this smoking driver – Narain is actually related to India's former most famous racing driver S. Karivardhan.
Following 2005, Narain became a Williams F1 test driver for two years and like many F1 drivers, he too began stock car racing. In 2007, he also drove for the Indian A1 Team.
4. When Abhinav Bindra Won India's First Individual Gold Medal
It was during the 2008 Beijing Olympics that Abhinav nailed Gold at the 10 m Air Rifle event becoming the first Indian to do just that. Also, by winning the Gold, Abhinav made a record of being the only Indian who has won both the World and Olympic titles simultaneously.
In 2014, Abhinav once again nailed Gold at the Commonwealth Games. And since then, he made shooting one of the most popular sports in India.
Besides, his feat also deserves its mention among the most unforgettable moments in Indian sports.
3. Mary Kom's Golden Winning Moment At The Asian Games
Kom (born Mangte Chungneijang Mary Kom) is a badass Indian boxer. She's popularly known as 'Magnificent Mary'. In the 2014 Asian Games held in South Korea, Mary following a glorious performance became the first Indian women boxer to win Gold at the said event.
Besides these, Mary is the only female boxer who had won all six Championships.
As if these weren't enough, she is also a 5 times champion of the World Amateur Boxing. Again in 2012, Mary became the first Indian woman boxer to qualify for the Summer Olympics. She took an Olympics Bronze Medal home that year.
2. Sachin Tendulkar's Glorious 100th International Century
In India, Sachin Tendulkar is a household name. And rightly so; this cricket God has tons of records and accolades in his name. On 16 March 2012, the legend scored his 100th international century at the Asia Cup held in Bangladesh.
It was a much-awaited first-of-its-kind moment. And the whole world waited to witness this moment of magic by the greatest cricket player of all time.
Sachin said he had been feeling the sting of pressure before achieving this feat. Everywhere he went people talked about his 99 century and how he'll soon score the 100th one (which he eventually did). India lost the match though, just saying. But, this incident now holds its place among the most unforgettable moments in Indian sports.
1. The Day Yuvraj Singh Swung Six Sixes In A Single Over
Speaking of the most unforgettable moments in Indian sports, I still remember the national newspaper having six simultaneous pictures of Yuvraj swinging his bat seconds after smashing six sixes one after another in a single over.
And since that day, he achieved his place among the most hard-hitting batsmen of all time. It was during the 2007 World Twenty20, in a match against England.
The unfortunate bowler was Stuart Broad. Only thrice in the entire history of world cricket has such a feat been performed, but never between Test cricket match in an international game.
Honorable Mention in most unforgettable moments in Indian sports
India won the 2011 Cricket World Cup
Indian cricket team went on to have a hands-on world cup after hiatus of 28 years. The star-studded side stood up as the champ and this is one of the most fascinating moments for sports fans out there. At the same time, one can't forget the 1983 world cup when India first won the world cup.
Unforgettable Moments In Indian Sports - Infographics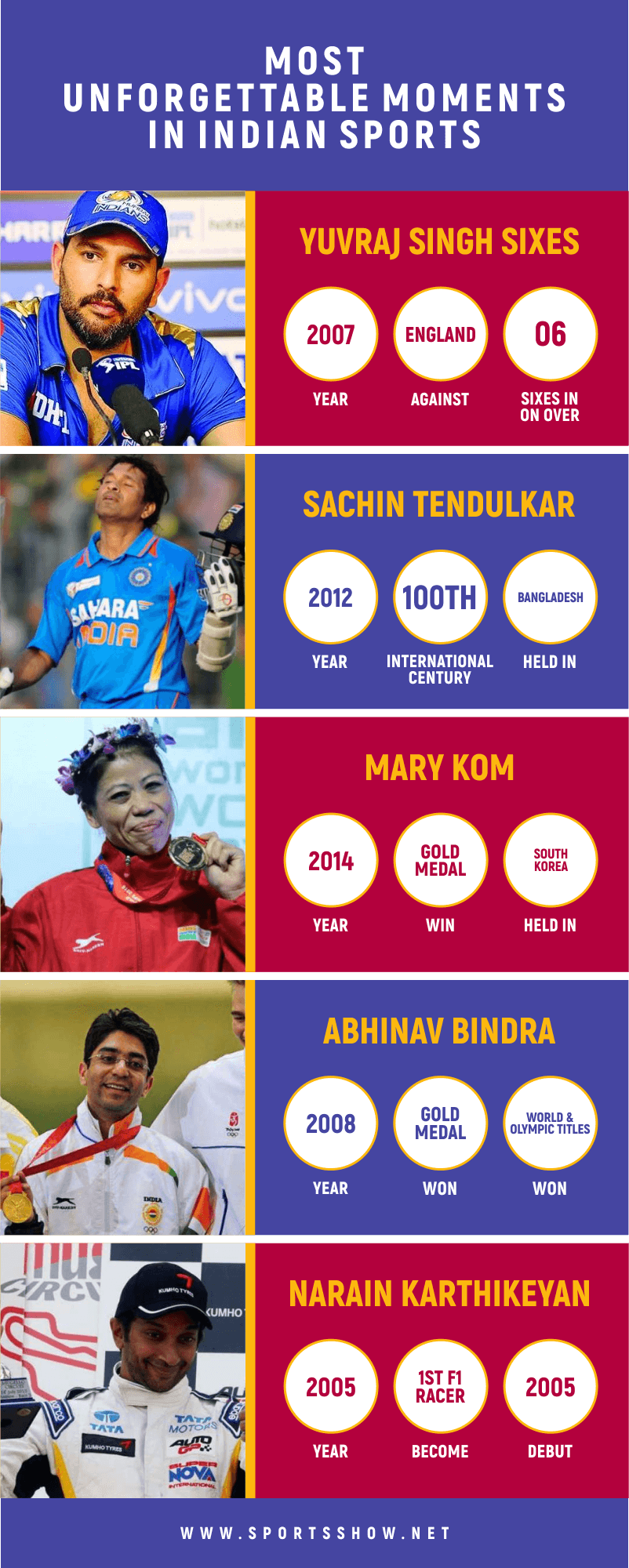 Can you recall some of the other grandest moments from the most unforgettable moments in Indian sports? if yes, don't forget to tell us in the comment box below.