Tennis is one of the most popular sports in the World. It was mostly known as the game of rich people as it is an Olympic sport played at all levels. Now, it is played both individually and now in the pair of two, known as doubles. Different players ruled in the tennis at different times. In this post, we are going to tell you about the top 10 Greatest Tennis players of all time.
Top 10 Greatest Tennis Players of All Time
10. Jimmy Connors
He was shorter than the great players of his time but he was more swift than all of his rivals. He won 5 U.S. Open titles two Wimbledon titles and then he also won one Australian Open. At his peak, he was ranked for more than 159 weeks as the No 1 player in tennis.
Besides all this, the most amazing thing to place him on the list of top ten tennis players was to reach the semifinals of great U.S. Open in at the age of 39 when most of the tennis star is not able to run swiftly.
9. Ivan Lendl
Ivan Lendl a legendary player of the 1980s won the Grand Slam 8 times and played in all 19 Grand Slam finals and given a place in the top ten tennis players. He is the third to have more weeks as No 1 player in history after Sampras and Federer.
After retirement, he worked with Andy Murray and because of this Murray became popular as well.
8. John McEnroe
John McEnroe was the finest left-handed serve player ever born and included in the list of top ten tennis players because he won 7 singles Grand Slam and 9 doubles title.
He ruled for more than 5 years from 1979 to 1984 when he won all the Grand Slam of that time which ended when he loses a match against Ivan Lendl in 1984 and his best match was in 1980 against the world's best Borg.
7. Novak Djokovic
The Serbian legend has already achieved 15 Grand Slams till now that also includes 8 Australian Open titles. Besides, he also achieved 4 Wimbledon titles and 3 US Open titles. He achieved the French Open in 2016. He already marked his place in the heart of the fans as he gave the hardest competitions to Federer, Nadal, and Murry.
With career prize money of $131,040,932 and 860–180 (82.69%) career record, he is one of the greatest tennis players of all time.
6. Andre Agassi
Andre Agassi was born in Las Vegas and is known for his great comebacks. He was taught from his father and coached by him at an early age and due to his strictness, Agassi holds a place in the top ten tennis players of all time. In 1997 Aggasi was slipped to the 141st position in the world ranking but he came back and within two years he regains the No 1 position.
Agassi holds the record to win eight Grand Slam titles and he also won the Olympic Gold Medal in the year 1992. He wants to extend his career but the back injury didn't allow him to play at all and he finally decides to retire at the age of 36. He definitely deserves his place among the greatest tennis players of all time.
5. Bjorn Borg
Borg has marked his name in the tennis world with his winning streak of 11 Grand Slams. He made that feat as the only tennis star ever to do so. Borg has achieved most of his titles at the age of just 25. That also shows his world-class fitness and tennis excellence.
He was included in the list of top ten greatest tennis players of all time not only because he won 11 Grand Slam but the main thing in his greatness is that he won Grand Slam followed by French Open and wobbled for three consecutive years where he shows his fitness. If he didn't retire early in his career he should have the record to won many more Grand Slams.
4. Rod Laver
Being on the list of top ten greatest tennis players, he is known for his master class. He achieved the Grand Slam in 1962. After that, he turned towards professionalism and remained unknown for more than 6 years. He then came into the battle with his class and excellence following that break.
He has made his name as one of the best players to win the Wimbledon in 1968. That same year, he achieved the Grand Slam. Within the course of a few years, he achieved 17 tennis titles and secured his place in the heart of the fans.
3. Pete Sampras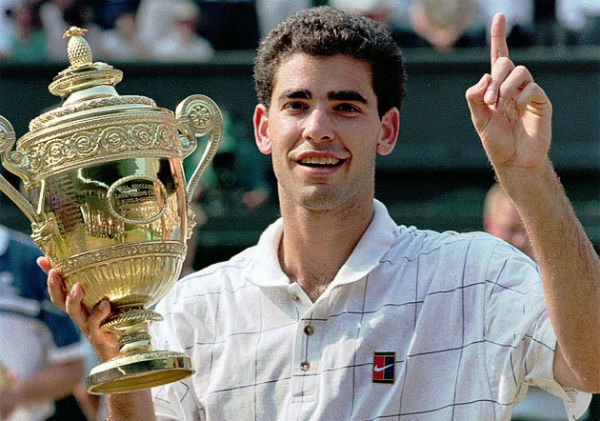 Originally from Greece, Sampras lived in California during his heydays. He held the record of winning 14 Grand Slams until Roger Federer surpassed him several years later. Sampras still holds the record for staying at the top spot of tennis ranking for an unbelievable 286 weeks.
He has achieved 7 Wimbledon titles during his active tennis career. And for that, fans dubbed him as the 'winning machine' at that time. He has also earned his place in the heart of his fans for his miraculous first and second serve. During his peak time, very few players had the ability to block his serve.
2. Rafael Nadal
One of the most successful players of the French Open, Rafael Nadal, consistently secured his place among the top three since the start of his pro career. Till now, he has eight french open titles under his name. And that feat helped him to secure his place among the greatest tennis players of all time.
Known as the king of the clay court, Nadal gives his best for every single point in the game. Besides, he also proved his worth and excellence in almost any ground surface and against each great player of modern times.
1. Roger Federer
One of the most important athletes right now, Federer, deserves the top place in the list of the greatest tennis players. He has achieved 20 Grand Slam titles till now, a record on its own. Besides winning the title for that many times, he also has the record for participating in the 36 quarterfinals of Grand Slam.
Federer is not only swift but clever as well. He correctly judged his opponent and plays according to the plan. And that quality helps him to maintain his place in the top list of tennis. Till now, he has achieved 101 career titles as a pro athlete.