Mathieu Debuchy Biography, Age, Career, Net Worth, Salary, Awards, Personal Life, Family, and Many More
February 20, 2021 By Sourav
---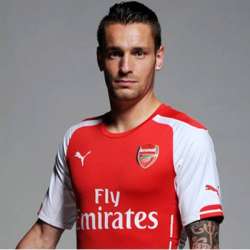 | | |
| --- | --- |
| Real Name | Mathieu Debuchy |
| Nick Name | Debuchy |
| Profession | Football Defender |
| Nationality | French |
| Height | 5 Feet 10 Inches (1.77 Meters) |
| Weight | 170lbs (77 Kgs) |
| Birth Date | 28-07-1985 |
| Age | 35 |
| Gender | Male |
| Birth Place | Fretin, France |
| Zodiac Sign | Cancer |
| Religion | Christian |
French footballer Mathieu Debuchy currently plays for the French Ligue 1 club Saint-Étienne besides making regular appearances for the France national football team. Besides being a prominent right back, he can also operate as a deep-lying playmaker. He started his professional football journey with Ligue 1 club Lille. With them, he has achieved the French double of Ligue 1 and Coupe de France in the 2010-11 season. After playing 10 seasons for Lille, he moved to Premier League and joined Newcastle United.
Mathieu Debuchy Biography
After playing for 18 months at St James' Park, he joined Arsenal in 2014. He then became a regular starter at the Gunners' squad till 2016, before joining Bordeaux on loan. Debuchy stayed there for a few months while making 9 appearances and came back to Arsenal. He then finally joined Saint-Étienne in 2018. Besides his club appearances, he has also established his prominence in the international circuit. He made his debut for the French team in 2011 and has appeared in more than 30 matches for Les Bleus.
Mathieu Debuchy Early Career
Debuchy started his footballing journey with the youth academy system of his native club Frétin in 1992, at the age of just seven. After a single season of training, he joined the Academy of Lille in 1993 at the tender age of just eight. He went through a rigorous training session at the club for a decade between 1993 and 2003. Debuchy has made several appearances for the club's youth squads during that time. He then caught the attention of first-team officials during the winter break of the 2003–04 season.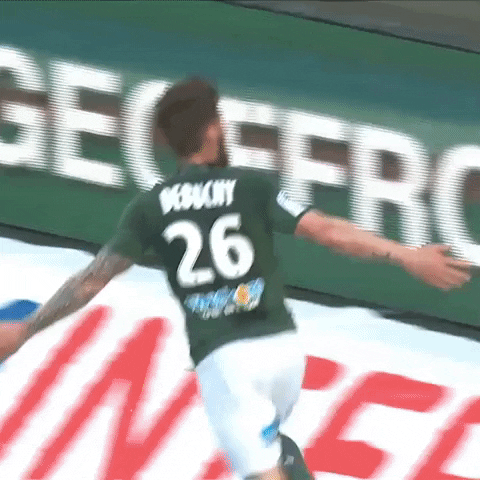 Mathieu Debuchy Lille Career
Debuchy received the 'Number 33' shirt at the club after his official promotion to the first team. He then made his debut in a Ligue 1 match against Metz on 31 January 2004. Debuchy switched to 'Number 2' jersey in the 2004-05 season. That same season, he scored his first goal for the club in a Ligue 1 match against Bordeaux. He helped the club to achieve the UEFA Champions League qualification that season. Besides, he also helped Lille to reach the 'Round of 16' in the UEFA Cup in the 2004-05 season.
Debuchy signed a contract extension with the club on 4th April 2006 for his association till 2010. Then on 28th February 2011, he signed another four-year contract extension. He helped Lille to defeat one of the richest football clubs, Paris Saint-Germain, at the final of the Coupe de France on 14th May 2011. That same season, he also helped the club to win the French Ligue 1 to complete their domestic double. With that feat, he marked the club's first double since the 1945–46 season.
Mathieu Debuchy Newcastle United career
Debuchy signed a five-and-a-half-year contract with Premier League club Newcastle United on 4th January 2013. The club has reportedly paid nearly €6.5 million as his transfer fee to get him on their side. He then made his debut against Norwich City on 12th January 2013. Debuchy scored his first goal for the club in a Premier League match against Sunderland on 27th October 2013. He then received his first red card for Newcastle in a match against West Bromwich Albion on 1st January 2014.
Mathieu Debuchy Arsenal Career
Debuchy signed a long-term deal with one of the English Premier League winners, Arsenal, on 17th July 2014. The club has reportedly paid around €14 million to Newcastle to get him on their side. He has received the 'Number 2' shirt upon his arrival at the club. Shortly after, he made his debut for the Gunners in the FA Community Shield match against Manchester City on 10th August 2014. He then made his Premier League debut against Crystal Palace on 16th August 2014.
Debuchy made his European competitive debut in the UEFA Champions League play-off match against Besiktas on 27th August 2014. He then scored his first goal for the club against Liverpool on 21st December 2014. Debuchy joined Girondins de Bordeaux for a four-month loan from Arsenal on 1st February 2016. Upon his return, he made his UEFA Europa League debut against FK Crvena Zvezda on 19th October 2017. He has made just 13 Premier League appearances for Arsenal at the Premier League during his time at the club from 2014 to 2018.
Mathieu Debuchy Saint-Étienne Career
Debuchy joined the French Ligue 1 club AS Saint-Étienne on 31st January 2018. He then made his competitive debut for the club against Amiens SC on 2nd February 2018. Interestingly, he has also scored his first goal in his debut match. He then scored his first Derby du Rhône goal against Olympique Lyonnais on 25th February 2018. Tragically, he scored an own goal against Paris Saint-Germain on 6th April 2018. Recently he has signed a new three-year contract extension with Saint-Étienne on 25th June 2018.
Mathieu Debuchy International Career
Debuchy has earned his first French senior call-up under new manager Laurent Blanc on 5th August 2010. He has earned it to appear in a friendly against Norway on 11th August 2010 but remained as an unused substitute. Debuchy finally made his senior international debut in a Euro 2012 qualifying match against Albania on 7th October 2011. He then scored his first international goal against Iceland on 27th May 2012. Debuchy made his European Championship debut in a group match against England on 12th June 2012.
Didier Deschamps then called him for the French squad on 3rd June 2014, to participate in the FIFA World Cup. He has made five appearances for his nation and helped them to reach the Quarter-finals of the 2014 FIFA World Cup. Debuchy then earned his place in the 23-man standby list of the 2018 World Cup in Russia. From his international career between 2011 and 2018, he has made 27 official competitive appearances for the Le Bleus brigade while scoring twice.
Mathieu Debuchy Personal Life
Born in Fretin, France, Mathieu Debuchy is of pure French descent through both of his parents' sides. He grew up in northern France under the guidance of his parents, Jean-Pascal Debuchy and Dominique Debuchy. Mathieu married his long-time girlfriend Ludivine Debuchy in 2007. The couple currently has three kids together, Manon Debuchy, Lalou Debuchy, and Lukas Debuchy.
Mathieu Debuchy Net Worth
The current net worth of Mathieu Debuchy is estimated to be around €10 million as of the end of 2018. His market value now stands at €4.5 million as of the ongoing football season of 2018-19. However, he has reached his highest market value of €15 million in August 2012. He now gets nearly €50,000 weekly wages from his current Ligue 1 club Saint-Étienne. Besides his professional income, he has also made his wealth through several of his personal endorsement deals. He is currently associated with Adidas and wears their Adidas Predator 18.1 boots.
Mathieu Debuchy Individual Awards
With Lille, Debuchy won both the French Ligue 1 and Coupe de France in the 2010–11 season. With Arsenal, he won the FA Community Shield twice consecutively in 2014 and 2015. Besides his team success, he also has several accolades under his name. Some of the most notable individual awards that he received till now are as follows:
UNFP Ligue 1 Team of the Year: 2011–12
UNFP Player of the Month: February 2018