Top 10 Greatest Canadian Athletes Of All Time
August 12, 2021 By Admin
---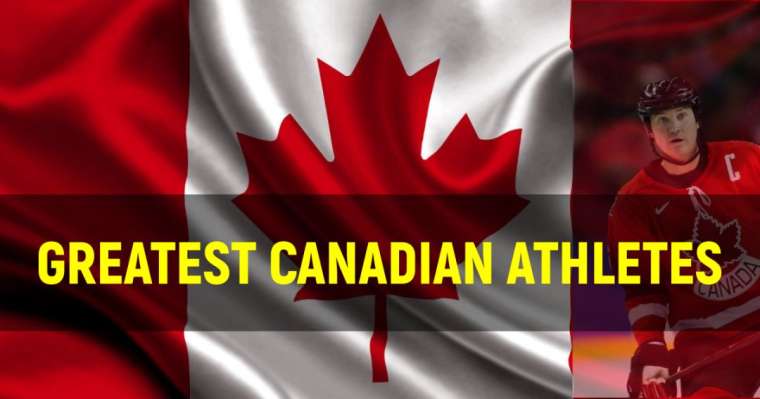 Many of Canada's athletes have made their mark on world sport over the years and represented Canada at its highest level. These greatest Canadian athletes inspired millions of sports fans worldwide with their astonishing career performances and lifestyle.
Athletes like these are some of the most recognizable in the world among their related sports fans. We are going to discuss the greatest of them in sports history with their athletic achievements.
Greatest Canadian Athletes | All-Time Ranking
Canada has adopted all the popular sports in America as its own. But, they still have some unique sports and their talismans. So, here they are.
10. Jacques Villeneuve
Jacques Joseph Charles Villeneuve, known as Jacques Villeneuve, is a professional auto racing driver from Canada. Villeneuve is one of the greatest Canadian athletes who shine their country's reputation worldwide with their tremendous achievements in their sport.
Besides that, Jacques also holds the record for most wins in the first Formula One season with four wins. He also won the Indianapolis 500 race in 1995 with his impressive performance. In 1997, Jacques won the Formula One World Championship and gained popularity worldwide.
Villeneuve also won the Indianapolis 500 Rookie of the Year and Indy Car Rookie of the Year in 1994. In the following year, Jacques won the PPG CART Indy Car World Series Championship.
9. Steve Nash
Stephen John Nash, known as Stephen Nash, is a former basketball player from Canada who is now the Head Coach of the Brooklyn Nets in the National Basketball Association. Nash proved himself to be called one of the greatest Canadian athletes of all time with his remarkable performances in eighteen NBA seasons.
His dashing personality, lifestyle, and achievements inspire many emerging stars to achieve something in their life. Besides that, Steve became the NBA's Most Valuable Player two times in 2005 and 2006. In his remarkable career, Steve became the eight times NBA All-Star and seven times All-NBA selection.
He is widely regarded as one of the greatest NBA payers. Furthermore, Nash became the three times All-NBA First Team, two times All-NBA Second Team, two times All-NBA Third Team, five times NBA assists leader in his career.
8. Donovan Bailey
Donovan Anthony Bailey, known as Donovan Bailey, is considered one of the greatest sprinters of all time because of his outstanding accomplishments in his remarkable career. Bailey is a retired sprinter from Jamaica who represented Canada in his career.
Due to his impressive performances and inspirational character, Bailey is regarded as one of the greatest Canadian athletes. In 1995, Bailey won the Gold medals in 100m with 9.97 seconds and 4×100m relay, world championships, in Gothenburg.
Besides that, he won two gold medals in the Olympic Games in the 100m and 4×100m categories representing Canada. Bailey also won the gold medal in Commonwealth Games in 1994. Also, Bailey won six gold medals and three silvers in his tremendous athletic career.
7. Ferguson Jenkins
Ferguson Arthur "Fergie" Jenkins, known as Ferguson Jenkins, is a former professional baseball player from Canada. Jenkins played for six different teams in Major League Baseball (MLB).
Because of his legendary performances in MLB, Jenkins is valued as one of the greatest Canadian athletes in sports history. Many of his fans still consider him as one of the greatest baseball players of all time.
Besides that, he is a three times MLB All-Star. In National League, Jenkins won the Cy Young Award in 1971 and NL strikeout leader in 1969.
6. Terry Fox
Terrance Stanley Fox, known as Terrance Fox, was an athlete from Canada. Fox also worked as a humanitarian, and he made a lot of effort for cancer patients as a cancer research activist. Terry Fox, who died from cancer in August 1981, became the inspiration for the annual Terry Fox Run, an event held internationally in honor of him every July.
Since 1981, the race has involved millions of participants in more than 60 nations. To raise awareness and money for cancer research, he embarked on an east-west cross-Canada run in 1980.
Although he eventually gave up his quest after 3,539 miles and 143 days, the spread of his cancer forced him to stop. Terry had one leg amputated due to cancer during his battle with the disease. He is considered one of the greatest Canadian athletes because of his ultimate courage and passion for sports.
5. Milos Raonic
Milos Raonic is a professional tennis player from Canada. In 2016, Raonic reached the ATP No. 3 singles ranking, which is the highest of his career. He is one of Canada's best singles players in history. Besides, he is also considered one of the greatest tennis players.
He is the first Canadian to reach the Australian Open, the French Open, and Wimbledon semifinals. His career-high ranking of No. 3 is the highest rank ever achieved by a Canadian men's tennis player.
Raonic is one of the greatest Canadian athletes of all time because of his remarkable achievements. He is bestowed with thirteen awards and honors till now in his career.
4. Andre De Grasse
Andre De Grasse is a professional sprinter from Canada. Canadian sprint legends Donovan Bailey and Percy Williams won two medals in a single Olympics before De Grasse beat them. He is still regarded as one of the most successful athletes in the Olympic Games.
De Grasse achieved the feat of winning three medals in a single Olympics and become the first Canadian to achieve this honor. He is one of the greatest Canadian athletes who gained popularity because of their challenging performances.
A record holder at the 200-meter sprint, De Grasse also beat his previous personal best in Rio by 9.91 seconds.
3. Penny Oleksiak
Penelope Oleksiak, known as Penny, competes in the freestyle and butterfly events as an internationally competitive swimmer representing Canada. And still, his fans consider him as one of the greatest competitive swimmers the world has ever seen.
Penny became Canada's youngest Olympic champion and the first Canadian to win four medals at the same Summer Games with her gold in the 100-meter freestyle, silver in the 100-meter butterfly, and bronze in the 4100-meter and 4200-meter freestyle relays.
At a very young age, she successfully achieved being regarded as one of the greatest Canadian athletes and gained popularity worldwide.
2. Christine Sinclair
Christine Margaret Sinclair, known as Christine Sinclair, Currently plays professionally in both the National Women's Soccer League (NWSL) and for both the Portland Thorns FC and Canadian national team with a captain's position. Her passion for playing soccer started at the age of 4.
In high school, she led her team to three league titles. Also, Christine was her team's leading scorer at the 2012 London Olympics, a feat that earned her the honor of Canada's closing ceremony flag bearer. Among her fourteen titles as Canadian Female Soccer Player of the Year, seven nominations as FIFA Women's World Player of the Year, and two Olympic bronze medals.
She has earned a worldwide reputation as a talented female soccer player and is regarded as one of the greatest Canadian athletes. Also, Sinclair was chosen by FIFA for World Player of the Year six times in her career.
1. Wayne Gretzky
Wayne Douglas Gretzky, known as Wayne Gretzky, is a former ice hockey player from Canada. Many sportswriters acknowledge that Wayne Gretzky is the greatest ice hockey player any country has ever produced.
Gretzky is one of the greatest athletes of all time from Canada in his sport because he has achieved so many milestones in his entire career, including most goals 894 in 1,487 games.
Gretzky holds the playoff scoring record of 47 points in 1985 and 31 assists in 1988 and the career playoff record of 122 goals, 260 assists, 382 points, ten hat-tricks, and 24 game-winning goals.
Final Words
We hope you liked the list of our greatest Canadian athletes of all time who showed the world to be called the best. We would love to have feedback from you in the comment box.
Greatest Canadian Athletes Of All Time | Infographics