Which Is The Best In English Premier League Vs La Liga? - The Debate Of The Ages
December 4, 2020 By Sourav
---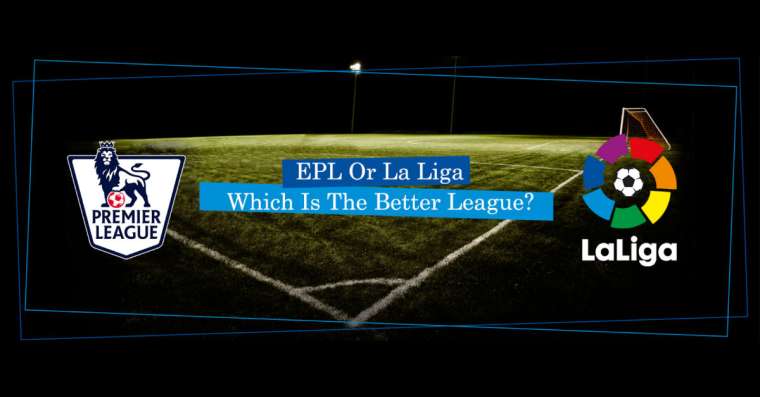 English Premier League Vs La Liga comparison is the summary of the history, credibility, and performance of both the league. The battle is also between the all-time XI and the current season's XI of Premier League and La Liga.
This debate about English Premier League Vs La Liga has been going on for the ages. Much like the fights between other inevitably amazing brands and companies such as Android and Apple, Xbox and PS …this fight has no ultimate winner or loser. We are just admirers of the game and players. It is perfectly normal that from time to time, we will be arguing about who the best is. Well, to help you decide clearly …here are some points regarding the English Premier League Vs La Liga. Enjoy.
Which Is The Best In English Premier League Vs La Liga? - The Debate Of The Ages
We are going to compare the best players of both the Premier League and La Liga to judge which league is the best among them.
History and Revenue collection of EPL
The English Premier League (EPL) is the oldest, most prestigious, and by far the most-watched football league in the world. It has its revenues from TV rights raking in billions of dollars every season from the Premier League Broadcasters. A testament to the fact is that if you visit most watering holes in town on a typical Saturday evening chances are there will be an EPL match being shown on the big screens, watched by fans flaunting the jerseys of their favorite team.
La Liga and its credibility
A long-standing debate in football about English Premier League Vs La Liga was revived rather soundly when Josep Bartomeu, the president of Spanish giants Barcelona, declared that La Liga boasts the very best players in the world and that's why Spain's top division is undoubtedly superior to its English rival. A bold claim it was, and one can even speculate that he is a little biased. It is simply because he is, firstly, from Spain and secondly, the reigning chief of a dominant Spanish team. The team has won dozens of trophies both at home and abroad since its founding long 116 years ago.
But Bartomeu does raise some legit points to justify his argument. He says that while the league boasts some of the best football managers in the Premier League - the likes of Jose Mourinho, Pep Guardiola, and Antonio Conte - it is La Liga that can brag about and proudly show off the world's greatest football players such as Lionel Messi and Cristiano Ronaldo. "When we talk about La Liga, I am very happy because of the best players in the world play here - Messi, number one. Neymar, number two. Ronaldo, number three," said Bartomeu in an interview with The Daily Telegraph.
"The stars in La Liga are the players. Maybe, right now in the Premier League, the stars are the coaches, not the players. So there are different ways of going to the world and showing our sport," the 53-year-old entrepreneur added. Among the other world-class players playing highly successful in Spain are Luis Suarez (Barcelona), Gareth Bale and Karim Benzema (both Real Madrid), and also Antoine Grizemann (Atletico Madrid). No matter which perspective you take, it's really difficult to categorically state whether one league is actually better than another. There would be no apparent end to the arguments from both sides of the divide.
Premier League and its credibility
One reason why more viewers tune into the EPL is that there is close competition among all its 20 teams. They are sometimes tantalizing and there are generally no easy games. The opening round of this season's EPL witnessed newly-promoted Hull City dethroning the defending Premier League champion Leicester. Amidst major accidents underdogs, Watford stunned Manchester United in September. Over in La Liga, the top three teams generally defeat the lower-ranked sides, sometimes by enormous margins too. There are some examples where the unfancied teams defeated the top dogs, but those results are few and far between.
The nine-month race to the championship and the enraged battle to avoid relegation is usually extremely entertaining in La Liga. It often extends right to the final weekend. In any given season, it's almost a must that the top three teams at the finishing will be Real Madrid, Barcelona, and Atletico Madrid, although sometimes not exactly adhering to that order.
The situation is quite different in England though. No one would even in their wildest imagination thought that Leicester would win the EPL with two games to spare. They have a 5,000-to-1 outsider at the beginning of the 2015/16 campaign. But, that's exactly what the Foxes managed to accomplish six months ago.
Star-studded Players of the tournaments
Supporters of La Liga will-will point to the fact that Messi and Ronaldo - two of the most respected footballers on the planet today - have won the last eleven Fifa Player of the Year awards between themselves. Only two Spanish teams, however, have been able to claim the Champions League. Real Madrid leading the way with 11 titles and Barcelona with slighter five. Five English teams have combined to have won the Champions League 12 times in total. Liverpool, with five titles, happens to be the most successful English club in the competition. They are closely followed by Manchester United (three), Nottingham Forest (two), and Aston Villa and Chelsea (one each).
Premier League XI vs La Liga XI all-time
Manager: There shouldn't be any doubt about our top pickings for this post for both EPL and La Liga. Amongst all the great names, Sir Alex Ferguson and Jose Mourinho will have the last smile. And, they have it with such a glittering career behind them. The experience might give Ferguson a slightly better edge but Mourinho will always remain the more cunning tactician.
Goal Keeper: This one is no difficult hurdle as well, especially when it comes to La Liga. The legendary presence of Iker Casillas, making such an outstanding impact during his illustrious career at real Madrid. EPL also boasts of so many great names among keepers. But, Peter Cech will give others a run for their money with his solid contributions to Chelsea all these years. Verdict - Casillas will always have that X factor.
Defense (Left-back and right back): This is where it gets tricky. So many names, So many players to pick from. But, if you take unbiased consideration into factor and zero in on technical skills and contribution over the years, the list gets relatively easier to pick from. This is what we consider a reasonable pick:
EPL - Ashley Col (Left Back), Nemanja Vidic and Vincent Kompany (Central Defenders), Bacary Sagna (Right Back). La Liga - Puyol and Pepe (Central Defenders), Dani Alves (Right Back), Marcelo (Left Back). Judging by their individual skill and the team game, La Liga will have a slight edge over EPL.
Midfield: Midfielders define the shape of a game. And, we are blessed to have witnessed so many great names over the years. Surprisingly, it didn't put us in a difficult position to come up with our top pickings.
La Liga -Andres Iniesta and Mesut Ozil. EPL - Steven Gerrard and David Silva. La Liga will boast of having two of the world's greatest attacking Midfielders. And no matter the presence of Stevie G, La Liga will have the winning smile.
Forward: Honestly speaking, it is the easiest choice of the lot. If you have witnessed some greatest players of all time then it applies for both EPL and La Liga. Here we present to you, the most likely forwards to have made it to our list.
La Liga - Lionel Messi, Radamal Falcao, and Cristiano Ronaldo. EPL - Robin Van Persie, Sergio Aguero, and one of the Premier League's all-time top scorer Wayne Rooney. Verdict- You have the names Messi and Ronaldo playing for the same team. So, no matter how monstrously decorated the opponent team is, they don't stand a chance.
Premier League XI Vs La Liga XI current season
Going by the same methodical analysis and performance factor we can come up with two of the present EPL and La Liga Teams.
Keeping in mind their recent achievements, we have selected the coaches. That should be Antonio Conte for EPL XI and Zinedine Zidane for La Liga XI.
La Liga (4-2-4): Courtois, Ramos, Felipe, Diego Carlos, Casemiro, Ocampo, Cazorla, Odegaard, Messi, Benzema, Gerard Moreno.
Premier League (4-2-3-1): Ederson, Alexander-Arnold, Van Dijk, Maguire, Azpilicueta, Henderson, Ndidi, De Bruyne, Traore, Aubameyang, Salah.
Verdict - La Liga is definitely still the league with a better quality of players and Performance ratio. So their chances of winning La Liga XI over EPL XI should be 70/30.
Keeping these arguments aside, it is quite reasonable to assume that each league will always have its own merits and minuses. They will continue to enthrall the spectators in their own appeals. Frankly, it's quite presumptuous to doubt this debate about which is the superior league will ever end. So until and unless we get a clear answer and vote out for English Premier League Vs La Liga, here were the debatable points on which of these esteemed football championships is the best. We hope you liked this list. If you did, drop down your comments below and let us know what yall think about this fight. Would you say La Liga is the best or are you on the Premier League support team? Tell us all.
The 31st season is going to begin soon. And as the matches progress, the updates of the recent matches, scores, results, and stats will be updated right here. Be sure you Keep an eye on this space to stay updated. And, send us your opinion about English Premier League Vs La Liga in the comment box below..