English Premier League Broadcasters in 2021
March 18, 2021 By Sourav
---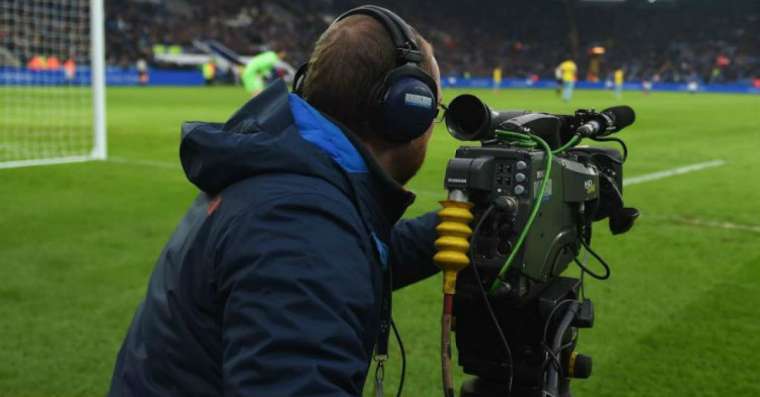 BT Sport and Sky Sport will telecast the Premier League matches in the UK. They will telecast it as the main English Premier League Broadcasters 2021. Besides, NBC Sports Network will show the matches live in the United States.
Much like every season, this season of the English Premier League is also going to be amazing. Well going to the stadium and viewing the matches in person is a thrill to have. But, not everyone can afford the time or money. That is where the broadcasters come in. They enable people to watch the game in all its glory and make up for people who can't go to see the games as they are. Here we will be looking at the regional broadcasting partners for the upcoming season who will telecast the live matches with some legendary Premier League commentators. Hold on tight as we tour you through the English Premier League broadcasters 2021.
English Premier League Broadcasters In 2021-21 Football Season
Following is a list of television broadcasters who provide coverage of the Premier League which is English football's top-level competition. This is undoubtedly the most-watched league in the world. The main English Premier League broadcasters 2021 of the games in the United Kingdom are Sky Sports. They will broadcast 126 of the 168 televised games in the UK and BT Sport will telecast the rest.
Apart from it, The BBC is known to show weekly highlights of the Premier League on its Match of the Day and Match of the Day, 2 programmers, on Saturdays, and Sundays.
The 168 UK televised games are also shown via broadcasting right across the world; the remaining 212 matches that aren't shown live in the UK are all broadcast elsewhere globally. English-speaking countries (excluding the UK) are capable of carrying what is known as the 'International feed' or 'World feed' audio; this is essentially the full match commentary provided by the Premier League. In Asia, and also other selective countries around the world, there is also a fully produced studio broadcast wherein details pre, half-time, and post-match analysis is offered.
The current host in business now is John Dykes. 3:00 pm (UK time) Saturday kick-offs are not permitted to be shown live in the UK. It is due to the hours of 2.45 pm - 5.15 pm as it is announced as 'blocked broadcasting hours'. In Ireland, an entirely different situation applies; a package of only one Saturday 3:00 pm kick-off taking place each week (along with one game on the final Sunday) is sold as an inclusion to the UK live rights packages, this package is currently held by Sky Sports. These are the countries and channels that officially broadcast the Premier League for 2021:
English Premier League Broadcasters 2021 by region
Broadcasters in Africa
| | | |
| --- | --- | --- |
| Area | Language | Broadcaster |
| Sub-Saharan Africa | English French | Supersport Kwesé Sports Canal+ |
Broadcasters in Asia
Country
Language
Broadcasters
Afghanistan
Afghan
Ariana TV
Bhutan
English
STAR Sports
Brunei
India
Maldives
Nepal
Sri Lanka
Bangladesh
English
STAR Sports Gazi TV
Pakistan
English
STAR Sports PTV Sports
China (mainland)
Mandarin
CCTV CSPN BTV SMG SZMG GDTV GZTV CBG SDTV XJTV TJTV FMG DLTV JSBC ZZTV HBTV LeSports PPTV Super Sports
Hong Kong
English Cantonese
now TV LeSports
Indonesia
English Indonesian
beIN Sports RCTI MNCTV
Japan
Japanese
J Sports NHK Sportsnavi
Kazakhstan
Kazakh
Setanta Sports
Kyrgyzstan
Kyrgyz
KTRK Sport Stan Sport
Macau
English Cantonese Portuguese
Super Sports
Mongolia
Mongolian
Sansar HD SPS Premier Sports Channel
South Korea
English Korean
SBS Sports SPOTV
Malaysia & Brunei
English Malay & Cantonese
Astro
Myanmar
English Burmese
Sky Net
Philippines
English Tagalog
beIN Sports
Singapore
English
Singtel TV
Taiwan
Mandarin English
Eleven Sports
Thailand, Laos & Cambodia
Thai English
beIN Sports PPTV
Tajikistan
Tajik
Varzish TV Stan Sport
Turkmenistan
Turkmen
Stan Sport
Uzbekistan
Uzbek
UZ Report TV Stan Sport
Vietnam
Vietnamese English
K+ TTTV, BDTV (VTVCab) FPT Telecom
Broadcasters in Europe
Country
Language
Broadcasters
Albania
Albanian
SuperSport
Serbia
Serbian Croatian Macedonian Slovenian
Sport Klub
Croatia
Bosnia and Herzegovina
Montenegro
Macedonia
Slovenia
Andorra
Spanish
Movistar+
Armenia
Armenian
Armenia 2
Austria
German
DAZN
Azerbaijan
Azerbaijani
AzTV
Belgium
Dutch French
Play Sports VOO Sport
Bulgaria
Bulgarian
Diema Sport
Cyprus
Greek
CYTA
Czech Republic
Czech
Digi Sport
Denmark
Danish
TV3 Sport 6'eren
Estonia
Estonian
Viasat Sport Baltic
Finland
Finnish
Viasat Sport
France
French
SFR Sport
Georgia
Georgian
Silknet
Germany
German
DAZN
Greece
Greek
Cosmote Sport
Hungary
Hungarian
Spíler TV
Iceland
Icelandic
Stöð 2 Sport
Ireland
English
Sky Sports BT Sport
Italy
Italian
SKY Sport
Kosovo
Albanian
SuperSport
Latvia
Latvian
Viasat Sport Baltic
Liechtenstein
German
DAZN
Lithuania
Lithuanian
Viasat Sport Baltic
Luxembourg
French
VOO Sport SFR Sport
Malta
English
GO Sports
Netherlands
Dutch
Ziggo Sport Totaal
Norway
English / Norwegian
TV2
Poland
Polish
NC+
Portugal
Portuguese
Sport TV
Romania
Romanian
Eurosport 1 Dolce Sport
Russia
Russian
Match TV
San Marino
Italian
SKY Sport
Slovakia
Czech
Digi Sport
Spain
Spanish
Movistar+
Sweden
Swedish
Viasat Sport
Switzerland
German French
DAZN SFR Sport
Turkey
Turkish
S Sport
Ukraine
Ukrainian
Football TV Channel
United Kingdom
English
Sky Sports BT Sport BBC Sport (Highlights only)
Broadcasters in Latin America
Country
Language
Broadcasters
Brazil
Portuguese
ESPN Brasil
Argentina
Spanish
DirecTV Sports ESPN
Chile
Colombia
Ecuador
Peru
Uruguay
Venezuela
Bolivia
Spanish
ESPN
Paraguay
Costa Rica
Spanish
SKY Sports
Dominican Republic
El Salvador
Guatemala
Honduras
Mexico
Nicaragua
Panama
Broadcasters in the Middle East and North Africa
| | | |
| --- | --- | --- |
| Country | Language | Broadcasters |
| Israel | Hebrew | Sport 1 Sport 2 |
| The Middle East and North Africa | Arabic English French | beIN Sports |
Broadcasters in North America and the Caribbean
| | | |
| --- | --- | --- |
| Country | Language | Broadcasters |
| Canada | English | TSN Sportsnet |
| Caribbean | English | Flow Sports |
| United States (including Puerto Rico & the U.S. Virgin Islands) | English Spanish | NBC Sports Network Telemundo |
Broadcasters in Ocean
| | | |
| --- | --- | --- |
| Country | Language | Broadcasters |
| Australia | English | Optus SBS |
| New Zealand | English | beIN Sports |
| Pacific Islands | English | Sky Pacific |
| Papua New Guinea | English | Digicel Play |
Overall Statistics of the Premier League:
The English Premier League is the most-watched sports league in the world. It is broadcasted in 212 territories to 643 million homes as well as TV audiences of approximately 4.7 billion people.
For instance, the average Premier League match attendance In the 2014–15 season, exceeded 36,000. This is the second-highest of any professional football league behind the Bundesliga's 43,500. Most stadium occupancies are near capacity. It is also a known fact that the Premier League ranks third in the UEFA coefficients of leagues. It is based on performances in European competitions over the last 5 seasons.
Facts about Premier League:
The English Premier League has had the highest revenue of any football league in the world to date. And, that results in total club revenues worth €2.48 billion in 2009–10. Due to improved television revenues and cost controls, the Premier League had net profits in excess of £78 million. The EPL broadcasters 2017/18 have a huge role to play in the Premier League history. This leads the league in exceeding all other football leagues. Premier League was awarded the Queen's Award for Enterprise in the International Trade category in the year 2010. It achieved that due to its amazing contribution to international trade. Additionally the value it brings to English football and the United Kingdom's broadcasting industry was also thoroughly appreciated.
The Premier League includes some of the extremely richest football clubs in the world. Deloitte's "Football Money League" recorded seven Premier League clubs in the top 20 for the 2009–10 season. And, all of the 20 clubs were in the top 40 globally following the end of the 2013–14 season. It is largely as a result of hiked broadcasting revenue. Following 2013, the league produces €2.2 billion per year in domestic as well as international television rights.
Conclusion
The broadcasting team or committee is as important as the publicity team. Entertainment has become a vast part of people's lives. Besides, it is true that people are manipulated by the things they see on a screen. Sports and entertainment companies are improving enormously. Besides, it is also true that the television audience is also increasing in number. More power to the English Premier League broadcasters 2021. They make sure that no matter where you are, you can easily access your favorites. Besides, you can cheer for your team from any corner of the world.
So, stay tuned to every match of the new season, and don't forget to send us your valuable comments on the English Premier League broadcasters 2021 in the comment box below.