Shane McMahon Biography, Net Worth, Career, Business, Family, and Other Interesting Facts
January 8, 2021 By Sourav
---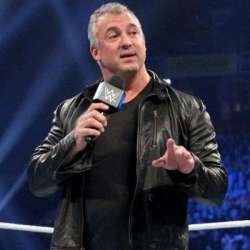 | | |
| --- | --- |
| Real Name | Shane Brandon McMahon |
| Nick Name | The King of Sting |
| Profession | WWE Wrestler |
| Nationality | American |
| Height | 6 Feet 2 Inches (1.88 Meters) |
| Weight | 230lbs (104 kg) |
| Birth Date | 15-01-1970 |
| Age | 51 |
| Gender | Male |
| Birth Place | Gaithersburg, Maryland, United States |
| Zodiac Sign | Capricorn |
| Religion | Christian |
| Address | Greenwich, Connecticut, New York City |
American wrestler and entrepreneur Shane Brandon McMahon, famously know as just Shane McMahon, is the minority owner of the World Wrestling Entertainment (WWE). He now also works as the producer of WWE, predominantly in SmackDown. Besides, he also now holds the executive vice-chairman post of the Ideanomics. That company previously earned its reputation in America as the Seven Stars Cloud Group.
Before starting his career in the administrative post of WWE, Shane previously worked as a referee and announcer. He then started producing shows in WWE before appearing as an on-screen wrestler. He currently chairs the Executive Vice President post of the WWE Global Media. Shane is now continuing the legacy of the McMahon family as the fourth-generation of the famous wrestling promotion.
He is the great-grandson of Jess McMahon, the founder of WWE, and is the son of Vince McMahon, the current CEO of WWE. Besides, he is the son of Linda McMahon, the main admin of the Linda McMahon. As a wrestler, Shane already achieved the Hardcore Championship and the European Championship once each. Besides, he also achieved the SmackDown Tag Team Championship once before winning the WWE World Cup in 2018.
Shane McMahon Biography and Stats
Shane McMahon Early Career
He adopted his first alias name 'Shane Stevens' and made his debut in WWE (then WWF) as a referee. He worked as the referee of the inaugural Royal Rumble match in 1988. And in 1990, he first greeted the audience present at the WrestleMania VI event. Shortly after, he changed his duty from a referee to a backstage official during the WrestleMania VIII event. He mainly took this job to start a storyline between two of the greatest wrestlers, Randy Savage and Ric Flair.
Shane took the main initiative to launch the website of their wrestling promotion in 1997, WWF.com. Shortly after, he made his first on-screen appearance in early 1998. He started appearing in the show as the main executive of the WWF promotion to negotiate with one of the greatest boxers of all time, Mike Tyson. He then also became a part of his father's storyline feud with Stone Cold Steve Austin.
Shane then made his in-ring debut and won the European Championship against X-Pac in February 1999. The defender then again challenged him which he again won during the WrestleMania XV event. Shortly after, he collaborated with the Ministry of Darkness and The Undertaker to establish the Corporate Ministry. Pro Wrestling Illustrated then named him the Rookie of the Year 1999 which he declined.
Shane McMahon WWE Career
He started his on-screen feud with his father Vince McMahon in 2001. According to the storyline, Vince had an affair with one of the hottest WWE Divas, Trish Stratus, and for that, he wanted a divorce from his wife and Shane's mother, Linda McMahon. And to take revenge for that illicit affair, Shane came into his mother's favor and started his feud with Vince. During that time, he also introduced his theme music 'Here Comes the Money'.
He then started his on-screen feud with Kurt Angle in June 2001. Shortly after, Vince McMahon publicly fired both of his children, Shane and Stephanie, in an event of Raw on 19th November 2001. However, he made a short appearance in an event of Raw on 15th July 2002 before remaining absent for almost two years. He then made his reappearance in an episode of SmackDown before WrestleMania XIX.
In the following year, he started his feud with Eric Bischoff and appeared in the WrestleMania XX event with his newborn son. All four members of the McMahon family then faced Stone Cold Steve Austin in the WWE Homecoming event in October 2005 which created another feud between Shane and Steve Austin. He then faced Michaels in the 'Street Fight' segment of the Saturday Night's Main Event XXXII on 18th March 2006.
Shane McMahon Raw Career
Since 2006, Shane made just a single appearance in WWE's PPV event, No Way Out, in 2008. He appeared in the scene to push the speed to by Floyd Mayweather Jr. during that time. Randy Orton then started his on-screen feud with the McMahon family by the beginning of 2009. Randy made a derogatory comment about Shane's sister, Stephanie. And for that, Vince tried to fire Randy from WWE for which he received a head punt on 19th January 2009.
In the following week, Shane appeared on screen to take his revenge on Orton. Shortly after, Randy challenged Shane to face him on the 'No Holds Barred' segment of the 'No Way Out' on 2nd February that year. Shane accepted the challenge but remained unsuccessful. Shortly after, he made a team with his father and Triple H to attack 'The Legacy' consisting Randy Orton, Cody Rhodes, and Ted DiBiase on 30th March 2009.
Shane's on-screen persona suffered a broken ankle and leg in an episode of Raw on 4th May 2009. It was later revealed that the storyline induced those injuries to make a way out for Shane to move from WWE during that time. Finally, in October 2009, Shane officially announced his retirement from WWE. That resignation took into effect from the end of that year. He then took a 7-year gap since then.
Shane McMahon SmackDown Career
He made his return in seven years in an episode of Raw on 22nd February 2016. He later announced that he made his return just to control the 'Raw' segment of WWE. And for that, Vince forced Shane to face The Undertaker in a 'Hell in a Cell' match during the WrestleMania 32. However, Undertaker won that match. Shortly after, Vince appointed Shane as the storyline commissioner of SmackDown while Stephanie took the charge of Raw.
A Survivor Series tag team elimination match between Raw and SmackDown took place on 8th November that year. Shane replaced injured Baron Corbin for that match and made his in-ring appearance after a very long time. Team SmackDown successfully defeated Team Raw in that match. He then faced AJ Style at the WrestleMania 33 on 2nd April 2017. Vince then announced that Shane would face Kevin Owens on 12th September 2017.
Shane faced Kevin Owens in his very first PPV event since 2001. However, he lost that match. He then suffered acute diverticulitis during his time with his family in the Caribbean Island on 14th March 2018. Following his hospitalization in Antigua, he moved to a hospital in New York where the doctor diagnosed that he has an umbilical hernia. Following his operation, Shane made his return to WWE on 3rd April 2018.
Shane McMahon Recent Career
Following his post-operative rehabilitation, Shane made his return to WWE at the Greatest Royal Rumble event. Along with Vince McMahon and Stephanie McMahon, he appeared on the Truth TV segment of the 1000th edition of SmackDown on 16th October 2018. He then started his new feuds with Miz and later drafted Roman Reigns and Elias in SmackDown. He then ended his feud with The Miz in a 'Money In The Bank' match in April 2019.
Shortly after, Roman Reigns challenged him on the Super ShowDown event of WWE. He faced Reign but failed to win the match that night. He then faced Owens to end their long-standing feud but again failed to achieve the win on this match. And for that, Vince fired Shane during the 20th Anniversary episode of SmackDown on 4th October 2019. And by December 2019, his profile moved to the alumni segment on WWE.com.
Shane McMahon WWE Business Venture
He started working behind the scene and as a backstage official in WWE since 1992. Shane then led the main work of launching the official website of WWE in 1997. Shane traveled to South America with Carl De Marco, the president of WWE Canada, to finalize a major television deal in November 2006. He cracked that deal in Brazil to allow their television partners to air SmackDown and Raw segments of WWE.
He then cracked another deal for WWE in Mexico in September 2008. Due to that contract, Mexico's two biggest television networks shook their hands with WWE, and Televisa started airing Raw while TV Azteca started airing SmackDown since 2008. However, he officially submitted his resignation and stepped down from his position as the Executive Vice President of WWE Global Media on 16th October 2009.
Recently in May 2020, some of the inside reports suggested that he resigned from WWE in 2009 due to his ongoing clash with his father at that time. Vince started recognizing Stephanie McMahon and her husband Triple H as the true heir of the WWE dynasty. And, that incident made Shane increase the gap from his father. But still, he remained in WWE as a minority stakeholder owing around a 2% share.
Shane McMahon Business Ventures
He became the CEO of a provider of broadband services, China Broadband Inc., on 3rd August 2010. That Colorado-based company also provided analog and digital services in the Shandong province of China. Shortly after, he became the CEO of the very first video-on-demand as well as PPV service in China, You On Demand. However, he stepped down from his position in that company in 2013.
He still remains as the Executive Vice Chairman of that company's Board of Directors. You On Demand currently operates on the market as 'Ideanomics' headquartered in New York City. He then became a board member of the International Sports Management company in April 2011. Besides his business ventures, Shane is also a co-owner of the Brooklyn-based shop, Indian Larry Motorcycle.
Shane McMahon Family and Childhood
Born on 15th January 1970, Shane grew up in the Gaithersburg area of Maryland, United States. His parents, Vince McMahon and Linda McMahon have two children, Shane McMahon and his sister Stephanie McMahon. Shane is also the great-grandson of one of the pioneer wrestler, Jess McMahon. Moreover, he is the grandson of Vincent J. McMahon who established the WWE promotion.
Shane's sister Stephanie McMahon is currently married to WWE wrestler Paul Levesque famously known by his ring name 'Triple H'. He completed his schooling at Greenwich High School in 1988. And shortly after, he took his admission to Roger Williams University and started studying marketing and media. Shane then took admission to Boston University and became a graduate in 1993.
Shane McMahon Wife and Kids
He is married to his long-time girlfriend Marissa Mazzola. Shane and Marissa now have three sons together, Declan James, Kenyon Kenny Jess, and Rogan Henry. All three of his sons appeared in the WrestleMania 32 event accompanying Shane in his match against one of the most popular WWE wrestlers, The Undertaker. Shane involved in a tragic helicopter crash in July 2017. However, he remained unhurt as the helicopter opted for an emergency landing in Ney Work.
Shane McMahon Net Worth
According to the recent financial reports, the current net worth of Shane McMahon is estimated to be around $100 million. He currently has around 2.5 million equity shares of WWE. The current worth of his stake at WWE is estimated to be around $200 million. Besides WWE, he also chairs the vice-chairman post of the Ideanomics.
Shane McMahon Awards
Besides making frequent appearances in both the segments of WWE Raw and SmackDown, Shane also has several awards under his belt. Some of the most notable among those are:
WWF European Championship
WWF Hardcore Championship
SmackDown Tag Team Championship
WWE World Cup 2018
FAQ Regarding Shane McMahon
Q. Who is Shane McMahon?
Shane McMahon is an American professional wrestler and business. Besides appearing in WWE as a wrestler, he is also a minority stakeholder of the promotion. He is the only son of the CEO of WWE, Vince McMahon. Besides WWE, Shane also currently holds the vice-chairman post of the Ideanomics.
Q. Who is Shane McMahon married to?
Shane McMahon is married to Marissa Mazzola. After having a brief relationship period, the couple got married. They now have three sons together, Declan James, Kenyon Kenny Jess, and Rogan Henry. All three of his sons also frequently appear in WWE in the crowd.
Q. Why Shane McMahon resigned from WWE?
Shane resigned from WWE on 16th October 2009. The main reason for that resignation is rumored to be due to his fatherís inclination towards Stephanie McMahon and her husband Triple H as the true heir of the WWE dynasty. However, he returned to WWE a little later before again marking his departure in 2020.
Q. How tall is Shane McMahon?
Shane McMahon is 6 feet 2 inches (188 cm) tall. With 230lbs (104 kg) weight and quite a tall stature, he made his remarkable footprint in the wrestling scenario of WWE. Besides performing amazing wrestling stunts, he is also quite an expert in areal moves.