10 Amazing Facts about Floyd Mayweather
December 17, 2020 By Sourav
---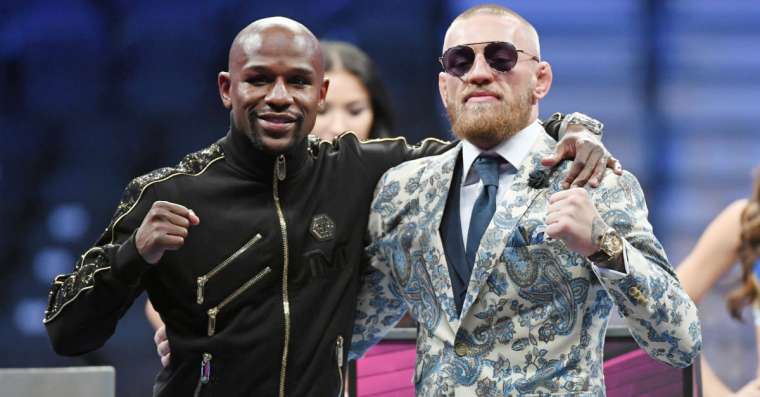 Floyd Mayweather, Jr., born on February 24, 1977, in a family of boxers is an American professional boxer. He is popular in the world of sports by several nicknames such as The Best Ever or TBE, Money, and Pretty Boy, is one of the most noted boxers of recent times. And, everyone wants to know the most amazing facts about Floyd Mayweather.
Amazing Facts about Floyd Mayweather
He is the son of Floyd Mayweather, Sr. who was a welterweight contender and was also the nephew of professional boxers Jeff and Roger Mayweather, of whom, two-time world champion Roger is his current trainer. Floyd never seriously considered any other profession, apart from boxing, having grown up with the sport as a part of his life since his very childhood. Let us take a look at 10 Amazing Facts about Floyd Mayweather.
A Little Introduction
American professional boxer Floyd Mayweather Jr. is undefeated as a professional boxer and is the current world champion in five-division. He achieved ten world titles and the lineal championship title in four different weight categories. Mayweather was named "Fighter of the Year" by the Ring magazine twice in 1998 and 2007. He was named "Fighter of the Year" by the Boxing Writers Association of America in 2007.
He achieved the Best Fighter ESPY Award six times untill now in his career in 2007, 2008, 2010, 2012, 2013, and 2014. Floyd Mayweather is the current welterweight champion of WBC, WBA, and Ring, and is also the junior middleweight champion of all of them the WBC Super, WBA, and Ring.
His Accolades
Several reputed media houses named him as the best pound-for-pound boxer in the world. Besides, several media houses including Sports Illustrated, ESPN, BoxRec, Ring, Yahoo! Sports, and Fox Sports have dubbed him as one of the greatest boxers of all time. His reputation definitely deserves the top place among the most amazing facts about Floyd Mayweather. Forbes and Sports Illustrated included him in the lists of the 50 highest-paid athletes twice consecutively in 2012 and 2013. Forbes again named him as the highest-paid athlete in the world in 2014. Besides, Forbes also listed him in the 31st position in the "Celebrity 100" list in 2010.
Sports Illustrated also named him in the 3rd position of the "50 Highest-Earning American Athletes" in 2010. Mayweather topped the "Fortunes 50" by Sports Illustrated in 2012 and has won the Best Fighter ESPY Award the same year. Besides boxing, Mayweather appeared with his partner Ukrainian-American professional ballroom dancer Karina Smirnoff on the fifth season of "Dancing with the Stars".
His Disturbed Childhood
Floyd Mayweather was born in a family of boxers on February 24, 1977, in Grand Rapids, Michigan. Floyd Mayweather Sr., his father, has also earned praises as a former welterweight boxer. He fought against Hall of Famer Sugar Ray Leonard. Jeff Mayweather and Roger Mayweather, his uncles, were professional boxers and world championships. Mayweather grew up with his mother's last name. But shortly after, he changed his last name to Mayweather.
He also reported his mother's addiction to drugs. Besides, he had an aunt who died from AIDS. While talking about those things Mayweather said, "People don't know the hell I've been through." While talking about his father Floyd said, "I don't remember him ever taking me anywhere or doing anything that a father would do with a son, going to the park or to the movies or to get ice cream."
Association with WWE
Floyd Mayweather was first featured in WWE's No Way Out pay-per-view event in Las Vegas, Nevada, on February 17, 2008, where he jumped a security barricade and attacked Big Show to help Rey Mysterio. The attack of Mayweather caused Big Show to receive a broken nose. Big Show then challenged Mayweather to a one-on-one No Disqualification match at WrestleMania XXIV the very next night on Raw. He defeated Big Show in a knockout with brass knuckles at WrestleMania.
Mayweather reportedly has received $20 million for the fight at WrestleMania. But, WWE's financial statements do not match that number. He again made his appearance as a guest host for WWE Raw on August 24, 2009, in Las Vegas, where he gave Montel Vontavious Porter a brass knuckles to knock Jericho out in a tag team match.
The Domestic Violence Scenario
Floyd Mayweather faced domestic violence charges throughout his career. He was charged with two counts of domestic violence and one count of misdemeanor battery in 2002. He has received a suspension for six months. Besides, he faced two days of house arrest including 48 hours of community service. He then faced a one-year suspended jail sentence again in 2004 for two counts of misdemeanor battery against two women and ordered to undergo counseling for "impulse control".
Mayweather again faced a 90-day suspended jail sentence for misdemeanor battery charges after hitting a bouncer in 2005. Mayweather then faced a 90-day suspended jail sentence in the county jail on December 21, 2011, for his charges of battery upon Harris in September 2010. He has received 100 hours of community service, a fine of $2,500, and a 12-month domestic violence program. Mayweather served his jail sentence from June 1, 2012, to August 2012.
He is Loud-Mouth
Floyd Mayweather also created a buzz in the media for being a loud-mouthed boxer. And while talking about his criticism, said "Most people should be talking about how Floyd Mayweather is a great undefeated future Hall of Famer that's his own promoter and that works extremely hard to get to where he's at. Instead, all you hear is hate and jealous remarks from critics who criticize me and, you know, most of the time, the people that criticize me can't do what I can do."
While talking about his childhood he said, "I come from a very rough background, and I'm saying that if you work hard and dedicate yourself that you can make it, too," and he added, "When people see what I have now, they have no idea of where I came from and how I didn't have anything growing up." His controversial statements also deserve their place among the most amazing facts about Floyd Mayweather.
The Negotiation
It was first declared by ESPN on December 5, 2009, that Mayweather will fight against eight-division world champion Manny Pacquiao on March 13, 2010. A few days later Pacquiao denied ever signing the contract. He stated, "There are still some things that need to be negotiated." An eight-page contract was sent to Pacquiao's promotion company Top Rank by Golden Boy Promotions on behalf of Mayweather on December 11, 2009, according to Yahoo! Sports.
The agreement proposed a 50–50 financial split between both sides in the fight. The fight had to take place on March 13, 2010, according to the proposal. After the cancellation of the agreement, Mayweather in an exclusive interview with David Mayo of The Grand Rapids Press on February 13, 2010, stated, "I gave him a chance, up to 14 days out. But my new terms are all the way up to the fight. They can come to get us whenever, all the way up to the fight, random drug test. That's what it is."
Mayweather – Pacquiao Bout in MGM
Mayweather defeated another boxing legend, Manny Pacquiao, at the MGM Grand in Las Vegas on 2nd May 2015. He unanimously got the win against legendary Filipino boxer Manny Pacquiao who enjoys celebrity status in his native country. The bout created the record for the highest-grossing bout in history at nearly $400 million. Besides, the media still dubbed this match as the most popular boxing match in history.
The boxers had a 60-40 money split agreement for the match where Mayweather has received a 60% of the total income from the earning and Pacquiao took home the rest 40%. The fight between these two legends was previously postponed many times in the past due to several issues from both sides which include Pacquiao's accusation on Mayweather's use of PEDs. This 'Fight of the Millennium' also deserves its mention among the most amazing facts about Floyd Mayweather.
He Is Rich – Extremely Rich
Popular media noted Floyd Mayweather for his seven-digit bets on several sporting events. His rumored $5.9-million bet on the Miami Heat also deserves the place among the most amazing facts about Floyd Mayweather. He spends millions of dollars on his collection of necklaces. But sadly, necklaces worth nearly $7 million were once stolen from his house. The damage by the thief is nothing compared to his income as he is reported to earn nearly $235 million during this year alone.
Floyd Mayweather holds the record for earning the highest money in a single bout with his $41.5 million income in his fight against Saul Alvarez. He now has a 30-month six-fight deal worth $300 million with Showtime promotions. All of his money comes from his fights alone as he doesn't have a single endorsement deal.
"I Have That Kind of Money Which a Bank Can't Hold"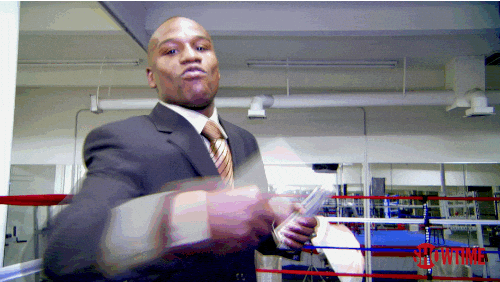 Floyd Mayweather, unlike other superstar athletes, has a single bank account and has nearly $123 million in it. The media also noted him for traveling with Ziploc bags full of hundred dollar bills. Besides, he also frequently transforms into a shopping spree. Mayweather wears a pair of shoes just once which he buys. And, he leaves them for the hotel staff after wearing the shoe once.
One of the most controversial athletes, Mayweather, has the same fascination for his boxers. He only wears a pair of boxers once and throws them after wearing them a single time. Floyd Mayweather has also earned praises as a luxury car enthusiast. He now has two fleets of luxury cars. He has an all-white car fleet in his Miami house and an all-black car fleet in his Las Vegas house. Mayweather also owns a G5 private jet but his bodyguards ride on a separate plane due to his worry about having too much weight in the Jet's cabin.
So these were the top 10 amazing facts about Floyd Mayweather. Feel free to share your opinion in the comments down below.