Top 10 Most Controversial Athletes Of All Time
July 29, 2021 By Sourav
---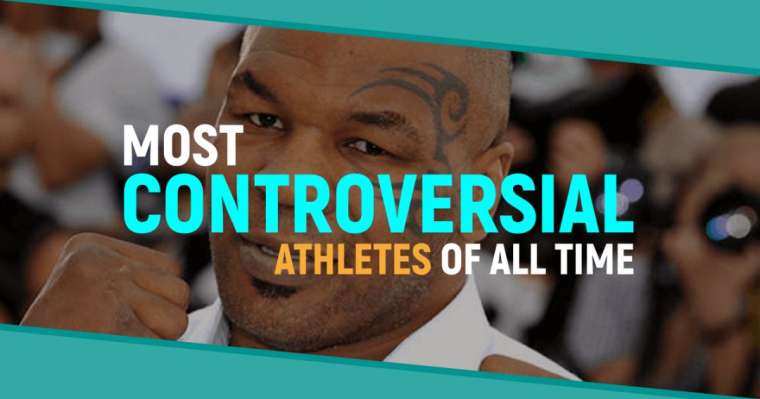 Controversies are and will be everywhere, from the silver screen to politics, from industry to the industrialists. Even the sports world is not out of the box. Many fans believe that the most popular sports stars came out of God's hand with a superior personality and monk-like character. But, many also accused them of being the most controversial athletes.
Most Controversial Athletes | All-Time Ranking
But, athletes are far from superhuman and are often prone to give in to excess and temptation, just as much as everybody else. From sex scandals to drugs to just outright bad sportsmanship, scandals put the career of any sports star in jeopardy. And here is the list of 10 Most Controversial Athletes of All Time.
10. Barry Bonds
Barry Bonds is "the greatest baseball player who ever lived" according to The New York Times. But that title has been tainted by Bonds' steroid scandals which cast a shadow over his genuine achievements.
The New Yorker also described Bonds as defensive and somewhat unapologetic for his perceived misdeeds. Media also accused him of lying under oath about his steroid use and sentenced trial from the court.
For this incident, fans marked him as the biggest villain during the "steroid era" of Major League Baseball.
He won three National League MVP Awards, eight Golden Glove Awards, and 445 career home runs by age 35, while he stole an average of 34 bases per year in his first 13 seasons. But it is tragic that the records set by Bonds will be forever tainted.
9. Dale Earnhardt
Dale Earnhardt, also known as "The Intimidator" and "The Man in Black" is a famous NASCAR star. The seven-time NASCAR champion won 76 career races, many of them involving a move in which he would use his car to nudge or spin another car out of the way.
Earnhardt's aggressive driving and cruel tactics to bang his opponent's car polarized millions of race fans in the 1980s and 1990s as NASCAR exploded in popularity. Earnhardt spun out race leader Terry Labonte on the final lap of a race at Bristol Motor Speedway where Labonte smashed into the wall, and Earnhardt won in 1999.
But, because of this cruel incident, a shower of debris from 100,000-plus fans was showered. Earnhardt spun out race leader Terry Labonte on the final lap of a race at Bristol Motor Speedway where Labonte smashed into the wall, and Earnhardt won in 1999.
But, because of this cruel incident, 100,000-plus fans showered debris at the track. Later, Earnhardt explained he didn't mean to smash Labonte, but "I just wanted to rattle his cage." But he remains a beloved figure after his horrible death on the final lap of the 2001 Daytona 500.
8. Michael Vick
The former Atlanta Falcons quarterback was embroiled in a dogfighting scandal that led to him being sentenced to 23 months in prison because of the cruel and torturous crimes he committed against the dogs he fought for money.
A 19-page indictment alleged that "He attended fights and paid off bets when his dogs lost. He was also involved in the executions of dogs that did not perform well.
But, the way he killed the dogs out of frustration of losing the fight, like drowning, electrocutions, and other types of slow and painful deaths, made Vick's operation sound more like a horror movie than real life.
President Obama himself praised the Eagles for giving Vick a second chance. He then signed to the Philadelphia Eagles as quarterback after serving his term with 21 months in prison and two under house arrest.
7. Hansie Cronje
The South African cricketer and captain of the South African national cricket team in the 1990s died in a plane crash in 2002. Cronje has received 11th place as the greatest South African in 2004.
Under his captaincy, South Africa won 27 Tests and lost 11. He has earned his place as one of the most successful cricket captains and one of the finest ambassadors of the game. But, all this came crashing down on 7th April 2000, when Delhi police revealed they had a recording of a conversation for match-fixing between Cronje and Sanjay Chawla.
He was sacked as captain on April 11 after confessing to Ali Bacher that he accepted between $10,000 and $15,000 from a London-based bookmaker for result fixing.
Later, Cronje released a statement that revealed all his contact with bookmakers revealing the tens of thousands of dollars he had accepted to concede runs, lose wickets and throw matches. Cronje received a lifetime ban from playing or coaching cricket on 11th October 2000 for one of the biggest scandals in cricket.
6. Tonya Harding
The Olympic figure skater pleaded guilty to a conspiring charge at the 1994 U.S. Figure-skating Championships after her ex-husband and bodyguard hired a man to assault her teammate and competitor, Nancy Kerrigan.
Harding also arrived late for the competition at the 1992 Olympic Winter Games. In the 1993 Nationals, she had to restart her program after the back of her dress came unhooked.
She stopped midway through her free skate and complained to the referee that her skate blade had become loose at the 1993 Skate America. In the same event, she claimed to be suffering from an ovarian cyst.
In late 1993, in a regional qualifying competition for the 1994 National Championship, organizers received an anonymous assassination threat against her. Also, the medal ceremony at the 1994 Championships had to be delayed because she could not be found backstage.
5. LeBron James
LeBron James is arguably the most skillful player of all time in the NBA. He received heavy criticism after he announced his transfer from Cleveland Cavaliers to Miami Heat in 2010.
An amped-up television program titled "The Decision", highly criticized him for being incredibly narcissistic. They also criticized him for being a total waste of time leading up to revealing his decision where James announced that he was "taking his talents" to the Florida team.
He started to get even more criticism from his fans when his performance with the Miami Heat got pretty much tanked.
James again began playing well, but his high-profile and presumed arrogance had made him an ongoing target for criticism of his attitude and his disoriented playing skills in later days.
4. Mike Tyson
One of the greatest boxers and most controversial athletes, Mike Tyson, has got more popularity due to his misdeeds rather than his athletic achievements. The media convicted Tyson of raping a model, just 18 years old, in 1992.
According to VH1, he originally received a 10-year sentence in prison, although he spent three years in jail. Tyson, again, made a huge sensation in media after a boxing match with Evander Holyfield, where he couldn't handle the shame of losing the match and bit off a one-inch piece of his opponent's ear in 1997.
According to VHI, Tyson was never really able to bounce back from the rape scandal and ended up filing bankruptcy and struggling with drugs in the years following his incarceration.
The controversies got, even more, attention when, in public, he said, "I want to kill people. I want to rip out their stomachs and eat their children." He added, "It's ludicrous these mortals even attempt to enter my realm."
3. Tiger Woods
Golf legend and one of the most controversial athletes, Tiger Wood, has earned his place as an inspirational character for many of his fans. He maintained his image until a disappointing public sex scandal destroyed his marriage, as well as his image in public.
After a horrible car crash just outside his home, allegations came pouring in about Woods' extra-marital affairs. He eventually admitted to cheating on his ex-wife, Elin Nordegren, in 2009. A number of women, including adult film star, Devon James, came forward and claimed to have had a sexual affair with Woods.
Devon claimed to have had a threesome with the golf pro and another woman. This scandal got so drastic in media coverage that there was even an entire South Park episode dedicated to parodying these controversies.
On November 25, 2009, the National Enquirer published a story claiming that Woods also had an extramarital affair with New York City nightclub manager, Rachel Uchitel.
2. Lance Armstrong
The seven-time Tour de France winner, Lance Armstrong, impressed many with his cycling skills. He also inspired many of his followers with his personal story of overcoming testicular cancer and becoming an activist in the fight to find a cure for cancer.
Many of his followers and famous personalities wore the yellow Livestrong bracelets, the symbol of Armstrong's foundation dedicated to the research of cancer. CNN once described him as "an all-American hero".
But, his supporters got disappointed and outraged by Armstrong's doping scandal. He admitted to the use of steroids for better performance. Due to this scandal, the International Cycling Union banned him from sports.
They later also stripped his Tour de France titles, along with the honor of the head of the Livestrong Foundation. He also deserves his place in the list of most controversial athletes.
1. Luis Suarez
One of the best football forwards from Uruguay has got huge attention recently when he bit Italy's defender, Chiellini, during a WC 2014 match. The first biting incident sentenced him to a 7-match ban.
He bit the PSV defender Otman Bakkal. Later, he again received a 10-match ban in Premier League for biting Chelsea defender, Branislav Ivanovic. Suarez deliberately handballed in World Cup 2010 against Ghana and received the sent-off notice. Ghana also received a penalty on that occasion.
Suarez also handled the ball before scoring against Mansfield. Interestingly, the camera shows he kissed his own hand after the goal. He kicked Michael Dawson in the EPL game against Tottenham and repeated the same with Scot Parker in the Premier League game.
Reportedly, he also pulled Rafael Da Silva's hair during a match. Luis Suarez then racially abused Patrice Evra in the Premier League game against Manchester United. And for that, he received an 8-match ban along with a £40,000 fine. He definitely deserves his place in the list of most controversial athletes.
Final Words
Many other athletes were also in the limelight due to controversies, such as O.J. Simpson had the infamous murder trial while he was an athlete or Jack Johnson, the heavyweight boxing champ who was infamous for his racial comments in public.
Some hideous controversies like the NBA star Dennis Rodman posed on the cover of a national sports magazine dressed in a negligee are also there in the sports world. And now, we hope that you liked our list of the 10 Most Controversial Athletes of All Time.
Most Controversial Athletes - Infographics