Rafael Leao Biography, Net Worth, Salary, Career, Personal Life Awards, and Other Interesting Facts
December 26, 2020 By Sourav
---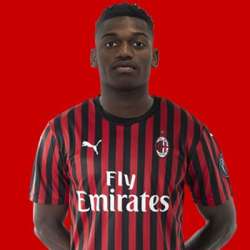 | | |
| --- | --- |
| Real Name | Rafael Alexandre Conceição Leão |
| Nick Name | Rafael Leao |
| Profession | Football Forward |
| Nationality | Portuguese |
| Height | 6 Feet 2 Inches (1.88 Meters) |
| Weight | 178lbs (81 Kgs) |
| Birth Date | 10-06-1999 |
| Age | 21 |
| Gender | Male |
| Birth Place | Almada, Setúbal District, Portugal |
| Zodiac Sign | Gemini |
| Religion | Christian |
| Address | Via Aldo Rossi 8. 20149 Milano. Italy (AC Milan) |
Portuguese footballer Rafael Alexandre Conceição Leão, famously known as just Rafael Leao, currently plays for the Italian Serie A side, AC Milan. Besides, he also makes regular appearances for the Portuguese national football team. Since his very early days, he showed immense footballing prowess that caught the attention of several big clubs and reputed managers alike. And since then, he was widely regarded as a football prodigy.
Rafael Leao Biography And Other Amazing Facts
Portugal is known for delivering some of the best football forwards of all time like Cristiano Ronaldo and Luis Figo. And, Leao is now regarded as one of the best second-generation football stars that the country has ever produced. He started delivering brilliant performances for his local club during his early football days. However, he outshined his fellow players and achieved his place in the biggest clubs of France and Italy.
Rafael Leao Early Career
Leao started his footballing journey while joining the Sporting CP's youth academy system in 2008, at the age of just 9. Shortly after joining one of the best football academies, Leao started working on his ball control and dribbling abilities. Soon, he started receiving immense praise from his coaches due to the footballing talent that he has. In the same year of joining the academy, he has earned his place in the youth team of Sporting CP.
Rafael Leao Sporting CP Career
As a junior player, Leao made his debut for the Sporting CP senior reserve team in a match against S.C. Braga B on 21st May 2017. However, he made that debut as a second-half substitute but became a regular player in the B team shortly after. One of the best football managers, Jorge Jesus, then recognized his prowess and gave him the chance in his first Portuguese Primeira Division match against C.D. Feirense on 11th February 2018.
Leao scored the first Primeira Division goal in a match against FC Porto on 2nd March 2018. By scoring that goal, he became the youngest forward of Sporting CP to net the ball in the top flight league of Portugal. However, he alleged that the fans attacked players and staff on the ground during their training season in June 2018. Shortly after, he terminated his contract with Sporting on 14th June 2018.
Rafael Leao Lille OSC Career
On a free transfer, Leao joined one of the richest football clubs, Lille OSC. He joined the French Ligue 1 side in a five-year deal on 8th august 2018. Shortly after, he scored his first goal for the club against Stade Malherbe Caen. He delivered a great performance for the French club during that season. Besides, he also became quite a regular for the side and played against some of the biggest clubs in the league.
Rafael Leao AC Milan career
Leao signed a five-year contract with one of the biggest Italian club, AC Milan, on 1st August 2019. Shortly after, he made his Serie A debut against Udinese Calcio on 25th August 2019. He then scored his first goal for the club against ACF Fiorentina on 29th September 2019. Leao scored one of the fastest football goals after scoring just six seconds of the starting whistle in a match against Sassuolo on 20th December 2020.
Rafael Leao International Career
Leao made his debut for the U-21 side of the Portuguese national football team against Romania in the 2019 UEFA European Championship qualifiers on 10th November 2017. He achieved that feat when he was just 18 years old. Shortly after, he scored his first goal for the U-21 side against Belarus in the 2021 European Championship qualification campaigns on 10th September 2019.
Rafael Leao Personal Life
Born on 10th June 1999, Rafael Leao has Angola descent from both of his parents' side. Since his debut in professional football, he is widely compared with the French football star Kylian Mbappé. Many football fans also called him the Portuguese Mbappe for his footballing talent and speed. Tiago Fernandes of the Sporting CP youth academy once told that Leao is much more talented than Cristiano Ronaldo at that same age.
Rafael Leao Net Worth
According to the recent financial reports, the current net worth of Rafael Leao is estimated to be around $5 million as of the 2020-21 football season. He is now getting around $4.2 yearly salaries from his current football side, AC Milan. Besides his earning from football appearances, he also makes money from several sponsorship deals.