Which Football Clubs Have the Most Premier League Promotions?
May 18, 2021 By Admin
---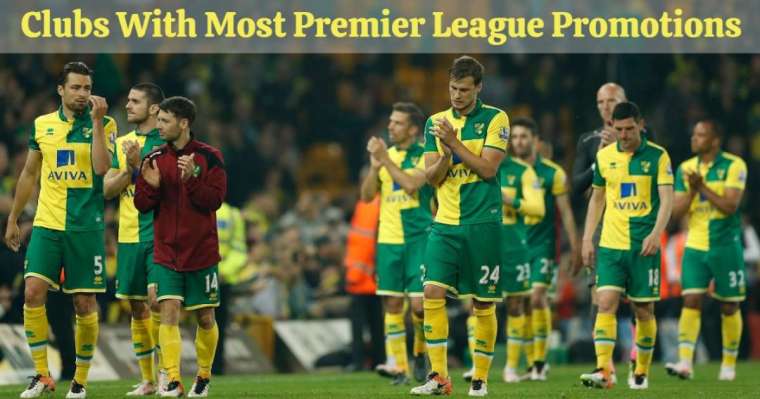 There are 15 teams with three or more promotions to the Premier League since it began in 1992. Seven of those have gone up into the English top-flight four or five times. Here, we look at the clubs that have bounced back most often.
Clubs With Most Premier League Promotions | 2021 Updates
7. Middlesbrough
6. Crystal Palace
5. Leicester City
4. Sunderland
3. Watford
2. West Bromwich Albion
1. Norwich City
So, these are the Premier League clubs that have the highest number of promotions under their bags. Let's check out the details!
7. Middlesbrough (4)
Did you know that Middlesbrough made it into the first-ever Premier League season by finishing runners-up in the old Second Division in 1992? Boro spent much of the mid-1990s yo-yoing between the Premier League and the division below.
Thanks to the goals of Paul Wilkinson, John Hendrie, and Paul Merson, the team from Teesside earned three promotions in six years. A fourth stint in the Premier League was all too brief in 2016-17 after going up alongside Burnley.
6. Crystal Palace (4)
Until their current spell, Crystal Palace had tried and failed three times to establish themselves in the Premier League. Although participating in the inaugural season like Middlesbrough, the mid-90s was a similar story for the Selhurst Park side.
Three of Palace's four Premier League promotions have come via the Play-Offs. The Eagles have finally maintained their presence in the top flight of English football and have a ninth consecutive campaign at this level to look forward to next season.
5. Leicester City (4)
In order for the fairy tale Premier League title triumph of Leicester City in 2016 to even exist, they first had to be in the division. Between 1994 and 1997, they too had that status as a yo-yo team. After suffering a third relegation in 2004, they dropped into the third tier four years later.
That part of their history is often overlooked, but the Foxes came storming back after winning the Championship in 2014. Just two seasons later, the Premier League Champion miracle under Claudio Ranieri lit up the King Power Stadium and sent the Premier League trophy to the East Midlands.
Leicester defied massive odds of 5000/1 in that campaign, upsetting the established order. Their example highlights that even underdogs in football betting, available through sites such as asiabet.org, cannot be discounted in markets, however large the price. Besides outright wagers, you can also bet on teams outside the Premier League getting promoted, which illustrates the general expansion of the betting industry alongside the sport itself.
4. Sunderland (4)
The Black Cats are a far cry from the top flight now, but were yet another yo-yo club between the top tiers in English football. From 1996 to 1999 and again from 2005 to 2008, Sunderland bounced up and down from Championship to Premier League and vice versa.
Following the Wearside outfit, first at Roker Park and then the Stadium of Light, was a real rollercoaster ride in those days. Niall Quinn and Kevin Phillips must go down as one of the most iconic partnerships in Premier League history and to ever grace Sunderland.
3. Watford (4)
When Watford first reached the Premier League in 1999, there was a sting in the tail. The Hornets soared into the top flight off the back of consecutive promotions, but it was too much too soon. They didn't find a second spell in 2006-07 any easier.
It's only in recent years when Watford have become more established in the Premier League. Under ruthless owners the Pozzo Family, who aren't afraid to sack managers, they are back in the big time again after securing a fourth promotion this season. Like in their 2015 campaign, the Hornets finished second in the Championship.
2. West Bromwich Albion (5)
The first of two teams that have a joint-record five Premier League promotions, West Brom are perhaps the best example of a yo-yo club. Between 2002 and 2010, Baggies fans celebrated four promotions and three relegations. Similar ups and downs have been common at other West Midlands clubs in and around Birmingham too.
A similar pattern may be emerging now at The Hawthorns. Relegation in 2018 led to going up for a fifth time this season, but Albion are up against it in their bid to stay in the top flight. Where does this bouncebackability come from?
1. Norwich City (5)
Three of the Canaries' five Premier League promotions have brought the Championship title to Carrow Road with them. Norfolk outfit Norwich first got there in 2004, then again in 2011 having dropped into League One like Leicester and Sunderland, 2015, 2019, and once more for next season.
Football teams would prefer to establish themselves in the Premier League. However, it's not just about the destination but the journey to get there.