Top 10 Most Popular Moments in Football History
November 5, 2021 By Sourav
---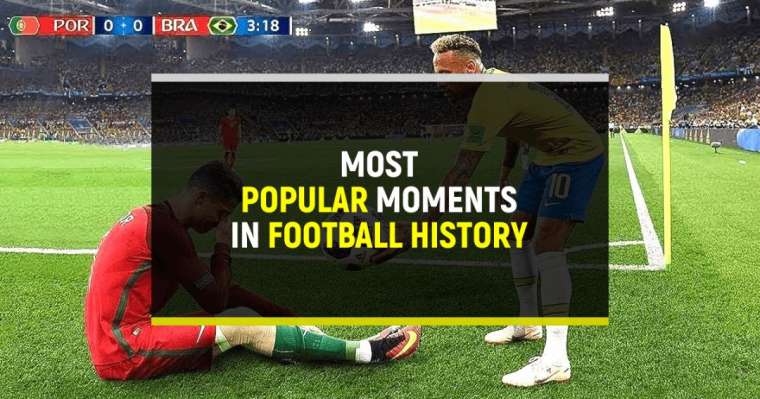 For those who follow it with all heart and soul, football can be a very touching game. Involving tons of people, their emotions, fair play by the players, and tributes to the renowned ones, football is an addiction that most people would die for. In the lines that follow, you will come across some of the Most Popular Moments in Football history.
Most Popular Moments in Football History
10. Zinedine Zidane's headbutt against Materazzi
Football's greatest son, Zidane, played his final world cup in the 2006 edition when he almost single-handedly took France to the final against Italy. After a high-tension first 90 minutes, Zidane exchanged words with Marco Materazzi during the extra time.
The French legend then heated up quite drastically and headbutted the Italian defender. Referee Horacio Elizondo then showed a red card to Zidane. And still now. fans still regard it as one of the most popular moments in football history.
9. Diego Maradona's hand of God
One of the greatest football players, Diego Maradona, showed his godly skills during the 1986 FIFA World Cup. And in a match against England, he displayed his miraculous talent. After the English defender restricted him for the first 50 minutes, Maradona played a quick pass to Jorge Valdano.
English defender Steve Hodge then blocked the ball and tried to give it to Peter Shilton. But then, Maradona showed his talent and scored one of the most controversial goals in the history of football.
8. Fabrics Muamba Returns
Considering the great fall collapse of Muamba in the FA cup game against Tottenham some may look at it as a miracle as to how he is alive today. He suffered a cardiac arrest which stopped his heart for a full 78 minutes.
He was then revived and his full recovery was promised and delivered. This moment still holds its place among the most popular moments in football history.
7. Eduardo Scores on his Return
In February 2008, when Eduardo suffered a terrible leg break, it was predicted that he would never be able to return to football. However, a year later, he made his comeback in a match against Cardiff City in the FA Cup.
Eduardo then hit a goal which brought back the strong emotions of both the players and the viewers. It now holds its place among the top 10 most popular moments in football history.
6. Eric Abidal's Come Back
In 2011, Abidal was diagnosed with a liver tumor and had surgery done for the same. After recovering from the surgery, he made a great comeback and successfully played a 90-minute game against Manchester United only a month later.
He was then given the honor of carrying the winning trophy to show how well-loved he was by his teammates.
5. Carlisle United Saved by Jimmy Glass
With the clock ticking at full speed, Carlisle United needed a goal to stay in the game. The two clubs were tied at 1-1 when Jimmy Glass hit home what is known as the most dramatic goal ever in football history.
This incident now holds its place among the top 10 most popular moments in football history.
4. Iniesta's Win for Dani Jarque
In World Cup 2010, when Andres Iniesta managed to score the final goal against Spain, the attacker then removed his shirt to reveal another t-shirt which said Dani Jarque: Siempre con Nosotros or as translated to English, Dani Jarque: always with us!
This incident deserves its mention among the top 10 most popular moments in football history.
3. Petrov Returns to Villa Park
In 2012, Stiliyan Petrov of the Aston Villa was diagnosed with acute Leukemia which made him take an indefinite leave. However, when he returned to watch his team play against Chelsea, he was honored by a standing ovation the crowd gave him in the 19th minute.
As we all know, 19 happens to be Petrov's shirt number.
2. Sociedad and Athletic unite for Freedom
The two teams were tough rivals until 1976 when the rivalry was put to one side and both clubs united for freedom. Spain at this time was still a fascist where it was illegal to even raise a flag of the Basque or Catalan region.
This moment now holds the second place in the list of the top 10 most popular moments in football history.
1. De Stefano Gives his Shirt to Eusebio
Played in 1962, the European Cup Final between Real Madrid and Benfica is the match where it all happened. Real Madrid was leading with 3-2 until an excellent round from the tough player Eusebio flipped the game entirely.
When the final whistle was blown, De Stefano gave his shirt to his rival, Eusebio which signified the passing of the torch. This left Eusebio touched for he cannot express the honor he was treated with.
Conclusion
So, these were the Most Popular Moments in Football. We hope you liked it. And, don't forget to send us your comment in the suggestion box below.
Most Popular Moments in Football - Infographics