10 Most Overrated Athletes Of All Time
October 19, 2021 By Admin
---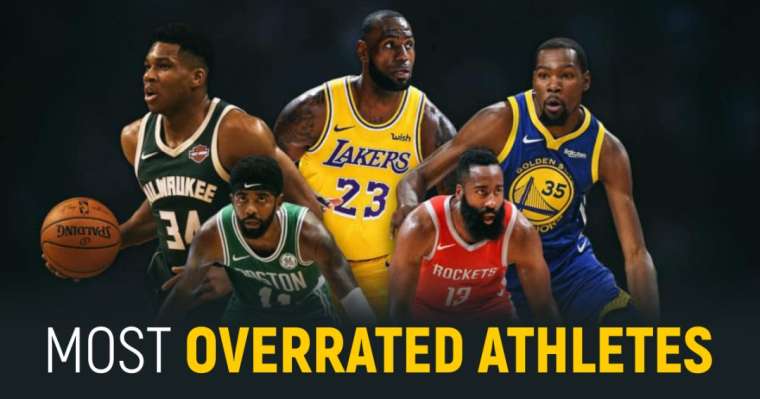 Sports are something considered passionate and determined peoples' activity. But yes, there are still many sportsmen available who are also regarded as the most overrated athletes. Sports athletes are recognized for their skills and achievements in their respective sports, and the love of the fans makes these athletes even more encouraged and famous personalities.
The sports stars always try to be the ones which everybody is talking about to gain popularity. But some of the players are known as the most overrated athletes of all time because of their high fame with ups and downs of theirs sports career. We created a list of those most overhyped athletes who failed to achieve the expectations of their fans.
Most Overrated Athletes | Full Ranking
While most of these athletes we have mentioned below are truly genius in many cases, many of them just got the attention for all the wrong reasons. And, here goes the complete list.
10. Alex Rodriguez
Alexander Enmanuel Rodriguez, known as A-Rod, is a former baseball player from the United States. He is also widely regarded as one of the best MLB players. Although there was a time Alex was well-known for his extraordinary achievements, he will now be forgotten due to his choice to take performance-enhancing drugs.
While fans of this player will remember him, his legacy will likely be more regarding his inability to reach his potential rather than talent. He failed to live up to his potential after being the No. 1 pick in 1993. Besides his achievements, fans considered him one of the most overrated athletes.
The magazine has also released a statement in which they state that they stand behind the story and the professional manner in which it has been reported. Selena Roberts, the newspaper's reporter, contributed to Alex Rodriguez's admission that he took PEDs.
9. Lance Armstrong
Lance Edward Armstrong is a professional former road racing cyclist from the United States. Retired cyclist and seven-time Tour de France champion Lance Armstrong for many years tricked us into believing he was completely clean from performance-enhancing drugs.
But Lance disappoints his fans, who gave him so much honor and respect and made him one of the most overrated athletes of all time. One of the greatest cyclists of all time, Armstrong, achieved most of his success with the help of PEDs.
However, when he was caught, an unfortunate revelation wiped all of his records and made his reputation less important to the rest of us.
8. Grant Hill
Grant Henry Hill, known as Grant Hill, is a former basketball player from the United States. The Orlando Magic paid Hill $73 million over seven years, one of the best contracts in the league. Hill had the talent to become one of the NBA's top players for many years. The NBA fans made him a star and expected him to be played for an extended period with an exceptional career.
But things turned out to be unexpected because Hill could not manage to be a fit and strong player and suffered from many injuries. The injuries he had to suffer from his career are the reason to retire at an early stage.
Furthermore, the last four years, during which Hill played only 47 games. Hill's tenure in Orlando was pretty disappointing, as he proved to be one of the worst free agents in recent memory. Although immensely talented, he couldn't stay healthy.
7. Pete Maravich
Peter Press Maravich, known as Pistol Pete, was a basketball player from the United States. Pete had a remarkable college career with his tremendous achievements. Still, the star player could not prove himself to be the best in the NBA.
Despite his excellent playmaking ability in the amateur ranks, he was unable to duplicate it in the professional levels, rarely ranking among the league leaders. Pete has never been able to replicate the magic at the pro level he had as a collegiate player, with his teams rarely making the playoffs nor even close to winning an NBA title.
He was a great ball-handler and perhaps the best player ever, but the overhyped popularity made him one of the most overrated athletes in NBA history. However, he is still regarded as one of the best NBA shooting guards ever to grace the basketball court.
6. Andy Roddick
The 2003's World no.1 Andrew Stephen Roddick, known as Andy Roddick, is a former tennis player from the United States. He was under pressure and expectations from many sides. He was believed not to have a backhand strong enough to compete with the top players.
His 120 degrees of external arm rotation made his shoulders heavier with the service but allowed him to hit up to 140mph. Furthermore, this guy is best known for his three Wimbledon finals losses to Federer. Big server, sharp on the court, but he lacked variety in his game.
But still, he made his name against some of the greatest tennis players of all time. He kept the New York torch in Men's Tennis alive after the glory years of Sampras and Agassi.
5. Matt Leinart
Matthew Stephen Leinart, known as Matt Leinart, is a former quarterback footballer from the United States. Leinart was the best college quarterback I've seen. If it were not for his strong arm, I would have never known that. He threw it more than 80 yards with great accuracy and showed good leadership on the field.
But Matt could not get to be an NFL favorite by great performances because of his attitude and not paying attention to his career. He became one of the most overrated athletes that gained just popularity. However, it's hard to blame injuries in part because Leinart was virtually injury-free.
Also, it's hard to blame his attitude and lack of work ethic. Other great NFL quarterbacks have been more successful, though, since they have been accused of the same things.
4. Brett Favre
Brett Lorenzo Favre, known as Brett Favre, is a former football quarterback from the United States. In the media's eyes, Favre is blameless since he has led the Packers to their only Super Bowl victory.
It should be noted that many players who have gone on to "legend" status in the NFL have had those kinds of accomplishments as well. ESPN has gushed over his 'legendary' career so often that it's downright embarrassing.
Brett, But when you take a closer look at the stats, you realize that Favre's not that great, just not quite legendary enough to deserve all the praise.'
3. Anna Kournikova
Anna Sergeyevna Kournikova, known as Anna Kournikova, is a professional tennis player from the USA from Russia. She was perceived to be a bright star because of her looks rather than her game. However, she is a beautiful woman, which leads her to be a TV star.
She is widely regarded as one of the most beautiful tennis players ever to grace the court. Still, she is considered one of the most overrated athletes in history because of her less attention towards the tennis sport after gaining popularity.
In the years that her popularity soared, Kournikova lost focus on the sport. In the end, she prefers to be a professional TV star and left behind the tennis career in favor of modeling and a TV career her occupation today.
2. Shaquille O'Neal
Shaquille Rashaun O'Neal, known as Shaquille O'Neal, is a former basketball player from the United States who is famous because of his giant body. He still holds his place as one of the highest point scorers in the NBA.
Shaquille lacked in the skill department. He shot so far below his free throw percentage that many teams began receiving more offensive fouls from him. His best rebounding years were his rookie season and the year after that.
However, his giant body is the main reason for his worldwide popularity. But, Shaquille was considered one of the most overrated athletes in NBA history when it comes to skills and achievements.
1. David Beckham
David Robert Joseph Beckham, known as DB7, is a professional footballer from England. Beckham is the most overrated athlete of all time. As they said, Beckham was a great player, but he never enjoyed a superstar run like Messi.
He was not the dominant soccer superstar. If you compare him to the soccer legends or living legends, Beckham does not stand a chance. However, many of his fans still consider him as one of the greatest footballers of all time.
Besides that, two times, he ended up as a runner-up for FIFA Player of the Year, so Beckham had not some major success that made him a famous player. In fact, his hair made him into a star. The dashing personality made Beckham so popular among football fans.
Most Overrated Athletes - Infographics
Final Words
So here is our list of the ten most overrated athletes of all time from different sports. We would love to have feedback from you in our comment box section.
FAQs Regarding Most Overrated Athletes
Q. Is LeBron James the most overrated player?
As this is the first time in his career that LeBron James has been eliminated in the first round of the playoffs, his detractors are never satisfied with their criticism. They hope to knock the Laker out of the playoffs. Some analysts think that it is too good to be true. And he is overrated.
Q. Is Lionel Messi underrated or overrated?
Lionel Messi is one of the best players I have ever seen. There is no comparison to him in the Clasicos or so many other matches. Nevertheless, football fans commit the fallacy of declaring whoever comes along as the best. Although Messi is fantastic, too many people overestimate him.
Q. Who is the most gifted athlete of all time?
There are many players who are regarded as gifted players in the world. Wilt Chamberlain was as good as Michael Jordan, but he possessed extraordinary gifts. Despite being 7'1" and 275 lbs, Wilt was the most unstoppable stat sheet stuffer we have ever seen.
Q. Who is the most underrated goalkeeper?
Keylor Navas is by far one of the most underrated keepers in history. However, he should be given more credit for his contributions to the three-peat winning team. Real Madrid acquired him immediately after he captained the Costa Rica team in the 2014 World Cup.