Greatest Football Comebacks of All Time
September 27, 2021 By Shafeeq
---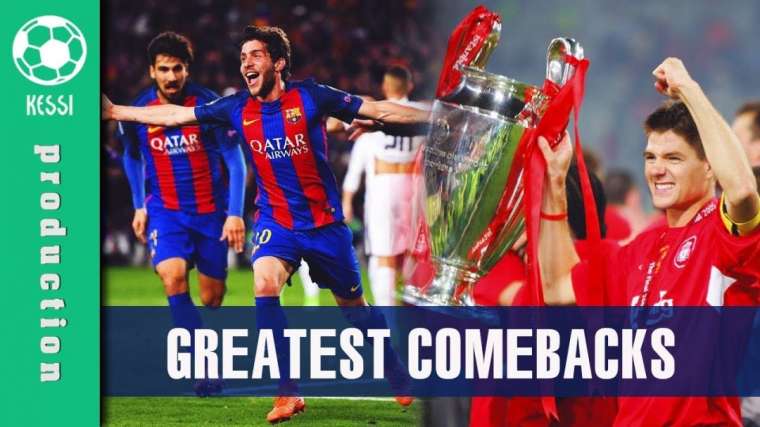 Football, known colloquially as soccer in North America, has a reputation for not always being exciting. The now infamous Simpsons episode poked fun at the world's most popular sport, showing players simply passing between each other, resulting in a riot. Whilst the outcome is different, many games are very unexciting, 0-0 draws. Some are intentionally unexciting, such as the famous Disgrace of Gijon at the 1982 World Cup. As Planet Football explores, players in that game simply stopped trying to score, both happy with the eventual outcome.

That is not often the case, and football can excite and thrill with some great comebacks. We've already looked at the best comebacks the NBA has ever seen, and these football matches are right up there in terms of grit. These are the greatest football comebacks of all time.
Manchester United v Bayern Munich 1999 Champions League
Epic comebacks are not in short supply in the Champions League, as you'll see from the rest of this list, but few occur in the final, and even fewer take just minutes to implement. In 1999, no English club had won the rebranded Champions League, and Manchester United didn't seem capable of doing so. They trailed a functional Bayern Munich by a goal heading into stoppage time. Teddy Sheringham bagged a late leveller, and with extra time looming large, Ole Gunnar Solskjaer stabbed home the winner from a corner.
Barcelona v Paris St Germain 2017 Champions League
Barcelona has a thriving fanbase, one of the best globally, and a rich tradition in the Champions League. Those supporters are very proud of their history, even in their current situation. This season, they're unlikely to triumph in the Champions League as they're ranked as outsiders with Bwin to progress to the final. They were also outsiders heading into the second leg of their round of 16 game against Paris St Germain in 2017. The French side had a 4-0 first-leg victory, and in 213 first-leg matches that finished 4-0 in the past, the losing team had always been eliminated. Barcelona started well, scoring after five minutes and added two more, but when PSG scored with 28 minutes to go, it left them needing three goals. They got one in the 88th minute and another with one minute of injury time played, both courtesy of Neymar. With just seconds remaining, they smashed home a sixth, winning the tie dramatically.
Roma v Barcelona 2018 Champions League

Barcelona might have been the first comeback king, but they've felt the harsh sting of being on the wrong end of a comeback as well. They thrashed Roma in the first leg of their quarter-final game, winning 4-1 with own goals from Daniele De Rossi and Kostas Manolas. Fortunately for Roma, Edin Dzeko got a late away goal for the visitors. Away goals counted double, which meant Roma needed a 3-0 victory in the second leg. It seemed unlikely against Messi, Suarez and Barcelona's world stars, but an early Dzeko goal set the Catalan giants on edge. De Rossi scored from the spot atoning for his own goal, and with eight minutes to go, Manolas did the same to set up a thrilling semi-final with Liverpool.
Liverpool v Barcelona 2019 Champions League
In 2019, it was Liverpool making the historic comeback. This time, Barcelona had made the competition's semi-finals and led comfortably from their home leg. Lionel Messi hit a late brace after Lui Suarez opened the scoring, leaving Liverpool with a mountain to climb. Divick Origi got them off to a great start at Anfield before a Georginio Wijnaldum brace made it level on aggregate. With just ten minutes to play, Trent Alexander-Arnold played a quick corner to Origi, who scored before the Barcelona players knew the ball was in play. Origi was the hero in Madrid a month later as he netted the second in Liverpool's 2-0 final victory.