Latest EPL Season (2021-22) Preview and Winner Prediction
November 3, 2021 By Shafeeq
---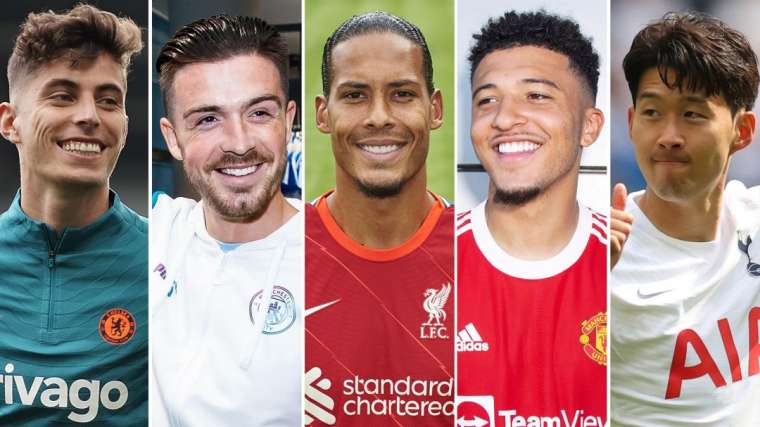 The 2021/22 EPL season kicked off on the 14th of August, 2021. After ten matches, the title contenders are slowly being separated from the title pretenders, and teams are pulling out different surprises.
EPL promises to be exciting, thrilling, jaw-dropping, and will always get you on the edge of your seats every season. This season is no different, with barely ten matches played. After ten matches, the premier league table is starting to take shape; Chelsea is currently leading the league, with 3 points clear of Liverpool and 5 points clear of Manchester City and West Ham United. Accordingly, the top 4 so far consist of Chelsea, Liverpool, Manchester City, and West Ham United.
Even though the league is just ten games weeks in, it's still surprising to see West Ham United not only in the top 4 but also on the same points as Manchester City.
Biggest Surprises
Commonly, there are always mind-blowing surprises in the premier league every season, and thus far, this season has come with its surprises.
One of the many surprises this season is Brentford FC. After ten matches, Brentford sits in 12th position with 12 points, with three wins, three draws, and four losses. The newly-promoted side took the premier league by storm, having gained promotion via the playoffs at the end of the 2020-21 championships season.
The team, which was relegated from the premier league in 2007, first talked when they won their first match against Arsenal. They proved difficult to play against after that match, establishing themselves as a solid team. They drew against Liverpool and pulled up quite many amazing performances.
Aside from Brentford, only Manchester City, Chelsea, and Brighton have gotten at least a point against Liverpool. Brentford could have easily pulled a point against Chelsea, but Mendy's number 1 stopper came to their rescue. Brentford has successfully sent a statement to the whole league not to underrate them in just ten games.
Another surprise notable of mention is Arsenal. After three matches played this season, Arsenal was sitting at 19th position, conceding nine goals. It would surprise many that Arsenal is currently 6th in the league, sharing the same points with Manchester United, one of the supposed title contenders. This is very shocking, yes, we know there was no way Arsenal would get relegated, but no one expected their current form.
After their disappointing start this season, Arsenal have moved on to win five matches. They are yet to lose a match after losing 5-0 to Manchester City; their defense has been solid after their first three matches, conceding only four goals. With their current form, a top 4 finish is very likely for Arsenal and that's good news for betting NZ fans. They have 28 more matches to make this possible, and we really can't wait to see how this goes.
Aside from clubs, some players have also pulled off different surprises. Notable mentions are; Conor Gallagher, who has three goals and two assists so far this season. Kovacic has five assists so far, more assists than he has ever had in a full season. Mo Salah, ten goals, six assists, the Egyptian always comes through every season. However, this season has been amazing; he is currently one of the best players in Europe's top 5 leagues.
Salah is exceeding expectations this season, and Juergen Klopp can't seem to get tired of praising him.
Biggest Fails.
After the signing of Cristiano Ronaldo, one of the greatest footballers of all time, one would expect Manchester United to record huge wins, but that isn't the case at the moment. Manchester United has pulled off several 'disaster-class' so far; the most tragic of them all is the 5-0 thrashing by Liverpool at Old Trafford. Manchester United has performed so badly for a team with such quality of players.
Another team to note is Leicester City. The Foxes finished 5th last season and were amazing, but so far this season, they've been underperforming. They currently sit in 11th position, with 14 points after ten games.
Winner Prediction.
The top 3 teams contending for the EPL title are Chelsea, Liverpool, and Manchester City. Chelsea, the current champions of Europe, is currently 3 points clear of Liverpool and 5 points clear of Manchester City. These three teams are great and very competitive, but it would come as a surprise if Chelsea doesn't end the season as champions of EPL.
Tuchel's tactics and formation are going to play a huge role in Chelsea's title charge. They appear as the most difficult team to go up against in the EPL at the moment. After ten matches, Chelsea has only conceded three goals and scored 26 goals to prove that they are great both defensively and offensively.
Betting Updates
It's no news that Chelsea, Liverpool, and Manchester City are the likely favorites to win this season's EPL title. It would take a lot to get one point against the teams; a win or draw is most likely expected from them every match day. With the right odds and strategy, one would make money betting on these teams while staying updated on new developments.
Teams like Norwich, Burnley, and Southampton concede at least a goal every game week, so it would be wise to acknowledge this when betting.