10 Best Cricket World Cup Matches Of All Time | ICC World Cup Records
July 2, 2021 By Sourav
---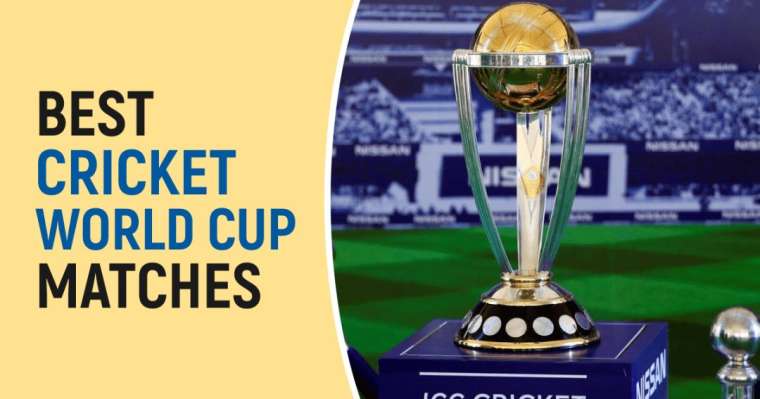 Every single game in the cricket world cup is something enjoyable for fans. But few matches stunned the audience with their breathtaking situations. Here we discuss the best cricket world cup matches in history, which shock the audience with suspense, thrill, and excitement. The fans remembered these thrilling and exciting games as one of the best ICC World Cup matches of all time.
Best ICC Cricket World Cup Matches | All-Time Ranking
10. New Zealand vs. South Africa – 2015 Semi-Final
9. Pakistan vs. England - 1992 Final
8. India vs. Australia – 1987 Group Stage
7. India vs. Zimbabwe – 1983 Group Stage
6. India vs. Sri Lanka – 2011 Final
5. England vs. Australia – 2003 Group Stage
4. Sri Lanka vs. Australia – 1996 Final
3. Ireland vs. England – 2011 Group Stage
2. New Zealand vs. England - 2019 Final
1. Australia vs. South Africa - 1999 Semi-Final
Don't Miss
• ICC Cricket World Cup - Best Matches Infographics
• FAQs Regarding ICC Cricket World Cup
Cricket is the most popular sport in India you must have already known. And without any doubt, ICC cricket world cup is the most popular cricket tournament that has millions of viewers around the globe. But, do you know about the best matches this tournament has ever witnessed? Check these out!
10. New Zealand vs. South Africa – 2015 Semi-Final
Match Date: 24th March 2015
Venue: Eden Park, New Zealand
Score: 299/6 New Zealand) – 281/5 (South Africa)
Umpires: Ian Gould & Rod Tucker
New Zealand was in trouble for most of the match as South Africa led 281/5 with Faf du Plessis and AB De Villiers at the crease. When they went in for the run-chase, the Kiwis were in full force.
One of the hard-hitting batsmen, Brendon McCullum also put on a show in the run-chase as he smashed 56 while moving to mid-wicket as the Proteas faced the absolute power of a nation. Grant Elliott's 84, not out, gave the innings a lifeline.
Elliott drove Dale Steyn for six over mid-on to reach the finals with five runs needed from two balls. However, Grant Elliott performed a remarkable inning. The 40,000+ crowd at Eden Park roared in delirious excitement after Elliott scored the six.
The excitement of the game makes this one of the best cricket world cup matches. Nevertheless, Black Caps fans watching the Proteas could not help but feel a tug at their heartstrings.
9. Pakistan vs. England - 1992 Final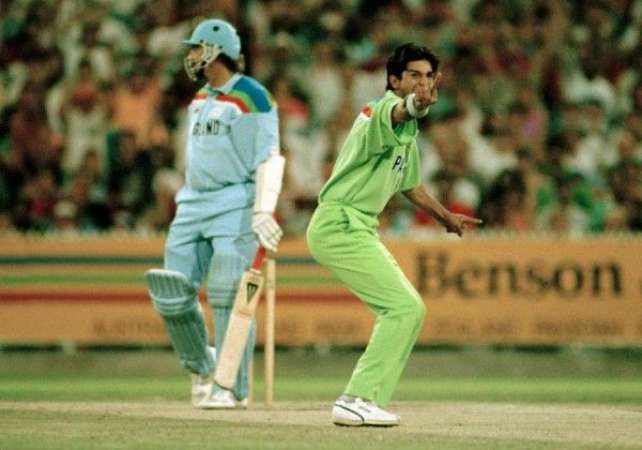 Match Date: 25th March 1992
Venue: Melbourne Cricket Ground, Australia
Score: 249/6 (Pakistan) – 227 (England)
Umpires: Brian Aldridge & Steve Bucknor
At the Melbourne Cricket Ground, Melbourne, the 1992 ICC Cricket World Cup final was held on 25 March 1992. Pakistan won its first-ever World Cup title by defeating England by 22 runs under the captaincy of one of the greatest fast bowlers in cricket history, Imran Khan.
It was Australia's first time to host a Cricket World Cup final and the second played outside England. An estimated 87,182 spectators watched the final, and the win of Pakistan makes this one of the best cricket world cup matches in the world's history.
Additionally, in the ten remaining overs, England required 84 runs from 54 balls at a strike rate of 9.33 per over. Aaquib eventually terminated England's hopes with 62 runs off 70 balls, dismissing Fair brother.
Imran Khan, who turned out to be Richard Illingworth's last ball in international cricket, dismissed Richard Illingworth as 34 runs were needed from the final 12 balls. Aaquib Javed and Mushtaq Ahmed grabbed two and three wickets, respectively, for Pakistan. In addition to scoring 3/49 and making 33 of 18, Wasim Akram was named the Man of the Match.
8. India vs. Australia – 1987 Group Stage
Match Date: 9th October 1987
Venue: MA Chidambaram Stadium, India
Score: 270/6 (Australia) – 269/10 (India)
Umpires: David Archer & Dickie Bird
The Australians scored and became the winning side in a thrilling game against India on 9 October 1987, with the help of a beautiful gesture of sportsmanship. Two runs added before the end of the innings proved decisive in one game, recalls Arunabha Sengupta.
When Dean Jones was batting, he liked to play spinners. He had shown his tendencies in ample measure during the tying test between the same two teams one year earlier. In the third match of the 1987 Reliance World Cup, Maninder Singh took the shot towards long-on.
Furthermore, the Indian fielder, the tallest among the players, lunged when he saw him. Ravi Shastri failed to catch the ball, and it landed behind him. A meter and a half of rope cleared the rope, says Jones.
The person standing behind the stumps, one of the most successful wicketkeepers, Kiran More, said later that it did not appear to be a six. However, this strange win turns this game into one of the best cricket world cup matches.
7. India vs. Zimbabwe – 1983 Group Stage
Match Date: 18th June 1983
Venue: Tunbridge Wells, England
Score: 266/8 (India) – 235/10 (Zimbabwe)
Umpires: Barrie Meyer & Mervyn Kitchen
One of the greatest all-rounders in cricket history, Kapil Dev, played the most excellent ODI innings in history on 18 June 1983. Kapil came out at nine for four and saw India slump to 17 for five and then 78 for seven. He decided to counterattack and scored 175 not out, which helped lift India to 266 for eight.
In terms of individual performances, it was one of the best ever. As a result, his side won the game. In the toss, Kapil Dev decided to bat. The two openers failed to score. Despite Kapil walking out at 9 for 4, the number of wickets in the fall of wickets display was 0, 6, 6, 9, 17, and then 77 and 78.
Despite India losing eight wickets at 140, it did not stand a chance of reaching 200, let alone 266. However, Kapil believed and scored 175, not out after 138 balls. None of the other participants went beyond 24, but that did not matter.
In other words, if we don't count extras, the Indian team scored 79 from 222 (ignoring no-balls). As a result, Kapil hit 16 fours and six sixes and scored 100 runs without moving. This incredible performance by Kapil makes this one of the best cricket world cup matches.
6. India vs. Sri Lanka – 2011 Final
Match Date: 2nd April 2011
Venue: Wankhede Stadium, India
Score: 274/6 (Sri Lanka) – 277/4 (India)
Umpires: Aleem Dar & Simon Taufel
On 2 April 2011, India and Sri Lanka played the 2011 Cricket World Cup Final at Mumbai's Wankhede Stadium in a One Day International (ODI). The tenth edition of the World Cup concluded with the first encounter between these two teams at the final stage in tournament history.
One of the greatest left-handed batsmen of all time, Kumar Sangakkara, won the toss for Sri Lanka and chose to bat first. In the team's first 17 overs, they scored slowly until they both lost their openers. Mahela Jayawardene and Sangakkara batted together for 62 runs before being dismissed for 48 runs.
In India, about 135 million people watched the match on television, as well as about 42,000 spectators at the venue. A host nation won the World Cup final for the second time ever and for the first time on home soil. The great victory of India on the home ground turns this game into one of the best cricket world cup final matches of all time.
India led Sri Lanka in One Day Internationals with 75 victories, while Sri Lanka won 52 matches, while 11 games ended without a result. An enormous amount of interest was generated by the final. Former Sri Lankan President Mahinda Rajapaksa, a known cricket enthusiast, has announced his match and his sons' participation. As a result, Pratibha Patil, the Indian president, also decided to attend the game.
5. England vs. Australia – 2003 Group Stage
Match Date: 2nd March 2003
Venue: Port Elizabeth, South Africa
Score: 204/8 (England) – 208/8 (Australia)
Umpires: Aleem Dar & Russell Tiffin
In one of the most interesting cricket matches ever in world cup history, Andy Bichel produced a stunning performance to rank among the best and condemn England to four more years of turmoil. Bichel's 7-20 helped England slip from 205 to 48-4 and then 114-7 – thanks to an unimpressive 205.
Without Jacob's, Australia was in trouble. As Bichel began the battle, an approaching England was poised to administer the final rites while one of the greatest finishers in cricket history, Michael Bevan, was left at the other end.
In the half-hour that followed his bowling feat, Bichel scored 34 priceless runs, including two boundaries to secure victory. Captain Nasser's face won't be forgotten as Bevan hits the decisive boundary from the final over.
It was England's moral rectitude that led them to exit the group stage. As a result, they gave up points by refusing to visit Zimbabwe, while Australia won the tournament twice in a row after playing in Harare.
4. Sri Lanka vs. Australia – 1996 Final
Match Date: 17th March 1996
Venue: Gaddafi Stadium, Pakistan
Score: 241/7 (Australia) – 245/3 (Sri Lanka)
Umpires: Steve Bucknor & David Shepherd
1996 was the sixth ICC Cricket World Cup Final since the event started in England in 1975. On 17 March 1996, the match was held at the Gaddafi Stadium in Lahore, Pakistan, which had a capacity of 62,645 for the first time.
Defending champion Australia faced the underdog Sri Lanka in the match. Following the 1987 ICC Cricket World Cup victory and the 1975 loss to West Indies, it was Australia's third World Cup final appearance. Arjuna Ranatunga won the toss, and Australia was allowed to bat.
Mark Taylor and one of the greatest captains in cricket history, Ricky Ponting, launched the team off to a blazing start, but Australia subsequently fell from 1–137 to 5–170, as Sri Lanka's four-pronged spin attack claimed its toll. As Australia struggled to 7–241 in their quota of 50 overs, Sri Lanka overcame a nerve-wracking start and won by 128 runs in 45 overs.
Captain Ranatunga (47 not out) and veteran Asanka Gurusingha (65) assisted Aravinda De Silva's match-winning knock of 107 not out. De Silva took three for 42 in his ten overs in the Australian innings earlier on. Sanath Jayasuriya was named man of the series after taking three for 42 in his ten overs in the Australian innings as well.
3. Ireland vs. England – 2011 Group Stage
Match Date: 2nd March 2011
Venue: M. Chinnaswamy Stadium, Bangalore
Score: 327/8 (England) – 329/7 (Ireland)
Umpires: Aleem Dar and Billy Bowden
Ireland's Kevin O'Brien scored the fastest century ever at a World Cup in Bangalore, smashing the fastest century ever off 50 balls. This breathtaking century led Ireland to a great victory and makes this game one of the top 10 matches ever in the world cup's history.
It looked as if England would win when they made 327-8 off their 50 overs, but a big hit from O'Brien helped them to victory.
Irland surpassed its memorable win over Pakistan in the 2007 World Cup with this victory. The tie between England and India on Sunday was dramatic enough, but this match probably provided even more great entertainment.
For O'Brien (113), his innings started severely for his team, which was facing 111 for five after losing three wickets in the first eight overs. After making the first 48 runs, he smashed six sixes and 13 fours in 50 balls and then combined with Alex Cusack (47) for 162 runs in 17 overs.
2. New Zealand vs. England - 2019 Final
Match Date: 14th July 2019
Venue: Lord's, London
Score: 241/8 (New Zealand) – 241 (England)
Umpires: Kumar Dharmasena & Marais Erasmus
On 14 July 2019, Lord's in London, England, hosted the 2019 Cricket World Cup Final to determine the 2019 Cricket World Cup winner. This time, the finalists from last year's tournament, New Zealand, and England competed. Having hosted the most significant number of Cricket World Cup finals of any stadium, Lord's hosted the fifth one.
At the end of the match, both teams scored 241 runs, resulting in the play of a Super Over to break the tie. Martin Guptill attempted to score the winning run in New Zealand's Super Over but was run out by two of the greatest cricketers of all time, Jason Roy and Jos Buttler, and the Super Over was also tied.
England won on a boundary count-back rule, scoring 26 boundaries to New Zealand's 17, thus securing the first Cricket World Cup victory. As a result, it was the first time a One Day International final had needed a Super Over, and subsequently, a boundary count had been used to determine the winner.
In the sport's history, this game has been described as the most notable, dramatic, and best match of the cricket world cup 2019. With some analysts describing it as the most excellent match in the history of one-day cricket.
1. Australia vs. South Africa - 1999 Semi-Final
Match Date: 17th June 1999
Venue: Edgbaston, Birmingham
Score: 272/5 (Australia) - 271/7 (South Africa)
Umpires: David Shepherd & Srinivas Venkataraghavan
On 17 June 1999, England's Edgbaston Cricket Ground hosted a One Day International (ODI) in the second semi-final of the 1999 Cricket World Cup. South Africa and Australia contested it. One of the greatest batsmen ever, Allan Donald, and Lance Klusener played out a run-out to end the match
It resulted in Australia being awarded a spot in the final where they defeated Pakistan. The tournament players had to score nine runs to reach the World Cup final, so when Lance Klusener hit four off the first two balls of the over, the result seemed assured.
However, he nearly lost his wicket off the third ball of the over, and then nerves set in. Klusener rounded the bases with a single from the fourth, so Allan Donald stayed at the non-striker's end.
The underarm throw from Damien Fleming had already reached Adam Gilchrist's gloves before Donald started running. The run-out was undoubtedly cricket's most famous and made this semi-final one of the best cricket world cup matches ever in cricket's history.
Final Words
We hope you liked the list of our best cricket world cup matches ever. Please let us know how the list worked in the comment box since we appreciate your feedback.
ICC Cricket World Cup - Best Matches Infographics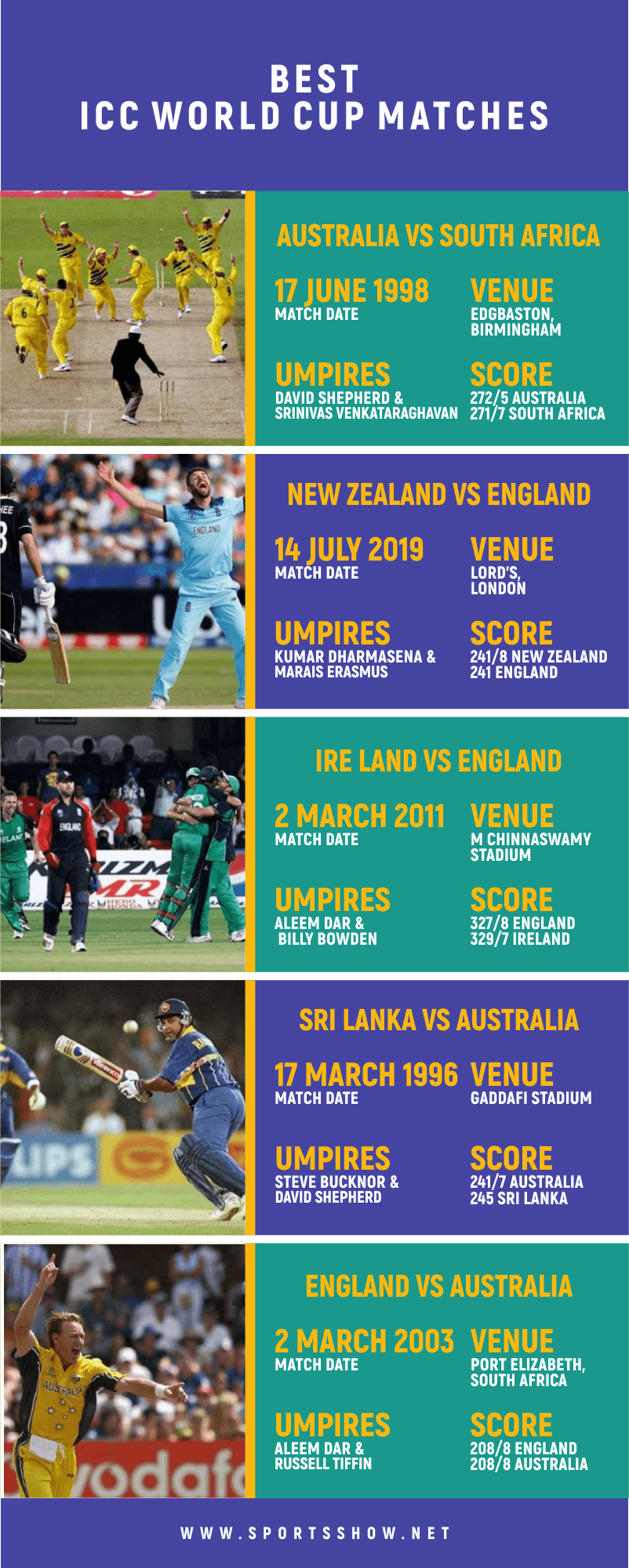 FAQs Regarding Best ICC World Cup Matches
Q. Which is the best cricket match ever played?
England and New Zealand played the most exciting final at the ICC World Cup 2019. New Zealand won the toss and posted 241 on board, contributed significantly by Henry Nicholls (55) and Tom Latham (47). However, England won its first World Cup on that historic day.
Q. Who played the highest World Cup cricket matches?
Throughout his World Cup career, Ricky Ponting played 46 matches for Australia from 1996 to 2011. Sachin Tendulkar holds second place with 45 games between 1992 and 2011.
Q. Which is the best ODI match ever?
There was just about everything happening in the 50 overs between Australia and South Africa in the World Cup semi-final at Edgbaston. It was one of the great one-day matches in history and arguably the best game of cricket ever played.
Q. Who are the best cricket teams in ICC Cricket World Cup history?
The Australians have won five tournaments and finished as runners-up twice, making them the most successful team in the competition's history.