10 Best AEW Wrestlers of All Time | Power Ranking
June 11, 2021 By Admin
---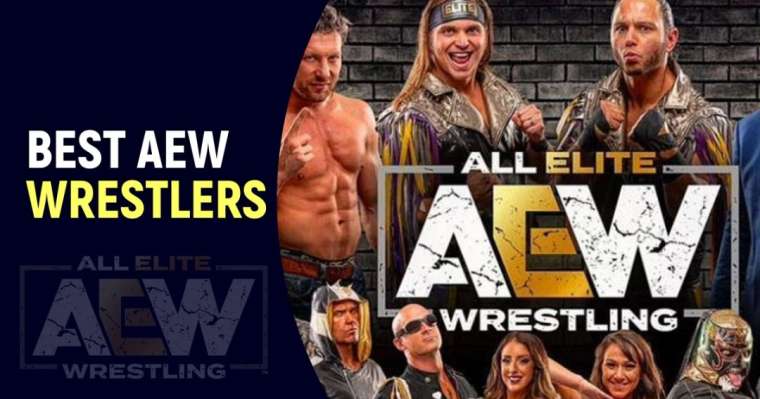 All Elite Wrestling aka AEW is one of the most popular wrestling promotions globally. Wrestlers in the promotion gained considerable profit and popularity because of the short-time success of AEW. Here we list the best AEW wrestlers of all time. These AEW superstars gained a massive fan following with their astonishing performances play roles.
Greatest AEW Wrestlers - All-Time Ranking
10. Orange Cassidy (Real Name: James Cipperly) - 2004 to Present
9. Pac (Real Name: Benjamin Satterley) - 2004 to Present
8. Brian Cage (Real Name: Brian Christopher Button) - 2005 to Present
7. MJF (Real Name: Maxwell Jacob Friedman) - 2015 to Present
6. Darby Allin (Real Name: Samuel Ratsch) - 2015 to Present
5. Chris Jericho (Real Name: Christopher Keith Irvine) - 1990 to Present
4. Jon Moxley (Real Name: Jonathan David Good) - 2004 to Present
3. Adam Page (Real Name: Stephen Blake Woltz) - 2008 to Present
2. Kenny Omega (Real Name: Tyson Smith) - 2000 to Present
1. Cody Rhodes (Real Name: Cody Garrett Runnels) - 2006 to Present
We know mainly about the popular WWE superstars. But, AEW also produced some of the greatest writers of all time, although they failed to get a huge limelight. And to tribute them, here goes the all-time list.
10. Orange Cassidy
With his underdog spirit and comedic timing, Cassidy has frequently stolen the show with his lackadaisical attitude. The most important thing is that he's become a fan favorite, repeatedly receiving tremendous response in any arena in which he appears. Cipperly made his debut for All Elite Wrestling (AEW) on 25th May 2019, when Cassidy appeared as Orange Cassidy during their inaugural event Double or Nothing.
Where he entered the Casino Battle Royale late and confronted Tommy Dreamer, who threw him out. The signing of Mr. Cassidy's contract with AEW was announced on 12th August. Following a successful battle with The Dark Order (Stu Grayson and Evil Uno) at the 31st August All Out pay-per-view, Cassidy returned to align himself with Best Friends (Chuck Taylor and Trent).
AEW's Cassidy came up against QT Marshall, Alex Reynolds, and John Silver on the 30th October 30 episode of Dynamite for his debut match with the company. This makes him one of the best AEW John Silver lost to Cassidy during the Full Gear event on 7th November. Kip Sabian and Miro became enmity with Cassidy and Best Friends once the year 2021 arrived.
Cassidy and Chuck Taylor lost to Sabian and Miro at the Revolution pay-per-view on 7th March 2021. However, the team was defeated by Cassidy and Taylor in an Arcade Anarchy match on the 31st March episode of Dynamite. This May, Cassidy received an invitation to the AEW World Championships.
9. Pac
A professional wrestler known by his ring name Pac, Benjamin Satterley, was born in Birmingham, England. In addition, he worked for All Elite Wrestling (AEW). On 8th January 2019, the announcement came that Pac was one of the first recruits for All Elite Wrestling (AEW). A feud between Pac and Adam Page began during the inaugural rally of AEW in Jacksonville.
The match between Page and Pac for AEW's inaugural event, double or nothing was announced at the company's second rally in Las Vegas. However, in late May, the event was canceled because of "creative differences." They were scheduled to wrestle in an independent PPV called Wrestle Gate Pro on 17th May, a week before Double or Nothing.
Moreover, his outstanding performances and exciting role-play are always thrilling and enjoyable for fans making him one of the best AEW wrestlers. Pac replaced Jon Moxley at All Out when Moxley was forced to pull out due to injury on 23rd August. When All Out's crucifix hold (also known as the Rings of Saturn or Brutaliser) defeats Omega on 31st August, it wins the match.
During the premiere of Dynamite on 2nd October Pac defeated Page, thus reigniting their feud. Pac suffered his first all-AEW singles loss at Full Gear when he was defeated by Page. In the episode of Dynamite for 13th November, Pac defeated Page, ending the dispute.
8. Brian Cage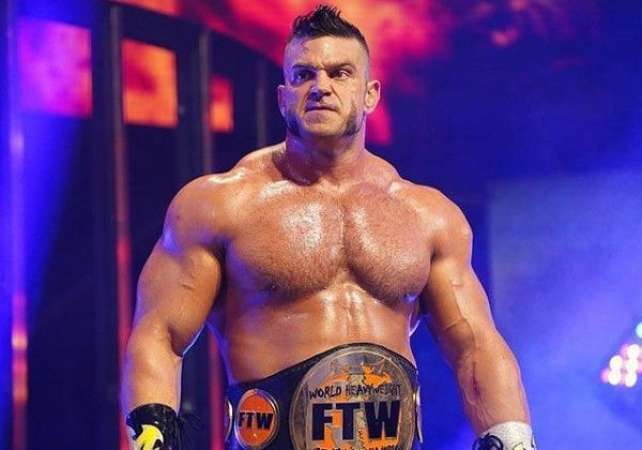 Cage was born Brian Christopher Button on 2nd February 1984, famously known by the ring name Brian Cage. His professional wrestling career began in 2001 with All Elite Wrestling (AEW). In his first reign as FTW Champion, he is currently the longest-reigning member of Team Taz alongside Ricky Starks, Hook, and Powerhouse Hobbs. It was reported on 12th January 2020, that Cage had signed with All Elite Wrestling (AEW).
The newcomer's professional debut came at Double or Nothing on 23rd May, where he faced off against his new cornerman Taz. As a result of winning the match, he became the leading contender for the AEW World Championship. Unique style and interesting character make Cage one of the best AEW wrestlers.
A couple of months later, on 2nd December 2020, during Winter Is Coming, Starks and Hobbs, now known as Powerhouse Hobbs, lost to Cody Rhodes and Darby Allin in a tag team match, after which Cage, Hobbs, and Starks attacked them before Sting made his AEW debut and eliminated Team Taz.
In the 21st January issue of Dynamite, John Cage, Ricky Starks, and Darby Allin faced Darby Allin and Sting. Dynamite's 17th March episode showed signs of a face turn by Brian Cage, who came out and showed respect to Sting, much to Taz and the rest of Team Taz's annoyance. There are also reports that Cage will star in the horror film Jasper (2022), produced by Shaun Cairo Pitchfork (film).
7. Maxwell Jacob Friedman
Better known as MJF is a professional wrestler from the United States. His in-ring debut took place in the February 2015 program at the Create A Pro Wrestling Academy in Hicksville, New York, where Brian Myers and Pat Buck trained Friedman. On 7th January 2019, All Elite Wrestling (AEW) announced Friedman had signed a five-year contract. During the pre-show Battle Royale for an AEW World Championship opportunity, he debuted as a heel.
Since then, MFJ entertained the fans with his mind-blowing performances in the ring and is known as one of the best AWE wrestlers. A final two appearances and his elimination by Adam Page brought him to the end of the competition. Friedman faced Jimmy Havoc, Page, and Jungle Boy at the Fyter Fest last summer.
During the match, Page won. His next game against Havoc, Darby Allin, and Joey Janela was Fight for the Fallen the next month with Shawn Spears and Sammy Guevara. On the 20th January 2021 episode of Dynamite, a tag team battle royal was announced for AEW Beach Break. The winners got an AEW World Tag Team Championship match against The Young Bucks (Matt Jackson and Nick Jackson) at Revolution.
The Young Bucks also participated and had they won. The two groups had the option of choosing their opponents. Jericho defeated Dante Martin of Top Flight to win the battle royal, earning himself and MJF a title match at Revolution. As the tensions between MJF and Guevara have grown, Guevara attacked MJF during the 10th February episode of Dynamite, inflicting him with a kayfabe rib injury.
6. Darby Allin
A professional wrestler signed to All Elite Wrestling (AEW), Samuel Ratsch, born 7th January 1993, is better known by his ring name Darby Allin. He also appears in WNN promotions, wrestling for Evolve. In October, Allin entered contention for the AEW World Championship and would challenge Chris Jericho for the championship on the October 16 episode of Dynamite. On 15th January 2020 at Bash at the Beach, Allin competed in a four-person tournament to determine the number one contender to the AEW World Championship.
Allin then got into a feud with Sammy Guevara, one of Jericho's allies. AEW TNT Championship inaugural champion Allin competed in this tournament in April. Cody eliminated him from the semifinals after he defeated Guevara in the first round. However, the impressive and thrilling appearance and performances of Allin make him one of the best AEW wrestlers in the world.
On the 29th July episode of Dynamite, Allin teamed with AEW World Champion Jon Moxley to defeat Cage and Ricky Starks in a tornado tag team match. As a result, Allin granted Moxley a championship game. A game of Dynamite took place the following week in which Allin was defeated.
There was a 30-second segment on 29th August that showed Allin walking down a forest road with thumbtacks strapped to his back, climbing up to the top of a bridge, and jumping off. During All Out's 21-man Casino Battle Royale on 5th September, Allin lost to Cage. On the 30th September episode of Dynamite, Allin faced off against nemesis Ricky Starks in a winning effort.
5. Chris Jericho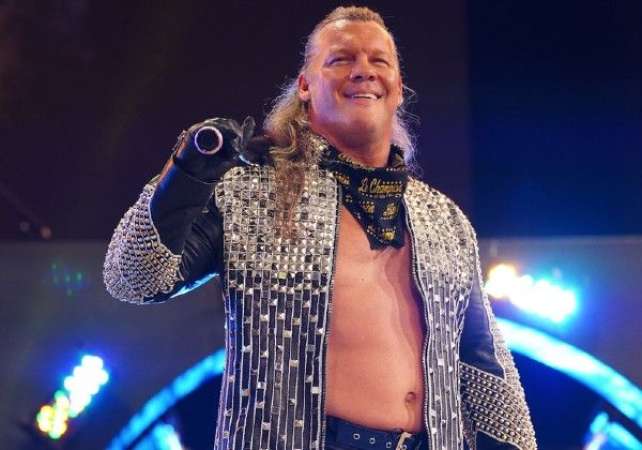 Known by his ring name Chris Jericho, Christopher Keith Irvine is an American-Canadian professional wrestler. One of the finest aerial wrestlers, Jericho, is currently signed with All Elite Wrestling (AEW). Media and industry peers have named him one of the greatest wrestlers of all time due to his over-the-top rock star persona. During a media event organized by the new promotion All Elite Wrestling (AEW).
Jericho made a surprise appearance. After signing the three-year contract, Jericho announced to AAEW that he would become a full-time performer. He entertains the fans with his full passion and remarkable career, and he is one of the best AEW wrestlers. The promotion's inaugural event, double or nothing, took place on 25th May and featured Jericho defeating Kenny Omega. Jericho gained massive popularity in his wrestling career and is known as one of the best AEW wrestlers of all time.
The following night, at Dynamite, Jericho and Guevara challenged SoCal Uncensored (Frank Kazarian and Scorpio Sky) to AEW World Tag Team Championship matches. The AEW loss was Jericho's first defeat since joining the company, making it his first defeat. A successful AEW title defense by Jericho against Sky was the highlight of Dynamite's 27th November episode.
In December, on the 8th January 2020 episode of Dynamite, Moxley initially joined the group. However, this was later revealed as a ruse from Moxley as he attacked Jericho and Sammy Guevara. In the next few weeks, Moxley became a top contender for Jericho's title, where he defeated Jericho on 29th February and ended his 182-day reign as World Champion.
4. Jon Moxley
A professional wrestler and actor, Jonathan David Good, affectionately known as Jon Moxley, currently wrestles for All Elite Wrestling (AEW). In addition, he makes appearances for New Japan Pro-Wrestling (NJPW), where he is the current and longest-reigning IWGP United States Heavyweight Champion in his second reign, and also wrestles sporadically on the independent circuit.
From 2011 to 2019, he competed under the ring name Dean Ambrose in WWE. However, Jon is also one of the best AEW wrestlers in history. He debuted in pro wrestling in 2004 under the name of Jon Moxley and competed in regional promotions such as Heartland Wrestling Association (HWA). During his time at the professional circuit, he is also known for his ridiculous wrestling outfits that he donned.
On 1st May, Good released a video on his Twitter account showing him breaking out of prison, having reverted to his former Jon Moxley gimmick and name. His debut for All Elite Wrestling (AEW) came on 25th May during the inaugural event. He attacked Chris Jericho, Kenny Omega, and the referee after his and Jericho's elimination.
Following the signing of the multi-year contract, Moxley joined the company. The original proposal was accepted, and Moxley appeared keen to join the group. But he soon overheard the ploy and turned against them. Moxley has won the No. 1 spot for the championship after defeating Sammy Guevara and Pac in a tournament. His entire career and excellent performances make him one of the best AEW wrestlers.
3. Adam Page
A former AEW Tag Team Champion with Kenny Omega, Adam Page is an American professional wrestler currently signed to All Elite Wrestling (AEW). Initially, he worked as Adam Page on the independent circuit in 2008.
After appearing in Ring of Honor (ROH) from 2011 to 2014, he moved to WWE. As of 2016, Page is a member of the villainous stable Bullet Club and has promoted his role in the new show.
Adam Page signed with the new promotion All Elite Wrestling (AEW) in January 2019. As a result of their confrontation during an AEW press conference. Page and Pac are set to face each other at Double or Nothing. In spite of this, the match was canceled following creative differences.
It was Page who ended up advancing to the finals of Double or Nothing's Casino Battle Royale. Where he eliminated MJF to win and put himself in contention for the AEW World Championship.
2. Kenny Omega
A Canadian-born professional wrestler, Kenny Omega is known for his aggressive style. The executive vice president of All Elite Wrestling (AEW), Omega is also a professional wrestler. Omega is a former professional wrestler for New Japan Pro-Wrestling. He was the inaugural IWGP United States Heavyweight Champion.
He also, held the IWGP Heavyweight Championship and the IWGP Intercontinental Championship. Omega is one of the best AEW wrestlers who are an inspiration for everyone. He was part of the Bullet Club, a group known for its video game-inspired persona. The following year, Omega was named Sports Illustrated's Wrestler of the Year and ranked among Pro Wrestling Illustrated's top 500 male wrestlers.
The ll Elite Wrestling (AEW) signed Omega to a four-year contract on 7th February 2019. Besides Cody and Matt, Omega is one of the promotion's executive vice presidents and a ring talent. Jon Moxley attacked both he and Chris Jericho following the promotion's inaugural event.
In response to Moxley's last attack, Omega attacked Moxley at Fyter Fest. There was a match scheduled for the All Out pay-per-view between Omega and Moxley. Lights Out, a non-sanctioned game at Full Gear on 9th November, saw Moxley defeat Omega.
1. Cody Rhodes
One of the richest wrestlers of all time, Cody Garrett Runnels Rhodes, was born in the United States. As an executive vice president and wrestler for All Elite Wrestling (AEW), he represents the company. Rhodes's unique style of attention to fans makes him one of the best AEW wrestlers ever.
All Elite Wrestling (AEW) was officially announced in Jacksonville on 1st January 2019. When Cody announced, he would serve as Executive Vice President along with Matt Jackson and Nick Jackson, and Kenny Omega.
The promotion signed both Cody and The Young Bucks to five-year contracts. When Cody lost at Full Gear, he announced an end to his AEW World Championship run. The 6th November Dynamite episode contained Cody's announcement that he would no longer challenge the AEW World Championship if he were to lose at Full Gear.
He has six tag team championships with four different partners 3 World Tag Team Championships and 3 WWE Tag Team Championships. In May 2016, Rhodes requested his release from WWE.
Final Words
We hope you liked the list of our best AEW wrestlers ever. Feel free to tell us in the comment box about this list. We appreciate your valuable feedback.
FAQs Regarding Best AEW Wrestlers
Q. Who is the highest-paid wrestler in AEW?
The highest-paid AEW wrestler is Jon Moxley, earning $6 million a year. However, several other superstars such as Chris Jericho and Kenny Omega also earn more than $5 million each year.
Q. Is AEW better than WWE?
The weekly show Dynamite on AEW has consistently been more entertaining in 2020 than Raw or SmackDown. When it comes to WWE's storylines, they often feel confused, and resolutions to storylines aren't often realized. AEW allows its creators to develop characters and produce appealing stories.
Q. What is Cody Rhodes's net worth?
The net worth of the AEW superstar is approximately $2 million.