Top 10 Wrestlers With The Most Ridiculous WWE Outfits
August 3, 2021 By Sourav
---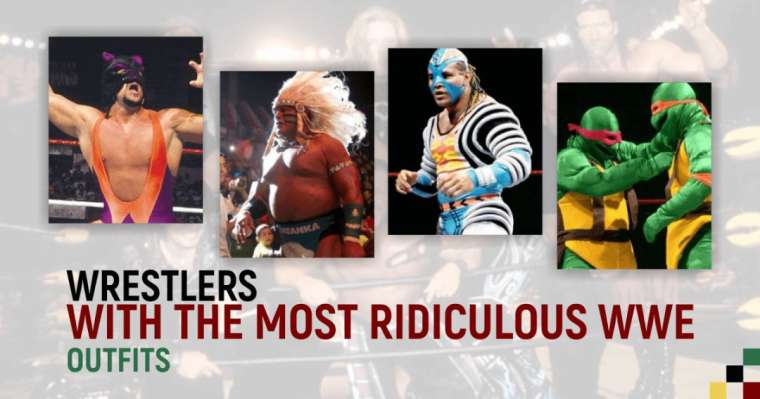 Professional wrestling is all about entertainment. They put up a show to attract people, and their shows have a storyline in which the wrestlers each play a character. They also dress themselves according to their characters. To keep up with the storyline and the characterization, the outfits are quite over-the-top and outrageous. The wrestlers are not ordinary entities so are their outfits. Here in this post we are summing up the most Ridiculous WWE Outfits ever worn by the WWE superstars.
Most Ridiculous WWE Outfits | All-Time Ranking
Flamboyant colors, weird designs, eye-catching materials – wrestlers do just about anything to their costumes to grab the attention of people, and even irk them at times. But sometimes, they go overboard with the outfit designs. Let's take a look at the 10 Wrestlers with the Most Ridiculous WWE Outfits.
1. Gobbledy Gooker
Mexican-born Hector Manuel Guerrero Llanes was popular by his ring name Hector Guerrero. In 1990, he performed under the name Gobbledy Gooker, during which he burst into the wrestling scene with an egg – literally. He was dressed as a turkey.
Even the league contributed to hyping it by building up to a big reveal, as a mystery egg kept appearing on the tv screens, leaving the fans to speculate what it was all about.
When Gobbledy Gooker finally arrived, dressed in a turkey suit, people immediately jeered. In fact, to this day, that costume is looked back upon as one of the most embarrassing moments of wrestling, especially in the 1990s.
He is inducted into the prestigious first position in our list of 10 Wrestlers with the Most Ridiculous WWE Outfits.
2. Giant Gonzalez
Jorge Gonzalez was an Argentine wrestler who assumed the ring name Giant Gonzalez in 1993. Having assumed a name like that obviously brought with it the pressure to look like a giant, and as a wrestler, he was also expected to have some toned muscles to show off. But he didn't have such a sculpted body.
But instead of going with the common idea of working out to build the body and the muscles, he went down a different track – he got himself a muscle costume.
Throughout his career, he highlighted his huge size of 8 feet and turned his persona into a giant. When he wore the muscle suit, it just made him look completely nude.
Much to the chagrin of the fans, it looked like a giant was terrorizing his opponent in the nude! He is inducted in the 2nd place in our list of 10 Wrestlers with the Most Ridiculous WWE Outfits.
3. Bastion Booger
Michael "Mike" Shaw was most noted in the world of wrestling for playing the character of WWF under the moniker of Bastion Booger. As it is evident from the name, he was one of the filthiest WWF superstars.
His character was a gluttonous man-child, and he dressed in grungy singlets, which were some of the most disgusting of their kind, as they looked a lot like stringy diapers, making the character even more awful.
As a result, he never managed to be a favorite of the fans, though it was not just because of the costume. When he landed TV time backstage, he would stuff food into his face.
He had a short career and bid goodbye after his final match in 1994. But his character is still inducted in the 3rd place in our list of 10 Wrestlers with the Most Ridiculous WWE Outfits.
4. Aldo Montoya
Before Peter Joseph Polaco became famous under his ring name Justin Credible, he was associated with WWF under the name Aldo Montoya. During his stint as Alto, he portrayed a Portuguese with a costume that was nothing short of a nightmare.
It consisted of a bright yellow mask which has been noted as the ugliest mask in the history of wrestling. Some have been inspired by its ugliness to liken it to a jockstrap. The reason this mask became so infamous was the jaw-dropping color scheme.
The bright yellow of the mask was combined with green and red. Thankfully, the character did not click, and Polaco's Aldo left the ring.
So did the outlandish costume, much to the relief of the wrestling fans. While Polaco found fame as other characters, especially Justin Credible, the horrendous mask led him to be inducted in the 4th place in our list of 10 Wrestlers with the Most Ridiculous WWE Outfits.
5. Berzerker
American wrestler John Nord joined the world of WWF in 1991. His character was named The Viking. But soon, he assumed the character of The Viking.
He was yet another wrestler who took part in the trend of finding a theme or background for a character and then taking it beyond the levels of commonness. Berzerker was a Viking character, to live up to the notoriety of the clan as violent warriors with brute strength.
Berzerker wore a two-horned Viking helmet, with a leather belt, and sometimes also carried a sword and shield.
He was so deep into the character that he always featured himself as uncontrollably angry. For his costume, he is inducted in 5th place in our list of 10 Wrestlers with the Most Ridiculous WWE Outfits.
6. Max Moon
Retired professional wrestler Thomas "Tom" Boric was better known by his ring name Paul Diamond. In the fall of 1992, he got the opportunity to play a brand new gimmick in Maximillian Moon, or Max Moon in short.
Max Moon had a striking entrance as a man from outer space who shot rockets out of his arms. But, despite his great potential, it was the costume that held the character back. The costume was like a neon rainbow, with pink, blue, and yellow blended together, and occasional stripes in white.
Altogether, the colors created a ghastly sight. Besides a very confusing mask, he had extra padding in the knees, shoulders, and elbows which made him look much less intimidating.
Interestingly, this awful costume happens to be one of the most expensive costumes in the history of WWE. He is inducted in 6th place in our list of 10 Wrestlers with the Most Ridiculous WWE Outfits.
7. Tatanka
Christopher "Chris" Chavis is best known for his work as Tatanka with the WWF. Originally part of the Lumbee tribe, his ring name was inspired by his Lakota origin and translates to bull buffalo.
WWE, in their attempt to diversify his origins and his weightlifting prowess, and went completely overboard with it. Tatanka was an avatar dressed in full headdress, colorful ribbons, and war paint. He did not stop there.
He would even dance around the ring, as he chanted traditional Lumbee songs. While he was a noted wrestler with a great body, his antics were absolutely ridiculous. And, they make us cringe when we look back.
But even more absurd were his outfits, which call for him to be inducted in the 7th place in our list of 10 Wrestlers with the Most Ridiculous WWE Outfits.
8. Shawn Michaels
Michael Shawn Hickenbottom, better known by his ring name Shawn Michaels, is one of the most well-known wrestlers in the history of WWE. During the early parts of his career, he sported an insane variety of vests.
These vests ranged from beet red ones with rhinestones to ones having zebra print. One of his most notable ones was that clad in peace symbols, and pieces of unidentified objects dangling from it. The vests were all sleeveless. His wrestling pants were equally flamboyant.
His look came with his iconic mullet. However, he has toned down his style to keep up with the modern crowd. He goes shirtless, but his mullet and wrestling pants have survived.
At least for his former costumes, he deserves to be inducted in the 8th place in our list of 10 Wrestlers with the Most Ridiculous WWE Outfits.
9. Goldust
Dustin Patrick Runnels, son of Hall of Famer Dusty Rhodes, is noted for playing the character called Goldust, a recurring character within the ring even today. It seems that he never picked any lesson from his father about costume designing while growing up.
And, this happened because he presents some of the most outrageous costumes. He debuted in 1995 and has been consistently ridiculous when it comes to wardrobes. He comes with his face painted in gold, with various black and gold patterns.
While there are worse color combinations, Goldust's overdoing the shades by using no other color is what makes the whole thing so overwhelming. His actual costumes are equally ridiculous.
Made of latex, they look terrible on a wobbly man like him. He is inducted in the 9th place in our list of 10 Wrestlers with the Most Ridiculous WWE Outfits.
10. IRS
Mike Rotunda started his career in 1984 when WWF had not yet changed to WWE. It was in 1991 that his character, Irwin R. Schyster, was launched.
This infamous character was a sleazy businessman off of Wall Street and was a heel, i.e. the antagonist. But the mistake that Rotunda made was that he overplayed his character, so much so that the gimmick became melodramatic.
He went overboard in his attempt to make people hate his character. To look at the part of an IRS employee, he wore red suspenders with a white dress shirt, dress pants, and boots.
He kept his greasy hair slicked back when he stepped into the ring. Remembered as one of the worst costumes, it is inducted in 10th place in our list of 10 Wrestlers with the Most Ridiculous WWE Outfits.
Final Words
The costume of a wrestler can make or break the impression that he is going to have upon the viewers. It plays a huge role in the career of wrestlers, and in determining the longevity of a character. Do share your thoughts about the list of Ridiculous WWE Outfits.
Most Ridiculous WWE Outfits | All-Time Infographics