Top 10 Athletes Who Retired Too Early
September 1, 2021 By Sourav
---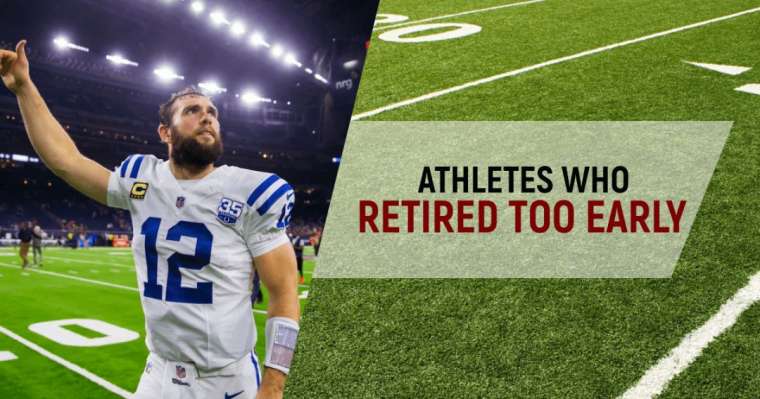 According to some surveys, many players retired early just to ensure they don't meet a poor record or form at the end of their careers, whereas many athletes had to stop their athletic careers for their repeated injuries and personal causes. Many athletes even retired from the professional field just because they lost their interest in the games, or were forcefully retired by authorities. So, here are the Top 10 Athletes Who Retired Too Early.
Athletes Who Retired Too Early
Many famous athletes have shattered their fans' hearts by their early retirement from their professional athletic careers. And the top 10 Athletes Who Retired Too Early are given below;
10. Roberto Clemente
Former Puerto Rican professional baseball player Roberto Clemente was the first Latin American to be inducted into the National Baseball Hall of Fame in 1973. After a brief session in Puerto Rican Baseball, he was debuted for the Pittsburgh Pirates on April 17, 1955.
He played his entire 18 seasons career for the Pittsburgh Pirates and achieved 240 home runs, 3000 hits, and a batting average of .317. He made it to the All-Star fifteen times in two spells from 1960 to 1967 and from 1969 to 1972.
Roberto led his team to victory of the World Series championship twice and was named World Series Most Valuable Player in 1971. He became an NL batting champion four times and also won Gold Glove Award a record 12 times from 1961 to 1972.
Roberto's legendary journey was stopped due to a fatal aviation accident that took his life in 1972 at the age of just 38. He definitely deserves his mention among the top 10 athletes who retired too early.
9. Rocky Marciano
Former World Heavyweight Boxing Champion and one of the greatest boxers of all time, Rocky Marciano, is the only person in history who was undefeated throughout his career. After playing both baseball and football during his days at Brockton High School, he joined the army for a term of two years in 1943.
After a short three-week session with the Chicago Cubs baseball team, he was debuted as a professional boxer on July 12, 1948, against Harry Bilizarian. He won his first sixteen boxing matches by knockout out of which nine came in the first rounds.
He participated in 49 boxing matches throughout his career and won all of them including 43 knockouts. Rocky held his World Heavyweight title from September 23, 1952, to April 27, 1956.
He defended his title six times against Jersey Joe Walcott, Roland La Starza, Don Cockell, Archie Moore, and twice against Ezzard Charles. He announced his retirement at the age of just 32 in 1956.
8. Lorena Ochoa
Retired Mexican professional golfer Lorena Ochoa is the first Mexican golfer of either gender to be ranked number one golfer. She is widely considered the best Mexican golfer of all time. Besides, many of her fans also dubbed her as one of the most beautiful golfers ever.
Lorena achieved 22 state events and 44 national events in Mexico as a junior and also won five consecutive titles in Junior World Golf Championships. During her days at the University of Arizona, she was named NCAA Player of the Year for 2001 and 2002.
Lorena debuted in the 2002 Futures Tour as a professional and became the highest earner on the LPGA Tour for the 2003 season. She won 27 LPGA Tours and 3 Symetra Tours, and also achieved the best female golfer ranking in the world for three years.
Lorena retired after the 2010 Tres Marias Championship at the age of just 29. She now definitely deserves her mention among the Top 10 Athletes Who Retired Too Early.
7. Bjorn Borg
Former World No. 1 Swedish tennis player Bjorn Borg held the world record of winning five consecutive Wimbledon singles titles, and six French Open singles titles till it was surpassed by Rafael Nadal.
Borg became one of the youngest players ever to represent Sweden in the Davis Cup and won the title at the age of just 15 in 1972. He also became the youngest winner at the international level after winning the 1974 Italian Open. Without any doubt, he still holds his place among the greatest tennis players of all time.
Borg again created another record two weeks later as the youngest player after winning the French Open. He won a total of 11 Grand Slam singles titles. Borg achieved five Wimbledon singles titles and six French Open singles titles.
He has also created an 89.81% winning percentage of the Grand Slam singles matches he ever participated in. Legendary Borg was retired in 1983 at the age of just 27.
6. Bobby Orr
Canadian former professional ice hockey player Bobby Orr is widely regarded as one of the greatest hockey defencemen of all time. 36 years after his retirement, he still holds the record for most points and assists in a single season by a defenceman and is also the only player to achieve the league scoring title with two Art Ross Trophies.
Bobby is also the one and only defenseman to score nine hat tricks. He now surely deserves his mention among the Top 10 Athletes Who Retired Too Early.
He debuted for Boston Bruins for the 1966–67 season as a professional. Bobby played his entire career for them and also a single season for Chicago Black Hawks as a free agent.
Bobby won three consecutive Hart Trophies as the league's most valuable player. He also achieved a record eight consecutive Norris Trophies as the NHL's best defenceman. He retired in 1978 at age of just 30 due to repeated injuries in his left knee.
5. Elena Dementieva
Retired Russian tennis player Elena Dementieva held her position in the top 10 in WTA ranking in all the season except just one in 2007. She participated and won her first international tournament, Les Petits As, at the age of just 13.
Elena became a professional just at the age of 17. She won 16 WTA titles and 3 ITF titles in her brief career. Elena also achieved her career-high ranking of World No. 3 in 2009.
She competed in the finals of the 2004 US Open and 2004 French Open. Elena also reached the Grand Slam semifinals seven times. Elena won the singles silver medal at the 2000 Olympics in Sydney and the gold medal at the 2008 Olympics in Beijing. She was also a member of the 2005 Fed Cup-winning Russian national team.
Dementieva announced her retirement just at the age of 29 in 2010 while she was World No. 9. Besides being one of the most beautiful female tennis players of all time, she now also deserves his mention among the Top 10 Athletes Who Retired Too Early.
4. Jim Brown
American former professional football player Jim Brown was named the greatest professional football player ever by Sporting News. He was also named the second greatest NFL player of all time by NFL.com.
He was drafted as the sixth pick of the first round in the 1957 NFL Draft by the Cleveland Browns. Jim played his entire 9-season career with the Cleveland Browns. He was selected to Pro Bowl in every single season he played until his retirement.
Jim was selected in AP First-Team All-Pro eight times and UPI First-Team All-Pro eight times. He became Pro Bowl Most Valuable Player thrice and was named NFL MVP five times.
He debuted as an actor before the 1964 season for a western action film called Rio Conchos. To pursue his career as a full-time actor, he retired in 1965 at the age of just 29.
3. Lou Gehrig
Former American baseball first baseman Lou Gehrig was nicknamed The Iron Horse for his amazing skill as a hitter. He was selected by the New York Yankees in 1923. Gehrig was debuted in the professional game on June 15, 1923, as a pinch hitter.
He spent his entire career in the Yankees team. He has achieved 493 home runs, 2,721 hits, and a batting average of .340. Gehrig now surely deserves his mention among the Top 10 Athletes Who Retired Too Early.
Lou was named the All-Star seven times consecutively from 1933 to 1939. He also led his team to victory of the World Series Championships six times. His achievement includes three consecutive victories from 1936 to 1938.
He was also named AL Most Valuable Player twice and became the AL Batting Champion in 1934. His amazing career was stopped, and his fans are shattered when he was diagnosed with Amyotrophic Lateral Sclerosis on his 36th birthday. After retiring at the age of 35, this legend died just at the age of 37.
2. Barry Sanders
Former American football running back Barry Sanders was drafted by the Detroit Lions as 3rd overall pick in the 1989 Draft. He played his entire professional career with the Detroit Lions in the National Football League.
He has achieved 15,269 Rushing Yards, 99 Rushing Touchdowns, and an average of 5.0. As a pioneer member of the lions, he gained Pro Bowl ten times from 1989 to 1990 consecutively. He was also selected in First-team All-Pro six times.
He became the NFL Most Valuable Player in 1991 and was also named AP NFL Offensive Player of the Year twice. With an average of over 1,500 rushing yards per season, he became an NFC rushing leader twice.
He has also established an NFL record for most consecutive 100-yard games with his 14 appearances. Sanders is a member of the 10,000 Rushing Yards Club. He retired just 1,457 yards short of NFL's all-time rushing record at the age of just 30.
1. Bo Jackson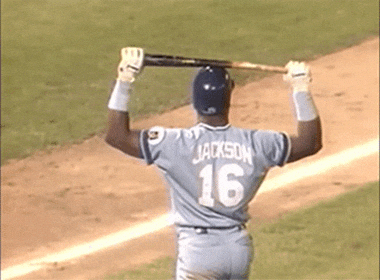 Retired American baseball and football player Bo Jackson is the only athlete to participate as an All-Star in two major American sports. After a brief session at Auburn University as a football scholar, he was drafted in the 1986 NFL Draft.
He was first drafted by the Tampa Bay Buccaneers as the first overall pick. But, he opted to play baseball for the Kansas City Royals instead. Jackson also definitely deserves his place among the Top 10 Athletes Who Retired Too Early.
In his baseball career from 1986 to 1994, he played for Kansas City Royals. He then also played for Chicago White Sox and California Angels. Bo achieved MLB All-Star Game Most Valuable Player with a batting average of .250 in his baseball career.
He was again drafted by the Los Angeles Raiders as the 183rd pick of the seventh round of the 1987 NFL Draft. Bo played his entire career with the team and made it as the All-American twice. He retired from American football at the age of 28 and retired from baseball at the age of just 32.
Final Words
Other notable mentions in this list are Sandy Koufax and Ken Dryden. After he had made it to the MLB All-Star game seven times, Koufax was forced to retire from baseball due to his arthritis in the left elbow. Ken Dryden is considered one of the best goaltenders in NHL and after a short session from 1970 to 1979, he retired at the age of just 32. So, these are the Top 10 Athletes Who Retired Too Early. We hope you liked this list!
Athletes Who Retired Too Early | 2021 Infographics