Top 10 Greatest Athletes Who Own Restaurants | Athlete-Owned Restaurants
October 20, 2021 By Sourav
---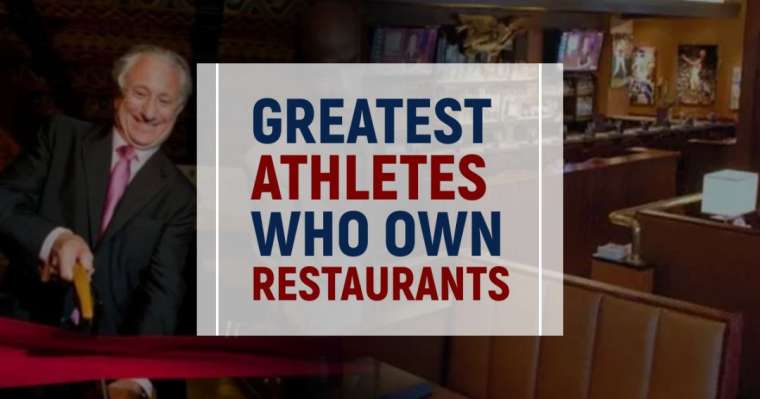 Many of the players have combined their love for food and their desire to invest their assets into something worthwhile and come up with restaurants. It is seen that many of the athletes from different sports have entered the food business. Let us look at the Greatest Athletes Who Own Restaurants.
Greatest Athletes Who Own Restaurants | 2021 Updates
Everybody knows that players are required to be healthy and fit, and for that, it is essential for them to eat right. Naturally, they have a penchant for food. Besides, with the kind of traveling that the athletes have to do, they get to experience the tastes of a variety of cuisines from all over the globe. They are also rich enough to afford the best food in every place that they visit.
10. Darryl Strawberry
Former American Major League Baseball outfielder Darryl Strawberry is also an ordained Christian minister and author. He was one of the most feared sluggers in MLB during the late 1980s. With his exceptional skills, he led the New York Yankees to three World Series championships in 1996, 1998, and 1999.
Strawberry also worked as an analyst for SportsNet New York. MLB League superstar Darryl Strawberry has his own restaurant called Strawberry's Sports Grill in Queens, New York.
This restaurant creates an amazing feel of a sports bar where guests can enjoy Yankee or Mets games on 16 flat-screen TVs. This restaurant is also a hot spot for beer addicts as it serves 16 variations of draft beer.
Strawberry's Sports Grill also has its signature dishes in ballpark foods. Darryl now holds his place among the greatest athletes who own restaurants.
9. Greg Norman
Australian professional golfer Greg Norman spent 331 weeks as the world's Number 1 ranked golfer during the 1980s and 1990s. Experienced PGA Golfer Greg Norman has his own restaurant called Greg Norman's Australian Grille in Myrtle Beach, South Carolina.
The restaurant's walls are decorated with Aboriginal artwork, which creates an unimaginable experience of Australia right at the heart of the United States. Greg Norman's Australian Grille specializes in Australian cuisine.
Guests enjoy tuna sashimi served over a cucumber seaweed salad crusted with sesame seeds. Items like oven-roasted half duckling served with black-pepper fettuccine are also the main attraction in this restaurant.
Australian Grille also serves amazingly delicious slow-roasted 28-day aged prime rib. This restaurant also has an amazing collection of the finest Australian wines.
8. Brett Favre
Former American football quarterback Brett Favre spends 20-year of the NFL with various teams such as the Atlanta Falcons, Green Bay Packers, New York Jets, and Minnesota Vikings. He also played college football at the University of Southern Mississippi.
NFL League superstar Brett Favre has his own restaurant called Brett Favre's Steakhouse in Green Bay, State of Wisconsin. This restaurant also serves as the personal museum of Brett Favre as it has Packer's memorabilia decorated in the walls showcasing Favre's glory years.
The menu of this restaurant specializes in American classics. While reflecting Favre's upbringing in Mississippi, guests also enjoy a hint of southern flare on their food at Brett Favre's Steakhouse. This restaurant serves eight different cuts of steak.
Guests also enjoy some of Favre's family recipes, such as jambalaya, bayou pasta, and Wisconsin salad. Favre definitely deserves his mention among the greatest athletes who own restaurants.
7. John Elway
Former American football quarterback John Elway is the current General Manager and Executive Vice President of the Denver Broncos of the NFL.
NFL League superstar John Elway has his own restaurants called Elway's Downtown and Elway's Cherry Creek in two locations across the State of Colorado, one in Denver and another in Cherry Creek. Elway's are such restaurants that provide a sophisticated dining experience for the guests.
The restaurants feature an extensive raw bar where the guests can relish one of the signature dishes, the USDA Prime steaks.
Elway and his partner Tim Schmidt provide an amazing collection of wine with classic preparations of steak and seafood and also serve one of the favorite John's Salads in a green dressing. Elway's operates the whole day as it also serves breakfast and lunch.
6. Arnold Palmer
American professional golfer Arnold Palmer was nicknamed "The King" and widely considered as one of the greatest players in golf history. Amazing PGA tour Golfer Arnold Palmer has his own restaurant called Arnold Palmer's in La Quinta, California, United States.
His restaurant bears an astounding emblem which states, "It's more than just about the food; it's all about the good life."
This restaurant has an excellent, hospitable atmosphere which makes guests feel at home. Arnold Palmer has two signatures, a beverage named after Arnold Palmer himself and the "Arnie's Favorites." His restaurant also serves some amazing steak and seafood.
Guests also enjoy the date and strawberry salad in this restaurant. Other specialty items such as honey-soy glazed Chilean sea bass, pan-seared sea scallops, and a rack of lamb are also a must-have in this restaurant. He now holds his place among the greatest athletes who own restaurants.
5. Billy Sims
Former American college and professional football player Billy Sims played five seasons during the 1980s for the NFL's Detroit Lions and played college football at the University of Oklahoma.
NFL League superstar Billy Sims has his own restaurant called Billy Sims Barbecue and has a franchise at 15 different locations across Oklahoma and Missouri.
Billy Sims Barbeque also serves as a personal museum of this Heisman Trophy winner while showcasing his amazing achievements for the Detroit Lions and also at Oklahoma University.
All of the franchise outlets are filled with football memorabilia of Billy Sims. His restaurant specializes in classic barbecue dishes such as pulled pork and potato salad. The restaurant also serves three Super Packs called Game Day, Rib Zone, and Tailgater on game days. Sims, without any doubt, deserves his mention among the greatest athletes who own restaurants.
4. Wayne Gretzky
Canadian former professional ice hockey player Wayne Gretzky played 20 seasons in the NHL and was nicknamed "The Great One." He is widely considered the greatest ice hockey player of all time.
NHL League superstar Wayne Gretzky has his own restaurant called Wayne Gretzky's 99 in Toronto, the provincial capital of Ontario. Wayne Gretzky's is also showcasing awards and career highlights of Gretzky and acts as Gretzky's personal museum. His restaurant mainly concentrates on Canadian-favorite Poutine and also many of the classic American bar food.
It also has some classic items, such as Grandma Gretzky's pan-fried potato and cheddar cheese pierogies garnished with smoky bacon and caramelized onions.
Gretzky also has the provision for the Oasis Rooftop Patio, which serves diners with an exquisite barbecue menu, but sadly only operates during the summer. He now holds his place among the greatest athletes who own restaurants.
3. Chris Chelios
Retired American professional ice hockey defenseman Chris Chelios is currently the general manager of the Detroit Red Wings and also the Executive Advisor to Ken Holland.
Chelios played for various teams at NHL, such as the Montreal Canadiens, Chicago Blackhawks, Detroit Red Wings, and Atlanta Thrashers. NHL League superstar Chris Chelios has his own restaurant called Cheli's Chili Bar in two locations in Miami, one in Detroit and another in Dearborn.
Both of his Cheli's Chili Bars had flat-screen TVs and live entertainment spots to create a sports bar atmosphere just a block ahead for Detroit's downtown sports stadiums.
His restaurant mainly concentrates on entrees, sandwiches, and bar finger foods while keeping in mind the chili.
2. Charles Oakley
Retired American professional basketball player Charles Oakley was a former power forward for various NBA teams such as Chicago Bulls, New York Knicks, Toronto Raptors, Washington Wizards, and Houston Rockets.
He is widely considered one of the best rebounders in the NBA. NBA League superstar Charles Oakley has his own moving restaurant called Oakley's Food Truck, which mainly operates in New York, United States.
Charles Oakley's vehicle is famous for the turkey burgers, which they started to sell in lower Manhattan. After his successful journey with the truck, Oakley also had an idea about conducting a cooking show.
He is working hard for his show "Oak in the Kitchen" with Media Meld Studios, which mainly concentrates on the food truck business by Oakley's efforts.
1. Michael Jordan
American Basketball legend Michael Jordan is considered the best basketball player of all time. NBA League superstar Michael Jordan has his own restaurant called Michael Jordan's Steakhouse in New York, United States.
This legendary player has given his name to various restaurants, but his Michael Jordan's Steakhouse at Grand Central Terminal in New York City is the most prominent one. There is also another "Steakhouse" with the same name but owned by a different company, located at the Mohegan Sun casino in Connecticut.
MJ's Aged Delmonico Steak with Balsamic-Ginger Jus is also a major attraction for the guests to devour in these restaurants. One more Michael Jordan's Restaurant was also in operation in Chicago till 1999.
Jordan is also the co-owner of the "one sixty blue" located in Chicago. This greatest basketball player definitely deserves the top place among the greatest athletes who own restaurants.
Conclusion
Many other players around the world, including cricketer Sachin Tendulkar, have their own restaurants, while many are planning to start their food joints in the near future. Whether the restaurants of the players manage to earn the same fame as the players themselves have done is a matter of time.
Athletes Who Own Restaurants | Infographics
FAQs Regarding Athletes Who Own Restaurants
Q. What famous football player owns a restaurant?
An American professional football player and college athletics administrator, Lee Roy Selmon, is the Lee Roy Selmon restaurant owner. This is an American casual dining restaurant chain located in Florida. After some time in 2008, it was sold to MVP Holdings Tampa, Inc., owned by Outback Steakhouse founders Robert D.
Q. Why do professional athletes open restaurants?
As we know the professional athletes are hugely popular among fans and other celebrities. So because of this, what benefit does a professional player have more than opening a restaurant for citizens. The more they get fame, the more advantage their business goes high. And it is easy for them to become successful in this aspect as compared to other people.
Q. Does Ronaldo have a restaurant?
Yes, Cristiano Ronaldo, also known as CR7, owns a restaurant. He joined his Balon D'or rival in the restaurant business for a long time, the Ronaldo's CR7 Corner Bar & Bistro that is located within his Pestana CR7 Hotel.
Q. What NFL player owns Wingstop?
Willie McGinest, a former American football linebacker, is a proud owner of two Wingstop Restaurants and a Swirlz Yogurt franchise. He is a popular player who contained Donovan McNabb in the New England Patriots Super Bowl XXXIX achievement.