Top 10 Worst Career Ending Injuries In Sports History
September 2, 2021 By Sourav
---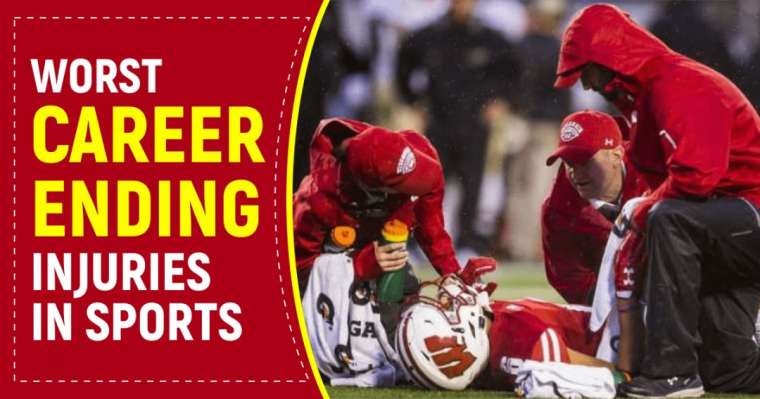 Sports are interlinked with injuries. In fact, the two terms can be used interchangeably. From the past few years, sports of all kinds have been surrounded by some of the most horrible injuries for which long-term consequences had to be suffered by the sportsperson. Let us take a look at the list of the top 10 worst career-ending injuries in sports history.
Worst Career-Ending Injuries in Sports History | 2021 Updates
These are the injuries that go beyond a sprained ankle and the common pulled muscle. These are the injuries that ended careers. So, without any further delay, let's check out the worst injuries in the history of sports.
10. Maurice Stokes
Basketball legend Maurice Stokes was a beast. He was a mixture of Elgin Baylor and Bill Russell. Playing for the Rochester Royals, Stokes nearly broke all the records in his illustrious six years career.
It all came to a crashing halt during the last game of the 1958 season when Stokes hit his head on the floor while driving to the basket.
He eventually suffered a seizure and went into a coma. When he woke up, he was permanently paralyzed. But even now, his fans regard him as one of the greatest NBA players of all time.
9. Trent McCleary
The silver medalist in our list of the top 10 worst career-ending injuries in sports history is Trent Mccleary. An ice hockey player from childhood, Trent was a talented drag-flicker and was drafted by the Montreal Canadiens in his last season.
He still holds his place among the greatest Ice Hockey players of all time. In a game in the 2001 season, in order to save a shot, Mcleary threw himself on the ice in an effort to stop an opponent's shot.
However, the puck struck him squarely in the throat instead of his midsection which crushed his larynx. Skating to the bench, he collapsed and was rushed to the hospital. Mccleary was forced to retire due to his shortage of breath.
8. Maureen Connolly
The bronze medalist in our list of the top 10 worst career-ending injuries in sports history is that of Maureen Connolly. Connolly was unstoppable on the tennis court for three years from 1951-54.
She won the Wimbledon and U.S. Open twice and the French and Australian Open once.
Sadly, the 19-year old's tennis career was ended in 1954 as she was in a horseback riding accident where her right leg was crushed.
7. Reggie Brown
The most dangerous injury in our list of worst career-ending injuries is that of Reggie Brown. He wasn't a known player in the NFL circuit but his injury got him famous.
In the last game of the 1997 season, Brown assisted on a tackle against an opponent and didn't get up for 17 minutes.
Reggie had suffered a spinal cord contusion during the act of tackling. Reggie did not lose any muscle function or suffer any paralysis from this incident but his NFL career lasted just two seasons.
6. Jeff Beukeboom
An example of what an on-field brawl could hamper the career of a player was the incident that took place with Jeff Beukeboom.
During a controversial decision in the season of 1998 which led to a brawl between the players, Jeff sustained a horrible punch from Matt Johnson of Kings.
Jeff didn't pay much attention to it and returned to the game. But he was always complaining about memory loss, headaches, nausea, and confusion. He was later diagnosed with post-concussion syndrome and was forced to retire.
5. Dean Ashton
One of the promising talented strikers of the English Football Team was Dean Ashton. He had scored 240 goals for West Ham United and Norwich City but injury cut short his glorious career.
He broke his ankle in a Premier League and was forced to recover quickly. Dean returned after a year but unfortunately, the injury of the ankle was too severe to let him continue his career.
He played just one more season and retired only at the age of 26. He has currently sued the FA to assess their liability in the entire incident.
4. Kirby Puckett
The first person in our list of Top 10 Worst Career-Ending Injuries in Sports History from Baseball is Kirby Puckett. His case of injury was a strange one.
Puckett was at-bat against Dennis Martinez when one of Martinez's fastballs zoned in on Puckett's jaw. Suffering a broken jaw, he began his rehabilitation in the Grapefruit League the following pre-season.
But one fine morning he woke up and found that he was not able to see through his right eye. The doctors confirmed it was glaucoma. He was forced to retire.
3. Daunte Culpepper
Culpepper, the quarterback of Minnesota Vikings, suffered a serious knee injury while playing against the Panthers in 2005. He badly tore three out of four ligaments in his knee and was immediately subjected to IR.
After an extensive and thorough treatment of 1 year, Culpepper attempted to make a comeback against the Dolphins in 2006.
But, unfortunately, could not even stay on the field for 10 minutes and was subjected to retirement.
2. Steve Young
Quite like the previous one in our list of Top 10 Worst Career-Ending Injuries in Sports History, Steve Young was troubled with multiple injuries over the years. In the season of 1999, Young suffered two confirmed concussions within the first 3 weeks.
By the end of the season, Steve suffered seven confirmed concussions. With Doctor's advice, he gave Rugby a quit.
1. Sterling Sharpe
We end our list of the worst career-ending injuries in sports history with Green Bay Packers quarter half Sterling Shape. Surely a Hall of Fame material as advised by many.
Sharpe's outstanding career was cut short by a damaged vertebra. While having previous neck injuries and conditions, the doctors told him it would be best if he stopped playing as soon as possible.
Final Words
So, these were the Top 10 Worst Career-Ending Injuries in Sports History. Feel free to share your thoughts in the comments down below.
Career-Ending Injuries In Sports History | Infographics