Top 10 Unbreakable Records In Sports History
June 26, 2021 By Sourav
---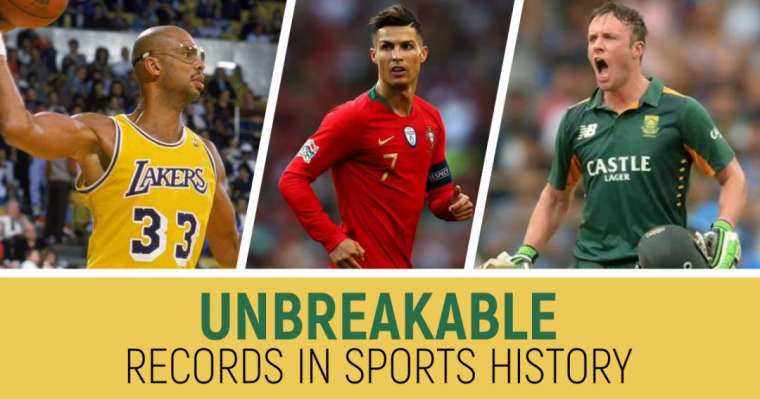 Believe it or not. These records are plain unbreakable. The fact is some players are simply sweet-lucked and hardworking blokes who have had the opportunity to kiss victory so many times that, you can't help wondering if they got bored of winning all the time. Now read the article of Top 10 Unbreakable Records In Sports History and deal with it!
Unbreakable Records In Sports History | 2021 Updates
10. Glenn Hall – 502 Consecutive NHL Games
9. Joe DiMaggio - 56 Consecutive MLB Hitting Streak
8. Wilt Chamberlain - 100-Point In A Single NBA Game
7. Rocky Marciano - Undefeated Heavyweight Boxer
6. Usain Bolt – 100 & 200 Meters Sprint Timing
5. John Isner vs. Nicolas Mahut – Longest Tennis Match
4. Johnny Vander Meer – Consecutive MLB No-Hitters
3. Steffi Graf – 377 Weeks At WTA World No.1
2. Donald Bradman – 99.94 Batting Average
1. Jahangir Khan – 555 Consecutive Squash Wins
Don't Miss:
• Unbreakable Records In Sports – 2021 Infographics
There are several great records that is still standing in the sports world while many got replaced be a greater successor. But, here we listed only the records that seem almost impossible to break in near future.
10. Glenn Hall played 502 consecutive complete games
At number 10 of Unbreakable Records in Sports, all hail the epic 'Mr. Goalie' who managed to play 502 consecutive complete games spanning over eight seasons (beginning from the 1955-56 season till 1962) in NHL.
Beat that person! Hall was also the first goaltender who developed and made effective use of the butterfly style of goaltending.
A man dedicated to his passion, we must say! To date, many believe that Glen Hall was the greatest goalkeeper to have ever played ice hockey. And still, his record holds its place among the unbreakable records in sports history.
9. Joe DiMaggio's 56 consecutive game hitting streak
In one of those epic baseball records of all time, Joe DiMaggio began his unbeatable streak in the Yankee Stadium with a single and an RBI against the White Sox. It occurred in the year 1951 and the baseball fans went gaga over him.
So much so that the Les Brown Orchestra even created a tune "Joltin' Joe DiMaggio" to honor the New York Yankee. Obviously, the tune was a great hit.
Also nicknamed 'Joltin' Joe' and 'The Yankee Clipper' DiMaggio retired at the peak of his career (in 1951) while ranking fifth in career home runs and sixth in career slugging percentage. He was 37 years old at the time of his retirement. Needless to say, his record still stands among the unbreakable records in sports history.
8. Wilt Chamberlain's 100-point game
When NBA was not even a major sports league and was struggling tooth and nail to compete against college basketball, an exceedingly tall bloke (of 7ft 1 inch) named Wilt Chamberlain made a jaw-dropping record of scoring 100 points at the Hershey Sports Arena in Pennsylvania.
As far as the NBA history is concerned he is the only man to have scored 100 points in a single NBA game or average more than 40 and 50 points in a season.
Held on March 2, 1962, Philadelphia Warriors had a 169–147 win over the New York Knicks thanks to Chamberlain. Interestingly he was called by a couple of odd names ranging from 'Goliath' and 'Wilt the Stilt' (which he hated) to 'The Big Dipper' (which he preferred and which actually refers to the dipping of his head whenever he tried to walk through a doorway).
7. Rocky Marciano: world's undefeated heavyweight boxing champion
With a perfect record of 49 wins in 49 professional bouts, with 43 knockouts, Rocky was one badass heavyweight boxing champion the world has ever seen. Imagine being undefeated during an entire career span.
Don't try, you can't because it doesn't happen, it's a miracle. The truth is, no matter what we say, the fact remains Rocky Marciano is today hailed by many boxing historians as one of the best heavyweight boxers of all time.
Awesome dude! he was retired too early. This record now also holds its place among the unbreakable records in sports history.
6. Usain Bolt and his 100 m & 200 m race like-a-boss win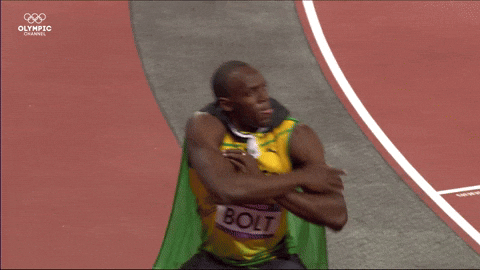 Do we need to even introduce this badass athlete? You probably know this but just to polish up your memories; Usain Bolt is the first athlete to have won both the 100 m race and 200 m race simultaneously.
Know as the fastest man living, he simply bolted from the blue and left everyone jaw-dropping behind. Even after his retirement, he still holds his place as the greatest sprinters of all time.
And just so that you know he might be the only athlete in the world who made a record in running while wearing the untied shoes. Yup, you heard that right. This occurred in the 2008 Beijing Olympics where Bolt won the 100 m final within a groundbreaking record of 9.69 seconds.
And while running, at one point he realized that his lace had come off. Still, he won. Still, he set a record. And, that record still holds its place among the unbreakable records in sports history.
5. The longest match in tennis history
The 2010 Wimbledon Championship between John Isner and Nicolas Mahut witness the longest match in the history of Tennis sport. The record was measured against both by time and number of games. The match was held on a Tuesday and began precisely at 6:13 pm (British Summer Time) on Court 18. By 9:07 pm they had completed four-set and were all geared up for the fifth one.
But due to low visibility, the match had to be suspended inconclusively. The next day i.e. Wednesday at 2:05 pm Isner and Mahut resumed the games vowing to drill each other into the ground.
But fading light disrupted the game again which had to be wrapped up at 9:09 pm. Moreover, the final set tied at 59 games all. When the game resumed at 3:40 pm on Thursday, Isner managed to make a breakthrough and victory kissed his feet exactly at 4:47 pm.
Now known as the 'Isner-Mahut' match, the longest tennis match lasted for 11 hours, 5 minutes stretched over three days. Needless to say, this match surely deserves its place among the unbreakable records in sports history.
4. Johnny Vander Meer and his two consecutive no-hitters
The only man in the known history of baseball to have thrown two consecutive no-hitters was an American professional baseball player. These two no-hitters were actually part of a nine-game win streak for Vander Meer in 1938.
And it is believed that in order for anyone to break this record he/she'll have to throw three consecutive no-hitters which are nearly impossible. And now, his record definitely deserves its mention among the unbreakable records in sports history.
He played in Major League Baseball as a pitcher and at the beginning of his career looked quite promising. But he began facing difficulties in controlling the accuracy of his pitching. He toiled on for years, shedding blood and sweat, and when the ultimate day of retirement came (at 40 years of age); his career was labeled as one with inconsistent performances.
Later Meer held the post of a minor league manager in the Cincinnati Reds organization for 10 seasons before retiring in 1962. After which he started working in a brewing company (we only hope he found out his true calling, lol).
3. Steffi Graf sat at rank no 1 for 377 weeks
No player, literally no player – be it men or women or absolutely anybody at all – in the entire history of tennis has sat on the throne for as long as this kickass lady has. For 377 consecutive weeks, Steffi Graf held the number-one rank since the WTA and the Association of Tennis Professionals began issuing rankings to tennis players.
And without any doubt, Steffi's record now deserves its place among the unbreakable records in sports history. Interestingly, Graf has such tremendously awesome footwork and powerful forehand drive that she ended up winning each of the four Majors at least four times.
And not to mention she is the only tennis player to have achieved that. You are officially a bad-ass milady! she is the all-time best female tennis player in many critic's lists.
2. Donald Bradman and his unbeatable batting average
There's Australian folklore surrounding Sir Bradman that when he was young he practiced alone with a cricket stump and a golf ball. Also referred to as 'the Don', Bradman was a loner, a complex and highly-driven man who loved cricket more than anything else in this world.
And fittingly he had a glorious career (as well as after-career) with an unbeatable Test batting average of 99.94. This has, obviously, made him the greatest batsman of all time.
Moreover, it has also held its place among the unbreakable records in sports history. A sporting idol of his time, Sir Bradman went into a record-making spree even before he had hit the age of 22.
Honored by lofty words like 'greatest living Australian' and a 'worth three batsmen to Australia', Bradman was something of an elusive character that often resulted in bad blood between him and his teammate or even journalists.
1. Jahangir Khan and his 555 consecutive win
Squash fans worship him like a 'God' as he is undoubtedly the greatest squash player of all time. Jahangir Khan has been the ultimate squash-matches-winning machine between the years 1981 and 1986.
And within this span of 5 years, he had won 555 matches back to back resulting in a kick-ass unbeatable Guinness World Record of the 'longest winning streak' in the history of top-level professional sports.
Jahangir Khan hails from Peshwar, Pakistan. He made his debut in the world of squash at the tender age of 15 in 1979. He was something of a miracle to behold since the very beginning of his career when he became the youngest winner of the World Armature Individual Championship.
And at the age of 17, he went on to become the youngest World Open Champion. Long since his hey-day, he has now retired and serves as Emeritus President of the WSF (Women's Squash Association).
Final Words
So, this is our selection of unbreakable records in sports history. Don't forget to send us your opinion about this list in the comment box below.
Unbreakable Records In Sports - 2021 Infographics