Top 10 Superhero Themed Video Games in 2020
October 19, 2020 By Sourav
---
So, there is no dearth of games that put superpowers into the hands of players. Or, games that let the players take the role of their favorite comic superheroes. Every kid has dreamed of getting into the costume of his favorite superhero or obtaining some superpower so that he can save the day. While in the real world that might not be possible but these video games are the closest thing to that feeling. Here we take a look at such games in Top 10 Superhero Themed Video Games.
Top 10 Superhero Themed Video Games In 2020
10. Deadpool
At number 10 in Superhero Themed Video Games is Deadpool. Before this loud foul-mouthed mercenary became a worldwide sensation due to his R-Rated movie, this game catered to his fans worldwide. This game had R-rated jokes, gore, and 4th wall breaking.
Just about everything you expect from a Deadpool game. While it might not have conquered new grounds in gaming, it remained faithful to its protagonist and that is what matters. It is one of the most loved Marvel superhero games among the fans.
9. Arkham Knight
At number 9 is Arkham Knight. Arkham Knight was subject to a lot of criticism when it came out mainly due to its performance issues. Things got so out of hand that they had to stop the sale of the game as the subsequent patches failed to improve things. Nonetheless, despite all that, there is no denying that it is one of the best recent superhero games to hit the market.
The fact that it lets the user control the Batmobile was in itself a big push to the series as a whole. Though gameplay might have been a bit uninspired, it has a solid story with some great voice acting. The game was a fitting finale to the Arkham Series which is one of the most beloved game series in recent times.
8. Lego Marvels Superhero
At number 8 in Superhero Themed Video Games is Lego Marvels Superhero. Though it might look like it will appeal only to kids but it has ample humor and content to satisfy even the most grown-up gamer. The game has the largest marvel roster than any previous game and uses them perfectly.
The whole Lego-style graphics in itself is quite a treat. Also, did we mention the fact that this game is one of the highest-rated superhero video games of all time?
7. Saints Row 4
At number 7 in Superhero Themed Video Games is Saints Row 4. Though it isn't your typical superhero game since you do have superhero abilities it does qualify as a superhero-themed game. Saints Row which has always been a parodical approach to the other open-world games got to another level with the introduction of superpowers.
Though it might sound outlandish the way Saints Row games have traditionally been, all these totally fit inside its bizarre storyline.
6. The Incredible Hulk: Ultimate Destruction
At number 6 is The Incredible Hulk: Ultimate Destruction. We find it surprising that why there aren't more games on Hulk because playing as Hulk is so much fun. Unlike other heroes where you have to plan and take out enemies strategically, Hulk only cares about smashing his enemies.
The game lets you scale skyscrapers and pound them to dust, pick up vehicles to beat your opponents, and even carry around humans! Even to this day, it's still fun to play as you go around the city and do Hulk things. We really wish they made more of these.
5. Ultimate Marvel vs Capcom 3
At number 5 in Superhero Themed Video Games is Ultimate Marvel vs. Capcom 3. This game was a delight for all the brawler fans out there as it combined characters from Street Fighter and Marvel.
This was received well by critics and fans alike. The game managed a rating of 80% on Metacritic and is one of the best brawlers in the market right now.
4. Injustice Gods Among Us
At number 4 in Superhero Themed Video Games is Injustice Gods Among Us. Based on the extremely popular comic series of the same name, Injustice is one of the best DC Superhero games out there. Based on an alternate storyline where Joker tricks Superman into killing Louis Lane, the game is a brawler containing some of the most popular heroes and villains across the DC Universe.
The central storyline itself is pretty riveting as it shows Superman becoming a tyrant following the tragedy and Batman and his friends trying to bring him down. It was one of the best action games in recent times and this year will also see the release of its sequel.
3. Infamous: Second Son
At number 3 is Infamous: Second Son. This game is PlayStation exclusive and to this day remains the best ps3 superhero game. The game lets the player controller Delsin Rowe, a superpower wielding protagonist in his fight against the Department of Unified Protection. One interesting thing about the game is that unlike conventional superhero games here you can actually make your own decisions which in turn decide the morality of your character.
This rather simple twist which is the staple of RPGs has added another layer to this game as a whole. The game was well-received by fans and critics alike who lauded the gameplay, combat, and graphics.
2. Arkham Asylum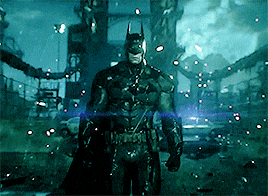 At number 2 in Superhero Themed Video Games is Arkham Asylum. Narrowly missing the top spot is Arkham Asylum. Back when it came, it was the finest superhero game in a long time only to be outdone by its successor which also happens to occupy the top spot on our list. The game has Batman trapped inside the Arkham Asylum with all the crazed murderers and lunatics of Gotham on the loose.
The game managed to give some genuine chills while also revolutionizing the genre. This game's combat was especially lauded for being fluid and fun which made its way to later games, most notably Shadow of Mordor.
1. Arkham City
At number 1 in the list of superhero-themed video games is Arkham City. Arkham City is what a superhero game should be with the great story, good gameplay, fluid actions, awesome graphics, superb villains, and a great hero to root for. It was the perfect game for any Batman fan. Unlike the previous game in the series, Arkham Asylum where you were trapped inside Arkham Asylum, this game was open world and you had the entire Arkham to protect.
This game is a true treat for all the Batman fans and it has enough gameplay variety to satisfy the most hardcore gamer. Also, did we mention that it was so good that it won Game of the Year as well?
These are some of the best superhero-themed video games that you can play right now. Don't forget to share and comment down below.