Top 10 Best Video Gaming Consoles For Ultimate Experience
May 29, 2021 By Sourav
---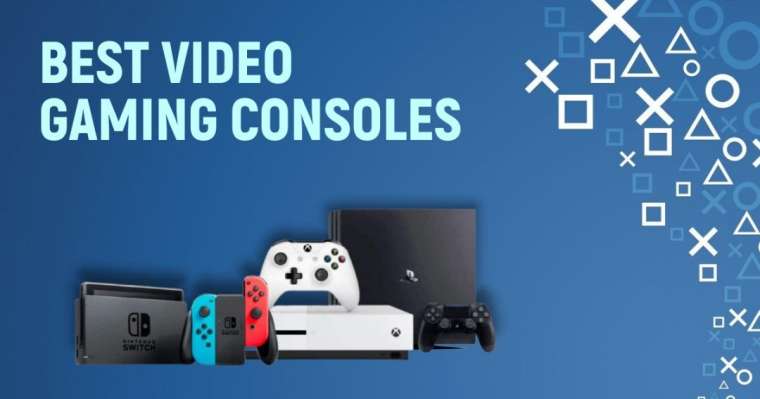 Are you a game nerd and looking for the best video gaming consoles for ultimate experience? No biggies, we're here with the top-ranked and the Best Video Gaming Consoles selection list along with specific details. The high-tech game has a prime demand nowadays, and you can't miss the incredible advancement of this new era.
Moreover, you have to look after the detailed aspects like frame rate and video resolution of the gaming display. Each latest release has brought something new regarding the gaming compatibility and the 4k to 8k visual experience as well. And now, the console's designs are extremely slim with a stylish look for easy portability.
Best Video Gaming Consoles | 2021 Rankings
1. PS5 - Newest Gaming System
2. PS4 Pro - Most Popular Gaming System
3. PS4 - Best Gaming Console To Buy
4. Xbox Series X - Home Gaming Systems
5. Xbox Series S - Ultimate Gaming System
6. Xbox One X – Top-Rated Gaming System
7. Xbox One S - Best Gaming Platform
8. Nintendo Switch - Best Family Game Console
9. Nintendo Switch Lite - Top Gaming Console
10. PS Vita - Best Gaming Device
Don't Miss:
Best Gaming Consoles In 2021 - Infographics
Our Recommendations This Year
FAQ Regarding The Gaming Consoles
From PlayStation to Xbox, a variety of users are demanding graphical enhancement that the 2021 updates have been featured with. The storage capacities are also extended, so you can enjoy the variation in games even get the online media streaming to enjoy with friends. For the satisfaction of our customers, we have enlisted the best gaming consoles of all time, and the products we select for you are tested and tried. Check these out!
1. PS5 - The Best Overall Gaming Console
The gaming era has been modified with optimized technology; PlayStation 5 advancement brought the 3D visual effect. You'll experience a whole new audio surrounding along with high-definition display quality. Plus, the PS5 console featured a vast range of gaming compatibilities of the top-ranked list.
Key Features:
1. 8k video output compatible for the display along with detailed pixel visualization
2. The advanced speed performance of the SSD build-in storage for quick performance
3. Now you can get a 120fps ultra-smooth and optimized frame rate on your display
4. Latest 2021 high-graphics games are compatible to play on PlayStation 5 with maximum user display
5. The console controller has been featured as a DualSense wireless system with fast execution
Console Highlights:
Smooth And Vibrant Display: The latest HDR system of the PS5 has made it possible for the users to experience a whole new HD visual world of graphics. You can enhance the pixel settings to the maximum range to make it incredible for the viewers. 2021 games will smoothly run on your desirable adopted display settings with no issues.
Dynamics Of The In-Game Platform: Change and advance the physical impact of gaming scenarios, including their minor details of the visual. The adaptive trigger technology allows the imitation of the graphics to the maximum outcome display for the games.
4K To 8k Magic: Enjoy the dynamic gaming experience on your 4K supported television display. The Playstation 5 also has an 8K display compatibility with 4320p resolution display settings. It will surprise your thoughts because the ultra-definitional graphics are rare to get everywhere. That's what makes the PS5 one of the most advanced and Best Video Gaming Consoles on our list.
Integrated I/O With 3D Sound: The SSD data import has been optimized with the integrated I/O that will save much of your game loading duration. Additionally, the 3D AudioTech system will make a smooth sound impact on the speaker. It will feel like a theatre while having a 4k display comprising 120 Hz output support.
Specifications:
Processor: x86-64-AMD Ryzen Zen 8 Cores
Graphics: AMD Radeon RDNA 2-Based Graphics Engine
RAM: 16GB GDDR6/256-bit
Internal Storage: Custom 825GB SSD
Game Disc: Ultra HD Blu-ray
Pros:
1. Ray tracing display visualization technology
2. The Haptic feedback gives the dynamic sensor
3. Advancement in the GPU processing system
4. High-definition graphical display support
Cons:
1. Lower storage capacity of the SDD than the previous console versions
2. The DualShock is only compatible with PS4 games
Conclusion:
8k display compatibility with high-speed SSD gaming capacity and 3D AudioTech technology of the PS5 can be your excellent selection.
2. PS4 Pro – The Best Gaming Console In 2021
Sony's PS4 Pros is a breakthrough in the gaming industry with incredible 4k support. All the games are fully enhanced to meet the actual requirements of this gaming beast console. Moreover, the games are rich with graphics and online multimedia supportability for intense entertainment.
Main Features:
1. PS4 Pro is the next big thing after PS4 with 4k support, so all your games come to life
2. Colors are more vibrant and accurate with built-in HDR support
3. PS4 Pro games run on minimum 1080p resolution, while you can always charge the experience by enabling 4k
4. It has double the power of the original PS4, so frame rates run faster than ever
5. Players can stream their favorite shows in 4K on bundles of entertaining apps
Console Highlights:
More Power Than A Standard PS4: PS4 Pro provides double with the performance effect of a standard PS4 in this regard. The most powerful GPU works together to deliver the clearest image quality. While it helps with faster animations and shortened load times that enhance your overall gaming experience.
All the quality game titles are now fully updated to meet the intense power flow of the PS4 GPU. So, all your favorite games can run seamlessly, and it is considered one of the best gaming consoles in 2021.
Clarity Redefined: The games come to life with the all-new PS4 Pro with its next-level HDR technology. All tiny details become apparent with this crisp HDR screen enabling powered by one of the most powerful GPUs. Colors are accurate, and objects are sharp thanks to prompt processing of life-like graphics.
Endless Entertainment: Players can stream endless 4K compatible movies on their connected devices. They can hunt on their favorite applications through a user-friendly interface provided by one of the Best Video Gaming Consoles.
A True Spirit Of Gamers: Sony has been bringing incredible innovations for their gamers, and this one is no different. This PS4 Pro offers graphic boosts with visual FX technology for bringing objects movements close to reality. Moreover, the anti-aliasing technique brings realistic details to the games you all play.
Specifications:
Processor: AMD Jaguar 1.6 GHz 8-core
Graphics: AMD GCN Radeon
RAM: 8GB
Internal Storage: 1TB Inbuilt
USB: 3 USB 3.1 ports
Pros:
1. More power in GPU for a seamless performance
2. 4K resolution brings life-like details to your displays
3. Enhanced colors with HDR enabled displays
4. Lightweight
Cons:
1. Complains regarding corrupted hard drives
2. Overheats when played on intense-graphics
Conclusion:
PS4 Pro is a powerful evolution of graphic intense with a 4k display and HDR support that makes it one of the top 10 gaming consoles. Just have some best PS4 Pro games on your side to have the real fun.
3. PlayStation 4 – The Best Gaming Console In India
The slim version of the PS4 gaming console has always been trending due to the sleek design and advanced compatibility. The visual display is remarkable when it comes to the graphic settings; a whole new list of options will be there for you. Of course, the extended storage is a plus point here.
Main Features:
1. Wireless controller system has been given in the PS4 game package with DualShock technology
2. Online compatible platform with a supportive broadcasting feature for the gamers
3. Large storage capacity of 1TB on the PlayStation with latest released game supports
Console Highlights:
Remote Playability: Enjoy the online remote playing flexibility on a different device at your home or anywhere you want. It will let you stream play on Mac system or windows, including the Sony Xperia and vita platform. So you can globally join the online gaming challenges with your friends.
Versatile Storage Capacity: You'll get a 1 TB storage capacity build-in in the PS4 console with a fast processing CPU system. Therefore, the variety of gaming selection will be increase, and you'll be able to download games online and from the DVDs.
Wireless DualShock: DualShock gaming console compatibility will let you enjoy the high-definition visual experience with a wireless system. You can more than one remote and have multiplayer mode along with online friendly gaming scenes.
Online Multimedia: The broadcast feature is live now; get online and connect with your friends to share media stories. It has popular social apps like Facebook, Twitter, and YouTube as well. Even you can download the online games from the store and by your friend connection place on the remote platform.
Specifications:
Processor: x86-64 AMD Jaguar 8 Cores
Graphics: AMD Next-Generation Radeon
RAM: 8GB GDDR5
Internal Storage: 500GB - 5200 RPM
USB: Super-Speed USBx (USB 3.0) port x2
Pros:
1. Wireless gaming remote with DualShock compatibility
2. Large gaming storage capacity with fast working CPU
3. Slim and lightweight console design
4. Online remote gaming with multiplayer connection
Cons:
1. The controller has few working issues
2. No backward gaming compatibility
Conclusion:
A very slim design with DualShock 4 compatibility and a large 1 TB storage capacity together with an online gaming scenario can be an advanced and best gaming console in India.
4. Xbox Series X – The Best Gaming Console For Beginners
Experience the optimized gaming platform with the best architected classical design Xbox gaming console. The high-processing SSD storage has been introduced here with quick backup performance. The graphics of the games are maintained to perfection without compromising on the quality.
Main Features:
1. It can handle twelve trillion operations in a second with a built-in 12 teraflop processing power
2. All the games that are designed for the four generations of Xbox are compatible with this version
3. You don't have to wait for the game because it has an integrated software electrified with custom SSD
4. There are no worries about the extra storage because the company provides an extra 1 terabyte storage card
Console Highlights:
Upgraded Software: The player gets bored with the game that gets a pause every minute, making the game soulless. Confront the next level of high-speed gaming software and experience the fastest processor of all time. Start your game and play all day without getting any stops.
Best Graphics: Play a colorful and high-quality graphical game with this gaming console. It has graphic card support of twelve teraflops which has the most powerful processing speed. Enjoy 4k gaming and make your day brighter.
Wire-Free Controller: This one of the Best Video Gaming Consoles provides a wireless gaming controller with the package. You don't have to stick in front of the screen for playing. Just start the game and sit where ever you want.
Extra Storage: Download as many games as you can without getting worried about the storage. Because The Xbox is providing an additional one terabyte expansion card which is separate from the built-in storage.
Games Compatibility: The games from four generations of Xbox are compatible with this Xbox version. Playing your favorite Xbox games is not a problem because it allows all Xbox generation games with high graphics and fast speed.
Specifications:
Processor: 8-Core AMD Ryzen Zen 2 - 3.8 GHz
Graphics: AMD Navi/RDNA 2-family GPU
RAM: 16GB GDDR6
Internal Storage: 1TB NVMe SSD PCIe 4.0
Max Resolution : 8K - 60fps
Pros:
1. It comes with a wireless gaming controller for easy playing
2. All the accessories of Xbox one are useable with this Xbox version
3. Download up to a hundred high-quality games
Cons:
1. Most of the games are only backward compatible
2. It launches title on the latest game sets
Conclusion:
Enhanced storage backup optimization of the SDD storage and 12 teraflop processing power has made it the most advanced gaming console.
5. Xbox Series S – The Best Microsoft Gaming Console
High-resolution media streaming and gaming platforms together with a wide range of storage capacity have been introduced in Series S. The Xbox has always held the top spot in the gaming line because of the maximum outcome of visual performance. Plus, the wireless playability is there for you.
Main Features:
1. External storage space of 320 GBs in the iPuzzle has been included in the console package
2. The high-tech 8X Core of the CPU system with a 3.6 GHz speed rating will optimize the performance
3. 1 version of Dolby digital sound system with a 3D effect on the surrounding while playing
4. There are 3 USB ports of 3.1 Gen along with a dual-band radio which is dedicated to the Xbox system
5. Advanced windows updated platform with NVIDIA chipset of fast-operating processor
Console Highlights:
High-Speed Storage Pack: The 512 GBs space of the build-in storage system has been optimized due to the fast operating CPU and hard disk. And the gaming display visualization has sped up as compared with the older version. The SSD storage will enhance the data syncing process more efficiently.
Advanced Graphic System: Series S has come with an NVIDIA ultra-smooth chipset that can perform high-capacity visuals without any break. The internal storage of the graphics is 10 GBs along with GDDR6, which is compatible with the 128-bit system as well.
4K Display Experience: Enjoy 4k streaming, broadcasting, and media playback flexibility on the Xbox with advanced graphic management. The Intel processing system has made it easy to enhance the resolution system up to 1440p. Alongside, the 120 FBS rating will boost up the high-graphics to the maximum settings.
What Else You Get? A slim design S series console has a 512 GBs internal storage system and an external iPuzzle 320 GBs memory. Plus, you'll get a wireless controller and an HDMI cable, which also possesses an auto low latency mode on the window system.
Specifications:
Processor: 8X Cores @ 3.6 GHz Custom Zen 2 CPU
Graphics: AMD Zen 2 And RDNA 2 Architectures
RAM: 10GB GDDR6
Internal Storage: 512GB Custom NVME SSD
Max Resolution : 1440p - 120fps
Pros:
1. Dolby TrueHD system along with DTS 5.1 platform for sound
2. Wireless dual-band compatibility of the Xbox
3. High-speed Cortex A13 processor for smooth display and graphics
4. AMD FreeSync support
5. Very lightweight
Cons:
1. A customer reports a missing power cord
2. Time-consuming profile creating method to access the game system
Conclusion:
NVIDIA chipset with 4K media streaming compatibility of the large storage 512 GBs Xbox is one of the trending windows gaming consoles.
6. Xbox One X – The Best HD Gaming Console
It is the 40% faster and speedy version of Xbox series providing the costumers with the best strategical gaming platform. Now you can get a bunch of different top-ranked classical games on this Xbox. Also, enjoy high-definition quality games with this 4k graphic-compatible Xbox.
Main Features:
1. It provides the fastest gaming network that makes it an online multiplayer gaming platform
2. The company provides you 2 to 4 best games every single month for free
3. Up to 4k high definition games are compatible with this Xbox gaming console
4. It has a one terabyte hard disk storage, ensuring you to play tons of game without worrying about the space
Console Highlights:
4K Gaming: Experience the most high-quality graphic gaming console comprising the latest visual and resolution aspect. This gaming platform has brought you the all-time famous graphic processing unit. All the color combinations and pixels are maintained completely to the ultimate.
Fastest CPU: Playing heavy games is not a problem with this fast processor Xbox gaming console. There is a 2.3 GHz processor installed in the device that makes the game's functioning fast and rapid. Enjoy your games without any roaming and buffering.
Global Gaming Platform: These Best Video Gaming Consoles are known for their fastest browsing speed. They provide you with a global and an international gaming place where you meet different types of people.
All New Games: Getting bored with your old games is not a problem. This game offers up to four games every month for you; those are absolutely free of cost.
Reliable: This high-class game is assembled for lifetime performance, ensuring you speed, stability, and performance.
Specifications:
Processor: Eight-core 2.3GHz custom AMD
Graphics: Six teraflops 1172 MHz
RAM: 12GB GDDR5
Internal Storage: 1TB HDD
Max Resolution : 4K - 60fps
Pros:
1. It comes with a six teraflop graphic processing unit providing more accurate colors on the screen
2. Every accessory of the old Xbox version is compatible with this version
3. You can play your favorite window x games on this gaming console
4. The price tag is moderate
Cons:
1. It doesn't come with a game pass
2. The Xbox Live gold is not compatible here
Conclusion:
It is a heavy storage Xbox gaming series with fast performance and 4k high graphics known as the best gaming console 2020.
7. Xbox One S – The Most Advanced Gaming Console
The Xbox One S lets you connect with all in one of the most reliable gaming platforms. It is a supportive multimedia platform where you connect with streaming and multiplayer gaming scenarios. The advanced visual-compatible display system with enhanced resolution settings makes it one of the Best Video Gaming Consoles.
Main Features:
1. Players can stream ultra-high-definition movies and games in this single promising gaming console
2. You can select from over 1300 games, including classics and exclusives from Xbox
3. Leading 4K quality with enhanced details and sparkling visuals right on your displays
4. Engross yourselves in a close to real experience with Dolby Atmos and DTS:X for superior sound quality
Console Highlights:
Fun That Won't Stop: Players can enjoy over 1300 games on this gaming console. It's the only modern gaming machine that offers classics and brand-new games on a single platform that is loved by all.
Therefore, players won't have limitations about enjoying a specific game era as it's all certain with Xbox One S.
Seek 4K Entertainment: Xbox One S allows you to enjoy the value of 4K entertainment to its fullest. You can stream 4K movies on your favorite spots like Netflix, YouTube, Microsoft movies, and Hulu, for example. So, the fun continues in an extra crisp image quality that excels all the time.
Enhanced Viewing Experience: The colors on your screens will pop out, and the vibrancy will be undefined with this gaming console. With the high-definition graphics, your visuals will be more refined and crystal clear than ever.
Immersion Is Normal: An engrossing experience is all causal when it comes to Xbox One S. It comes with the lively quality of Dolby Atmos, DTS:X that adds waves of reality to your contents on screens. Furthermore, Xbox offers different modes of entertaining mediums like entertaining apps and quality games.
Specifications:
Processor: 1.75GHz AMD Jaguar eight-core
Graphics: 1.4 T-FLOPS 12 @ 914MHz
RAM: 8GB DDR3 RAM + 32MB eSRAM
Internal Storage: Upto 2TB HDD
Max Resolution : 4K - 60fps
Pros:
1. All your compiled games are saved and backed by the storage cloud
2. Digital library lets you enjoy your games on any Xbox
3. It contains games from all gaming eras
4. Reasonable price tag
Cons:
1. No game pass included
2. The downloading pace is slow
Conclusion:
The optimized visual experience, along with 4k display compatibility and Dolby sound effect, will make your gameplay the highest advancement.
8. Nintendo Switch – The Best Gaming Console For Family
Enjoy the games for hours with this versatile performing switch gaming series that come with improved battery timing. You can also invite your mates and family and share the thrilling joy of this gaming set. There are no limitations for home playing because it has a handheld mode that offers you to play it everywhere and anytime.
Main Features:
1. It allows you tabletop mode, which makes your playing more comfortable and enjoying
2. The joy-con handling controllers are attached with the screen providing a handheld mode
3. It comes with a TV mode in which you will just have to attach your game authorities to the TV for a wide view
4. Switch the game system with friend and family for a multiplayer gaming experience
Console Highlights:
TV Switching Mode: This gaming device provides you with easy playability along with tons of features. It also has a TV switching option in which you can switch your five inches OLED into a big screen. This feature is very helpful for your eyes where instead of playing a five inches screen, you can play at a big LED.
Portable Device: This small-size lightweight five inches screen device is very simple to carry. You can play this game even out of your house because it can fit in the pocket easily.
Best Battery: Play for many hours without worrying or battery loss because the battery installed in this device is long-lasting. It can endure up to nine hours without disturbing your gameplay. If you are on a long journey, then this gaming console is the best partner for you.
Tabletop Features: Now you can adjust your game at the table by taking the removable controllers in your hand for a cozy gameplay experience.
Specifications:
Processor: ARM 4 Cortex-A57 cores @ 1.02 GHz
Graphics: NVIDIA Custom Tegra processor
RAM: Custom
Internal Storage: 32 GB + Upto 2TB HDD Expandable
Max Resolution : 1080p - 60fps
Pros:
1. It is a small screen gaming console that can even fit in the pocket
2. Improved battery timing that works up for nine hours
3. You can link with up to eight consoles for a big multiplayer game
4. The price tag is low and very lightweight
Cons:
1. It has charger plug issues that vary with region
2. Joycon controller doesn't work properly
Conclusion:
The best portable gaming device designed possessing a 5 inches OLED display with a smooth visual experience having a tabletop aspect as well.
9. Nintendo Switch Lite – The Best Gaming Console Under 20000
A portable gaming device with an enhanced resolution factor to enjoy advanced visuals on your gaming screen. Nintendo Switch Lite comes packed with a high definition immersive display with the best control integrated controls. The smart system of this Nintendo switch is made to optimize the latest gaming list to run smoothly without errors.
Main Features:
1. A handy and lightweight design that can slip in your pocket for easy carry
2. The Nintendo switch lite plays all physical and Nintendo switch games supporting its handheld mode
3. Get to find your favorite games from the in-built Nintendo eShop application
4. Choose from over 2000 quality games on a sublime quality screen with ease of controls
Console Highlights:
Design That Inspires: This Nintendo switch is wonderfully designed for its mobility. You can practically put this lightweight gaming console in your pocket and enjoy it on the go.
Moreover, it's made from the most durable quality materials that reflect high endurance over time. Players can pick a specific color from a fat color selection for a personalized feel.
Signature Handheld Controls: The gaming console offers quality controls integrated with details to this most personal gaming experience. It has easy game operations making it the best gaming console for beginners. So, get yourselves started with the built-i controls and a signature control pad.
Color-Rich Screen: Your games gain a new value of liveliness with its bright 5.5 inches touch panel. It's specially built for a very personal experience that comes with ease of carrying. Players can try out all Nintendo digital hits supporting it handheld mode. Nintendo is always optimizing its big hits for this Nintendo switch lite.
Players are getting access to 2000 incredible quality games that are going to look amazing on its vibrant screen. So, the genres never end when it comes to this handy, valuable gaming console.
Responsive Touch: Screen responsiveness takes a new equation of reliable technology. Now, you'll be pleased to enjoy the contents on this beautiful display that never disappoints.
Specifications:
Processor: ARM Quad-core Cortex-A57
Graphics: NVIDIA Custom Tegra processor
RAM: Custom
Internal Storage: 32 GB + Upto 2TB HDD Expandable
Max Resolution : 720p - 60fps
Pros:
1.Entertains on the go
2. Unlimited fun with over 2000 quality games to choose from
3. Bright touch panel with vibrant colors
4. The price tag is friendly
Cons:
1. Downloaded games work with Wi-Fi only
2. The inserted memory card has errors
Conclusion:
Get a punch of entertainment on the 5.5-inch high-definition display with this portable gaming console giving you a valuable offer.
10. PS Vita – The Best Gaming Console Under 10000
It comes with a five inches OLED portable screen that makes it among the best gaming consoles of all time. The visual display performance has been enhanced with the improvement of the frame rate and pixel quality. And of course, the gaming console is filled with additional aspects comprising Wi-Fi, motion sensor, and HDMI support.
Main Features:
1. It has a section built for memory card to attain space for more games
2. This gaming console is surprisingly very lightweight, making it an appealing portable device
3. Compatible for all PlayStation games those are provided by the PlayStation store
4. It comes with a quick response OLED touch screen
Console Highlights:
Memory Card Slot: It is not a matter of worrying if your memory got full of games. Because there is a section made for memory cards, this memory card slot is very easy to open. You don't need any instrument; just use your finger and install the card.
Feathery Weight: Carrying this one of the Best Video Gaming Consoles is easier because of their lightest weight. These gaming consoles won't take any space while traveling. You just have to put them in the pocket and travel comfortably.
Play The PlayStation Games: All the games that the PlayStation store provides are compatible with this gaming device. You have to download the favorite PlayStation games on the vita memory card and proceed toward the gameplay section.
Touch Screen: You can also play with your fingers on the screen because this device has a touch OLED screen. The display is very smooth and finely constructed even on the maximum pixel settings. It doesn't need many touches to work; just touch the visual screen gently and see the result.
Specifications:
Processor: Quad-core ARM Cortex-A9 MPCore
Graphics: Quad-core PowerVR SGX543MP4+
RAM: 512 MB Internal
Internal Storage: 1 GB Flash Memory
Display: 5-inch (16:9) OLED
Pros:
1. The internet browser has a design of PSP but works faster than it
2. A heavy sound system is installed in the device to make your gameplay more fun
3. The best lightweight gaming console
4. It has a rare front-facing camera to take photos
Cons:
1. The console back has few scratches reported by the customers
2. The device has a charging issue
Conclusion:
A touch panel gaming device offering you a fast and smooth platform for the interesting and thrilling game at an affordable price tag
Video Gaming Consoles Buying Guide
We have done authentic research about every product's nature so we could guide you to your Best Video Gaming Consoles.
Types of Gaming Consoles
Gaming console types vary concerning their functioning and manufacturing. There are a bunch of solid gaming console types like Xbox, Nintendo, and PlayStation. Each console carries a bundle of unique features that make them different from the others.
See, Whether you're looking for a portable console like a Nintendo switch or power-packed PS5. Each type carries its functionality targeting a specific consumer type. Lite buyers must consider their usage plans and act according to the progression of their purchases.
Prices of Gaming Consoles
There is a certain disparity in each console's price on our provided list. They differ in terms of price, but the latest games and performance must be considered. PlayStation 5 wins the bucks race with a hefty price of around 1500 dollars while most others are below the 1000 mark.
Then comes the Xbox that fits in the middle slot followed by Nintendo in the affordable category. A gaming console's price jumps with its large storage capacity, latest features, and performance. So, see which option suits your pocket while satisfying your needs.
Online vs. Offline gaming
Many gaming consoles offer online and offline functionality at the same time. But which one is worth it? If you don't look to seek a Wi-Fi connection, then go for the PlayStation range of options. While Nintendo Switch consoles sit in the online category option.
On the flip side, Xbox allows its players to appear online as well as offline at some stage. While seeing which medium stays in your comfort zone so you can get the most out of your gaming consoles.
Storage Capacity
The storage capacity ranges from console to console. You'll have to pay an extra price for extra storage. A 1TB storage tank in comparison to 512GB has a noticeable price variation. So, pick the one that goes with your wallet.
3D, VR, and Additional Features
These 3D and VR gears add more to your conventional gaming consoles. They allow players to experience the games with close to real intent. Obviously, these extras cost thousands of dollars to provide breakthrough functionalities.
So, players with a keen sense of exploration can consider if these gears suit their budget or not.
Best Video Gaming Consoles - Infographic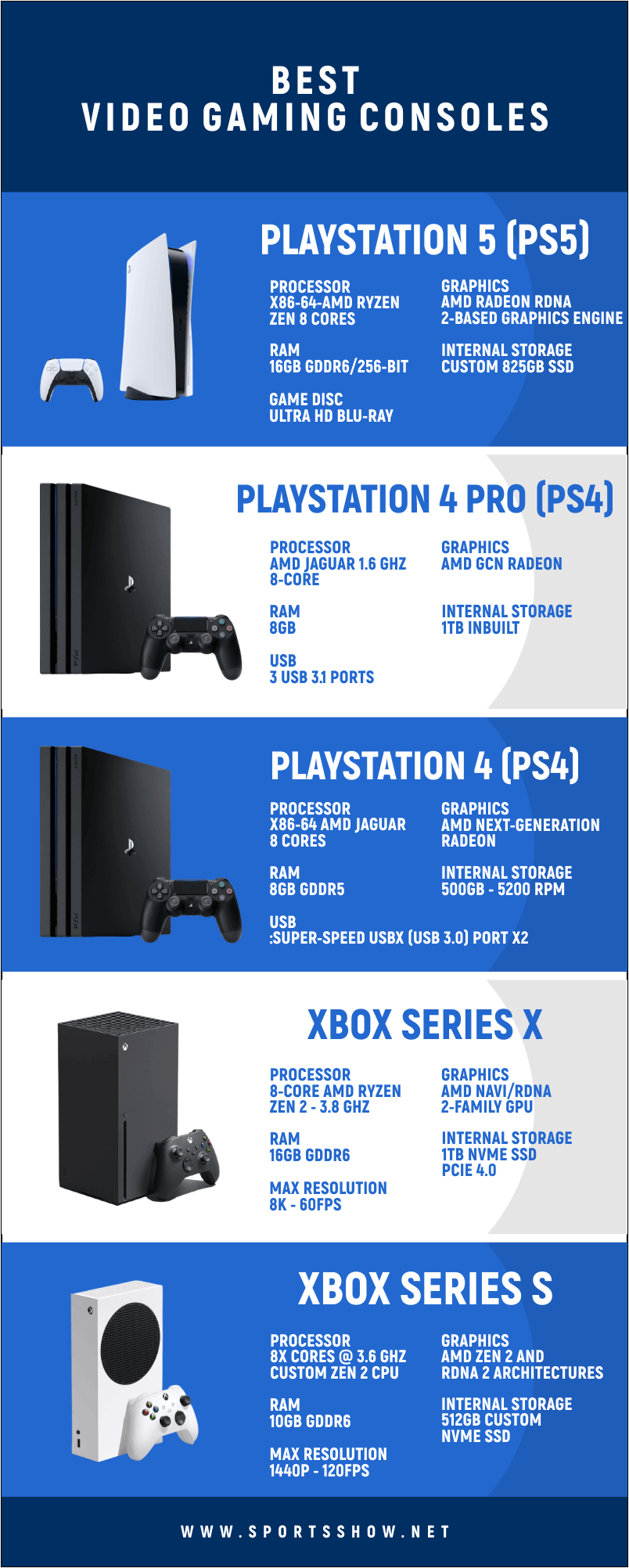 Our Recommendations
Our 1st recommendation is PS5 as the best gaming console 2021 on our list. The advanced 4k to 8k display visual, along with optimized SSD storage capacity, has a 3D sound system and a slim body structure that makes it the Best Video Gaming Consoles.
Our 2nd recommendation is Xbox Series X as one of the advanced gaming consoles. We have 12 teraflop processing power and 4k visual display compatibility, and 1 TB SSD storage for a multiplayer online gaming experience.
Final Words
Hence, we can conclude that these are the Best Video Gaming Consoles featuring versatile and advanced visual gaming surroundings. You'll get wireless and Dualshock controllers with PlayStation and Xbox consoles along with a 3D audio impact system.
Enjoy 4k to 8k display performance with smooth and optimized gameplay vibes and fast processing large space storage systems. Hopefully, our detailed features list, along with buying guide, will direct you to find the desired gaming console!
FAQ Regarding Best Video Gaming Consoles
Q. What is the most popular gaming console 2021?
The PS4 has certainly earned the most the fame year 2021 because of its top-rated reviews. That makes it sit on the top of all other gaming consoles.
Q. Which is the cheapest gaming console?
PS Vita on the list is the cheapest gaming console that packs a portable functionality along.
Q. Which is the best gaming console in India?
PS4 is the most loved gaming console in India. It packs top performance, and it currently sits in the mid-price range category, which is another reason for its popularity.
Q. What is better, Xbox or PS4?
Xbox excels in its ultra-HD blue ray support while PlayStation packs better game operations overall. You can decide which feature is more important to you for a better decision.
Q. What is better, PS5 or Xbox Series X?
PS5 takes the performance lead in terms of hardware, while Xbox has close to PC feel with a faster load rate. Both works excellently in their way.
Q. What does the PS5 look like?
The console stands vertically with a modish design touch. It certainly looks like a thing from the future with white and black color amalgamation matching controllers.
Q. Is PS2 worth buying in 2021?
That comes down to the taste of a player. PS2 has always been considered as one of the Best Video Gaming Consoles from its very release. So, If you still miss all those classics from PS2, then you can surely buy this in 2021.
Q. What is the fastest gaming console?
As of 2021, PS5 from the house of Sony and XBox Series X from the house of Microsoft is the fastest gaming console. And if you are looking for a handheld one, go for Nintendo Switch that is blazing fast and delivers great performance.
Q. Which Xbox is best?
The all-new Xbox Series X is the best one from the Xbox series of Microsoft. Not only just amazing gaming performance, but this one also delivers an unmatched multiplayer experience in 4K.
Q. Which is the best gaming console to buy?
As of 2021, it is better to go for the all-new PS5 if it fits your budget. You can also go for Xbox Series X as well from the house of Microsoft which is widely reputed for creating some of the best video gaming platforms. Besides, you can also checkout our recommendations in the gaming consoles list.
Q. What game console should I get?
Needless to say, PS5 is currently among the best video game consoles of all time. However, many Microsoft nerd also claim that Xbox Series X is a league ahead. However, we can personally say after comparing gaming consoles that both these machines are great in their own terms.
Q. Which game system is better?
In our childhood, it seems that Nintendo was just great. But with passing time, PlayStation and Xbox almost started dominating the market. While PS fans claim that PS5 is the best gaming console ever, the Xbox fans denied this claim. However, all three, Sony, Microsoft, and Nintendo has their own USPs to attract their fans.
Q. Why are Xbox cheaper than PS4?
If you compare games consoles, you can see that the consoles from the Sony games systems are a bit higher in price than the Microsoft consoles like the Xbox one gaming systems. It is mainly due to the added features, tech specs, and durability of the product.