Top 7 Richest Female Gamers Of All Time
October 19, 2021 By Admin
---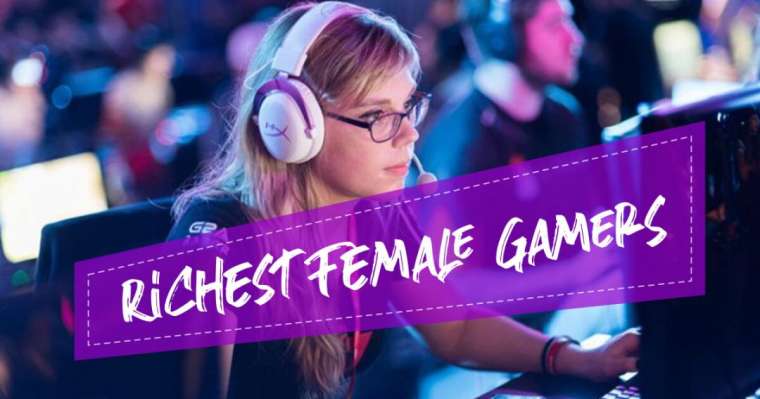 Gaming is not just an entertainment source after the boom in the gaming industry. Many top gamers have a huge fan following which gives them financial benefits. Besides men, professional females gamers proved themselves to be called the best because of their tremendous skills. Here we will discuss the richest female gamers who gained popularity among gaming fans and fulfills their bank accounts with their efforts.
Richest Female Gamers | All-Time Ranking
7. Loserfruit
6. DizzyKitten
5. AnneMunition
4. LilyPichu
3. Valkyrae
2. Amouranth
1. Pokimane
The gaming industry has some of the biggest eSports tournaments fetching millions of dollars each year. And among those, female gamers have their fair shares. So, here are the richest female gamers who will drop your jaw with their immense wealth.
7. Loserfruit
Known online as Loserfruit (and simply Lufu), Kathleen Belsten, born on 22nd February 1993 in Melbourne, Victoria, is an Australian YouTuber from Sydney. Her spectacular Overwatch and Fortnite videos made her famous on YouTube. She joined the platform in May 2013.
During her time on YouTube, she was a member of the Click YouTuber collective, including Bazza Gazza, Crayator, LazarBeam, Mrfreshasian, Muselk, Prestige Clips, Tannar, and Mully.
Kathleen earns a decent amount of money because of her fan following on YouTube, Instagram, and Twitch and is known as one of the richest female gamers.
6. DizzyKitten
DizzyKitten, one of the most popular Twitch streamers, is known for playing games like Counter-Strike: GO and Super Hexagon. During her streams, she sometimes shows dancing dolphins. As a child, she saw her brother playing World of Warcraft and was introduced to video games.
Her first stream was in September 2013. After that, Dizzy gained massive popularity among gaming fans and is regarded as one of the richest female gamers. Sources report that she earned more than $600,000 from a successful career in streaming as of mid-2019.
The popularity of Dizzy on Twitch has attracted many donations as well as partnerships. Accordingly, her wealth is also expected to increase as she continues working.
5. AnneMunition
Originally a full-time graphic designer, AnneMunition discovered streaming as a hobby on the side. In 2013, she shifted from her job as a graphic designer to full-time streaming on Twitch. AnneMunition announced a partnership with computer hardware and peripheral manufacturer Corsair on 1st December 2015.
Corsair's Streamer Program has enrolled her. Her Intel Brand Ambassador sponsorship was announced in August 2017. Anne's outstanding career achievements in gaming and popularity make her one of the richest female gamers.
A competitive gaming event was held at the White House in December 2016 in which AnneMunition participated. The purpose of this event was to educate and encourage ACA sign-ups among the gaming audience by performing alongside other streamers.
4. LilyPichu
Originally from California, Lily Ki is an American Twitch streamer, musician, and YouTube personality primarily known as LilyPichu (born 20th November 1991). Lilly gained popularity in 2011 with the release of her song "I'll Quit LoL," which garnered over 6 million views.
The majority of her YouTube content consists of animations, vlogs, songs, and piano covers. On Twitch, her streams consist of League of Legends with art, music, and IRL content. Furthermore, LilyRaichu (formerly LilyPi2) periodically uploads videos to her second channel.
She is well known for her creative videos, which makes her one of the richest female gamers. Lily's highly empathic personality causes her to ask other streamers to describe their feelings so frequently that it may be inappropriate.
3. Valkyrae
A YouTube streamer known by her online alias Valkyrae, Rachel Hofstetter (born 8th January 1992), is an American. Besides being a content creator, she is also the owner of 100 Thieves. In January 2020, she signed a 2-year exclusive contract with YouTube, becoming one of the richest female content creators in the gaming industry.
In addition to its energetic and enthusiastic stream style, Valkyrae also holds charitable events. Valkyrae has established herself as one of the most popular streamers on Twitch, even though it is a male-dominated platform. In fact, Valkyrae has been so popular on Twitch that she even quit her day job to focus all of her time on gaming.
Playing games such as Bloodborne, The Walking Dead, and Fortnite on her various recently-launched game consoles, she is an avid player of the PS4, Wii U, and Super Nintendo.
2. Amouranth
A professional cosplayer, Amouranth has also become one of the most well-known Twitch streamers and social media personalities. In addition to modeling, she is a costume designer. Texas Grand Opera and Houston Ballet spotted her work as a costume designer in 2010.
As a high school student, Kaitlyn began her adventures in cosplay as a self-taught customer in 2010. Her stunning looks and amazing personality make her stand out. She is Single as far as her relationship status is concerned.
Fitness is important to Amouranth, as she keeps her body fit and healthy because a vast amount of internet followers on different platforms makes her one of the richest female gamers who earn a lot through gaming.
1. Pokimane
The internet personality Pokimane (born 14th May 1996) is a Moroccan Canadian. She is known for her YouTube and Twitch streams. The online gamer Pokimane (Imane Anys) is known as a streamer and celebrity. She first gained attention when she started posting video games-related content on Twitch.
Because of Anys massive fan following on social media, she is regarded as one of the richest female gamers. In addition to posing for her own products, she is also a model for her clothing line, including t-shirts and sweaters. The YouTube channel OfflineTV, where she produces videos, is made up of a group of independent content creators.
According to Anys, being a streamer and living alone is not logical, so we decided to team up to stay in touch. As well as collaborating, we can deliver good content to everyone.
Richest Female Gamers - Infographics
Final Words
We hope you like the list of our richest female gamers. We appreciate the precious feedback of the reader. Feel free to tell us in the comment section.
FAQs Regarding Richest Female Gamers
Q. What are girl gamers called?
Gamer girls are other female gamers who identify themselves using this term. Several names are used to refer to these women, like "gamer gurls" and "fake gamer girls," who are accused of playing video games to attract male gamers.
Q. How many pro gamers are female?
The percentage of female professional gamers is only 5%, according to a recent estimate. This number is quite shocking when you look at the numbers, which show that nearly 60% of women between ages 18 and 29 play video games. Males dominate the pro-gaming industry, taking up 95% of the spots.
Q. Who is the wealthiest female gamer?
Gamer Sasha Hostyn is the world's most famous. The richest woman in esports, Sasha is renowned for earning fortunes from esports. With 178 tournaments under her belt, she is very experienced in the gaming world.
Q. Which country has the most gamer girls?
According to Google, with the help of market research firm Niko Partners, 38% of Asian gamers are female in 2019. Now they make up 45% of China's economy, while 40% are accounted for by South Korea, Japan, and Southeast Asia.