Top 10 NBA Playoffs Top Scorers of All Time
October 20, 2021 By Sourav
---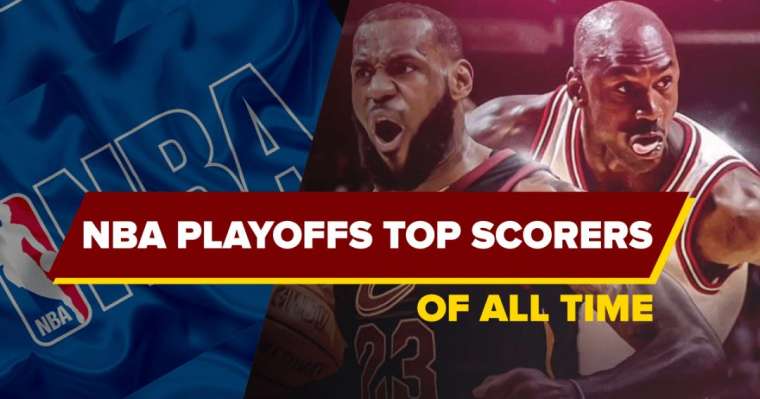 The NBA Playoffs are rolling. The most exciting moment of the basketball year, when champions are crowned after a long season. Like the regular season, the playoffs are prolific in epic moments and records. And like baseball, the expansion of the basketball playoffs is the main cause that most of the record holders belong to in recent years. And here is the list of the Top 10 NBA playoffs top scorers of all time.
NBA Playoffs Top Scorers of All Time
Interesting Facts: As a reference, Bryant and Malone only made that many points once and Lebron James never yet and Allen Iverson is the other player to do so more than once as he made it just two times. On April 20, 1986, in just his second playoff appearance, Jordan had an epic performance against Boston Celtics in the second game of the Eastern Conference first-round series. In that game, Boston with his "big three" (Bird, Parish, McHale) needed two overtimes to defeat Michael Jordan, who scored 63 points (a playoff record) out of his team total of 131.
10. Larry Bird
At position 10th of the 10 NBA Playoffs top scorers of all time, we meet Hall of Famer and former 1992 dream team member, Larry Bird. A legend of the sport and a three consecutive times MVP Award winner, Bird was constantly playing the playoffs with the Celtics, amassing twelve trips to that round, winning three NBA Championships, and scoring 3,897 points, averaging 23.8 points per game (PPG, from here on).
Bird's best playoff when it comes to points was in 1983-83 when the Celtics won the championship defeating the Lakers in the NBA Finals with Bird as the Finals MVP.
In that playoff he scored 632 points, averaging 27.5 PPG with success percentages of .412 (3-pointers), .529 (2-pointers), and .879 (free throws).
9. Jerry West
"The Logo" was a legend in the NBA and a constant participant of the playoffs round with his lifelong team, the Lakers. He was so good in this round that he is the only player to win the NBA Finals MVP Award on a losing team; he holds the record for the highest PPG average in a playoffs series with 46.3.
This player is one of the greatest NBA players of all time. In thirteen playoffs trips, he won one NBA Championship, One NBA Finals MVP award, and scored 4,457 points, ranking ninth in the list of the 10 NBA Playoffs Top Scorers of all time and averaging 29.1 PPG in that round (3rd all-time).
His best playoffs were in 1970 when he scored 562 points and had 31.2 PPG with success percentages of .469 (2pts) and .802 (FT). When it comes to Points per Game his best playoffs were 64-65 with 40.6. From 1970 until 1984 he was the all-time top scorer in Playoffs.
8. LeBron James
King James has played in 10 postseasons with two NBA Championship rings, both with the Miami Heat in 2012 and 2013, both he won the NBA Finals MVP Award. LeBron James is considered one of the best players in basketball history and his scoring abilities are undeniable.
He has been part of contender teams, having missed the playoffs in only his first two seasons. James has scored 4,527 points (and counting) with 27.9 PPG, ranking number eight in the list of the 10 NBA playoffs top scorers of all time.
His best playoffs were in 2012 when he scored 697 points and 30.3 PPG with success percentages of .259 (3pts), .549 (2pts), and .739 (FT). However, it was the 2008-09 playoffs his best when it comes to PPG as he averaged 35.3.
7. Julius Erving
Arguably, the best and most remembered player from ABA (American Basketball Association), Erving ranks 7th in the list of 10 NBA Playoffs Top Scorers of All Time, as he accumulated 4,580 points in sixteen playoffs.
A 32,58 % of his total (1,492) come from his time in ABA when he played 2 playoffs with the Virginia Squires and 3 with the New York Nets. His other 11 participants in the postseason round were in the NBA with the Philadelphia 76ers. Erving won three league Championships, two with New York and one with Philadelphia.
With the Nets, he won two Playoffs MVP awards. He delivered his best postseason in 1977 with the 76ers when he scored 518 points in a team that became eliminated in the Eastern Conference Finals. His success percentage was .523 (2P) and .821 (FT). However, his championship playoff of 1975-76 (NY) was the best in PPG as he had 34.7. He had 24.7 PPG overall in the playoffs.
6. Karl Malone
"Mailman" played NBA from 1985 to 2004 almost exclusively with the Utah Jazz and finished second on the All-Time list for points and ranks first in Free Throws Percentage. Malone participated in the playoffs in every season of his career, scoring 4,751 points, good enough for sixth in the list of the 10 NBA Playoffs Top Scorers of All Time.
Despite this, Malone never won an NBA Championship and we could argue whether he's the greatest basketball player ever to win a ring. Malone gave his best playoffs in 1998 when he scored 526 points in a team that lost the NBA Finals against Michael Jordan and the Bulls.
In that playoff, he averaged 26.3 PPG and had a success percentage of .475 (2Pt) and .788 (FT). In his career, he got 24.7 PPG in playoffs, and on April 22, 2000, in the first game of the playoffs and against the Seattle Supersonics, Malone had his best playoff game when he scored 50 points in 43 minutes played (1.16 per min) with 12 rebounds and 13 free throws.
5. Tim Duncan
Duncan is the second player to appear in the list of 10 NBA Playoffs Top Scorers of All Time who is still in active play. Tim has played playoffs in 17 of his 18 NBA Seasons as part of the successful team of San Antonio Spurs.
He currently has scored 4,999 points a total that will rise and probably by the time you are reading this he has already surpassed the 5,000 points barrier. Duncan has won four NBA Championships and in three of them, he won the NBA Finals MVP award.
In the playoffs of 2002-03, as part of the winning team, Duncan led the round with 593 points in 24 games, a PPG average of 24.7 with .538 (2P%) and .667 (FT%). In his career he has a 21.3 PPG Average, his best year being 2002 (27.6 games, considerably less game, although) and success percentages of .503 (2P%) and .691 (FT%).
4. Shaquille O'Neal
O'Neal occupies number 4th in the list of the 10 NBA Playoffs Top Scorers of All Time. O'Neal played Playoffs in 17 of his 20 NBA career seasons, eight with Los Angeles Lakers, three each with Miami and Orlando, and one each with Cleveland, Phoenix, and Boston.
In his 17 trips to the round, he scored 5,250 points, earning himself three NBA Finals MVP awards and helping his teams to win four NBA Championships, most notably the Lakers that won three in a row. Shaq's best playoff was 1999-00, his first championship, when he scored 707 points, the fourth-highest total for playoffs.
That year, in the first game of the playoff, he tied his personal mark of 46 points in a playoff game, when his team lost to Sacramento. He previously had scored the same amount in 1997 against Portland. O'Neal averaged 24.3 PPG, his highest average was in 2000 when he had 30.7 and success percentages of .566 (2P) and .456 (FT), which gives room to speculate of a higher total with better percentages.
3. Kobe Bryant
Kobe is the number 3 in the list of the 10 NBA Playoffs Top Scorers of All Time and the leader amongst active players. Bryant has played postseason basketball in 17 of his 19 seasons in the NBA, all with the Lakers, and has scored 5,640 points in 220 playoffs games, which gives an average of 25.6 PPG. Kobe has won five NBA Championships with Los Angeles and two NBA Finals MVP awards in 2009 and 2010.
In 2009, Bryant has his best playoffs in scoring terms with 695 points, leading the playoffs in points, besides field goals (242), two-pointers (205, with a 2P% of .483), and free throws (174, .883 FT%).
In his career, he averages 25.6 points per game in playoff games. On May 4, 2006, Bryant has his best playoff game as he scored 50 points in 52 minutes played in the sixth game of the Western Conference First Round, a match that the Lakers lost to the Suns in overtime 126-118 and that forced the seventh game of that series, also won by Phoenix.
2. Kareem Abdul-Jabbar
The NBA Top Scorer in history is not absent in the list of the 10 NBA Playoffs Top Scorers of All Time. With Milwaukee and Los Angeles, Jabbar played in 17 playoffs in his 20 seasons career, won six NBA Championships, and two NBA Finals MVP awards and for thirteen years, he is also one of the leading point scorers in the NBA.
Jabbar scored 5,762 points in the round in history, ranking second of all-time. His best playoff was in 1974, still with the Bucks, when he scored 515 points in 16 games, averaging 32.18 PPG and .557 2P% and .736 FT% for a team that lost the NBA Finals in seven games. Abdul-Jabbar was also a defensive force, leading the playoffs in rebounds and blocks.
He averaged 24.3 points per game and had career playoffs success percentage of .533 (2PT) and .740 (FT). Kareem had 505 offensive rebounds, which helped him to achieve his total points. Besides, he holds third place in the list of most Win Shares in Playoffs with 35.56, only below Tim Duncan and Michael Jordan.
1. Michael Jordan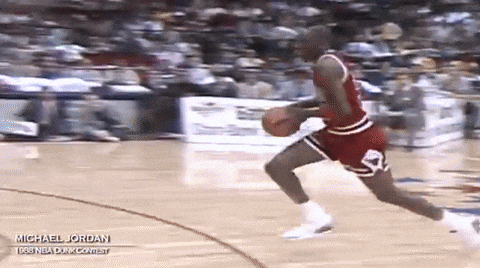 It is not surprising that 'His Airness' is number 1 in the list of the 10 NBA Playoffs Top Scorers of All Time. After all, when you hear about NBA Playoff Greatest Moments or Performance, the first person to come to mind who dominated the sports like a boss is Michael Jordan. In an 18 year span (1985-2003), Jordan played 15 NBA seasons (two interruptions: one for baseball the other one for retirement).
And in thirteen of them, he played playoffs, winning 6 NBA Championships and the same number of NBA Finals MVP awards. He was a scoring machine in this round as well, leading the playoffs in scoring eight times and amassing 5,987 points in his career and since 1997-98, he's the all-time leader in points scored in playoffs.
Jordan scored more than 500 points five times, more than 600 two times and in 1991-92 he established the single playoffs record for points with 759 in 22 games, averaging 34.5 points per game. Jordan appears four times in the top 10 list of most PPG in single playoffs. Michael also had numerous memorable performances in the playoffs, having scored more than 50 points in the game an incredible 8 times!
Conclusion
Those are the NBA Playoffs Top Scorers of All Time. Other notable playoff scorers may include John Havlicek (11th of all time), Hakeem Olajuwon (25.90 PPG, 9th of all time), or Allen Iverson, who is just 8 playoffs stints, scored 2111 points and averaged 29.73, second of all-time.
NBA Playoffs Top Scorers | Infographics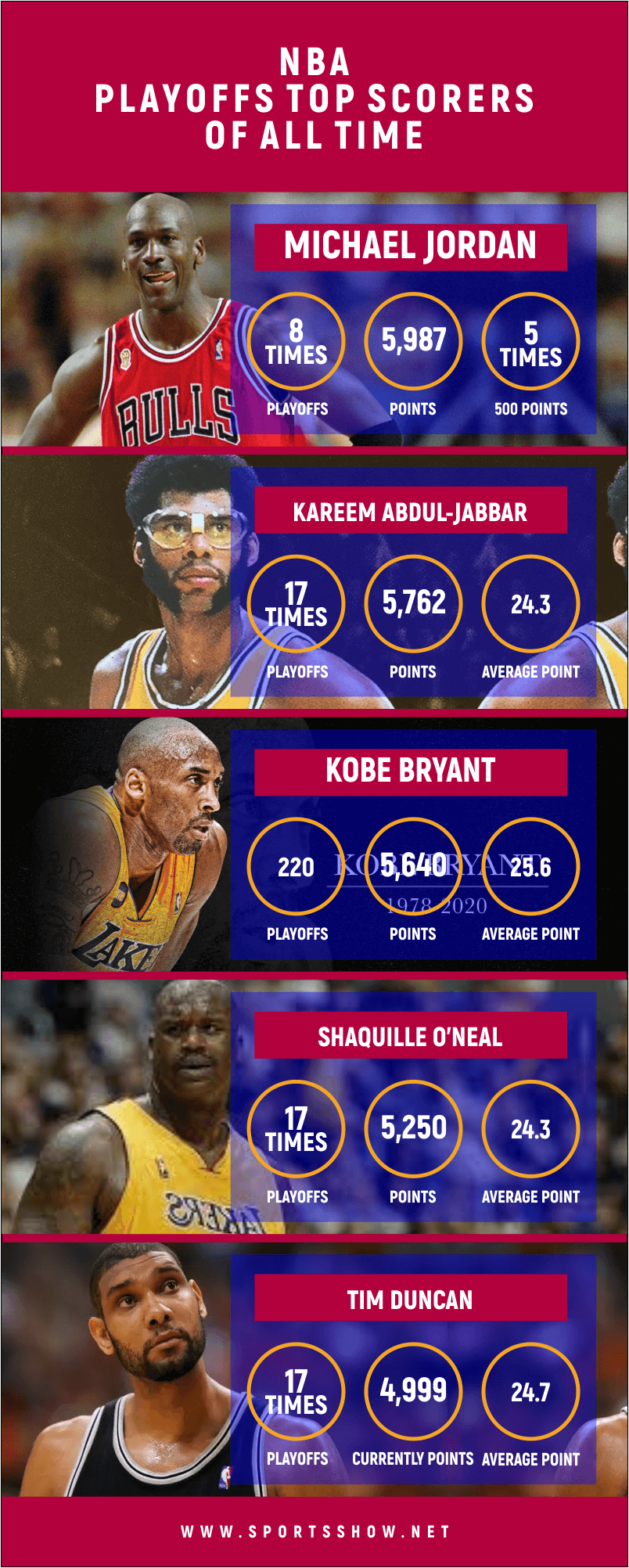 FAQs Regarding NBA Playoffs Top Scorers
Q. Did Shaq have a 50-point game?
Shaquille O'Neal wasn't happy to learn that he had never scored 50 points in the playoffs. Miami Heat legend, the Los Angeles Lakers, was an unstoppable force on the court, but he could never achieve this. In 2000, Big Diesel scored 61 points against the Los Angeles Clippers, but that was a regular-season match.
Q. Who is Number 1 in the NBA?
LeBron James has achieved massive success throughout his career and is regarded as the #1 player in the NBA. There are less than two weeks left in the N.B.A. preseason before the regular season begins.
Q. Who scored 70 points in an NBA game?
NBA player Devin Booker recorded 70 points during a game. Devin Booker was the youngest player to do so (20 years and 145 days), and Kobe Bryant was the oldest (60 years & 234 days).
Q. Who will win the NBA Championship 2021?
Even though the Atlanta Hawks reached the Eastern Conference Finals, they are ranked 12th in the odds for next season. Despite missing the playoffs this season, the Warriors have the fourth-best odds of winning it all.