The NBA Playoffs Teams
April 6, 2022 By khansa
---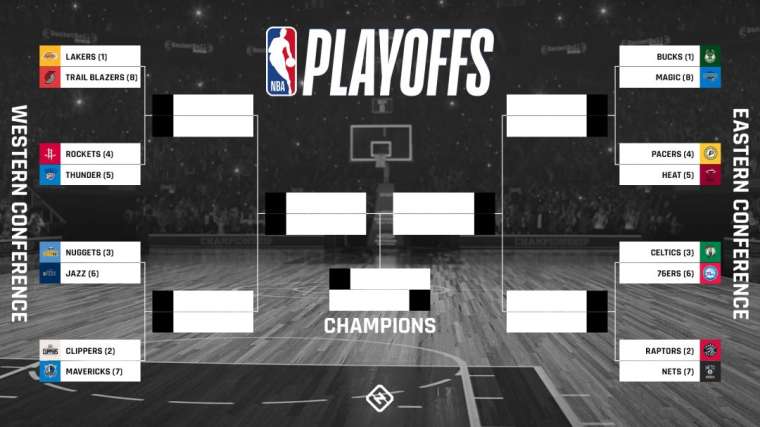 The 2021-22 NBA season is in its final week, and the Eastern Conference playoff field race is heating up. The Miami Heat have moved into first place and are considered the favorites to receive the No. 1 seed, while the Brooklyn Nets and Charlotte Hornets have both secured a play-in tournament berth. The ten teams competing for the final eight spots are known, but the matchups are subject to change.
The NBA(National Basketball Association) is one of the most popular sports leagues in the World! To name a few, the NBA produced legends such as Kareem Larry Bird, Abdul-Jabbar, LeBron James, Ray Allen, Carmelo Anthony, Kobe Bryant, Stephen Curry, and Shaquille O'Neal. Along with their teammates, many of these legends have won the NBA playoffs with flair and style that has gone down in history!
And, with the NBA playoffs in 2022 approaching, have you chosen your BetNow sportsbook to bet on your favorite team yet? Make sure you get one soon because the playoffs begin on Saturday, April 16, and end on Monday, May 30.
The Season That Was
Having said that, it's been a wild NBA season. The Los Angeles Lakers and Brooklyn Nets were the preseason favorites to win the championship, but both will likely be in the play-in game once everything is said and done. Nobody predicted the Chicago Bulls, Dallas Mavericks, Memphis Grizzlies, or Cleveland Cavaliers to be this good. Similarly, no one expected the New York Knicks to be this bad.
Anything is possible with only a few weeks until the fun begins. The Los Angeles Lakers and Brooklyn Nets could still meet in the NBA Finals. However, that's a bold prediction because the Lakers are about to fold if they haven't already. They are two games back of the No. 10 Spurs with four games to play, thanks to their loss to Denver and San Antonio's win over Portland on Sunday.
The Nets and Lakers appear unlikely to progress to the second round, let alone the Finals, but that is what makes the playoffs so thrilling. Everything is not only imaginable but also feasible.
The NBA Playoffs in 2022 start on Saturday, April 16. The Bulls will try to stay in the top six and avoid competing in the Play-In Tournament from April 12-15. All first-round games will take place on April 16 or 17. The NBA Finals will start on Thursday, June 2, and run through June 19.
What's happening in the Western Conference?
This is what we predict at a glance:
The Phoenix Suns (63-19)

Warriors of Golden State (57-25)

The Memphis Grizzlies (55-27)

Utah Jazz (52-40)

Dallas Mavericks (49-33)
6.The Minnesota Timberwolves (48-34)
NBA Play-in Tournament
Denver Nuggets (47-35)

Los Angeles Clippers (42-40)

New Orleans Pelicans (35-47)

Los Angeles Lakers (34-48)
What's happening in the Eastern Conference
In a nutshell, here's what we predict:
The Miami Heat (55-27)

The Milwaukee Bucks (52-30)

76ers of Philadelphia (51-31)

The Boston Celtics (50-32)

The Chicago Bulls (48-34)

Cleveland Cavaliers (46-36)
NBA Play-in Tournament
Brooklyn Nets (45-37)

Toronto Raptors (43-39)

Charlotte Hornets (39-43)

Atlanta Hawks (38-44)