Top 10 Most Superstitious Athletes Of All Time
June 23, 2021 By Sourav
---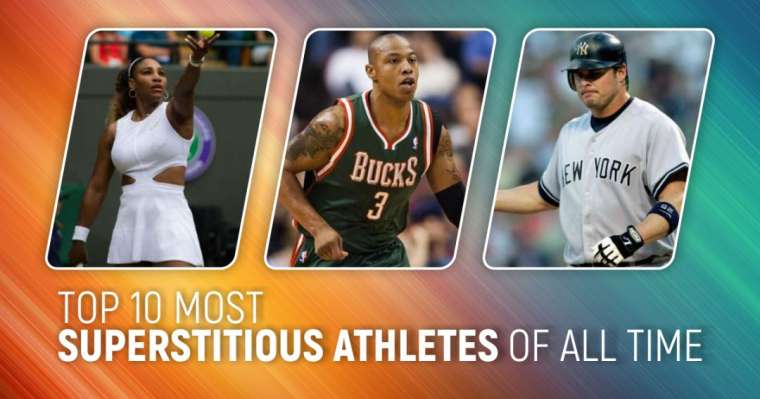 Sports are all about the skill and technique of the player. The best players are those who have the right combination of dexterity in a particular sport, the diligence to hone the skill, and the physical and mental capability to channel it all to display a great game. Yet, a lot depends on external factors, and even in the best form, a player may still fail to make a mark. There are good days and bad days for every player.
As a result, many players seem to believe that luck plays an important part. Many of them carry lucky charms or have specific rituals that they stick to. Thus, superstitions always played a major role in most of the athletes' lives. Let us look at the Top 10 Most Superstitious Athletes Of All Time.
Most Superstitious Athletes Of All Time | 2021 Updates
10. Caron Butler (Basketball – NBA)
9. Jason Giambi (Baseball – MLB)
8. Mark Teixeira (Baseball – MLB)
7. Jason Terry (Basketball – NBA)
6. Shaquille O'Neal (Basketball – NBA)
5. Turk Wendell (Baseball – MLB)
4. Patrick Roy (Ice Hockey – NHL)
3. Serena Williams (Tennis – WTA)
2. Michael Jordan (Basketball – NBA)
1. Björn Borg (Tennis – ATP)
Don't Miss
• Most Superstitious Athletes - 2021 Infographics
We have recently updated our 2021 ranking of the most important athletes and the most respected athletes as well. But, don't you want to hear about the superstious athletes? So, here they are!
10. Caron Butler
Caron Butler has a huge attachment to his superstitions but for bad health concerns, he was banned from performing them publicly. Butler always drinks half of a 2-liter bottle of Mountain Dew before any match starts and then he drinks the other half of it at halftime.
Butler also chews 12 pieces of straw on the bench during the middle of the game that he took from McDonald's or Burger King. He now holds the tenth place in our list of the top 10 most superstitious athletes of all time. Many times, it is seen that he cuts the straws up and chews on them or just works his way down the straws while chewing them continuously.
Many players often chew the straws on the bench, but the unusual part about Butler is that he chews on straws from just McDonald's and Burger King. Besides superstitions, this phenomenon also depicts his loyalty towards McD or the King.
9. Jason Giambi
Cleveland Indians designated hitter and infielder Jason Giambi was a pitcher's worst nightmare when he had his top form in MLB but in recent years his hitting power has cooled down. But Giambi was prone to slumps even in his heyday.
Whenever he goes through a difficult phase where he doesn't perform well, he wears a golden thong as a solution to that scenario. The 6-foot-3 first baseman slips his 240-pound frame into a tiny pair of golden thongs before playing each match when he couldn't meet his performance level.
This five-time All-Star's superstitions went viral due to his fellow teammates who repeatedly borrows his bikini bottoms to break out of their own slumps. He now surely deserves his place among the top 10 most superstitious athletes of all time.
8. Mark Teixeira
After one of CC Sabathia's socks accidentally ended up in Mark Teixeira's locker, he developed a new superstition from that scenario. Teixeira unknowingly put on one sock with his own number 25 on it and another sock with Sabathia's number 52 on it.
He noticed this when the game already started, and Teixeira had one of his best games in his career that day. Mark now holds the eighth place in our list of the top 10 most superstitious athletes of all time.
He made two home-run and six RBI performances. And, he decided that he was going to wear two different socks in future games due to his previous success with different socks. From that match, he never wore the same number tags on two feet, and continues his different socks appearances.
7. Jason Terry
The world still considers the Houston Rockets shooting guard Jason Eugene Terry as the most superstitious player in the NBA. His own set of superstitions includes wearing five pairs of socks while playing and eating chicken like Wade Boggs before games.
Jason Terry does his most bizarre superstitions while he's sleeping on the night before each match. He goes to sleep in shorts from each player from the opposing team. He always wears the shorts which he manages from his fellow players. It is a strong matter of debate about how Jason manages to get the shorts of opponent team members, but he has a very strong network of equipment managers.
There is also a chance that opponent team members themselves show their love towards Jason by supporting his superstitions. Terry now holds the seventh place in our list of the top 10 most superstitious athletes of all time.
6. Shaquille O'Neal
Shaquille O'Neal is widely regarded as one of the tallest basketball players of all time, but sadly, earned his reputation as a bad free-thrower. Most players of the NBA set a specific routine every time they get to the free-throw line, but Shaquille never did the same thing twice whenever he missed a free throw.
So every time he got to the line and missed a free throw, he would either change his footing or change the way that he released his shot and sometimes even change the way he held the ball. He thought what he was doing before brought him bad luck, and he desperately needed something different like a different stance or different foot to bring him good luck again.
Shaquille also chewed 4 pieces of gum before every game that he participated and put it underneath his seat on the bench. He now surely deserves his place among the top 10 most superstitious athletes of all time.
5. Turk Wendell
Fans still consider the former New York Mets reliever Turk Wendell as a full-blown maniac when it came to superstition throughout his career. He followed a specific set of routines and superstitions during any game that he ever participated in. For instance, when walking to the mound, he always leaps over the baselines.
He always chewed black licorice while pitching and brushed his teeth in between innings during any game. Like a lucky charm, he always wore a necklace designed with the sharp teeth of wild animals that he had hunted and killed with his own hand.
His superstitions also extended off the field as he signed a contract for the New York Mets for $9,999,999.99 to honor his number-99 uniform in 2000. He now surely deserves his place among the top 10 most superstitious athletes of all time.
4. Patrick Roy
Fans still regard Patrick Roy as the greatest goaltender in the history of the NHL. This legendary goaltender was a firm believer in the power of specific superstition. The former Montreal Canadien star skate towards the net before turning around at the last second all in the backward motion before every game, and he believed it made the goal shrink throughout his career.
He also converses with the posts while thanking them when a puck gets deflected, or touches them, during any gameplay that he ever participated in.
This three times Conn Smythe trophy winner earned his nickname St. Patrick due to his almost spiritual relationship with his goalposts. Roy now holds the fourth place among the top 10 most superstitious athletes of all time.
3. Serena Williams
Serena is widely considered as one of the greatest female tennis players of all time, who is feared for her competitive nature and on-court aggressiveness. But Serena herself believes that much of her famous winnings are the result of closely followed routines on the way to the title.
She always tries her shoelaces in a specific way and brings her shower sandals to the tennis court. Serena always bounces the ball five times before her first serve and twice before her second serve. Serena is the three-time Wimbledon champion and wears the same pair of socks during an ongoing tournament that she participates in.
She also figured out that her major losses were the result of not following her own routine correctly. She now holds her place among the top 10 most superstitious athletes of all time.
2. Michael Jordan
Many hardcore basketball fans think that the demigod of basketball Michael Jordan had enough skill to beat an entire team and thus didn't need any support from unknown powers and superstitions. Fans also know him as the greatest basketball player ever to grace the court.
But as a fact, Michael Jordan himself was known for a specific superstition that he carried during the majority of his career. And, he now holds the second place among the top 10 most superstitious athletes of all time.
Five-time NBA MVP Michael Jordan always wore his shorts from the University of North Carolina under his uniform while leading the Chicago Bulls to six NBA championships titles during his legendary career. Jordan believed that the mesh marvels brought him luck as he led UNC to the NCAA Championships in 1982. Jordan began wearing longer shorts in order to cover his lucky pairs under them, which further set a trend in the NBA.
1. Björn Borg
Legendary Swedish tennis player and one of the greatest tennis players of all time, Björn Borg, had superstitions that were just related to one particular event: the Wimbledon, unlike any other athletes on this list. Borg, for his steely confidence on the court, has earned the nickname the 'Ice Man'.
But when it came to the annual tournament of Wimbledon, Borg would always prepare to wear the same Fila shirt and by growing a beard. Borg now holds the top place in our list of the top 10 most superstitious athletes of all time.
This hilarious superstition achieved great popularity along with him and helped him to secure the title of Wimbledon amazing five times straight from 1976 to 1980. The "lucky beard" of Borg eventually became one of the sport's most popular superstitions and was adopted by many players in the NHL and NFL such as Ben Roethlisberger during the 2006 season.
Final Words
There are many other superstitious players in all the games. It has often been noticed that the compulsion to follow certain routines or carry certain objects is more than just superstition, and is borderline 'Obsessive Compulsive Disorder'. Be it an innocent superstition or some kind of a disorder, the players definitely seem to find mental strength through these habits and charms. And now, we hope that you liked our list of the top 10 most superstitious athletes of all time.
Most Superstitious Athletes - 2021 Infographics