Top 10 Hottest Male Athletes Turned Underwear Models
August 10, 2021 By Sourav
---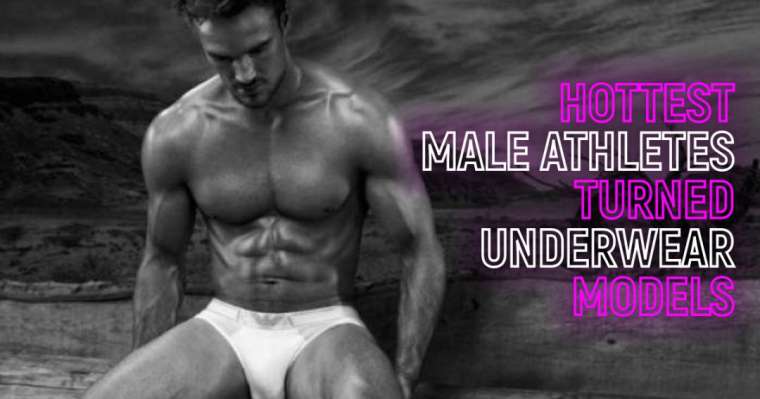 Over the past decades, sportsmen and women have been getting public attention like never before, thanks to the advent of technology. Some of the most successful and fittest athletes today are taking up modeling for big popular brands to promote their products. Here are the Hottest Male Athletes Turned Underwear Models.
Hottest Male Athletes Turned Underwear Models
10. David Williams (Rugby)
Williams is a rugby league footballer from Australia. He plays for NRL's (National Rugby League) Manly-Warringah Sea Eagles and has won the 2008 NRL Premiership.
From 2008, Williams started sporting a full beard and was nicknamed Wolfman. Later he acted in a short film called Darkness Comes in which he played a wolfman.
Anyway, after the NRL grand victory in 2008, his teammates removed his beard when he was sleeping. William models for Calvin Klein and has also modeled for a charity calendar called Gods of Football.
9. Hidetoshi Nakata (Football)
Regarded as one of the greatest Asian footballers of our time, Nakata hails from Japan. He has played in FIFA World Cup thrice and twice at the Olympics. The Asian Football Confederation named him the Player of the Year award two times in a row.
In 2005, the Italian government made Nakata the Knight of the Order of the Star of Italian Solidarity. Pele named Nakata one of the top living footballers of our time.
In his career spanning 10 long years, Nakata has regularly been involved with the fashion world, wearing designer clothes and attending runway shows. He is one of the hottest Male Athletes Turned Underwear Models and has modeled for Calvin Klein.
8. Nick Youngquest (Rugby)
Hailing from Australia, Youngquist has played for a number of Australian rugby clubs like the Bulldogs, St. George Illawarra Dragons, Cronulla-Sutherland Sharks, and Penrith Panthers, and some British clubs.
Youngquest is a professional model too, working with agencies like Ford Models and DT Model Management.
He started the advertising campaign for Paco Rabanne fragrance. Nick Youngquest was also part of a controversial Naked Rugby League Calendar 2007-08 where he posed nude.
7. David Beckham (Football)
David Robert Joseph Beckham is an English footballer who has played for a number of star clubs like Manchester United, Real Madrid, and Milan. He also played for England's national team and in his 20-year career has earned 58 caps.
Named among FIFA 100 list of the world's greatest living players, Beckham is legendary for bending free-kicks, crossing ability, and a range of passes.
One of the hottest footballers, Beckham, retired in 2013. Beckham is one of the hottest Male Athletes Turned Underwear Models who modeled for Armani and has his own line of bodywear for H&M.
6. Thom Evans (Rugby)
Evans was an international rugby union player from Scotland. In the initial stage of his career, Evans represented England (at the U16, U18, and U21 levels) but later he committed to Scotland.
He had a bright career before him which ended when Evans suffered from a very serious neck injury that caused the alignment of his cervical vertebrae to shift grotesquely. Evans survived two fatal surgeries and following four months of intense rehabilitation announced his retirement from Rugby.
Later Tom Evans returned to sprinting and competed in indoor competitions but soon gave that up too, to pursue a career in acting and modeling. Evans is the face of an Italian underwear brand, D. Herald, and has appeared on the covers of Attitude and Men's Health.
5. Rafael Nadal (Tennis)
Rafael Rafa Nadal Parera is one of the top tennis players in the world. Widely regarded as one of history's greatest clay-court players ever, Nadal is sometimes called 'The King of Clay'.
And rightly so, he has won 14 Grand Slam singles titles, 16 ATP World Tour 500 tournaments, 27 titles ATP World Tour Masters 1000, and a gold medal in the 2008 Olympics singles. Following Andre Agassi's footsteps, Nadal has completed the singles Career Golden Slam.
He holds a number of records and won the Laureus World Sportsman of the Year in 2011. Nadal is the face of Emporio Armani Underwear and Armani Jeans.
4. Chris Andersen (Basketball)
Christopher Claus Chris Andersen is a basketball player in NBA's Miami Heat. Nicknamed 'Birdman', Andersen is the only Blini student to ever play in the NBA.
Initially, he took up basketball so that he could get a scholarship to go to college. He failed to get the required grades. However, his coach arranged some exhibition games for him to play. But eventually, a basketball association club picked him.
In 2006, the NBA banned him twice for using illegal drugs. Andersen models for Pant Sagging Design (PSD) underwear.
3. Russell Westbrook (Basketball)
Speaking of hottest Male Athletes Turned Underwear Models, Russell Westbrook Jr. is an American basketball player of the NBA's Oklahoma City Thunder.
Westbrook has played with the national team twice, both times winning gold medals (in the FIFA World Championship 2010 and the 2012 Olympics). NBA named him the All-Star Game Most Valuable Player (MVP) in 2015.
In 2013, Westbrook started his collaboration with Kings and Jaxs Boxer Briefs. In 2015, True Religion, a popular denim brand named him their new Marketing Creative Director.
2. Henrik Lundqvist (Ice Hockey)
Hailing from Sweden, Henrik Björn Lundqvist is the goaltender of NHL's (National Hockey League) New York Rangers. Nicknamed 'King Henrik' by the fans due to his dominating play in his rookie season Lundqvist bagged 30 wins in each of his first seven seasons.
Besides, this is a record for a goaltender in the entire NHL history. One of the finest goaltenders of our generation, Lundqvist won the Honken Trophy three consecutive times (2003-2005).
In the 2006 Winter Olympics, his leadership won the Swedish men's team an Olympic medal. Besides, he signed as the face of an underwear brand named Bread & Boxers in 2013.
1. Cristiano Ronaldo (Football)
Cristiano Ronaldo dos Santos Aveiro is a Portuguese footballer playing for the Juventus club and the Portuguese national team. One of the most talented and greatest footballers of our times, he is the captain of the national team.
Ronaldo has achieved five FIFA Ballon d'Or till now. Besides, he also won the FIFA World Player of the Year awards several times.
Often regarded by many as the greatest footballer to ever live, he is Portugal's top goalscorer. Besides, Cristiano Ronaldo was the spokesmodel for Emporio Armani men's jeans and underwear. In 2013, he launched his own underwear line called CR7.
Hottest Male Athletes | 2021 Infographics