Holly Sonders Biography, Net Worth, Career, Personal Life, and Other Interesting Facts
February 8, 2021 By Sourav
---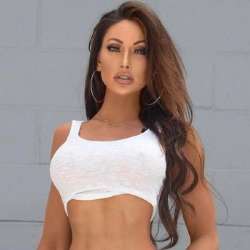 | | |
| --- | --- |
| Real Name | Holly Sonders |
| Nick Name | Holly |
| Profession | Television Host And Podcaster |
| Nationality | American |
| Height | 5 Feet 8 Inches (1.73 Meters) |
| Weight | 120lbs (54 Kgs) |
| Birth Date | 03-03-1987 |
| Age | 37 |
| Gender | Female |
| Birth Place | Marysville, Ohio, United States |
| Zodiac Sign | Pisces |
| Religion | Christian |
American journalist and sportscaster Holly Sonders Niederkohr, famously known as just Holly Sonders, is one of the most popular faces in the sports anchoring industry. She now works mainly as the main host of the USGA (United States Golf Association). Besides, she also often works as the sideline reporter to cover collegiate football for Fox Sports. Due to her gorgeous look, she has made a buzz since she entered the media industry.
Before entering the field of journalism and reporting, she also played golf as a collegiate golf player. During her heydays, she achieved many awards as a young athlete. But right after completing her graduation in journalism, she entered the Media field. And recently in January 2019, she created a huge buzz in the American media after announcing her relationship with Arizona Cardinals' coach Kliff Kingsbury.
Holly Sonders Biography and Stats
Holly Sonders Golf Career
Sonders belongs to a sporting family where she has seen her mother playing golf since her childhood. And with her mother's influence, Holly also started to develop a keen interest in this sport. She also started wanting to become a professional golfer during that time. During her high school days, she took it seriously and participated in several tournaments all over the United States. Besides golf, she also played baseball and basketball at that time.
She tested her first success as she won both the UCT National championships and the American Junior Golf Association title as a 14-year-old kid. Holly then participated in the US Women's Amateur Championship in 2006. Shortly after, she led the Spartans, Michigan State University's golf team to win the Big Ten Championship in 2007. Holly then participated in the NCCA Championship and NCAA Regional Tournament at that time. She also received the Academic All-Big Ten honor.
Holly Sonders Journalism Career
After having quite a successful stint as a collegiate-level golf player, she suffered a horrific injury in her knees. And for that, she had to undergo a knee surgery that literally ended her career. She then channelized her love for sports and moved to the field of journalism to become a sportscaster. Holly completed her major in broadcast journalism and started her apprenticeship for the WBNS-10TV in Columbus.
During that time, she also worked as a reporting member of the Large Ten Community. Moreover, she also worked for the KATV as an area reporter. Holly then applied to the Golf Channel which they instantly rejected while telling them that she needs more TV experience. And to gain more experience in live TV, she joined Little Rock in 2010 after finishing college. She continued to work for them for a full sports season.
Her dream came true in 2011 when she finally cleared the interviews and landed her job on the Golf Channel. Holly then started hosting several popular golf programs such as the 'Playing Lessons with the Pros', 'School of Golf', and 'Morning Drive' in Golf TV. The Golf Digest then featured her on their cover in May 2013. Shortly after, she joined Fox Sports as a sportscaster in July 2014.
Holly Sonders Recent Career
Holly witnessed her first big break in her journalism career when she was assigned to cover the men's US Open in 2015. However, she faced huge criticism for her inappropriate questions to Jordan Spieth, the winner of that season. She later clarified that she deliberately asked those questions to some of the greatest golfers at the tournament to lighten their moods. In that same season, she also covered the women's US Open.
After her successful coverage, she earned her promotion from an on-field reporter to a post-game show host later that year. She worked as the studio host for Fox Sports and covered the US Open in 2016. During that, Golf.Com named her among the most beautiful women in golf. She signed a contract extension with Fox Sports in 2018. And in 2019, she started hosting several of their daily shows including 'The Herd' and 'Undisputed'.
Holly Sonders Childhood and Education
Born on 3rd March 1987, the actual name of Holly Sonders is Holly Niederkohr. Her father Dan Niederkohr is a doctor and a practicing optometrist. And her mother, Sandy Niederkohr, is a former golf champion. Holly grew up in the Marysville area of Ohio. She completed her schooling at the Marysville High School and then went to the Marysville Excessive College. Holly then took her admission to Michigan State University and graduated in Journalism in 2009.
Holly Sonders Husband and Family | Holly Sonders and Erik Kuselias
Golf TV not only helped her to achieve her dream to become a successful journalist but also helped Holly to find her first love. She started dating her fellow journalist and the host of 'Morning Drive', Erik Kuselias. The story came in public in 2012, although they started dating in 2011. In that year, they also announced their engagement. Within just a few months, the couple got married. However, their journey didn't go well and it landed in divorce in 2016.
Holly Sonders and Kliff Kingsbury | Other Dating Details
Right after just a single year of her divorce from Erik Kuselias, a story of her new relationship started to emerge on Media. Holly started to give hints about her new relationship as she posted a video congratulation to Kliff Kingsbury before the NFL team Arizona Cardinals hired him as their coach. She then publicly announced her relationship with former American football player footballer Kliff Kingsbury on 9th January 2019.
The relationship between these two quickly turned into separation after a brief period. Holly then started dating elite sports handicapper Vegas Dave in January 2020. Pictures and videos of them started to emerge all over the internet. However, the relationship is now over according to the recent rumors of May 2020.
Holly Sonders Net Worth
According to the recent financial reports of 2020, the current net worth of Holly Sonders is estimated to be around $6.5 million. Since she started her career in professional journalism in 2009, she accumulated her net worth through her contract with several TV channels and media houses. Holly now withdraws an annual salary of nearly $2 million from various television networks.
FAQ regarding Holly Sonders
Q. Who is Holly Sonders?
Holly Sonders is an American sportscaster and TV presenter currently working for Fox Sports. She also works as the main host of the United States Golf Association covering all the major golfing events in the United States.
Q. What happened to Holly Sonders?
After having a successful career as a collegiate golfer where she won numerous awards and titles, she had to stop her career as a professional golfer after she went through knee surgery. She then moved to professional journalism and TV presentation and found immense success.
Q. Where is Holly Sonders?
Besides working for the USGA and Golf TV, Holly Sonders now also works as a TV presenter for Fox Sports 1. She now hosts several of their popular TV programs such as the 'Undisputed' and 'The Herd'. Besides, she also often covers collegiate football too.
Q. What happened to Holly Sonders face?
Although she never confirmed, Holly went through several facial corrections and plastic surgeries according to recent rumors. Her fans also find extreme differences between who she looks right now and how she used to look during her college days.
Q. How old is Holly Sonders?
Holly Sonders is 34 years old. She was born on 3rd March 1987 in Ohio, United States. Holly grew up with her father Dan Niederkohr and her mother Sandy Niederkohr in the Marysville area of Ohio. She also attended the Marysville High School during her childhood.
Q. How tall is Holly Sonders?
Holly Sonders is 5 feet 8 inches (1.73 meters) tall. With 120lbs (54 kgs) body weight, she has quite an athletic built. Besides, she also fond of workout and maintains her body extremely well.