Greatest Rivals in Sports | Biggest Sports Rivalries of All Time
September 1, 2021 By Sourav
---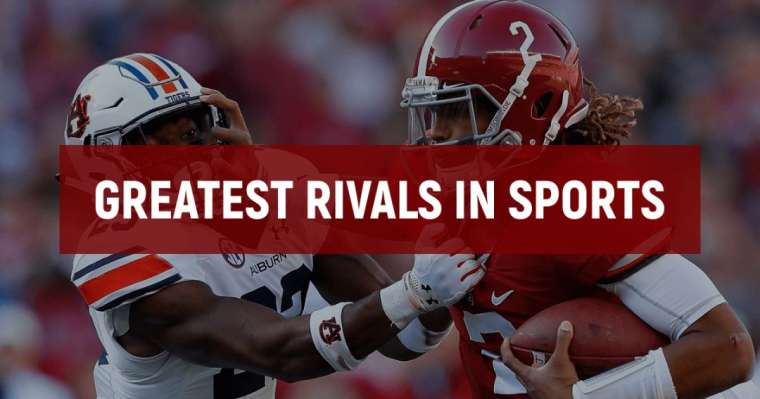 Nothing in the glorious sports world can quite set the spectators' pulses racing like a good old-fashioned rivalry. Irrespective of the event in hand, nothing represents the commitment and admirable passion wrapped up in sports better than an occasion in which two rivals go head-to-head.
Sports history is chock-full of rivalries spanning generations of teams and players, pitting father against son, neighbor against neighbor, fist against the face. These rivalries are the very reason players become legends and their names are written in books of sports lore. And, fans will always remember these greatest rivals in sports.
Greatest Rivals In Sports | All-Time Ranking
It is also sometimes frightening and disturbing how seemingly rational and ordinary people can turn into bile-spewing hatemongers who take pleasure in anything bad that happens to their rivals. Here are just some of the greatest sports rivalries of all time; some are classic rivalries, while others are a bit more modern.
Greatest Rivals in Sports, Of course, investigating all of the greatest sports rivalries is a really difficult task, and with so many rivalries having different values to different people, many will definitely be missed here. We have tried to include rivalries pertaining to a variety of sports, so read ahead to get started and view our selections.
Muhammad Ali vs Joe Frazier - Boxing Rivalry
While many rivalries stem from lofty standing and pure talent, the enmity between two of the greatest boxers of all time, Muhammad Ali and Frazier, seem to be rooted in a mutual dislike both warriors felt for each other.
Ali's egotistic temperament didn't allow him to view Frazier as a worthy contender. He would insult him during fights, while Frazier could never be convinced to retreat. They fought a total of three times. Frazier won the first time they met in 1971, giving Ali his first career loss.
They met again at the same venue three years later, where Ali emerged victoriously. Their most famous match is perhaps their third fight "Thrilla in Manila" in 1975.
It was the only fight that didn't go till the last as Frazier's corner didn't let him come out during the 15th round. The two were exact opposites of each other, but when they stepped in the ring, they created magic that older boxing fans can never forget.
Duke vs North Carolina - College Basketball Rivalry
As far as college basketball goes, nothing gets on more hype than a match between North Carolina and Duke. The two campuses are only eight miles apart, and both teams are favorites in the ACC games.
Rarely disappointing their fans, one of the two teams is almost always crowned champions in their matches against other teams.
Peyton Manning vs Tom Brady - NFL Rivalry
Since the turn of the century, the NFL hasn't seen a bigger rivalry with regard to quarterback vs. quarterback than Peyton Manning v Tom Brady.
The two most-gifted NFL quarterbacks are now heading towards the latter stages of their careers, but their rivalry has undoubtedly been one of the highlights of the NFL in recent years. Manning and Brady have faced each other a total of 14 times, with Brady's team coming out on top 10 times.
Rafael Nadal vs Roger Federer - Tennis Rivalry
Two of tennis's greatest players have also created one of the greatest tennis rivalries. Federer and Nadal are the only two players in tennis history who have finished first and second in the ATP rankings for six successive years.
Both of them used to captivate fans around the world with some of their epic grand slam battles. Although Federer's inevitable decline has seen a decline in the intensity of their rivalry, no one will ever forget some of their heated encounters.
Perhaps their most memorable encounter was their incredibly entertaining 2008 Wimbledon final, which is even considered one of the best tennis matches ever.
Martina Navratilova vs Chris Evert - Tennis Rivalry
Next on Greatest Rivals in Sports, Tennis rivalries are almost always a polite affair, such can be said for Chris Evert (right) and Martina Navratilova (left). The competing duo dominated the women's tennis scene all through the 70s and 80s.
They pitted against each other eighty times, of which sixty were tournament titles. Martina Navratilova clearly had the edge as she won 10 out of the 14 Grand Slam Finals against Evert with a score of 43-37 in head-to-head meetings.
Barcelona Vs Real Madrid - Soccer Rivalry
Next on Greatest Rivals in Sports, If ever there was a rivalry analogous to "competing cultures", this would be it. The rivalry between the two best and richest football clubs, FC Barcelona and Real Madrid are all the more furious because it is fueled in chief by the fact that Spain (Real Madrid) governs the independent region of Catalunya (Barcelona).
Thus Barcelona always seeks to score one over Madrid. And in doing so, they aim to get their own place in history and recognition. The fact that both teams are overly enthusiastic and comprise world-class talent makes their matches all the more fun to watch.
Lionel Messi Vs Cristiano Ronaldo
No list featuring modern sports rivalries can be complete without mentioning PSG's Messi and Manchester United's Ronaldo. The two stars are amongst the greatest footballers in the world currently and are also amongst the best the sport has ever seen.
The rivalry between the two truly polarizes opinion and is a debate that any true football fan can't abstain from. While the duo insists there is no rivalry between them, they have admitted that the other's excellence drives them into improving themselves.
India Vs Pakistan - Cricket
The rivalry between Pakistan and India has its roots in history. They have controversial events that have no relevance to the sport. Since the partition of British India in 1947, cricket games between the two not-so-friendly neighbors have been filled with tensions and an awesome rivalry.
The rivalry between the two countries is so great that even a qualifying match becomes a final for the spectators. In fact, a regular match attracts about 300 million viewers. With the ability to bring both nations to a standstill, it is probably the most heated rivalry in the history of the sport.
Perhaps, the most dramatic match was in 1999. India was on the brink of defeat and the 65,000 crowds at the stadium stormed onto the pitch. And then, they caused the match to be delayed by three hours.
The match was eventually won by Pakistan and finished in complete silence in an empty stadium. So far, Pakistan has been the dominating side and lead by 4-2 and 9-5 in matches.
Coe Vs Ovett - Running Rivalry
Next on Greatest Rivals in Sports, Olympic rivalries don't come any greater than that between Sebastian Coe (front) and Steve Ovett (center) during running competitions. While they took home a combined of over seven Olympic gold medals during the 1980 and 1984 games, they were bitter rivals.
They had been trading World Record Titles ever since 1979-1985; a whopping five times. Steve Ovett's record time in the two-mile record is still yet to be beaten.
New Zealand Vs Australia - Rugby Rivalry
Next on Greatest Rivals in Sports, Following a formula similar to Barcelona and Madrid, Australia and New Zealand's rivalry in a rugby stadium is second to none.
The very first rugby world cup (held in 1987) was between New Zealand and Australia. The fact that the two countries have a similar culture adds to the contempt on the field.
Besides, both teams are ranked high in world rankings (No.1 and No.2); having won 99 and 93 matches apiece, the two teams are quite evenly matched.
Canadiens Vs Bruins - Hockey Rivalry
Next on Greatest Rivals in Sports, The Bruins and Canadiens have a history of facing each other more times than any other team in the NHL.
The rivalry between the two has been known for going to such extremes that even the Boston Police were forced to interfere and break up the chaos that issued during a match in 1955; they very nearly arrested all the Canadien players too, but the Bruins management intervened and chose not to press charges.
The media is sure to have a field day whenever there is a match between these two. Only recently, a goalie fight led to over 187 minutes worth of penalties. Besides, the captain of Bruins slammed an offending player into the player's bench, leading to a near-riot on the rink.
Andretti Vs Foyt - Indy Car Rivalry
While this rivalry spanned the better part of two decades and led to numerous sensational stories in the media, Mario Andretti and A.J. Foyt had nothing but respect for each other. Fans noted both of them for exhibiting fair play.
And, together they competed in the 24 Hours of Daytona, Indy 500, and the Daytona 500 all through the 60s and 70s. Besides, they both won on numerous occasions. They both even retired at almost the same time too (1993, 94).
Golf: Arnold Palmer Vs Jack Nicklaus
The 60s can be called the decade of golf rivalries. And, the most famous of which was the one between Arnold Palmer and Jack Nicklaus. No Sunday was complete without Arnie and Jack competing on the links.
The rivalry between The King and The Golden Bear lasted over three decades and single-handedly made golf a bonanza for television. They played 25 majors together and their playoff duel in the 1962 US Open is truly unforgettable.
Palmer and Nicklaus were the exact opposites of each other and attracted a contrasting fan base. Nicklaus grew up playing in private country clubs. On the other hand, Palmer attracted spectators since his early days. Regardless of their differences, they will always be one of golf's enduring rivalries.
Final Words
And, we hope that you liked our list of the Greatest Rivals in Sports. Don't forget to send us your comment in the box below.
Greatest Rivals In Sports | Infographics