Top 10 Best NCAA Teams Of All Time
June 3, 2021 By Admin
---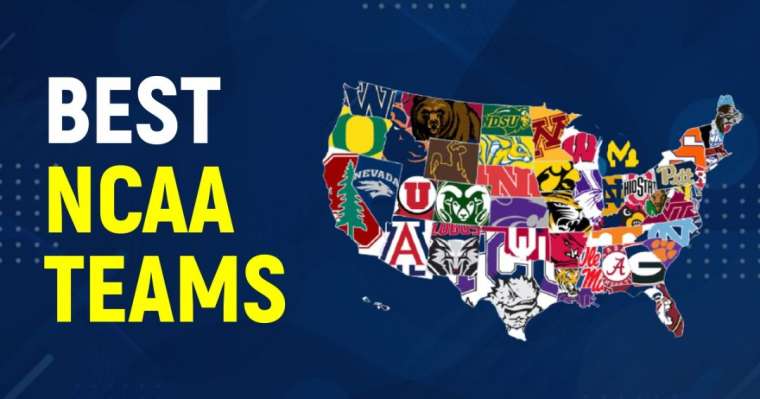 National Collegiate Athletic Association helps young athletes from the beginning. The association has produced many stars players in different sports. Besides that, there are also some best NCAA teams that have achieved remarkable success in sports with their outstanding performances.
These teams have generated some great superstar athletes in their sports, including basketball, football, and baseball. The NCAA teams we'll talk about here have been favorites among sports fans for their accomplishments.
Best NCAA Teams | 2021 Power Ranking
10. Texas Longhorns Baseball Team
9. LSU Tigers Football Team
8. USC Trojans Baseball Team
7. Nebraska Cornhuskers Football Team
6. Kansas JayHawks Basketball Team
5. Florida State Seminoles Football Team
4. Texas Longhorns Football Team
3. North Carolina Tar Heels Basketball Team
2. UCLA Bruins Basketball Team
1. Kentucky Wildcats Basketball Team
There are several great teams that actively take part in the most popular sports in the USA. These mentioned teams are considered one of the most successful because of their astonishing performances and conquests.
10. Texas Longhorns Baseball Team
As part of the University of Texas at Austin's men's baseball team, the Texas Longhorns represent the university at the NCAA Division I level. A member of the Big 12 Conference, the Longhorns compete in the league currently. Baseball was first played on the varsity level in Texas in 1894.
Texas holds the top spot in win percentage among NCAA Division I college baseball programs, having won 3639 games, lost 1370 games, and tied 32 games (.725) so far. The Texas Longhorns had won 79 regular-season conference championships and 16 conference tournament championships as of the end of the regular season in the 2021 conference.
Their tremendous performances in college basketball also make them one of the best NCAA teams in baseball. The six-times NCAA Tournament champion Texas Longhorns earned massive respect in the eyes of baseball fans with their brilliant performances. Besides that, the University of Texas holds the record of appearing in the 36 College World Series.
Besides winning the most individual CWS games 85, they also won the most overall NCAA Tournament games 240 and most NCAA Tournament 59 appearances. Roger Clemens, Calvin Schiraldi, and Huston Street are among former Longhorns who have achieved success in Major League Baseball.
9. LSU Tigers Football Team
The Louisiana State University Tigers, or Fighting Tigers, represent Louisiana State in college football, competing in the Football Bowl Subdivision (FBS) of the National Collegiate Athletic Association (NCAA) and Southeastern Conference (SEC). LSU has won four national championships (1958, 2003, 2007, and 2019), 16 conference titles, and 39 All-Americans.
It boasts the 11th best winning percentage in FBS history. LSU players made up 40 of the active rosters in the NFL at the start of the 2018 season, the second-most of any college, making it one of the best NCAA teams.
In 1936, LSU defeated Southwestern Louisiana by the highest margin of victory in its history. They shut out their opponent and scored 93 points in the game. There have been 14 times in LSU history in which 70 or more points were scored, but only two of those (77-0 vs. Rice, 1977, and 70-14 vs. Arkansas State, 1991) have occurred since that 93-0 game in '36.
Furthermore, Tiger Stadium has been home to the Tigers since 1924. The stadium holds 102,000 seats, ten times the amount of seating it had when it opened. With the installation of lights in 1931, night games became possible.
8. USC Trojans Baseball Team
A team of Trojans represents the University of Southern California in college baseball. The team competes in the Big Sky Conference and NCAA. Dedeaux Field is the home field for USC, where former head coach Rod Dedeaux is inducted into the National College Baseball Hall of Fame. USC Trojans are one of the best NCAA teams in the history of college baseball.
The Trojans win more baseball national championships than any other team in college baseball across all divisions. Aside from Michigan, no other Division I school has earned more than six championships.
However, USC is one of the best NCAA teams with 12 national titles. With 21 appearances in the College World Series (CWS) since its founding in 1913, USC also ranks fifth all-time. Only Texas (85) has more CWS wins than the Trojans (74).
Furthermore, USC is also the fourth-best NCAA Tournament win-per-game program behind Texas (240), Miami (192), and Florida State (192), as well as the eighth-best NCAA Tournament appearance-per-game team. A total of 2,884 wins and 1,685 losses (.630) post by the Trojans rank fifth in program history and 18th in all-time win percentage. They have also won or been tied for 38 conference titles.
7. Nebraska Cornhuskers Football Team
Currently, an NCAA Division I Football Bowl Subdivision member, the Nebraska Cornhuskers represents the University of Nebraska-Lincoln in the Big Ten's West Division. The Nebraska Cornhuskers play their home games at Memorial Stadium, where every game has sold since 1962. In the history of college football, Nebraska is among the most famous and best NCAA teams.
With their seven victories in 2019, the Cornhuskers rank seventh in all-time wins among FBS teams. Besides its 46 conference and five national championships, Nebraska has won nine more national championships.
Many experts consider NU's 1971 and 1995 title-winning teams to be among the best in college football history. The Cornhuskers had the highest winning percentage of any program participating in Division I for the whole five-decade period from 1961-2010. Nebraska won over 77% of its games during that span, beating out Ohio State, Penn State, and Alabama by a few percentage points.
Besides the five national titles, they also added five new accolades to the trophy case. Furthermore, during Tom Osborne's 25-year tenure in Lincoln, he posted a win percentage of .836 -- the best in NCAA history for any coach during such an extended period.
6. Kansas JayHawks Basketball Team
A member of the Big 12 Conference, the Kansas Jayhawks men's basketball program is a division one program of Kansas University's intercollegiate athletics department. Kansas' basketball program is one of the top ones in the nation with five overall regional championships (three NCAA Tournament championships, two Helms championship titles, and a runner-up spot in six Conference USA tournaments).
In the period from 2005 through 2018, Kansas has won 14 consecutive conference titles, the most of any team. With 31 straight appearances, the Jayhawks also hold the NCAA record for the most consecutive NCAA Tournament appearances making them one of the best NCAA teams.
It is the longest streak in the history of the AP poll for the Jayhawks to have been ranked in consecutive polls. Those consecutive polls ranged from February 2, 2009, through February 8, 2021, which made 232 back-to-back votes in the AP poll.
Since the Big 12 was formed in 1992, the Kansas Jayhawks have won at least a share of a Regular Season title in 19 seasons. A list of the most brilliant programs in college basketball of the modern era was compiled by ESPN in 2008, ranking Kansas second.
5. Florida State Seminoles Football Team
A three-time national champion in American football, the Florida State Seminoles represents Florida State University (also referred to as FSU or Florida State). In addition to playing in the NCAA Division I Football Bowl Subdivision (FBS) of the National Collegiate Athletic Association (NCAA), the Seminoles compete in the Atlantic Division of the Atlantic Coast Conference (ACC).
There are many great college football programs, and let's face it, some earn more cool points than others because they believe they have what it takes to be great. A notable example is Florida State Seminoles, which has a long history of good football. Among their accomplishments, the Seminoles have won 18 conference titles, six divisional titles, reached the College Football Playoff six times.
Its winning streak spanned 41 consecutive seasons between 1977 and 2017. From 2012 through 2014, the team won 29 straight games; this ranks twelfth among all college football teams and is tied for the longest winning streak in ACC history. A 29 game winning streak occurred from 1992 through 1995, a record for the ACC.
219 All-Americans and 250 professional players have emerged from this program (45 consensuses and 15 unanimous). The College Football Hall of Fame has inducted six Florida State alumni. College Football Coaches Hall of Fame is made up of three members. In addition to the previously enlisted individuals, four others have also been inducted into the Pro Football Hall of Fame.
4. Texas Longhorns Football Team
In college football, the Texas Longhorns represent Texas at Austin (or UT at different times) as an intercollegiate team. As a member of the Big 12 Conference, the Longhorns is also a member of the NCAA Division I Football Bowl Subdivision (formerly Division I-A).
Darrell K Royal-Texas Memorial Stadium is where they play their home games. Texas has won four national championships, ranking third in total wins during the 2015 football season. Moreover, they are on the list of best NCCA teams because of their outstanding career performances.
In terms of all-time wins and losses, the Longhorns have over 900 victories and a win-loss percentage of .705. Moreover, the legendary program has won 32 conference championships, 100 First Team All-Americans (61 consensus selections), and two Heisman Trophy winners.
NCAA-designated significant selectors have selected Texas as national champion in 9 seasons. School claims championships for 2005 and 2008, but none for the remainder.
3. North Carolina Tar Heels Basketball Team
At North Carolina Tar Heels, men's basketball is an intercollegiate sports program at the University of North Carolina at Chapel Hill. The program has produced many notable players who went on to play in the NBA, including one of the greatest NBA players of all time, Michael Jordan. Carolina has competed in 174 games during the NCAA Tournament.
Throughout its history, the Tar Heels have reached 20 NCAA Tournament Final Fours and appeared in 11 NCAA Tournament championship games. The Tar Heels have been chosen to the NCAA Tournament 51 times, number two among all college teams, and have won 126 games, also number two among all colleges.
With 2,293 games won and 829 losses, North Carolina's record in the first 111 seasons of the program stands at .734 (second highest in college history). Additionally, the Tar Heels had 31 consecutive 20-win seasons, beginning with the 1970-71 season and ending with the 2000-2001 season.
The Carolina Tar Heels are among the top NCAA teams because of their outstanding stats. There are many Tar Heel assistant coaches and former players who hold head coach positions somewhere else.
2. UCLA Bruins Basketball Team
UCLA Bruins members of the Pac-12 Conference play men's basketball at the University of California, Los Angeles. The program has won a record 11 NCAA championships since its founding in 1919. The Bruins won 10 national championships in 12 seasons, including seven in a row from 1967 to 1973, under Wooden's leadership, making ULCA one of the best NCAA teams.
UCLA won 13 consecutive regular-season conference titles between 1967 and 1979. An NCAA Division I record that stood until Kansas passed it in 2018.
UCLA formerly played in the American Athletic Week Union, Pacific-8 Conference, and Pacific-10 Conference. The team also had some excellent records, including ten consecutive appearances in the Final Four between 1967 and 1976, 25 Final Four wins, and 38 game NCAA Tournament winning streak (1964–1974).
Furthermore, ULC has been ranked the top team in the AP Top 25 poll for 134 weeks (1949-2002) and won 54 consecutively. This particular team also produced some of the greatest baseball players of all time.
1. Kentucky Wildcats Basketball Team
The Kentucky Wildcats are once again the kings of college basketball. They took home the NCAA National Championship trophy in 2012. A total of 2,092 wins from the 2011-12 seasons put Kentucky one of the best NCCA teams among college basketball programs.
Kentucky also leads all-time with a winning percentage of .763. In this category, Kentucky is still the leader, having reached the 2,000 victory threshold first.
Additionally, Kentucky has played in 17 NCAA Final Fours (tied with North Carolina for the third-most all-time), 12 NCAA Championship games (tied with UCLA for first place all-time), and won 8 NCAA championships (second only to UCLA with 11).
Kentucky was the only school to win both the National Invitation Tournament (NIT) and the NCAA championships, making it the only school to win the NCAA and NIT titles simultaneously. Kentucky also has 63 seasons with 20 wins, 16 seasons with 30 wins, and six seasons with 35 wins.
Final Words
We hope you liked the list of the best NCAA teams of all time. We appreciate your valuable feedback. Tell us about the list in the comment box.