Top 10 Reputed Athletes with Criminal Records
November 11, 2021 By Sourav
---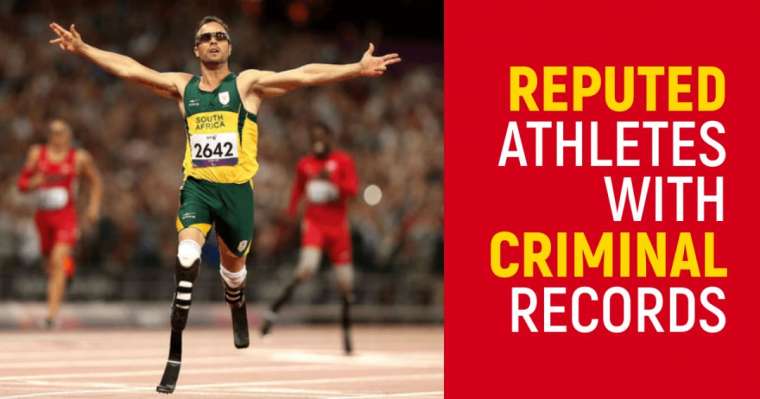 Tax manipulation, money staking, drug peddling, sexual assault, child trafficking, burglary, murder - these are some of the crimes which were committed by star athletes. Many of the reputed sports stars had already spent their nights behind the bar, whereas many of them didn't get the permit to see the outside world for the rest of their lives. Everyone gets the shock after investigation reports uncover different scandals following several significant cricket series, and for subcontinents, it's a major shock because they think Cricket is supposed to be a gentleman's game. Here we have compiled the list of Top 10 Reputed Athletes with Criminal Records, which may be shocking for many of you.
Reputed Athletes with Criminal Records
Starting from Football to boxing or NBA, to even NFL, they have a pretty good amount of share in crime history. Cricket stars are no far away, as former West Indies fast bowler Leslie Hylton, who also played for Jamaica, was hanged for his wife's murder in 1955. Crimes are throughout the history of the sport and in very close relation with athletes. So, here is a list of Reputed Athletes with Criminal Records.
10. Oscar Pistorius
This South African sprint runner was nicknamed "The Blade Runner" for his marvelous track record. When he was just 11 months old, both of Pistorius' legs were amputated below the knee.
Pistorius became the first amputee to win an able-bodied world Championships in 2011 whereas he became the first double-leg amputee to participate in the Olympics in 2012. However, he now holds his place among the top 10 reputed athletes with criminal records.
Pistorius shot and killed his girlfriend of three months, South African model Reeva Steenkamp, at his home in Pretoria on 14 February 2013. After his trial for murder began on 3 March 2014, he claimed that he mistook her for a possible intruder. At the second trial on 30 June 2014, Judges pleaded a report where it says Pistorius could be held criminally responsible.
9. Brian McGhee
McGhee is the former WBA super-middleweight champion and also nicknamed "The Future" as he was part of the WWE's developmental wrestling program. He represented Ireland in the middleweight division at the Summer Olympics, 1996.
Brian also won numerous titles including European, WBA, IBO, and British super-middleweight titles. McGhee now holds his place among the top 10 reputed athletes with criminal records. On 24 July 2013, he allegedly stabbed his girlfriend Bianca McGaughey multiple times to death outside her home in Tampa, Florida.
As a horrific showoff, he posted the bloody snapshot on his Facebook page and made that his profile picture. When cops tried to chase him, he fled from officers and crashed his car near Interstate 75, north of downtown. McGhee is currently held without bail in the Hillsborough County Jail.
8. Lawrence Phillips
Phillips is a professional American football and Canadian football running back who was drafted sixth overall in the 1996 NFL Draft by the St. Louis Rams. Phillips later moved on to the Miami Dolphins for two games.
After a dispute with three teenagers during a pick-up football game in Los Angeles, California, on August 21, 2005, he allegedly drove his car into them. He was sentenced to 10 years in a California state prison on charges of felony assault with a deadly weapon On October 3, 2008.
Philips was again convicted in August 2009 for the assault on his former girlfriend on seven counts. He became convicted while he was serving his previous sentence. Phillips was sentenced to 25 years again in prison for that charge. He now also holds his place among the top 10 reputed athletes with criminal records.
7. Clifford Etienne
Former American boxer Etienne was nicknamed "The Black Rhino" as he won 29 matches with 20 by knockouts. The Ring Magazine in 2000 named him the "Most Exciting Fighter to Watch". Etienne was arrested on 11th August 2005 for the record of first-degree armed robbery of a local business, carjacking a vehicle that contained a woman and her children, and also attempted murder of a police officer with his gun in Baton Rouge, Louisiana.
With a $70,000 bond, he was being held in East Baton Rouge Parish Prison. Later, he was found guilty and sentenced to 150 years in prison without parole On June 22, 2006.
Due to a technicality, his sentence was reduced from 150 years to 105 years in April 2013. One of the greatest boxers of all time, Clifford, now holds his place among the top 10 reputed athletes with criminal records.
6. Craig Titus
Titus is the American former IFBB professional bodybuilder who first showed his talent in the 1988 Houston Bodybuilding Championships where he won the Men's Open middleweight class and the overall title. Fans still dubbed him as one of the richest bodybuilders of all time.
Titus pleaded guilty to possessing methamphetamine in Louisiana. He was sentenced to 16-month house arrest via monitoring with an electronic anklet in April 1995. He was again sentenced to 21 months in prison for violating his house arrest by using anabolic steroids in July 1997.
Later, Titus and his wife Kelly Ryan were convicted for the death of their personal assistant, Melissa James, in December 2005. After his arrest, Titus admitted to having an affair with James. He was convicted of second-degree murder and kidnapping. And for that, he was again sentenced to 21 to 55 years in prison.
5. Esteban De Jesus
Jesus was a Puerto Rican world lightweight champion boxer with a stunning record of 57 wins and 5 losses where 32 wins came by knockout. He was the first pro boxer who defeated Roberto Durán. Esteban was sentenced to life in prison after he was convicted of killing a 17-year-old teenager over a traffic dispute in 1981.
He excelled in another sport while in prison and made the Puerto Rico penal system an all-star team three times. In 1989, De Jesús had acquired HIV and had become a sufferer of AIDS.
And for that, governor Rafael Hernández Colón pardoned him and gave him parole. But this legend died at the age of 37, just one month after being pardoned. This athlete now holds his place among the top 10 reputed athletes with criminal records.
4. Tony Ayala Jr.
Ayala is the former Light Middleweight American boxer who had a record of 22 wins and no losses. Out of which, 19 wins came by knockouts. Ayala, at the age of 19, burglarized the home of a young schoolteacher in his neighborhood. He also sexually assaulted her brutally on 1st January 1983.
He was sentenced to 35 years in prison for this charge. Tony now also holds his place among the top 10 reputed athletes with criminal records. After he was paroled from prison in 1999, he broke into a young woman's house. He was also shot in the shoulder by her in 2000.
For which, he again received probation and a brief jail term. In 2004, he was charged with driving without a license, speeding a vehicle, heroin possession, and possession of adult contents in the vehicle where he was sentenced to ten years in prison again for violating his probation.
3. Rae Carruth
Wide receiver for the Carolina Panthers of the NFL, Rae Carruth played four seasons for the Buffaloes and was included in the first-team All-America in 1996. He was also a first-round draft pick by the Carolina Panthers in 1997.
His casual dating girlfriend Cherica Adams was shot four times by Van Brett Watkins Sr. near Carruth's home in Charlotte, North Carolina on November 16, 1999. Adams was also carrying Carruth's child at the time and was eight months pregnant.
Through investigation, it was found that, because of her refusal to abort their unborn child, Carruth had hired Watkins and others to murder Adams. He was then sentenced to 18 years in prison. He is currently serving the sentence at Harnett Correctional Institution in Lillington.
2. O. J. Simpson
OJ "The Juice" Simpson was the first professional football player in history to rush for more than 2,000 yards in a season in 1973. He was also inducted into the Pro Football Hall of Fame in 1985. Simpson was charged and found liable on 12th June 1994.
Police took him into custody for the murder of Nicole Brown and her friend, Ronald Goldman. And since then, fans dubbed him as one of the most controversial athletes of all time.
This trial is widely referred to as "the trial of the century" where an estimated 100 million people worldwide watched or listened to the verdict announcement. Simpson was charged with numerous felonies in September 2007, which also includes armed robbery and kidnapping in Las Vegas, Nevada. He was found guilty in 2008 and was sentenced to 33 years' imprisonment, with nine years without parole.
1. Keith Wright
Wright is a former NFL football defensive tackle who had a total of 14 sacks during one season. He had 68 tackles his first season at Missouri and later moved as a defensive tackle at the Missouri team. He then accomplished 92 tackles till 2002.
Keith was the final pick of the sixth round by the Texans. He was taken to custody on suspicion of sexual assault and a series of home invasions. Keith then went to custody in the Natomas neighborhood of Sacramento, California, on 29th August 2011.
He was sentenced to 114 years in prison. Keith was again found guilty on 30th November 2012 for 19 charges. Those charges included first-degree armed robbery, kidnapping, and false imprisonment. He was sentenced the same day to another 120 years in prison. And in total, he has to spend 234 years and 8 months behind the bar.
Conclusion
It seems money and fame often act as a gateway to the crime world. But the fact is that no one is far from the hand of justice. Along with some major crime records, there are many records for which athletes were blamed and taken into custody. Even everyone's favorite, Mike Tyson, was convicted for sexual assault of an 18-year-old, for which he had to spend three years in jail with $30,000 cash. Let us know if we have forgotten any noticeable contribution in the list of top 10 reputed athletes with criminal records.
Athletes with Criminal Records - Infographics