Yao Ming Biography, Net Worth, Salary, Career, Height, Family, Personal Life, And Other Interesting Facts
June 19, 2021 By Sourav
---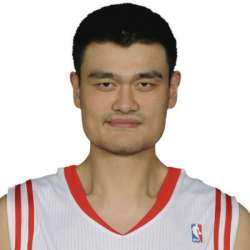 | | |
| --- | --- |
| Real Name | Yao Ming |
| Nick Name | Ming Dynasty |
| Profession | Basketball Center |
| Nationality | Chinese |
| Height | 7 feet 6 inches (2.29 meters) |
| Weight | 310lbs (141 kg) |
| Birth Date | 12-09-1980 |
| Age | 40 |
| Gender | Male |
| Birth Place | Shanghai, China |
| Zodiac Sign | Virgo |
| Religion | Non-religious |
| Address | 929 Main Street, St. Helena, Napa, CA, United States (Yao Family Wines) |
Former basketball player and current Chinese basketball executive, Yao Ming, is the only player who led the All-Star voting as a foreign player. He played for the NBA franchise Houston Rockets. Besides, he also played for the Chinese Basketball Association franchise Shanghai Sharks. He has achieved his place in the All-NBA Team five times and participated in the NBA All-Star Game eight times. Ming also achieved his place in the Naismith Memorial Basketball Hall of Fame in April 2016.
Yao Ming Biography And Other Interesting Facts
With his enormous height of 7 feet 6 inches, he became one of the tallest basketball players ever to participate in the NBA. He is also one of the most prominent athletes in China.
Ming was also the subject of the documentary named "The Year of the Yao" during his rookie year in the NBA. He also represented modern China that is modern yet extremely confident. He also wrote his autography called "Yao: A Life in Two Worlds."
Yao Ming Early Career
At the age of just nine, he started to play basketball while attending a nearby junior sports school. Ming then opted for his first tryout at the age of just 13 for the Chinese Basketball Association franchise Shanghai Sharks.
He helped the team to win their first-ever CBA championship. Ming averaged 20.2 rebounds and 38.9 points per game in his final season with the Sharks.
Yao Ming NBA draft
Shanghai Sharks' Deputy General Manager, Li Yaomin, influenced Ming to enter the 1999 NBA Draft, although he denied that time. Finally in 2002, he decided to enter the NBA draft after forming "Team Yao" with Bill Sanders, Bill Duffy, Erik Zhang, John Huizinga, and Lu Hao.
However, CBA announced that Ming would need to return to China whenever the national team calls him.
Besides, the Chinese government also stated that they would only allow Ming to play in the United States if any NBA franchise takes him as the first overall pick.
Shortly after, Houston Rockets picked him as their first overall in the 2002 NBA draft. And with that feat, Ming became the first player living outside the United States to become the first overall pick.
Yao Ming NBA career
Ming represented China in the 2002 FIBA World Championships and missed the pre-season training camp with the Rockets. However, he made his NBA debut in a regular-season game against one of the oldest NBA teams, Indiana Pacers.
Shortly after, he scored his first point in NBA in a match against the Denver Nuggets. Miami Heat distributed 8k fortune cookies before Ming's first game in Miami on 16th December 2002.
He made his first encounter against one of the greatest NBA players of all time, Shaquille O'Neal, on 17th January 2003. Ming finished the match with 10 points. Due to him, the NBA started the All-Star ballot in Chinese as well, besides English and Spanish.
Ming defeated Shaq with more than 250k votes. In his rookie season, he won the Laureus Newcomer of the Year award and the Sporting News Rookie of the Year.
Yao Ming Houston Rockets Career
He has achieved his place in the 2004 NBA All-Star Game for the second consecutive season. In the very next year, he surpassed the long-standing voting records of one of the most popular athletes of all time, Michael Jordan, in the All-Star game. He missed just two games in his first two seasons in NBA.
However, he later developed osteomyelitis in his left feet's big toe. Ming underwent surgery on 18th December 2005. He again voted for the 2006 NBA All-Star game even after missing 21 regular season matches.
Ming broke his left foot in a match against Utah Jazz on 10th April 2006 and sidelined for the next six months. Right after he came back, he broke his right knee on 23rd December 2006.
However, he succeeded to achieve his place in the All-NBA Second Team for the first time that season. Shortly after, he faced another Chinese basketball superstar Yi Jianlian on 9th November 2007. Around 200 million people in China witnessed that match live.
Yao Ming Later Career
Ming was diagnosed with a sprained ankle during the third game of the 2008-09 NBA season. However, doctors later diagnosed a hairline fracture during the follow-up. He failed to participate in a single match during the 2009-10 basketball season due to his foot injury.
Ming suffered a stress fracture in his left ankle on 16th December 2010. However, he has achieved his place in the 2011 All-Star Game.
Yao Ming Retirement
In a press conference in Shanghai on 20th July 2011, Ming announced his retirement from professional basketball due to repeated injuries. His retirement witnessed more than a million comments on Sina Weibo social media site.
Right after his retirement, Shaq named him as one of the best NBA centers of all time. Ming achieved his place in the Hall of Fame on 9th September 2016. Shortly after, Houston Rockets retired his jersey number 11.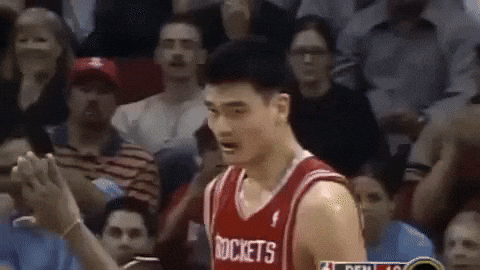 Yao Ming International Career
The first big break in the international circuit for Ming came after he represented China in the 2000 Summer Olympics. He then became the flag-bearer in the 2004 Athens Olympics opening ceremony.
In the meantime, he helped the Chinese basketball team to win the FIBA Asian Championship in 2001, 2003, and 2005. And in all these three occasions, he became the MVP of the tournament.
Right after his recovery from a broken foot, Ming made his comeback and carried the Olympic Flame on 6th August 2008. He also carried the Chinese flag during the opening ceremony.
Ming helped the Chinese basketball team to achieve a place in the Olympic quarterfinals. He averaged 19 points with 8.2 rebounds per game in that edition.
Yao Ming Family And Personal Life
Born on 12th September 1980, Ming is the only child of his parents, Yao Zhiyuan and Fang Fengdi. His father, Zhiyuan, is 6 feet 7 inches tall while his mother, Fengdi, is 6 feet 3 inches tall. They were regarded among the tallest athletes of all time.
Both of his parents played basketball professionally for Chinese clubs. However, their careers were derailed during the Cultural Revolution from 1966 to 1976. At the time of his birth, Ming weighed nearly 11 pounds.
Yao Ming Wife And Kids
At the age of just 17, Ming met Chinese basketball player, Ye Li. Although they were in a relationship since 2000, the couple first came into public in 2004. The media caught them together during the closing ceremony of the 2004 Olympic Games.
The couple then married on 6th August 2007. Their daughter, Yao Qinlei, was born on 21st May 2010 in Houston, Texas, United States.
Yao Ming Net Worth
According to the recent financial reports, the current net worth of Yao Ming is estimated to be around $120 million. His net worth increased by around $17 million since he announced his retirement in 2011.
Ming previously lived in a luxurious 12k square feet villa in Houston. However, he now lived in a luxurious house in Shanghai. Ming was associated with several biggest brands including, Reebok, Nike, Coca-Cola, Apple, Visa, and many more.
Yao Ming Awards
He has achieved his place in the Naismith Memorial Basketball Hall of Fame in 2016. However, he has several other accolades under his name. Some of the most prestigious awards that he achieved till now are as follows.
NBA All-Star: 8 Times
All-NBA Team: 5 Times
NBA All-Rookie First Team: 2003
FIBA Diamond Ball Top Scorer: 2004
Sporting News Rookie of the Year: 2003
Laureus Newcomer of the Year: 2003