Top 10 Weirdest Sports In The World Right Now
February 3, 2021 By Sourav
---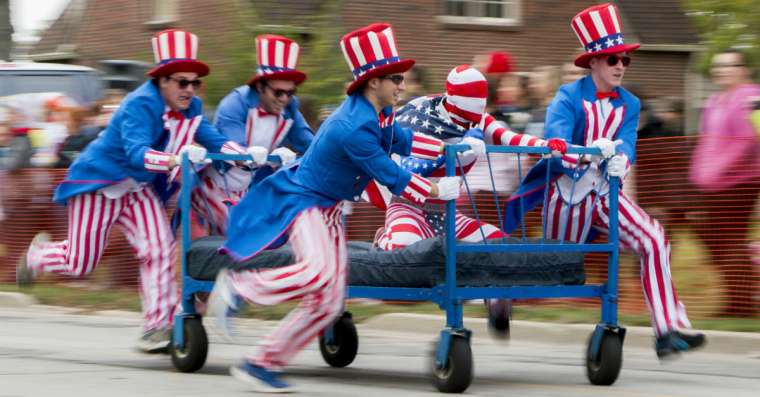 Soccer, football, baseball, basketball – these mainstream sports attract a lot of attention from the whole world. However, there is more to sports than just throwing something at someone or hitting a ball with a stick. So here we are compiling a list of Top 10 Weirdest Sports In The World Right Now, which many of you might not even have heard about.
Weirdest Sports In The World Right Now | 2021 Updates
There are other athletic forms of sports that don't get as much attention in spite of gathering a dedicated fan following. Here are just a few of the Weirdest Sports that you have likely never heard of (and should probably never try).
10. Chess Boxing
Let's start with chess and boxing, a combination that seems unlikely to be together in the same sport but is just what the name suggests: chess boxing. While the name may not be completely original, chess boxing is a singular sport and the ultimate challenge that requires both brains and brawn like no other athletic competition.
The winner has to be strong in both mind and body, playing a bit of chess between rounds of boxing. The game can last up to eleven rounds, starting with a four-minute chess round and followed by a two-minute boxing round. Chess boxing can be won by either knocking out an opponent, winning the chess game, or by the judges' decision at the end. Sounds simple enough. Get a guy in checkmate, then beat him into a pulp and repeat.
This sport is most popular in Germany and England, but it is gaining worldwide recognition. The sport is inspired by a French graphic novel, Froid Équateur, by French artist and filmmaker Enki Bilal. This sport now deserves its mention among the weirdest sports in the world right now.
9. Zorbing
Have you ever seen your hamster rolling in its ball and imagined what it would be like if you did the same? Then, zorbing is the perfect sport for you. Besides, it also deserves its mention among the weirdest sports in the world right now.
Zorbing is the sport of rolling down a hill inside a giant inflatable ball or an orb, usually made of transparent plastic. It is generally done on a gentle slope, but can also be done on a level surface, giving more control to the rider. The zorb ball can hold up to three people, making it a great way to compete against rival families. Sounds fun!
8. Buzkashi
No doubt, Buzkashi is a really popular sport. In fact, it is the national sport of Afghanistan. To win the game, all you have to do is seize a medium-size decapitated animal (usually a calf, sheep, or goat) on horseback, ride around a couple of obstacles and deposit it in a circle. Sounds easy, right? Well, consider playing this with a hundred other guys who are also trying to do the same thing, and it might not sound so easy.
Did I mention there is only one decapitated animal? A hundred guys chasing around only one decapitated animal? It sounds like a great time! And even more so when the participants can play rough against one other (which shouldn't come as a surprise given the fact that the game includes playing with a dead animal).
7. Wife Carrying
Wife carrying is a sport in which the male competitors race across an obstacle course while carrying a female teammate on their back, who grabs onto her partner's neck and back while hanging upside-down.
If you win, glory isn't the only prize you get. The winners of the Wife Carrying World Championships held in Sonkajärvi, Finland takes home the wife's weight in beer. This game now holds its place among the weirdest sports in the world right now.
6. Underwater Hockey
It's hard to believe that anyone could imagine a more dangerous version of ice hockey, but with the added element of a potential drowning, underwater hockey makes ice hockey look like child's play. The rules of underwater hockey are quite similar to their solid counterpart; the only difference being that players use small plastic or wooden sticks to push a metal puck around the pool's floor.
Underwater hockey now definitely deserves its mention among the weirdest sports in the world right now.
5. Extreme Ironing
For all you adrenaline junkies, there is a way to get your blood pumping while you iron. It's called extreme ironing. All you need to do is find the craziest way to iron your clothes.
If that means ironing your clothes while jumping off a cliff or across a canyon, then so be it. This game now holds its place among the weirdest sports in the world right now.
4. Cheese Rolling
The rules of cheese rolling are real simple: A cheese wheel is thrown down a hill and hundreds of people run after it. The first person who gets the cheese and crosses the finish line wins and gets to keep the cheese.
Cheese rolling is basically the Western version of buzkashi. This one definitely deserves its mention among the weirdest sports in the world right now.
3. Bed Racing
The people of Knaresborough, North Yorkshire have embraced the sport of Bed Racing, in which competitors race in a team of 6 with one teammate on the bed. Each team is responsible for providing its own bed and decorating it according to the theme of the year.
The bed should be able to run on four wheels and also float on the water since the final challenge of the 3km race involves crossing a river.
2. Street Luge
The sports of Street luge combines the safety concerns of luge with the gentleness of pavement. It involves participants lying on what is basically an enlarged skateboard designed to hold the human body and riding it down a paved course or road.
Gravity does the rest of the work. This extreme game now holds its place among the weirdest sports in the world right now. Besides, it also deserves its place among the toughest sports of all time.
1. Shin Kicking
If mud racing is too soft for you, you should try shin-kicking. The whole point of this sport is to kick your opponent in the shin so hard that they fall down. To win this sport, you need to be both agile and able to endure pain. Talk about ruthlessness! Shin kicking originated in England and has been sometimes referred to as English martial art.
A World Shin Kicking Championship is also held each year as part of the Cotswold Olympic Games and draws thousands of spectators. Legend has it that some shin kickers used to wear steel-toe boots during the competition, but you don't need to worry about that now. In modern competitions, participants are required to wear soft shoes.
Let us know in the comment box if we forget any from the weirdest sports in the world right now.