10 Top Basketball Prospects To Look For This Year | 2021 Power Ranking
September 23, 2021 By Admin
---
NBA draft 2021 will take place on 29th July or early August. We are excited to see the selections of our favorite teams. The pandemic has affected college basketball progress. But now points are again going to begin in college courts. The top basketball prospects are ready to shine the courts with their presence in the league.
Choices are not just bounds to only colleges. Also, there are top international prospects that proved their ability and skills to the audience and are now ready to be one of the future's best NBA players. The tremendous stats of these players make us mention them on the list of basketball prospects in 2021.
Top Basketball Prospects | 2021 Power Ranking
10. Julian Newman
9. Kendall Brown
8. Payton Watson
7. Adrian Griffin Jr.
6. Jabari Smith Jr.
5. Yannick Nzosa
4. Patrick Baldwin Jr.
3. Jaden Hardy
2. Paolo Banchero
1. Chet Holmgren
We tried to predict the NBA prospects in 2021 based on the mentioned players' stats, overall performances, and college careers. Several players are ready to step in and make immediate impacts in this year's NBA Draft.
10. Julian Newman
Julian Newman is an amateur basketball player from the United States who plays as a point guard. Newman is widely considered one of the top basketball prospects because of his impressive amateur career. As a fifth-grader at Downey Christian School, Newman became known for his viral highlight videos on YouTube.
There were divergent opinions on his image, with some outlets calling Julian Newman a child prodigy while others bashed how he was marketed. After showing interest in basketball at the age of 3, at practice, Newman made 100 free throws each day, 200 floaters each day, and 200 jump shots each day as guided by his father.
He acquired fame gradually after getting the ultimate support from his family. Sixth-grader Julian scored 17 points on average. In 2012, an article on the high school sports website MaxPreps featured "Fifth Grader playing for Florida Varsity squad." According to the Tampa Bay Times, Julian had averaged 13.6 points and 10.5 assist in 2013, and he won "The most popular 12-year-old basketball player in the world" for 2014.
Julian's overall score was 3873, which was more than Teddy Dupay's Florida prep record from 1998. His 1000 points in varsity football made him the youngest player in history to achieve that feat. Julian averaged 19.8 points, 10.2 assists, and 3.2 steals per game at the end of 2015. Julian scored 52 points against top 2020 recruiting prospect Kyree Walker at the Middle SchoolHoops TV Camp. On YouTube, there were more than 10 million views of the game.
9. Kendall Brown
The 6 feet 4 inches basketball point guard from the United States, Kendall Brown playing basketball from the age of 3. Having been named a member of the Southern California All-Stars team and the All-Orange County team is Brown's greatest sports achievement at this point in his career; he is the son of Kevin and Danielle and brother to Kevin, Kris, Kory, and Kimberly.
Many experts regarded Brown as one of the top basketball recruits in 2021 because of his notable career stats and overall performances. In 2016-17, Brown played in 22 games for ART U, averaging nine points and 4.3 rebounds per contest, the second-highest average on the team. Mt. San Jacinto College transfers Brown to ART U as a junior studying Multimedia Communications.
He attended Eleanor Roosevelt High School in Eastvale, Calif., where he played all four years of high school basketball and was a member of the Big 8 All-League Team in 2012. In 2021, Brown will be a member of the USA Nike Hoop Summit Team. However, that event will not take place due to the COVID-19 pandemic.
Brwon attended the 2019 USA Basketball 3x3 U18 National Championship in Colorado Springs, Colorado, where his team finished second. Besides that, Brown has won some high school honors, including MaxPreps Sophomore All-America's honorable mention, All-Metro, All-conference in 2019.
8. Payton Watson
A UCLA student, Peyton Watson plays small forward in his college career right now. Despite multiple offers to attend Arizona, Washington, Gonzaga, and UCLA, the basketball player chose to stay at UCLA. Since Peyton Watson began improving during the past few years, he has been considered one of the top NBA draft prospects.
Due to the Coronavirus Pandemic in 2020, the basketball player couldn't play his most important games. According to rumors, he might sign up for the University of Arizona as various institutions offered him scholarships. According to the Rivals rankings, on the day the player signed with UCLA, Watson was ranked 19th.
As a freshman, Watson joined the varsity team of Long Beach Polytechnic High School. The junior season was his first starting center after coming off the bench in his early career.
While he attended Moore College, Watson was named a McDonald's All-American, averaging 23.2 points and eight rebounds per game. As a consensus five-star recruit, Watson is one of the top-ranked small forwards and the most highly regarded player from California among the 2021 recruiting class.
7. Adrian Griffin Jr.
Adrian Griffin Jr, known as A.J., was born in Dallas, Texas, now resides in Ossining, New York. Basketball is something he enjoyed watching in third grade, so he began playing it. Despite being named to the U.S. Basketball Men's Junior National Team October minicamp on 2nd October, Griffin could not attend. However, he is widely regarded as one of the top NBA prospects because of his astonishing career.
The junior national team named Griffin participated in its July minicamp on 8th July 2019 but could not attend. Griffin played on the U16 National Team. Which won the gold medal in Belém, Brazil, with a 6-0 record; Griffin averaged 13.5 points per game, the third-best on the team. He also led the team with 3.3 SPG.
During the October 2018 minicamp, Griffin was in Colorado Springs, Colorado, with the USA Junior National Team. He was honored with MaxPreps Sophomore All-America honorable mention in 2019. In 2018-19, he averaged 20.9 points, 10.9 rebounds, 3.9 assists, and 3.5 rebounds per game. The team finished with a 14-16 record and won the CHSAA Intersectional championship game.
The right foot injury caused Griffin to miss 12 games in 2018-19. The Archbishop Stepinac boys' basketball team won the city championship behind Griffin's 32 points on 11-of-14 shooting, including 4-for-4 shooting from 3-point range. He also had 11 rebounds and two blocks. In the end, Griffin's stats prove that he deserves to be among the best NBA prospects.
6. Jabari Smith Jr.
The American basketball player Jabari Montsho Smith Jr. was born on 13th May 2003. He attends Sandy Creek High School in Tyrone, Georgia. In terms of recruit rankings, he is a consensus five-star player and one of the top players in the 2021 class. Auburn is going to be Smith's college basketball team.
Smith is considered one of the top basketball prospects due to his career stats and energetic performances. On 25th March 2021, he became a member of the 2021 USA Nike Hoop Summit Team. COVID-19, however, forced the cancellation of the event. The USA Men's Junior National Team July minicamp had enlisted Smith as a participant, but he could not attend.
Attended the U16 World Championships in Belém, Brazil, where the USA earned a gold medal. He finished the tournament with a perfect 6-0 record, playing in three of six games. He also averaged 14.8, 6.2, and 13.8 ppg for the second-best figures in the USA. Smith also attended the men's Final Four minicamp in Minneapolis, Minnesota, as part of the USA Junior National Team.
Besides that, Smith won the honor of All-Fayette County's second team in 2019, making him on the list of top basketball prospects. During the Georgia Class 4A Tournament, he helped his team to a third-place finish after a 27-4 record.
5. Yannick Nzosa
Yannick Nzosa Manzila is a professional basketball player from Congolese. A 6'11" player with a large frame can defend the paint with good size and is an excellent shot-blocker with instincts and timing. He does a great job of staying vertical and blocking shots without fouling.
Regarding his quickness and ability to defend guards on the perimeter, his overall athleticism is displayed in the way he plays around the rim (or over the edge) and is also considered one of the top basketball prospects as an international. As a goalkeeper, he played association football throughout his youth.
His basketball career began with New Generation Basketball, a local club coaching group, when he was 12 years old. A member of the all-tournament team of the Kaunas Tournament, a qualifier for the Adidas Next Generation Tournament (ANGT), Nzosa represented Stella Azzurra's under-18 team in February.
During the ANGT Valencia Tournament in December 2019, his under-18 team earned all-tournament awards. In 18 minutes of play against Andorra, Nzosa had 10 points, a perfect 5-for-5 shooting percentage, three rebounds, and two blocks.
Nzosa became the first under-18 player to score ten or more points in both of their ACB games when he scored 10 points on 4-of-4 shooting against Manresa on 3rd October. As a member of the 71–66 victory over Valencia State, Nzosa had four boards, four blocks, three assists, two steals, and two points. In the league's history, he is the youngest player to record at least four blocks in a game.
4. Patrick Baldwin Jr.
The Chicago Cubs committed American basketball player Patrick Baldwin Jr. to the NCAA Division I Milwaukee Panthers. He graduated from Hamilton High School in 2021 and was named a McDonald's All-American and a Nike Hoop Summit participant.
The high school Baldwin attended was Hamilton High School in Sussex, Wisconsin. His average points and rebounds per game have increased from 24.3 to 10.8 during his junior season. The same year, he won Wisconsin's Gatorade Player of the Year award.
After suffering an ankle injury during his second game of the senior season, he missed the remainder of the campaign. His five-star rating makes him one of the best recruits in the class of 2021. His father coached his son during his time at Milwaukee, and he chose to attend Milwaukee over Georgetown and Duke.
Additionally, Baldwin has the highest recruiting ranking ever committed to a Horizon League program. According to many experts, Baldwin is also one of the top basketball prospects and will be an NBA star in the future.
3. Jaden Hardy
A professional basketball player for the NBA G League's Ignite team, Jaden Hardy was born on 5th July 2002. In the 2021 class, he was both one of the highest-ranked recruits and a consensus five-star recruit. Hardy scored an average of 30.4 points, 9.1 rebounds, and 8.4 assists per game in his junior season, winning U.S. Gatorade Player of the Year and Las Vegas Review-Journal Athlete of the Year awards.
After opting out of the rest of his senior season on 8th January 2021, he graduated from the University. He won McDonald's All-American honors.
Hardy is a consensus five-star recruit in the class of 2021 and ranks highest among guards. The most likely college destination for him is Kentucky or UCLA, where most recruiting analysts expect him to play professionally instead of going to college, making him one of the top basketball prospects.
After leaving college basketball, he announced his intention to join the NBA G League on 15th May 2021. Among the other offers he received, he chose the G League over Kentucky and UCLA.
2. Paolo Banchero
Paolo Banchero, who plays basketball at O'Dea High School in Seattle, is among the top international prospects. However, Banchero still intends to remain at Duke. After his impressive performance in high school, Paolo Banchero gained massive hype. If you love basketball, you have undoubtedly heard about him.
Additionally, he has been the center of attention after being included in the top three finalists for the class of 2021. Based on reports, Paolo is one of the world's top five players for his age. Playing basketball and football at the same time, he is a dual-sport athlete. The newspaper USA Today covered Paolo's achievements, and he earned many honors as a student.
Paolo scored 14.1 points and pulled down 10.2 rebounds per game in his freshman season. On average, he scored 18.2 points, grabbed 10.3 rebounds, and had 4.3 assists a game, helping his team win the Class 3A state championship. As a result, Paolo won the Most Valuable Player of the year. With each passing year, Paolo was becoming a better player.
Both his numbers and play style improved. As the Class 3A runners-up's junior, he averaged 22.6 points, 11.0 rebounds, 3.7 assists, and 1.6 blocks per game. Furthermore, Paolo won the Gatorade Player of the Year award for Washington State and the MaxPreps national junior award. Also, in 2021, he will be an All-American for McDonald's.
1. Chet Holmgren
Chet Holmgren, a star of the NBA, is committed to transferring to the Gonzaga Bulldogs of the West Coast Conference. Playing the basketball center position, he stands at 7 feet 0 inches (2.13 m). He's also one of the top basketball prospects in 2021 and a five-star recruit.
Aside from his great ball-handling skills and perimeter shooting ability, Chet's size and shot-blocking ability make him highly regarded and one of the top basketball prospects. During his freshman year at Minnehaha Academy, he averaged 6.2 points and 3.0 rebounds.
For the second consecutive year, his team won the Class 2A state championship. Also, as a senior, Chet averaged 18.6 points and 11.0 rebounds per game, guiding his team to a second Class 2A championship. Chester was a champion with his Amateur Athletic Union Grassroots Sizzle team in the Under Armor Association, where he took the MVP honors.
Due to his success, he emerged as one of the top players among the 2021 class and received more interest from NCAA Division I programs. Chet's nationally televised game against Sierra Canyon School, a team with BJ Boston and Zaire William, on 4th January 2020, saw him record nine points, ten rebounds, and 12 blocks. For Minnehaha, he posted a 25-3 record.
Final words
We hope you liked the list of our top basketball prospects. As we mentioned before, these rankings are based upon these players' overall performances and career stats. Tell us about this list in the comment box because we appreciate your feedback.
Top Basketball Prospects - Infographics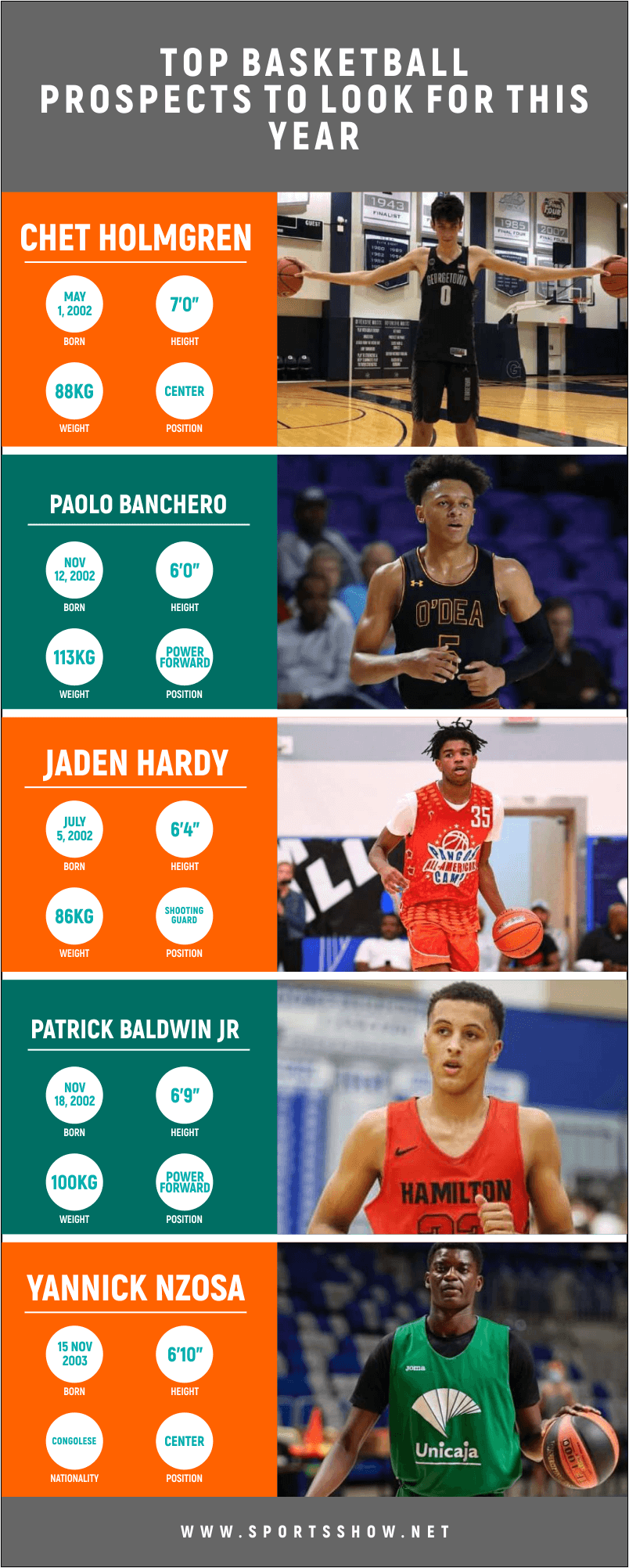 FAQ Regarding Top Basketball Prospects In 2021
Q. Who is the number 1 NBA prospect?
Cade Cunningham, a freshman who many experts widely consider to be on the first spot on NBA prospect.
Q. Who is the top basketball prospect?
As a result of Jonathan Kuminga's reclassification, ESPN ranks Chet Holmgren as the number one player in the 2021 class making him top basketball prospects in 2021.
Q. Who is the top international basketball prospect?
A 19 years old Usman Garuba, 6–8, PF, Spain, is known as the top international basketball prospect in 2020–21 with global league stats of 5.6 PPG, 5.2 RPG, 0.9 AST, 47.2 FG%, 33.9 3PT%, 61.5 FT%, 0.7 STL, 0.5 BLK.
Q. Who is the number 1 recruit in high school basketball?
According to current stats and performance, Chet Holmgren is considered the top recruit in high school basketball.
Q. Who are the best basketball players in the Class of 2022?
According to the current stats and performance, the best basketball players in the class of 2022 are Emoni Bates, Amari Bailey, Jalen Duren, Dior Johnson, Brandon Huntley-Hatfield, Zion Cruz, Dariq Miller-Whitehead, Jalen Hood-Schifino, Chris Livingston, and Bryce Griggs.
Q. Who is the best player in the Class of 2022?
Emoni Bates is known to be the best in the class of 2022.
Q. Who is the best 8th grade basketball player in 2021?
Among eighth-grade basketball players, Mikey Williams is the best in the nation.
Q. Is Julian Newman an NBA prospect?
The amateur basketball star Julian Newman is surely regarded as one of the NBA prospects in 2021.
Q. Is Isaiah Mobley an NBA prospect?
Following USC's run to the Elite 8, Isaiah Mobley, another Mobley brother, announced he would enter the NBA Draft next year following the Trojans' Elite 8 run.