Top 10 Fantastic Sports-Themed Television Shows To Watch
August 23, 2021 By Sourav
---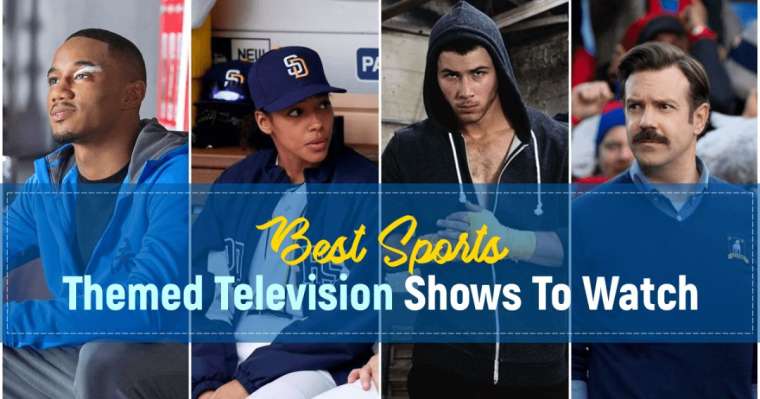 We all love sports but does it ever occur to you that out of the hundreds of quality television shows made each year, none are sports-centric? Sports sell, right? But perhaps not sports shows. Whatever the reason may be no worries. There are a couple of sports shows for you to watch. Sit back and enjoy the list of some of the best Sports-themed television shows.
Best Sports-Themed Television Shows To Watch
Sports television shows can be just as addictive as any other show out there. In this terrible state of sports-based fictional television shows, a few forgotten gems still exist. Here are 10 fantastic sports-themed television shows to watch.
10. Arliss (1996-2002)
At number 10 spot in our list of the top 10 fantastic sports-themed television shows to watch, we have Arliss.
It is a sitcom about a sports agent and his group of associates. Nearly in every episode, a notable person, ranging from athletes, Coaches, and even broadcasters came on the show.
Although Entertainment Weekly believed that Arliss was one of the worst shows on television, the show successfully ran for seven seasons.
9. The Game (2006-2015)
It's a comedy-drama television series that ran for nine seasons. The Game was actually a spinoff of the long-running sitcom, Girlfriends, of the UPN/CW network.
After Girlfriends' huge success The Game focuses on a young woman's decision of putting her career on hold so that she can help her boyfriend in his rising athletic career. Though often regarded as a sports show, later the series becomes more about human relations rather than the sport itself.
The show has seen many hurdles. After about four seasons, the show failed to strike a deal and producers canceled it in 2009. However, later some new episodes were developed and the fourth season was aired in 2011 to a record-breaking 7.7 million viewers. The final season concluded in August 2015.
8. My Boys (2006-10)
Without any doubt, My Boys deserves its mention among the top 10 fantastic sports-themed television shows to watch.
It is another television sitcom that revolves around a woman who lives in Chicago and is a sports columnist for the Chicago Sun-Times.
The show tells us how she deals with all the boys in her life, including her father, her brother, sportswriters of a rival publication, ex-boyfriend, etc. The production team filmed almost the entire series in Los Angeles.
7. Coach (1989-97)
It's a Sports-themed television show that aired for nine seasons between 1989 and 1997. The story involves a fictional Division I-A college football team - Screaming Eagles of the Minnesota State University.
The series revolved around a story to reflect the University of Minnesota but when the university withdrew its approval, they shoot campus scenes at the University of Iowa.
The show has won a number of awards like the Primetime Emmy Award for Outstanding Lead Actor – Comedy Series (in 1992 and 1996) and the American Society of Composers, Authors and Publishers (ASCAP) Awards, five consecutive times (1992-96).
6. The White Shadow (1978-81)
This one of the sports-themed television shows drama series was broadcasted on the CBS network and has been released on DVD. The story focuses on a white retired NBA player who has to coach a predominantly black high school team.
The White Shadow is regarded as the first ensemble drama with the majority cast being African-American in the history of American prime-time television. The show was critically and commercially acclaimed.
It ran for 3 seasons and with a total of 54 episodes aired. The show became a huge hit when producers aired it in Turkey and thousands of young people started playing basketball. Basketball was quite unknown to them then. In 1979 when Bill Russell the NBA star hosted Saturday Night Live, a parody skit of The White Shadow titled The Black Shadow was done.
5. Sports Night (1998-2000)
Sports Night sounds like a Sports themed television show and that is exactly what it is except that it was fiction.
A fictional sports news show, it focuses on the issues faced by creative talented people when running a good show while under constant pressure from the network. Things like ethical beliefs, friendship are tested.
Some believe the show revolves around a semi-fictional story of Keith Olbermann and Dan Patrick's ESPN SportsCenter team. Critically acclaimed, the TV Guide ranked Sports Night in no 10 on their 2013 list of 60 shows that were canceled too soon.
4. Eastbound and Down (2009-13)
The Sports themed television shows broadcasted on HBO were lauded for their broad humor and grand comic moments.
It focuses on a former professional baseball pitcher who after a long career with its fair share of ups and downs returns to his hometown in Shelby, North Carolina.
There he gets a job as a substitute physical education teacher in a middle school. He then tried to reclaim his initial fame. This daily soap definitely deserves its mention among the top 10 fantastic sports-themed television shows to watch.
3. Playmakers (2003)
Aired on ESPN, It ran for only one season, between 26th August 2003 to 11th November 2003. Set in a mysterious unidentified city, the story revolves around a fictional professional football team.
Although Playmakers received high ratings, the National Football League heavily criticized this show. They criticized it for portraying negative aspects in the lives of the player off the field.
Therefore after the eleven episodes in the first season, the producers never revived the show. Besides Sunday night NFL and Saturday college football games, Playmakers became ESPN's highest-rated show.
2. The League (2009 – 2015)
This sitcom revolves around a fantasy football league set in Cook County, Illinois. We get to follow the lives of six friends participating in this fantasy football game, on and off-field.
Trying to change their miserable life into something worth living, they fight to win the league. And soon, they have achieved the trophy called The Shiva.
Fans still regard The League as the funniest sitcom on television right now. After the final announcement, producers aired its seventh and last season back in 2015. It surely deserves its mention among the top 10 fantastic sports-themed television shows to watch.
1. Friday Night Lights (2006-11)
It is based on a non-fiction book - Friday Night Lights: A Town, a Team, and a Dream by H. G. Bissinger. It also has a 2004 film of the same name. Friday Night Lights is set in a fictional town called Dillon – a close-knit community.
Besides, it follows the team coach (Kyle Chandler) of a high school football team. Garnering critical acclaim, the television show deals with a number of issues like lack of opportunities, contemporary American culture, racism, family value, drugs, etc.
Despite being a fantastic show, during its first season, it could attract only a few viewers. It has then also become dangerously verging on getting canceled for good. Ultimately Friday Night Lights ran for 5 years and garnered sizable passionate fans.
Final Words
We hope you enjoyed the sports-themed television shows, share your thoughts in the comments below.
Sports-Themed TV Shows | 2021 Infographics