Top 10 Movies Featuring Cricket Outside India
July 31, 2021 By Sourav
---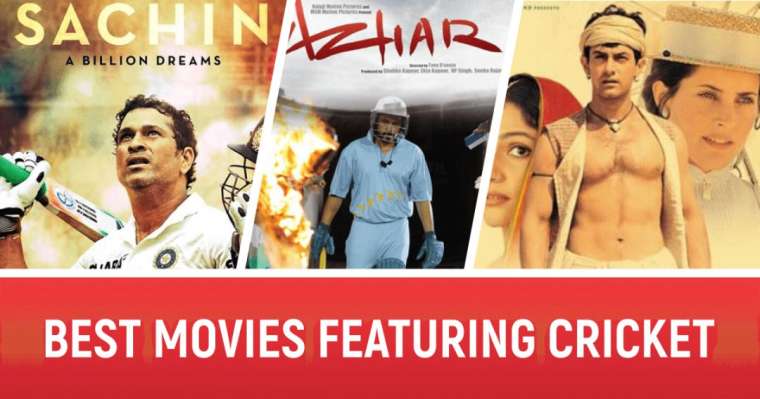 As we all know that India has many religions but the game of cricket unites Indians better than any other religion. Because of its enormous popularity in India, cricket attracts a lot of movie directors and producers too. Bollywood witnessed several great movies on cricket such as "Lagaan" during the last two decades. And, the Indian audience well appreciated those movies featuring cricket.
Best Movies Featuring Cricket | 2021 Updates
Though cricket is the most loved and accepted concept in Indian movies, few other countries have also produced some remarkable movies on the sport. Let's have a look at some non-Indian movies featuring cricket that have been well received by both worldwide audiences and critics.
Fire in Babylon (2010)
At number one in this list of movies featuring cricket, we have 'Fire in Babylon'. Simply a must-watch documentary for all cricket lovers. This British documentary film is all about the record-breaking West Indies team of the 1970s and 1980s.
This movie tells the story that how the West Indies became the most feared team on the planet. It involves the contribution of many great West Indian cricketers including Clive Lloyd, Sir Viv Richards, Gordon Greenidge, Michale Holding, Andy Roberts, Joel Garner, etc.
Apart from them, many other great cricketers and cricket commentators have acted in this movie. Stevan Riley has written and directed the movie. And for that, he received the prestigious UNESCO Award at the Jamaica Reggae Film Festival 2011.
Many well-known and greatest cricketers like Richie Benaud, Ian Botham, Geoffrey Boycott, Sunil Gavaskar, Brian Close, Tony Greig, and David Gower, etc have also appeared in this movie. This movie also features video footage of Nelson Mandela giving his views on this all-time greatest cricket team.
Wondrous Oblivion (2004)
This movie featuring cricket revolves around an Eleven-year-old boy, David Wiseman who is mad about cricket but not so good at it.
His new neighbors (Jamaicans) are also cricket lovers. Then they start preparing David who is a laughingstock at school. They became good friends and David falls in love with Dennis (the neighbor girl).
But David's parents want to put an end to their son's friendship. However, their love and affections towards cricket bind their friendship.
Directed and written by Paul Morrison, the movie won awards at the Boston Jewish Film Festival in 2004. And, it also received an award at the Giffoni Film Festival in 2003.
The Final Test (1953)
One of the excellent comedy movies featuring cricket about Sam Palmer's last appearance for England. He desperately wants his son, Reggie to be there at The Oval to witness his last innings, but the son is more interested to meet a leading poet Alexander Whitehead, while Whitehead is more interested in cricket.
Whitehead takes Reggie along with him to the match, in the meantime, Sam gets out for a duck.
The movie has also cameos from leading cricketers, including Len Hutton, Denis Compton, and Alec Bedser.
Bodyline (1984)
England and Australia contested a legendary test series in the 1932-33 cricket season. And as the title suggests, this movie (TV series) is solely based on that famous event.
One of the most famous cricket series where the bodyline cricketing tactic used by the English cricket team against Australia gained worldwide attention after one of the greatest batsmen, Sir Donald Bradman, was injured several times during the series.
Gary Sweet played the role of one of the greatest batsmen, Donald Bradman. The directors for this miniseries were Denny Lawrence, Lex Marinos, George Ogilvie, and Carl Schultz. One of the best movies featuring cricket.
It's not cricket (1949)
A must-watch comedy movie where the two main characters of this movie are intelligence officers in the British army. Being suspended from the Army Intelligence, they planned to set up a private detective agency "Bright and Early".
Then they both engage a secretary and one day her fiancee invites them all to a weekend for a cricket match. But they did not know that the cricket ball they bought in London actually contains a valuable stolen diamond.
And, that was purloined by the war criminal Otto Fisch, the reason behind their removal from the Army. What happens next? You should watch the movie to know it better.
Playing Away (1987)
In this movie, a cricket team in a small English village invites a team of West Indian heritage based in Brixton to mark the conclusion of their "Third World Week" celebration.
The audiences well-received this TV comedy film featuring cricket as the subject. And still, many fans of cricket dubbed it as one of the best cricket movies of all time.
Hit for Six (2007)
This Barbadian movie shows how a West Indian Cricket player, once accused of match-fixing, fights to play in an international tournament. In this process, he also earns the respect of his father, a former player.
Besides, the movie features several West Indian cricket players like Tino Best, Everton Weeks, Wes Hall, Desmond Haynes, etc.
Hansie: A True Story (2008)
The movie is based on the true story of former South African captain Hansie Cronje who went from national hero to international disgrace after his involvement with Indian bookmakers.
Moreover, this movie is all about Cronje's lifestyle after the 2000 match-fixing scandal and the lead character was played by Frank Rautenbach.
I Know How Many Runs You Scored Last Summer (2008)
This movie is about a serial killer who begins to kill members of a local cricket team using his razor-sharp cricket glove and with some sharpened cricket stumps.
Eventually, this horror flick from Doug Turner received mixed to negative reviews. Needless to say, it is counted among the best cricket movies to watch till now.
The Lady Vanishes (1938)
This was not a pure cricket-oriented movie. But this comic thriller masterpiece from Alfred Hitchcock had featured some interesting scenes in which two of the characters are obsessed with wanting to know the score of a Test Match.
However, it has a lot more suspense and a lot more fun than featuring cricket. And still, film buffs around the world consider it as one of the best cricket movies to watch.
Final Words
How many of these movies featuring cricket have you watched, and which ones are your favorites? Have you enjoyed any other movie about cricket or your other favorite sports? Don't forget to mention your recommendations about this list of Top 10 Movies Featuring Cricket Outside India in the comments below!
Movies Featuring Cricket | Infographics For Movie Buffs