Top 10 Most Underrated Cricket Records That May Never Be Broken
October 30, 2021 By Sourav
---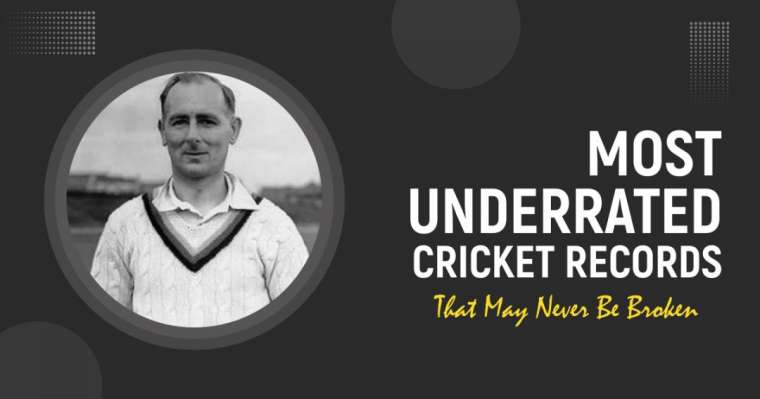 No doubt, like many other sports Cricket is also a game of numbers and records. There are many well-known records that exist that are unbreakable by their nature. Many of us know about Bradman's 99.94 Test average or Sachin's 100 international centuries. Here we present the Most Underrated Cricket Records, which may never ever be broken.
Most Underrated Cricket Records That May Never Be Broken
Every cricket fan has an idea about Murali's international wickets or Sir Jack Hobbs's first-class records. But in this article, we will demonstrate to you some of the Most Underrated Cricket Records that are unknown to many cricket lovers.
10. Most consecutive Test matches
The former Australian star and one of the most successful cricket captains of all time, Allan Border, has played 153 Test matches from 10 Mar 1979 to 25 March 1994 without missing a single test. The other Australian batsman Mark Waugh comes second who played 107 consecutive tests for Australia.
However, England's test cricket captain Alistair Cook is closely following Border's record with 107 tests at present. But Cook, who is aged almost 30, has a very tough task to play 4 or 5 more years with his current batting form, and injury will also be a big factor for this English batsman.
9. Best Bowling Accuracy
It appears like a surprise when we find out a bowler had bowled 5473 (900 overs) without a single wide especially in one-day internationals. Michael Holding, the former great West Indian bowler who is also known as the whispering death has this unique record of bowling.
He was a mixture of great pace and accuracy. Looking at the current ODIs bowlers, it looks this record will stay for a long time and maybe never broken in the future.
8. Oldest Test Debut
James Southerton of England made his Test debut at 49 years 119 days, and now, I have nothing to describe this record because it is confirmed that this record will never be eclipsed by any other cricketer.
Even after a hectic start at the age of nearly fifty, he shortly became one of the most dominant slow bowlers at that time, along with another legend, Alfred Shaw. However, James' record now holds its place among the most underrated cricket records.
7. Most Wickets in a series – 49 (4 Tests)
One of the best leg-break bowlers of all time, Sydney Barnes, took 49 wickets in just 4 test matches against South Africa in the 1913/14 Test series. He took five wickets or more seven times during that series and also got four consecutive five-wicket hauls. As per many cricketers and experts, Barnes is the best bowler of the 20th century.
Jim Laker of England took 46 wickets during the five-match Ashes series against Australia in 1956. Recently Shane Warne had taken 40 wickets against England in the famous 2005 Ashes series. This record now surely deserves its place among the most underrated cricket records.
6. Century and Double Century on Debut
According to Test cricket records, only one cricketer has ever managed to score a double-century and another hundred in his first match. Lawrence Rowe scored 214 in the first innings and another century of 100 not out for West Indies against New Zealand in Kingston in 1971-72.
Yasir Hameed of Pakistan is the only other cricketer who scored centuries in both innings on his first test when he scored 170 and 105 for Pakistan against Bangladesh in 2003. This record certainly deserves its mention among the most underrated cricket records.
5. Best Bowling Figure - 10 wickets for 10 runs
Against Nottinghamshire in a home game in 1932, Hedley Verity took 10-10 in 19.4 overs for Yorkshire. Till now he holds the record for the best bowling figures in an innings. He is also the bowler who dismissed one of the greatest batsmen of all time, Sir Donald Bradman, more times than any other Test bowler.
During his heydays, he dominated the cricket world with his magical spells of bowling. And now, his record certainly deserves its mention among the most underrated cricket records.
4. Most Balls Delivered in a Single Innings
At Edgbaston in 1957, Sonny Ramadhin bowled a massive 588 deliveries (98 overs) in the second innings against England. No other bowler has ever crossed the 90 Overs mark in a single innings in Test cricket.
His bowling figure was 98–35–179–2 in that match. Zimbabwe's Ray Price comes second when he bowled 79 overs in a 2001 Test match against South Africa.
3. Lowest ODI Economy Rate – (0.3)
Phil Simmons' bowling figures of 10-8-3-4 against Pakistan On December 17, 1992, at Sydney will forever think of as the best economical bowling spell of One-day international cricket. Simmons' record still stays in the record book as the most economical bowling in ODI, by bowlers who completed their quota of overs.
Looking at current bowling restrictions in ODIs, the record looks unbeatable. This record now holds its place among the most underrated cricket records.
2. Greatest margins of victory by an innings
In a one-sided game, Pakistan Railways defeated Dera Ismail Khan by a thumping margin of an innings and 851 runs on December 4, 1964, in an Ayub Trophy game. Railway's skipper Bashir Haider won the toss and elected to bat first and declared the innings after making an incredible 910-6 in the first innings.
In reply, Dera Ismail was bowled out for 32 in the first innings. In the second innings, they made just 27. The 851 runs margin still remains the largest one in First-Class cricket.
1. Shortest-Ever Test Match
This seems unbelievable when you attend a test match finished in exactly 5 hours and 53 minutes. South Africa batted first and was dismissed for 36 in the first innings. In reply, Australia scored 153 and took a lead of 117 runs. In the second innings, South Africa was all out after making just 45 and fell to an innings defeat against Australia.
Australia's 153 remains as the smallest ever aggregate by a side in a victory. The Test lasted for five hours 53 minutes, which is the shortest duration. This record certainly deserves the top place among the most underrated cricket records.
Conclusion
So, which one is your favorite out of the list of most underrated cricket records? Send it in the comment box below.
Most Underrated Cricket Records - Infographics