Top 5 Most Expensive Sports Stadiums In The World
August 11, 2021 By khansa
---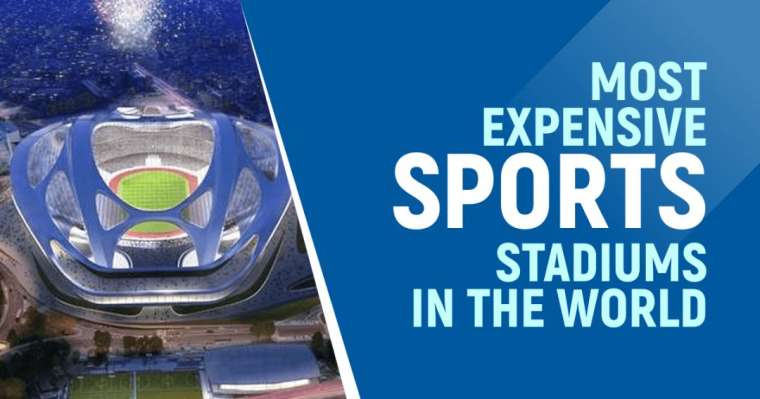 Almost every year, there are changes made to the list of the world's most expensive stadiums. More and more dated stadiums are being replaced with modern facilities with greater capacities and stronger income possibilities. In recent years, stadiums have become fundamental assets in securing sponsorship deals and contracts.
Likewise, more seats, more luxury boxes, and more parking spaces are the driving factors that will make the grounds more enjoyable for the fans and franchise owners. Stadiums can also play a crucial role in setting up bookmaker offers, which you can find here.
Most Expensive Sports Stadiums | All-Time Ranking
Major clubs all over the world have invested hundreds of millions in modernizing their stadiums. As a result, teams that call the stadium their home can improve their game significantly by using all state-of-the-art facilities. By improving their game, teams also improve bookmaker odds and offers, which is something India should also consider doing.
Take a look at the 5 most expensive stadiums in the world and how much it costs to satisfy the corporate vision.
5. Wembley Stadium – $1.5 Billion
There are few venues more iconic than the Wembley Stadium in London, England. Built in 2007, it serves as a home stadium for England's national football team, the final of FA Cup, season-opening FA Community Shield, and League Cup final.
A category 4 of UEFA, with the ability to host 90,000 people, it is the biggest stadium in the United Kingdom and the second-largest stadium in Europe. Its construction cost around $1.5 billion.
4. Mercedes-Benz Stadium - $1.6 Billion
Mercedes-Benz Stadium is a stadium located in Atlanta, state of Georgia. Being constructed to replace the Georgia Dome, it started construction in 2014 and was finished in 2017. It is home to the NFL team Atlanta Falcons and Major League Soccer side Atlanta United FC.
With a seating capacity of 71,000, the construction cost around $1.6 billion. To find more about MLS stadiums, check out the 10 best MLS stadiums with the highest seating capacity.
3. MetLife Stadium - $1.7 Billion
This venue is built at Meadowlands Sports Complex that is located in East Rutherford, state of New Jersey. It is the home of National Football League franchises, the New York Jets, and the New York Giants. The stadium began construction in 2007 and got its opening ceremony in 2010.
Costing approximately $1.7 billion dollars, it was the world's priciest stadium for a while, before being replaced by other venues. With a capacity of 82,500 seats, it remains one of the biggest venues in the world.
2. Allegiant Stadium - $1.9 Billion
Allegiant Stadium is a domed stadium in Paradise, Nevada. It is the home of Las Vegas Raiders of the National Football League and the University of Nevada Las Vegas Rebels college football team.
The construction of the stadium began in November 2017, and its certificate of occupancy was issued in July 2020. It has a seating capacity of 65,000 and a cost of $1.9 billion.
1. SoFi Stadium - $5.5 Billion
Located in Inglewood, California, this entertainment complex broke ground in 2016 and was officially opened in September 2020. It is home to Los Angeles Rams and Los Angeles Chargers of the National Football League.
It has a capacity of 70,240 seats and a construction cost of an astonishing $5.5 billion. Learn more about SoFi Stadium's revolutionary design.
Most Expensive Sports Stadiums | All-Time Infographics