Top 10 Most Expensive Mansion Of Sports Stars
August 10, 2021 By Sourav
---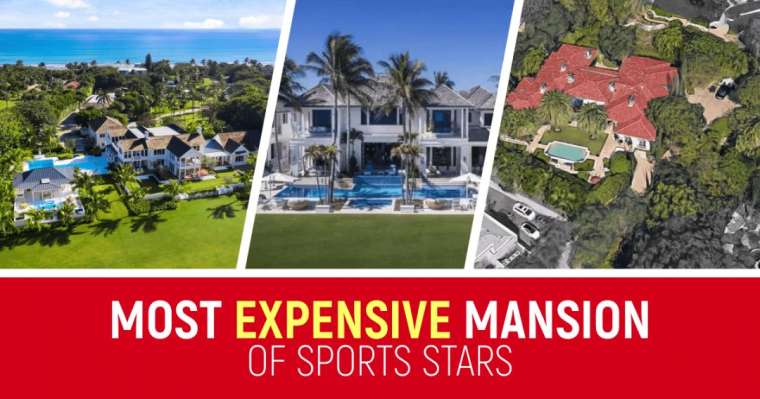 Buying cars to build a huge collection or buying lavish luxury mansions, sports stars are always top buyers all around the world. As we know, popular athletes are also super-rich and never hesitate to spend money like anything to satisfy their super lifestyle. They are always fond of huge properties to construct their dream home whenever they want to. To let you know more about the king-sized lifestyle of the sports star, we are up with the list of Expensive Mansion of Sports Stars.
Most Expensive Mansion of Sports Stars
Besides charity and social works they also spend a huge amount of cash just to live in a posh neighborhood in their ultra-posh estate. They built their own personal grounds for their favorite sports, huge garages to accommodate their luxury car collection, and always keep a sharp eye on the properties they like around the world. So here is the list of the 10 most expensive mansions of sports stars.
10. Barry Bonds
Situated in the ultra-exclusive guard-gated North Beverly Park, Baseball legend Barry Bond is the proud owner of this huge Italian-style mansion. The home has 30-foot ceilings, hand-painted Trompe L'oeil murals, Italian Travertine, and imported limestone flooring.
It even has a 12-seat movie theater, commercial-grade gym, spa, and massive outdoor kitchen. This Robert Sinclair-designed estate covers 17,100 square feet of living space.
That property includes seven bedrooms, 13 baths, a wood-paneled library, and a full-service spa along with a circular motor court, a water fountain, and a separate two-story guest house.
The property also has a 2,100-square foot sports court. Bond uses this court to play different sports, including basketball and paddle tennis. This property definitely deserves its place among the most expensive mansion of sports stars.
9. Wayne Rooney
The wealthy Manchester United striker, who also owns a £5 million house in Barbados and an apartment in Florida, currently lives in his Prestbury palace with his wife Coleen Rooney and his baby boy Kai.
The English superstar has also achieved quite a lot in his private life. He recently bought a mega-mansion in Cheshire which is not far from teammates like Van Persie, Rio Ferdinand's home. This huge property costs an estimated $17.83 million; Rooney spent about $1.57 million alone on preparing the build-site.
He now definitely has the most expensive mansion of sports stars. And, inside Wayne Rooney's house lies a cinema, conservatory, sports stadium, and statues.
Its bathrooms are decorated with gold-plated taps and lavatory seats. A large games room also adds to the value of the mansion, with video games, pinball machines, a 1950s style jukebox, and a golf simulator completing it.
8. Pete Sampras
One of the greatest tennis players, Sampras, is always on the top lists when it comes to a sports career or the passion to buy luxury homes. He scooped a lavish property in Lake Sherwood, California.
This marvelous property comes with 7 bedrooms, 10 bathrooms, breakfast bar, theater room, pool, gym, and spa for this legend. This whole property covers a long private driveway. While the main house spans approx 13,000 square feet, there is also a separate 2000 sq. ft. gym.
The property also has a 1200 square ft. fully contained guest house. The entire estate covers 16,177 square feet of luxury place, while it comes with a price tag of $19.9 Million.
This architectural work of art features a wonderful blend of teak, white oak, and Angier woods. Sampras crafted his mansion with imported stones and the absolute highest quality finishes. Without any doubt, this property deserves its place among the most expensive mansion of sports stars.
7. Troy Aikman
The former NFL superstar and two-time Super Bowl winner scooped up not one, but two multi-million mansions. He bought those properties in the Dallas area, just three months apart.
He booked a custom-built, 10,000-square-foot home in Highland Park's discreet Mount Vernon neighborhood. It has a huge collection of unusual rooms, such as a wine tasting room, "morning room" with fireplace, game room, and media room with a concessions bar counter.
Troy now surely has the most expensive mansion of sports stars. This 10,520Square feet property is also equipped with 5 bedrooms, 6 bathrooms, 4 car garages, a basketball court, and also a pool.
The property overlooks Connor Lake and boasts vista views from every angle. But while being not satisfied with this property, he again bought a charming 75-year-old brick-lined home down the street for $4.3 million. Aikman will reportedly demolish it and build his dream home.
6. Anna Kournikova
20,000 square feet of paradise on the water, that's where Anna Kournikova and her long-time musician boyfriend Enrique Iglesias live together off Biscayne Bay in the exclusive Bay Point Miami neighborhood.
Fellow "Millionaires Row" neighbors include Cher, Lil Wayne, Ricky Martin, Matt Damon, Billy Joel, Rosie O'Donnell, and Gloria Estefan. The two bought the place recently, which comes with sweeping bay views, lush greenery, a long dock for their yacht.
That property also has a lap pool, a Jacuzzi, and a dock for speedboats. Of course, there is a tennis court for Anna too.
It is also decorated with a two-story guest house while outside of the entire mansion is covered with Spanish moss. According to high-value real estate agents, this mansion costs around 25 Million. So, it deserves its place among the most expensive mansion of sports stars.
5. Tom Brady
Located in the elite Brentwood neighborhood of Los Angeles, Brady and his model wife Gisele Bündchen celebrate a year in their new home. This estate comes with eight bedrooms, a six-car garage, a lagoon-shaped swimming pool with a spa, and a weight room where Brady can train.
In this massive 22,000 square-foot property the home's walls are a blend of three types of Texas limestone with a whopping price tag of $27.2 Million.
His girlfriend Bündchen, who is a global ambassador for the United Nations Environment Program, wanted to make sure that, despite the size of the home, it is environmentally friendly, and the roof is lined with solar panels.
The Brady-Bündchen pair reportedly also has a new mansion in Brookline, Chestnut Hill neighborhood, near where the Pats play, but it's still under construction.
4. Michael Jordan
One of the greatest NBA stars, Jordan, never thinks twice when it comes to property as he took over a huge mansion in Chicago, Illinois.
It comes with all the best accouterments, including a pool with a grass island in the middle, a door from the Playboy Mansion, a table designed to evoke the streets of Baghdad, and MJ-branded golf flags.
It is also equipped with 9 bedrooms, 15 bathrooms, a 3-bedroom guesthouse, 3 garages, a pool, tennis court, and an entire lake. This property also has a cigar room and a garage big enough to hold 14 cars along with a huge home gym.
The estimated value of this property is around $29 Million. But some controversies arrived according to Zillow after he tried twice to sell it at auction; Michael Jordan has relisted his Highland Park mansion estate for $16 million.
3. David Beckham
In October 2015, one of the greatest footballers of all time David Beckham and Victoria Beckham reportedly sold their 12-acre Hertfordshire estate for £12 million and started to construct a new "Beckingham Palace" in Kensington & Chelsea.
They reported £30 million they paid for it, plus the £5million set aside for renovation. The current price of this property would be a value of US$57.1 million. The home is beautiful while it is largely unaltered for the last 150 years. The 9,000 square-foot home has seven bedrooms, five bathrooms, and even a panic room.
There is a woodland chapel, remodeled ancient ruins forming a playground, gardens including a Capability Brown-style maze, barbecue area, and professionally tended football pitch.
Victoria Beckham is in charge of redecorating and is said to have recruited the talent of the friend and interior designer Kelly Hoppen to bring her super-rich posh vision to life.
2. Tiger Woods
One of the greatest golfers, Woods, never stepped back while spending money. After his high-profile divorce in 2011 which is rumored to have cost Woods $100 million, Tiger Woods purchased the Jupiter Island Florida mansion.
The property comes impressively with its huge ocean-view windows along with a four-hole 3.5-acre golf course. Property-side luxuries like running track and massive wine cellar are also there.
A Daily Mail article reported a sinkhole in the dining room due to the place being structurally unsound. Regardless, this home is one of the costliest properties around the world as a recent Daily Mail article pegs the homes' current value at $60 million.
Scores of tall trees and high boundary walls surround the plot, ensuring the privacy this legend golfer craves.
1. Greg Norman
Golf stars are always good at spending money if Greg Norman and many others from this sport are considered. He bought a mansion beside his neighbor Tiger Wood in Jupiter Island, Florida.
This large property includes six buildings in total with some oceanfront property as well. With seven bedrooms, 13 bathrooms, and six half-baths, the near-30,000 square-foot home.
Out of which, 16,000 square feet of air-conditioned space has four floors, a 10-car garage, and greenery all around as far as the eye can see.
The gourmet kitchen features appliances by Wolf, Miele, Traulsen, Subzero, and Bosch. This lavish property is also equipped with a two-bedroom, two-bath guesthouse on the shores of the Atlantic. According to realty agents, this mansion also costs a Million.
Final Words
This list will continue to grow in price or personality in the future. This will happen as the sports stars are well known as frequent buyers and sellers of real estate. The world is eager to see more of this kind of huge mansion in the pocket of their favorite athletes. With a huge balance in their bank, they never stepped back when it comes to living or just for entertainment. Athletes are huge in popularity and as history tells, they are and will be huge when it comes to their living space.
Most Expensive Mansion of Sports Stars | Infographics
Which one is your favorite mansion in the list of Expensive Mansion of Sports Stars, do let us know in the comments section below.