Mina Kimes Biography, Net Worth, Career, Podcast, Husband, Family, and Other Interesting Facts
January 26, 2021 By Sourav
---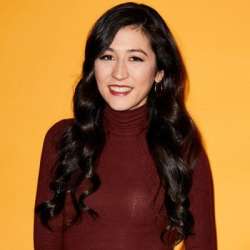 | | |
| --- | --- |
| Real Name | Mina Mugil Kimes |
| Nick Name | Mina |
| Profession | Sports Anchor, TV Presenter, Podcaster |
| Nationality | American |
| Height | 5 Feet 4 Inches (1.62 Meters) |
| Birth Date | 08-09-1985 |
| Age | 35 |
| Gender | Female |
| Birth Place | Omaha, Nebraska, United States |
| Zodiac Sign | Virgo |
| Religion | Christian |
American journalist Mina Mugil Kimes, famously known as just Mina Kimes, specializes in sports and business reporting. Besides, she also previously worked in the field of investigative journalism. This Los Angeles-based journalist started her career while working with 'Fortune Small Business Magazine' way back in 2007. And while working for them, she achieved several awards for covering various topics.
As of 2021, Mina wrote for several media giants such as ESPN, Fortune, and Bloomberg News. She now works as a senior editor and the podcast host of the ESPN Daily show. Besides, she appears in several programs as a panelist including 'Around the Horn', 'The Dan LeBatard Show with Stugotz', and 'Highly Questionable'. She also co-hosts 'The Morning Roast' show on ESPN Radio. For her contribution to the news industry, she achieved the Henry R. Luce Award.
Mina Kimes Biography and Stats
Mina Kimes Journalism Career
After finishing college, Mina started working for the 'Fortune Small Business Magazine' in 2007. During her career with that magazine, she mainly worked as a business journalist. She achieved several awards from the National Press Club, New York Press Club, and the Asian American Journalists Association during that time. Mina then exposed the illegal use of cement to repair bone tissues in an investigative article named 'Bad to the Bone' in 2012.
She achieved the prestigious 'Henry R. Luce Award' for that article. Besides, The Columbia Journalism Review also awarded her for the investigative report. She then joined Bloomberg News as an investigative journalist in 2013. Shortly after, she caught the attention of the 'Society of American Business Editors and Writers'. Mina then achieved the 'Larry Birger Young Business Journalist Prize' in 2014.
During that time, she covered several important issues and exposed various topics all over the United States. Quickly after, she became one of the frontrunners in the industry. She then wrote an inside report named 'King Kat' on Doug Oberhelman of Caterpillar. Shortly after, she wrote another report named 'The Sun Tzu at Sears' on the Sears executive Eddie Lampert. Those two pieces of writing then won her the prestigious 'Front Page Award'.
Mina Kimes Sports Journalism career
After writing a post on Tumblr about her and her dad's relationship with Seattle Seahawks, ESPN offered her an editorial position in 2014. Shortly after joining ESPN, she wrote about several young sportsmen and future sports superstars. She covered several great college athletes including Devonta Pollard of the University of Houston basketball team. Mina then covered several great NFL players in the United States.
Her cover stories on NFL players such as Aaron Rodgers and Antonio Brown quickly became famous all over the United States. She then wrote an exclusive story on star Faker, the legend of the Korean league. Mina then started to appear in several ESPN shows including 'Around the Horn' and 'SportsCenter'. Shortly after, she made her debut as a panelist of the 'Highly Questionable' segment of 'First Take', along with Molly Qerim.
She made her appearance in shows such as 'The Dan Le Batard Show with Stugotz' and 'High Noon. With her appearance in multiple television programs, she became a known face in the United States household. Shortly after, Los Angeles Rams hired her as a color commentator to cover their preseason games. She also co-hosted the 'Big Little Live' show on HBO along with Amanda Dobbins.
Mina Kimes Podcast Career
During her career as a senior reporter, Mina started her own podcast named 'The Mina Kimes Show featuring Lenny'. That show was mainly focused on the NFL. She then started hosting the daily news podcast called 'ESPN Daily' in October 2019. The show with a 20-minute episode that mainly covers a single big story of the sports world started airing on 21st October 2019. And since the first episode, it becomes one of the most popular sports podcasts.
EPN associated with Dell and Indeed to produce this daily podcast. The award-winning journalistic team now hosts this show on various sports topics on weekdays. But, it is not the first time ESPN had its own podcast as they entered this field in 2005. Right now, ESPN has more than 35 unique podcasts running on various topics. Among those, Mina's show has already achieved its place on the top.
Mina Kimes Husband and Family
Born on 8th September 1985, Mina grew up in the Omaha area of Nebraska, United States. Her father worked in the US Air Force as a captain and her mother is Korean. She moved to Arizona with her family during her teenage years. Mina completed her schooling at Mesquite High School. And after her high school education, she completed her graduation in the English language from Yale University.
During her college days, Mina started dating the CEO of 'GODMODE', Nick Sylvester. He is a record producer and the main brain of the Los Angeles-based music label. Mina married Nick at a private wedding ceremony on 24th November 2014. She now lives in Los Angeles with Nick. The couple recently adopted a dog named Lenny.
Mina Kimes Net Worth
According to the recent financial reports, the current net worth of Mina Kimes is estimated to be around $1 million. She currently withdraws around $400k salary for her association with ESPN. Besides, she also makes public appearances and hosts her own podcasts. Besides, her husband Nick is also a millionaire and currently owns the LA-based music label, Godmode.
FAQ Regarding Mina Kimes
Q. Who is Mina Kimes?
Mina Kimes is an American sports journalist currently working with ESPN. She mainly hosts the weekday podcast of ESPN called 'The ESPN Daily'. Besides, she also appears in the 'Highly Questionable' segment of ESPN's extremely popular sports show, 'First Take'.
Q. Who is Mina Kimes husband?
Nick Sylvester is the husband of Mina Kimes. She started dating him since her college days. And on 24th November 2014, Mina married Nick in a private ceremony. Her husband Nick is a record producer and the CEO of the LA-based music company, GODMODE.
Q. Where does Mina Kimes live?
Mina Kimes currently lives in Los Angles with her husband Nick and their dog Lenny. However, she was born in the Omaha area of Nebraska. And during her teenage years, she moved to Arizona with her parents. However, she completed her education at Yale University.
Q. How old is Mina Kimes?
Mina Kimes is 34 years old as of 2020. Born on 8th September 1985, Mina grew up in Nebraska, United States. She started her journalistic career after completing her college education in 2007.