Joe Rogan Biography, Net Worth, Career, Personal Life, Podcasts, and Other Interesting Facts
January 22, 2021 By Sourav
---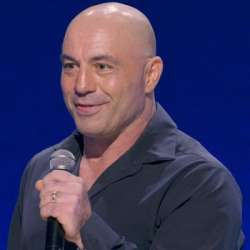 | | |
| --- | --- |
| Real Name | Joseph James Rogan |
| Nick Name | Joe Rogan |
| Profession | Television Host And Podcaster |
| Nationality | American |
| Height | 5 feet 7 inches (1.7 meters) |
| Weight | 194lbs (88 Kgs) |
| Birth Date | 11-08-1967 |
| Age | 53 |
| Gender | Male |
| Birth Place | Newark, New Jersey, United States |
| Zodiac Sign | Leo |
| Religion | Christian |
| Address | Bell Canyon, California, United States |
American comedian Joseph James Rogan, famously known as Joe Rogan, is a podcast host and also an MMA color commentator of UFC. Besides, he also previously worked as an actor and host of several television shows. At the end of the 1980s, he started working as a standup comedian in the Boston area. He then moved to Los Angeles at the start of the 1990s and signed a deal with Disney. Shortly after, he made his appearance in shows like NewsRadio and Hardball.
Joe started working as a color commentator and end-game interviewer for UFC (Ultimate Fighting Championship) in 1997. And after three years, he launched his own comedy special. The following year, he started hosting 'Fear Factor' before resuming his standup career in 2006. He then launched his podcast called 'The Joe Rogan Experience' in 2009. This podcast is now dubbed as one of the most popular podcasts in the world.
Joe Rogan Biography and Stats
Joe Rogan Stand-Up Career
Since his childhood days, Joe became a fan of standup comedy after watching 'Live on the Sunset Strip' by Richard Pryor. During his time at the taekwondo school, his friends convinced him to give standup a try. Shortly after, he started working on his own script. He then made his debut as a standup comedian in an open-mic event at the Stitches comedy club in Boston on 27th August 1988. His first show got quite a good appreciation from the audience.
Besides standup, he also tried his hands on several different jobs at that time such as delivering newspapers and working in a construction site. Due to his blue comedy style, he rapidly became popular in clubs and bachelor parties. And to pursue his career as a full-time standup comedian, he moved to New York in 1990. He later credited comedians like Richard Jeni, Sam Kinison, and Lenny Bruce as his influences during that time.
Joe Rogan Television Career
He has earned his place in the 'Half-Hour Comedy Hour', a comedy show of MTV, in 1994 and soon relocated to Los Angeles. In that same year, he achieved his first major role in a Fox sitcom called 'Hardball'. He then also started performing at 'The Comedy Store' in Hollywood since that time and continued for thirteen years without taking a single penny. He then starred in the 'NBC sitcom' called 'NBC sitcom' between 1995 and 1999.
During his time with 'NewsRadio', he also worked on the pilot episode of a new show called 'Overseas'. He then signed a three-year deal with Warner Bros in 1999. Shortly after, he started working for his very own 'The Joe Rogan Show', a prime-time sitcom on Fox. He then started appearing in the 'Comedy Connection' and recorded his first comedy album in December 1999.
Joe Rogan Fear Factor Career
He started hosting the American edition of 'Fear Factor' on NBC in 2001. He hosted all the six seasons of 'Fear Factor' in its initial run between 2001 and 2006. During that time, his standup gigs also started to get more attention. Besides, he also started to get more television opportunities from several other American channels. His first Hollywood break came as he starred in a Christmas parade called 'Hollywood Spectacular', a blockbuster film of 2002.
Joe became the co-host of a program in Comedy Central called 'The Man Show' in February 2003. He primarily selected for the fifth edition of that popular show. However, that show ended in 2004 followed by his talk to launch his very own radio show. He also failed to start that radio show due to his busy schedule. After almost five years, he started hosting the 'Fear Factor' in 2011 for a single season.
Joe Rogan UFC Career
Joe started working as a post-fight interviewer and backstage presenter in the Ultimate Fighting Championship, a new promotion of mixed martial arts at that time. He made his debut as a commentator in the 'UFC 12: Judgment Day' on 7th February 1997. After watching Royce Gracie in the 'UFC 2: No Way Out' event, he grew his interest in Brazilian jiu-jitsu during his time in UFC in 1994.
Zuffa took over UFC in 2001 after its massive success in the United States. Joe soon became quite a good friend with then-UFC president Dana White in 2001. Dana hired Joe as a commentator in exchange for giving Joe and his friends' prime event tickets during that time. After continuing for 15 gigs, UFC officially hired him. Wrestling Observer Newsletter awarded him the Best Television Announcer twice. Besides, he also received the MMA Personality of the Year award four times.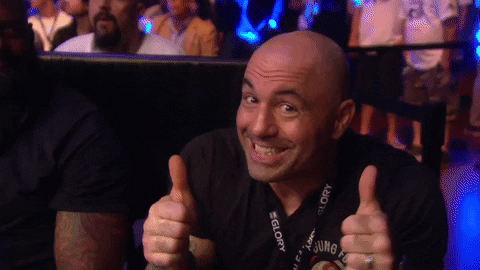 Joe Rogan Comedy specials career
Joe signed a contract with Endeavor Talent Agency in May 2005. And in August, he started 'Joe Rogan: Live', his second stand-up comedy program, in Arizona. That show was premiered on Showtime two years later. During that time, he accused Carlos Mencia of stealing his jokes in a blog post. However, it was not the first time he is making that claim as he started accusing Mencia in 1993.
He then confronted Mencia on stage, face to face, on the stage of 'The Comedy Store' in Hollywood in February 2007. The situation escalated quickly and both the comedians started a verbal feud. Endeavor Talent Agency was also managing Mencia at that time. And, they suspended the contract with Joe after this incident. He then signed a contract with William Morris Agency after five months and bade his comeback in 'The Comedy Store' in 2013.
Joe released his fourth standup comedy program called 'Shiny Happy Jihad' with Comedy Central Records in April 2007. He started filming this special during his time at 'Cobb's Comedy Club' in San Francisco in September 2006. And, the act included an improvised session of his interaction with the audience. He then hosted 'Game Show in My Head' for CBS in January 2009. That show lasted for just eight episodes.
Joe Rogan Podcast
After his success with various TV channels, he launched his very own podcast with Brian Redban in December 2009. He recorded the very first episode of his live weekly broadcast on 24th December that year. He primarily launched his podcast on Ustream. Shortly after, he changed the name of the podcast to 'The Joe Rogan Experience' in August 2010. Apple then named his podcast among the 'Top 100 podcasts on iTunes' in 2010.
SiriusXM Satellite Radio started broadcasting his podcast in 2011 as he also continued his podcast in iTunes. He recorded an unbelievable '11 million' downloads of his podcast in January 2015. And, that show started to get 16 million downloads per month since October that year. With that feat, his podcast becomes the most popular free podcast in the world. He then released a comedy special called 'Live from the Tabernacle' in December 2012.
Joe Rogan Childhood and Family
Born on 11th August 1967, Joe grew up in the Newark area of New Jersey, United States. His grandfather who has a mixed Irish-Italian descent first moved to this location during the 1940s. Joseph Rogan, his father, worked as a police officer in New Jersey. Joe's parents got separated when he was just five-year-old. Shortly after the divorce, Joe moved to San Francisco with his mother. Later, he moved to Florida and then Massachusetts.
Joe completed his schooling from Newton South High School and completed his graduation in 1985. He then took his admission to the University of Massachusetts but later discontinued his study. Besides growing his interest in martial arts since his childhood days, he also participated in the Little League Baseball. As an interesting fact, he started to shine well in baseball during his teenage days.
Joe started practicing karate since he was just 14-year old. And after a year of practice, he moved to taekwondo. He then achieved the US Open Championship title in the lightweight category in 1986. He practiced to become one of the greatest taekwondo artists throughout his early career and remained as a full-contact state champion of Massachusetts for four years. After spending his time in the Boston area, he later moved to New York City at the age of 24.
Joe Rogan Wife and Kids
After a brief relationship period, Joe married a former cocktail waitress, Jessica Ditzel, in 2009. The couple now has two daughters together along with a daughter from his wife's past relationship. Their first daughter was born in 2008 followed by their second in 2010. Joe now lives in California with his family. However, he previously lived in the Boulder area of Colorado before settling in the Bell Canyon area.
Joe purchased a grand home worth almost $5 million in 2018 where he currently lives with his family. During his 'The Joe Rogan Experience' podcast in October 2019, he revealed that the lead vocalist of 'My Chemical Romance', Gerard Way, is his cousin. However, he later also confirmed that they never met till 2020.
Joe Rogan net worth
According to the recent financial reports, the net worth of Joe Rogan is estimated to be around $25 million as of 2020. And, that huge net worth definitely makes him one of the richest comedians in the whole world. He currently makes around $30k for each episode of 'The Joe Rogan Experience' podcast. Besides, he also recently made a huge chunk of money for his 1-hour comedy program on Netflix.
FAQ Regarding Joe Rogan
Q. Who is Joe Rogan?
Joe Rogan is an MMA color commentator of the UFC besides being a podcast artist for one of the most popular shows, The Joe Rogan Experience. Previously, he also acted in several movies. Besides, he also hosted six seasons of the American edition of 'Fear Factor'.
Q. How much does Joe Rogan make?
The current net worth of Joe Rogan is estimated to be around $25 million. He makes most of his money from his podcast and standup shows. Besides, he also made his worth through several television and movie appearances. He recently bought a new home in California worth $5 million.
Q. How much does Joe Rogan make per podcast?
According to the recent estimates, Joe Rogan makes around $30k per episode of his famous The Joe Rogan Experience. That sums up around $150k per week. His net worth now stands at nearly $25 million with a $5 million worth of the home in California.
Q. Where is Joe Rogan from?
Joe Rogan is actually from New Jersey as he spent most of his childhood there. And, he moved to San Francisco with his mother. He then stayed in various places including Florida and then Massachusetts. Shortly after, he also started living in Boston before moving to New York. However, he now lives in California.
Q. How old is Joe Rogan?
Joe Rogan is 52 years old. He was born in New Jersey on 11th August 1967. However, he looks quite young as he practiced taekwondo for several years and is a fitness fanatic.
Q. How tall is Joe Rogan?
Joe Rogan is 5 feet 7 inches (1.71 meters) tall. He is a bit short than the average American guy with his built. However, he looks quite good due to his muscular built.