Jimmer Fredette Biography, Net Worth, Career, Family, Personal Life, and Other Interesting Facts
January 12, 2021 By Sourav
---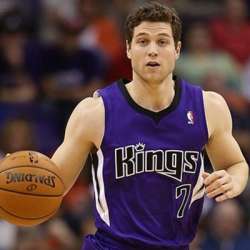 | | |
| --- | --- |
| Real Name | James Taft Fredette |
| Nick Name | Jimmer Fredette |
| Profession | Basketball Shooting guard |
| Nationality | American |
| Height | 6 Feet 2 Inches (1.88 Meters) |
| Weight | 195lbs (88 kg) |
| Birth Date | 25-02-1989 |
| Age | 31 |
| Gender | Male |
| Birth Place | Glens Falls, New York, United States |
| Zodiac Sign | Pisces |
| Religion | Christian |
| Address | 655 Yuanshen Rd, Yuan Shen Ti Yu Zhong Xin, Pudong, China |
American basketball player James Taft Fredette, famously known as just Jimmer Fredette, currently plays for the Chinese Basket League franchise Shanghai Sharks. He started playing for the BYU Cougars during his college days and became the NCAA Division I top scorer in the senior year. He then became the National Player of the Year in 2011. NBA franchise Milwaukee Bucks then picked him as the first round tenth overall selection in the 2011 NBA draft.
Despite his selection, he failed to get actual playing times in NBA. He struggled between four teams in the next five basketball seasons. Jimmer tasted his first success in the NBA Development League in 2016 as he won the All-Star Game MVP award that year. He then took his transfer to China and joined the Chinese Basketball Association franchise Shanghai Sharks in 2016. Jimmer showed excellent talent in his very first season in CBA.
Jimmer Fredette Biography, Net Worth, and Other Facts
In his debut season at CBA, he became the top scorer of the league while securing 37.6 points per game. And due to those brilliant skills, he won the CBA International MVP award in 2017. Following his excellent CBA season, he returned to the NBA and started playing for the Phoenix Suns in 2019. However, the team released him that same season. Shortly after, he joined the Greek basketball club Panathinaikos in July 2019. And in 2020, he opted for his transfer to Shanghai Sharks.
Jimmer Fredette High school Career
ESPN named him among the top 75 shooting guards in high school during his school days. Besides, he became the all-time top scorer of the Glens Falls High School after scoring 2,404 points. New York State Sportswriters Association then named him the first-team all-state during his senior year. He also completed 40 points in 12 games during his senior year. In that same year, he led his school team to an unmatched 25-2 record.
He helped his school team to achieve third place in the 2006 AAU National Championships while scoring 25 points per game on average. Despite all his brilliant performance, Jimmer failed to catch the attention of basketball powers in the United States. But, he received joining offers from 12 schools throughout the continent. He chose BYU as is it the most-noted college of the Church of Jesus Christ of Latter-day Saints.
Jimmer Fredette College Career
He joined Brigham Young University in 2007 and started studying American studies. In his Frenchman year, he joined the BYU Cougars and helped the side to become the champion of the Mountain West Conference. In his sophomore year, he started in 32 regular-season games and scored 16.2 points per game on average. Due to his brilliant performance, he has earned his place in the first-team all-Mountain West.
During his junior year in BYU, he scored 45 points against Arizona Wildcats on 28th December 2009. In the following year, he again scored 45 points against Texas Christian University on 11th March 2010. Jimmer then helped the team to achieve the first-round win in the NCAA tournament on 18th March 2010. During that year, he has earned his chance to appear in the NBA draft. However, he chose to stay at BYU for his senior year instead.
Jimmer Fredette Senior Career
Rivals website named him among the best shooting guards in the USA. Besides, he also earned his place as the co-captain of the BYU team. He scored 47 points against their archrival, University of Utah, on 11th January 2011. He scored 39 points against the University of Nevada on 5th January 2011. Jimmer again scored 43 points against then-undisputed San Diego State on 26th January 2011. He received the Mountain West Conference's player of the year award on 7th March 2011.
Jimmer has also earned his nomination for the Bob Cousy Award at that time. He scored his career-high 52 points in a match against the University of New Mexico on 11th March 2011. For his brilliant performance that season, Fox Sports named him among the First-Team All-America. Besides, he received the national basketball player of the year award from several great sports media houses like Sports Illustrated and Associated Press.
Jimmer Fredette NBA Career
Milwaukee Bucks picked him as the first round 10th overall pick during the 2011 NBA Draft on 23rd June 2011. However, the team traded him to Sacramento Kings as a part of a swap deal involving several greatest NBA players at that time. Immediately after joining the side, his 'Number 7' basketball jersey witnessed a 540% growth in sales. Besides, it also uplifted the overall merchandise sales of Sacramento Kings.
He made his debut in NBA in a pre-season game against Golden State Warriors on 17th December 2011. Jimmer scored 21 points in his very first game. He then earned his first start of the NBA season against the Philadelphia 76ers on 10th January 2012. After two seasons, he opted out of his contract with the Kings on 27th February 2014. Shortly after, he signed an agreement with the Chicago Bulls on 2nd March 2014.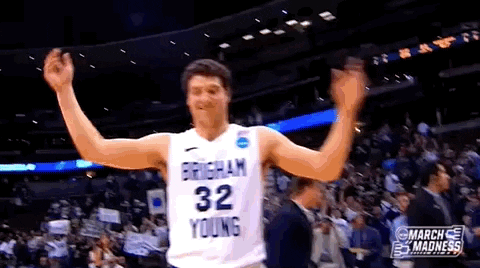 Jimmer Fredette New Orleans Pelicans Career
He signed a new contract with the New Orleans Pelicans on 24th July 2014. Shortly after, he scored 14 points for the team against San Antonio Spurs on 31st December 2014. In the following year, he signed a contract with the San Antonio Spurs on 22nd July 2015. Right after just two preseason games, the Spurs dropped his contract on 21st October 2015. He then started preparing for the NBA Development League.
Westchester Knicks selected him as the first round second overall pick in the 2015 NBA Development League Draft. However, he signed a contract with the New Orleans Pelicans again on 10th November 2015. Pelicans used the NBA hardship exception to sign Jimmer back. However, that contract didn't last long as the team waived the agreement on 19th November 2015.
Jimmer Fredette Westchester Knicks career
He resigned with the Westchester Knicks on 28th November 2015. Shortly after, he made his debut for the club against Grand Rapids Drive on 30th November 2015. He became a part of the East All-Star team and participated in the NBA D-League All-Star Game on 29th January 2016. He won the prestigious D-League All-Star Game MVP trophy on 13th February 2016. Jimmer scored 35 points on that match with six rebounds and eight assists.
He signed a contract with one of the oldest basketball teams, New York Knicks, on 22nd February 2016. Shortly after, he made his debut against the Toronto Raptors on the same day. The club then released him as a free agent on 2nd March 2016. He signed another contract with the Westchester Knicks on 6th March that year. During that time, he has earned his place in the All-NBA D-League Second Team.
Jimmer Fredette Shanghai Sharks Career
He signed a contract with the Chinese Basketball Association franchise Shanghai Sharks on 2nd August 2016. Jimmer scored an unmatched 51 points against Guangdong Southern Tigers on 11th November 2016. Shortly after, he scored 73 points against Zhejiang Guangsha Lions on 19th February 2017. He signed a two-year contract extension with the Shanghai Sharks on 23rd July 2017.
Jimmer Fredette Recent Career
He signed a two-year contract with the NBA franchise Phoenix Suns on 22nd March 2019. Jimmer made his return to NBA in a match against Sacramento Kings on the very next day. He played just six games before the team decided not to exercise the two-year contract clause. Shortly after his release from Phoenix Suns, he joined the Greek Basket League franchise Panathinaikos on 15th July 2019.
Jimmer Fredette Family and Childhood
Jimmer was born on 25th February 1989 in New York. He is the youngest child of his parents, Al Fredette and Kay Fredette. Jimmer grew up in the Glens Falls area along with his two siblings, TJ and Lindsay. His sister Lindsey became the Miss Teen New York in 1998. He belongs to a religious family as his father joined the ember of The Church of Jesus Christ of Latter-day Saints at the age of just 18.
Jimmer Fredette Girlfriends
He announced his engagement with one of the hottest cheerleaders, Whitney Wonnacott, on 26th august 2011. The couple got married in the Denver LDS Temple on 1st June 2012. They had their first daughter, Wesley, in 2017. Shortly after, they had their second child, a son named Taft, on 28th March 2019. The family now lives in Greece as he plays in the Greek Basket League.
Jimmer Fredette Net Worth
According to the recent financial reports of 2020, the current net worth of Jimmer Fredette is estimated to be around $7 million. He gets nearly $20k per year as his salary from the Greek Basket League franchise, Panathinaikos. Besides earning from basketball, he also makes quite a lot from his several endorsement deals in 2020.
Jimmer Fredette Awards
He recently helped Panathinaikos to become the Greek League champion in 2020. Besides, he has several individual awards under his name. Some of the most notable awards among those are as follows.
CBA International MVP 2017
CBA All-Star – 3 Times
All-NBA D-League Second Team 2016
NBA D-League All-Star 2016
NBA D-League All-Star Game MVP 2016
Consensus National college player of the year 2011