Top 10 Hottest Indian Sports Women To Look For
June 1, 2021 By Sourav
---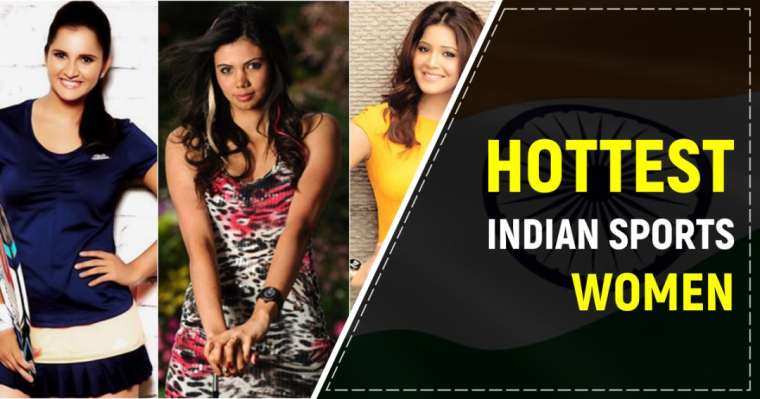 Here is a list of women in sports whose performances have given a new life to games in India. These women are not only good in their respective sport but also added lots of glamor to the game. Along with being exceptional athletes who are capable of competing with the best in the world, they are sensational beauties who can easily be mistaken for super-models. So what else to wait for, here is the list of the Hottest Indian Sports Women.
Hottest Indian Sports Women | 2021 Hotness Updates
Combining aggressive performances with beauty, these girls are determined to prove that athleticism and looks are a killer combo. Models beware!
10. Sharmila Nicollet (Golf)
The Indo-French female golfer, Sharmila Nicollet, originally hailed from Bangalore, India. However, her father, Marc Nicollet, has a French origin. She started her golfing career at the very early age of 11. Shortly after, she then appeared in her first tournament at the age of just 15. Sharmila then turned professional in 2009 and became the youngest Indian golfer to appear in the Ladies European Tour.
She won the Hero-KGA tournament in 2012. Shortly after, she also won the Hero-WPGT in 2015. Besides golf, Sharmila is also a prominent swimmer and participated in national sub-junior competitions. And not only that, she has achieved more than 70 medals in various aquatic meets.
9. Tania Sachdev (Chess)
The Hottest Indian Sports Women, Tania Sachdev is the ideal combination of brains and beauty. She won her first international title when she was only eight and continued to carve a niche for herself. The chess prodigy has already won the titles of Woman Grandmaster (2005) and International Master (2008).
She then went on to receive the prestigious Arjuna Award in 2009 for being the eighth Indian Woman Grandmaster. Sachdev has been included in this list for her simplicity and achievement in a non-glamorous sport like chess.
8. Dipika Pallikal (Squash)
Indian athlete Dipika Pallikal is an accomplished squash player, being the first Indian to break into the top 10 WSA rankings. She won 3 WISPA tour titles in 2001, which led her to achieve a career-best ranking of 13. At just the age of 22, she has become a prominent face of Indian squash and has graced numerous glamor magazines.
She has got the world at her feet with her intriguing game on the court and her sensational looks. she is the 8th Hottest Indian Sports Women on our list.
7. Saina Nehwal (Badminton)
This talented beauty doesn't need any introduction. Saina Nehwal has become a household name after her incredible performance in the 2008 Beijing Olympics. She created history when she became the first Indian to win a bronze medal in badminton at the Olympics when she won the medal at the 2012 London Olympics.
Nehwal has remained among the top five badminton players in the world, attaining a career-best ranking of 2. This gorgeous lady is the 7th Hottest Indian Sports Women on our list.
6. Pratima Singh (Basketball)
Indian star Pratima Singh is an Indian basketball player and has captained the country's women's national basketball team in several top tournaments. She is one of the most skilled ball handlers in India and has won numerous awards, including the Best Player award in various state and national championships.
Pratima also won the Most Valuable Player award in India's first professional basketball league, MBLP, in 2010. She is the 6th Hottest Indian Sports Women on our list.
5. Prachi Tehlan (Netball)
Indian female star Prachi Tehlan has played both basketball and netball at professional levels and won various medals during her more than 11 years of an active sporting career. She rose to prominence when she captained the Indian Netball Team in the 2010 Delhi Commonwealth Games.
It was also under her captaincy that the Indian team won its first medal in the 1st South Asian Beach Games in 2011. Thanks to the sheer number of awards won in a sport that is struggling to achieve recognition in the country, she is crucial to the plan to help Indian netball achieve glory. She is the 5th Hottest Indian Sports Women on our list.
4. Sonika Kaliraman (Wrestling)
Daughter of former wrestler Chandgi Ram, Sonika is the only female wrestler who has represented India in the Asian Games, being a member of Doha Asian Game's Indian Squad. At 6 feet tall, she is a dangerous prospect for opponents but is known for her rather soft nature when she is not wrestling.
She has also participated in the TV reality show Fear Factor: Khatron Ke Khiladi (season 2) and Bigg Boss (season 5). She is the 4th Hottest Indian Sports Women on our list.
3. Sunitha Rao (Tennis)
This 5'7" Indian player has scored many aces for her beauty and her tennis skills on the court. Born in Jersey City in the US, Rao has reached 7 finals in singles and has 8 career titles on the ITF Women's Circuit. She has played on numerous WTA Tour events.
Sunitha has also represented India on an international level in the 2008 Summer Olympics and the Fed Cup. She then represented the US on all other occasions. she is the 9th Hottest Indian Sports Women on our list.
2. Jwala Gutta (Badminton)
If you know badminton, you know Jwala. If you don't know badminton, chances are you still know about Jwala Gutta. She has an unforgiving style of play on the court, winning 2 golds and a silver in the Delhi version of the Commonwealth Games. She is also known as one of the most vocal and talkative shuttlers, being aggressive both on and off the court if need be. Pairing with Ashwini Ponnappa, she won a bronze in the 2011 London World Championships.
Gutta has also received an Arjuna Award and is one of the best female doubles badminton players in India, finishing runner-up in the TOULOUSE Open in 2004. Furthermore, she has won the National Championships in badminton a bewildering 13 times. she is the 2nd Hottest Indian Sports Women on our list.
1. Sania Mirza (Tennis)
The former 'World No.1' in tennis doubles, Sania Mirza, has already made her name in the race of most beautiful tennis players of all time. Besides, she has also proved his worth in the international tennis circuit with 6 Grand Slams as of now. Sania almost dominated the Indian tennis circuit in her active career between 2003 and 2013. Besides, she also maintained her place as one of the highest-paid Indian athletes of all time.
During the 2007 tennis year, she has achieved the World No.27 position in female singles. And not only that, but she has also achieved more than US$1 million in career earnings during that time. Time Magazine named this star in its prestigious list of the 100 most influential people in the world in 2016.
Final Words
To suggest the names of other Hottest Indian Sports Women, post your opinion in the comments section below.