Top 10 Greatest World Records In Sports
August 26, 2021 By Sourav
---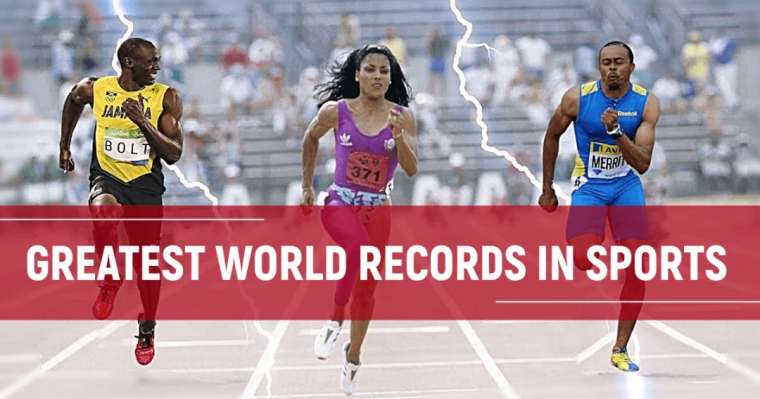 Most of us have an idea of what a human being can seemingly achieve and very few times, do we get to see an astounding act pulled off by a human. In the world of sports, we have had such brilliant world records that made many people reassess what was considered humanly impossible earlier that now seemed possible. So here we are with the list of Top 10 Greatest World Records In Sports.
Greatest World Records In Sports | 2021 Updates
10. Yelena Isinbayeva in Pole Vault
Yelena Isinbayeva is one of the best pole vaulters the world has ever seen. With 20 world records (9 of them were set in 2005) she went almost unbeaten in the Olympic Games of 2004.
Pole vaulting in the late 1990s was said to be revolutionized by Emma George by pushing the world record from 4.23m to 4.60m in about four years.
But Isinbayeva, in July 2005, became the champion of champions by surpassing the 5m record (becoming the first woman to do so) and a month later she touched 5.01 m. This record surely deserves its place among the top 10 greatest world records in sports.
9. Uwe Hohn in Javelin
In 1984, when the wind was blowing high Uwe Hohn Javelin made an astounding throw of 104.80m. That day Hohn set a record of being the first man to throw the javelin more than 100m.
And with this one, he also set one of the top 10 greatest world records in sports. It is a rare world record. And what followed next made this record an 'eternal world record'.
The surprisingly vast distance that the javelin covered prompted the IAAF to redesign the javelin to purposefully underperform.
8. Florence Griffith - Joyner in 100 Meter
In the Olympic Games of 1988, American sprinter Florence Griffith-Joyner won 3 gold medals in the 100m, 200m & 4x100m relay. She was known as a 200m runner, but when she made a record of 10.49 in 100m in the quarter-finals of the US Olympic Trials, the world was stunned.
Earlier that day she had run 10.60 which would have been considered a record had the winds not favored her.
Shattering the world record by an incredible 0.17 seconds was one of the most phenomenal achievements in athletics history. Besides, it also holds its place among the top 10 greatest world records in sports.
7. Sergei Bubka in Pole Vault
In his long career, Sergei Bubka broke the pole vault world record, a bewildering 35 times.
In 1994, he set the world record of 6.14 and was the first man to clear 6m as well as the only one to clear 6.10m. Sergei Bubka officially retired in 2001.
Since he set that record, it is still standing as a milestone in pole vault history. Besides, it also holds its place among the top 10 greatest world records in sports.
6. Roman Sebrle in Decathlon
In 2001 Roman Sebrle with a world record of 9026, became the first person to score over 9000 points in the decathlon. For the record, the decathlon is an athletic contest consisting of 10 different events.
He stood out, particularly in the high jump and javelin. Six years later in 2007, while resting, a javelin came out of nowhere and pierced into his right shoulder 12cm deep into his arm.
It was immediately taken out and after recovering, later that year, Sebrle went on to win the World Championships in Osaka.
5. Paula Radcliffe in Marathon
Hailed as the best female marathon runner ever for she had taken part in 7 marathons out of which she won 6 and managed to set a record in 5.
Radcliffe has run 4 of the 5 fastest times in history and in the London Marathon of 2003, she set an incredible world record of 2hr15m25s which is over 3 minutes faster than any female athlete has ever run.
She participated in the 2004 Olympics shouldering the label of 'Great British Hope' but pulled out at a point. Following various negative remarks for quitting Radcliff went on to win the 2004 New York Marathon. Second only to Wang Junxia's world record time of 29:31:78, she also holds the European record for the 10,000m at 30:01:09.
4. Jarmila Kratochvilova in 800-M
Czech 400m runner Kratochvilova, Marita Koch, tasted success late in life. In 1983, she entered a small tournament in Munich on a whim as an 800m runner and ended up breaking the world record with a time of 1:53:28 at the age of 1983. Impressed by her own performances.
Koch decided to push further and decided to compete both in the 400m and 800m in the World Championships 10 days later. She won the 800m pretty easily and also set a world record of 47.99 in the 400m.
Though later in 1985, Koch managed to beat her 400m record with a time of 47.60, her 800 m record remains the longest-standing one in sports.
3. Bob Beamon in Long Jump
In the 1968 Mexico City Olympic Games, Bob Beamon did something so seemingly impossible that after the performance he himself collapsed to his knees, placed his hands over his face, and later had to be helped to his feet.
"You have destroyed this event", said defending Olympic champion, Lynn Davies of Great Britain to Beamon and now the term 'Beamonesque' has come into use to describe spectacular feats in track and field games.
He had made an incredible jump of 8.90.55 cm further than the previous world record. Besides, it now also holds its place among the top 10 greatest world records in sports.
2. Jonathan Edwards in Triple Jump
In 1995, Jonathan Edwards from Britain became the first man to legally clear 18m with a jump of 18.16m. He did that at the Gothenburg World Championships.
But, the record lasted for about 20 minutes for his second jump of 18.29m shattered it.
Besides Edwards, another man who legally cleared 18m was Kenny Harrison and Edwards had legally cleared it four times (18.00, 18.01, 18.16, and 18.29). This one now also holds its place among the top 10 greatest world records in sports.
1. Roger Bannister in Mile
In 1953, Bannister broke the British Mile seemingly unattainable record with a time of 4:03:6. But unfortunately for him, Australian John Landy made even further progress, clocking a time of 4:02:0 later that year.
Bannister wasn't ready to give up his formidable position so on May 6, 1954, during a meet between British AAA and Oxford University at Iffley Road Track in Oxford, with 3,000 spectators watching he made a record of finishing in 3 min 59.4 s.
The stadium announcer for the race, Norris McWhirter had famously teased the crowd by postponing the mention of the time with a long announcement - "Ladies and gentlemen, here is the result of event 9, the one-mile: 1st, No. 41, R.G. Bannister, Amateur Athletic Association and formerly of Exeter and Merton Colleges, Oxford, with a time which is a new meeting and track record, and which – subject to ratification – will be a new English Native, British National, All-Comers, European, British Empire, and World Record. The time was 3…"
Final Words
This is our selection of the top 10 greatest world records in sports. If you have any suggestions or opinions to convey to us, then don't forget to write it down in the comment box below.
Sports World Records | 2021 Infographics