10 Greatest Moments In India Vs Pakistan Cricket Matches
November 10, 2020 By Sourav
---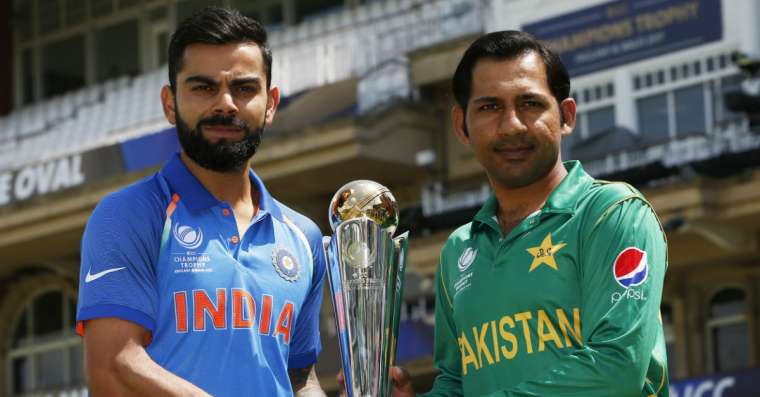 Welcome to Our Site and Watch here all of the Greatest Moments of Cricket. India vs Pakistan cricket matches can be best defined by terms like 'explosive', nerve-wracking' et al and has a unique appeal of its own that can only be felt by the people of the two nations. History is to be blamed for the kind of rivalry India and Pakistan share on and off the field. This only makes any kind of game between the two more thrilling and most anticipated. Today, we are sharing what we think are the 10 greatest moments in India vs Pakistan cricket matches.
Greatest Moments In India Vs Pakistan Cricket Matches
Pakistan vs India Champions Trophy Final 2017: Green Shirts won it by 180 runs
Team Pakistan started the Champions Trophy as the underdog but later went onto changing things rapidly. The final between arch-rivals Pak and India worked as icing on the cake for the cricket-enthusiasts out there.
Pakistan going against the reputation, batting first scored 348. In response, Blue Shirts collapsed on 158. Pakistan comprehensively won the champions trophy by 180 runs.
When India became the World T20 Champions (2007)
First India vs. Pakistan cricket held in South Africa was an explosive nerve-wracking experience for both cricketers and cricket fans. And as it happened, India and Pakistan had a face-off in the finale that would decide who was to become the first T20 World Cup champion. In one of the most thrilling matches ever, Pakistan needed 13 runs out of 6 balls to nail the Cup.
Misbah-ul-Haq was looking forward to smashing his team to victory. At this critical moment, the Indian captain took a gamble by placing the inexperienced Joginder Sharma to the ball for the final over. And in the most dramatic ending, Misbah-ul-Haq tried to hurl the ball into the stands which ended up into an Indian player's hand. India became the first T20 champions that day.
Bowl-out (2007)
Inaugural India vs Pakistan cricket ICC T20 World Cup saw two face-offs between India and Pakistan. One in the final and the other, way before the finals, during a group-stage clash. In Indo-Pak cricket history, that match went down as the first India vs. Pakistan T20 match. As expected it was one joyous adrenal ride.
In 20 overs, each managed to score exactly the same run leading to a tie. In order to break the tie, a bowl-out session came into action (something like penalties in football). 5 bowlers were selected from each team who had to hit the stumps. Indian knocked-off thrice while Pakistan did miserably.
Javed Miandad unforgettable sixer (1986)
Austral-Asia Cup final was a defining moment in the career of Pakistani cricketer Javed Miandad. Batting first, India scored a decent 245. Miandad came early on and held steady while his partners fell, one after another. In the end with nine wickets down Pakistan needed four runs to win. Miandad was on strike and did not miss the chance to send the ball flying to the stands.
Fun fact: According to a British Medical Journal this loss was a psychological blow to the Indian team that remained like a scar for years to come. Pakistani captain Imran Khan had later informed in an interview that this match made Miandad extremely rich.
Shahid Afridi's smashing 102 off 46 (2005)
The 2005 six-match ODI series started off with India vs Pakistan cricket. Indian soon began to lead at 2-0. The Indian team looked pretty strong and daunting at that moment. But in Kanpur, team Pakistan made a fantastic comeback. India could make only 249 thanks to Naved-ul-Hassan's brilliant efforts.
Pakistan started with one of the best hard hitters in cricket, Afridi, who wasted no time in squashing Indian cricket strategy and smashing into the second-fastest century in ODI history (at the time). A breath of relief escaped well into the fifteenth over when Afridi was dismissed at 131 but by then Pakistan was already on a straight course to victory.
Kumble nailed perfect 10 (1999)
On Feb 8th Indian was playing a Test match against Pakistan in Delhi. Pakistan had a seemingly good start and they were pretty set on their goal, i.e. to win the second innings. India seizing the opportunity brought in the team's premier leg spinner and one of the greatest spin bowlers of all time, Anil Kumble, who unleashed a torrent of merciless attacks.
In one sensational bowling spell Kumble wrapped up the whole batting line-up single-handedly and needless to say, Indian nailed the match.
Unexpected result (1984)
The Sharjah Cricket Stadium was packed with a crowd expecting to see their money's worth. Locking horns in the field were the most exciting rivals – India & Pakistan. India could pull-off only an embarrassing 125 runs. The result was kind of expected, there was no stopping the Pakistani team.
But, cricket has got a reputation for being highly unanticipated. From a chance of having a straight win, the entire Pakistani team got wrapped up at an embarrassing 87.
Dynamic duo Dravid-Yuvraj (2003)
At the Centurion Park, Sachin Tendulkar played a brilliant 98 out of 75 balls, and thanks to him, the required run rate quickly became under control. But India still needed 100 more runs to win. The country was counting on Rahul Dravid and Yuvraj Singh to play the best games of their career. They didn't disappoint.
Together they made a 99 run partnership without many hiccups. Had they not stood their grounds, the Indian team's shaky lower order would have been a spectacle to witness, not to mention an embarrassing loss too.
The day fans went mad and crazy (1999)
It was during the Asian Test Championship when the two nations faced each other with around 465,000 spectators cheering them on. The game saw some extraordinary performances on the, like Saeed Anwar's 188, Shoaib Akhtar's 4/71 and 4/47, etc. But the match became famous for something not-so inspiring.
In the second innings when Indian cricketer Sachin Tendulkar was declared run-out, the crowd at Eden Gardens reacted angrily. This ensued chaos, riot and the police had to clear-off the stand. However, the match continued and Pakistan won the test by 46 runs.
Javed Miandad's jumping jack moment (1992)
One of the most memorable moments in Indo-Pak cricket was during the 1992 World Cup when Pakistani batsman Javed Miandad jumped like a frog in front of Kiran More. It was a bemusing moment to behold for fans and photographers alike. Unable to tolerate incessant appeals by the Indian Wicketkeeper - Kiran More, Miandad decided to give him a piece of his mind.
He stopped the bowler midway, turned to More, and had a heated conversation. A few moments later, after playing a ball, Miandad started jumping up and down comically mimicking More's gestures. Experts laugh it off and Miandad did not have to face any punishment.
Saleem Malik rocked the Eden Gardens (1987)
Following Krishnamachari Srikkanth's amazing century, India managed to create a formidable 238 for the opponent to chase. But Srikkanth's effort went bleak when Saleem Malik took up batting. Team Pakistan, having scored only 161, was five wickets down. But when Malik began smashing boundaries, things started to look up for his team.
As for the Indian bowlers, Malik became quite a nightmare that day. He made 72 out of 36 balls with eleven fours and one six. After scoring the major bulk of the remaining runs, Pakistan meets the required run with three balls still remaining.
Do you know more of the magical moments during the India vs Pakistan cricket match? Let us know in the comments section below.