Top 10 Greatest Female Wrestlers Of All Time
October 25, 2021 By Sourav
---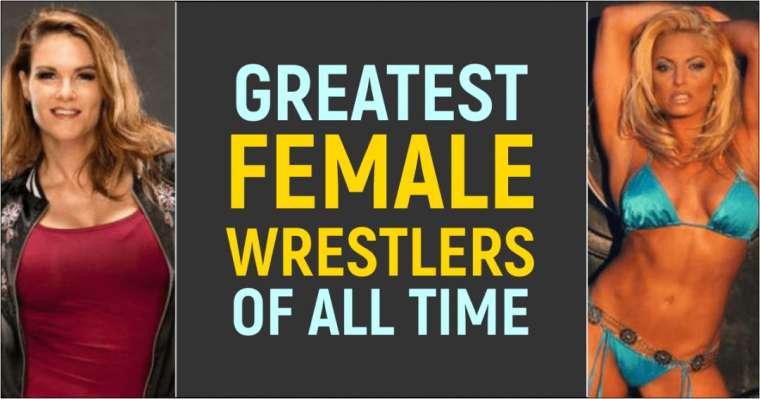 As with most sports, the world of pro wrestling is mostly dominated by men. However, once in a while, a woman comes along and takes the wrestling world by storm. I'm talking about women so captivating that they dominate not only other women in the ring, but can also often hold their own against men.
It takes a really special kind of woman to make an impact on the wrestling world. Hundreds of female wrestlers, backstage interviewers, and valets have tried to make their mark, but only a few have ever succeeded.
This list pays tribute to 10 such female wrestlers who have played a crucial role in defining female wrestling, from the lady wrestlers of the past who paved the way to the divas of today who are reshaping the road. Here we go, it's time for the Greatest Female Wrestlers.
Greatest Female Wrestlers of All Time | 2021 Updates
These 10 women defy all feminine stereotypes that women have to be frail and need to rely on their sex-appeal and looks to get by. These are supremely talented, strong, and tough female wrestlers. Although we as a society have progressed so far, women of the world still have to fight hard to prove that they belong in the professional wrestling world.
Even after witnessing the greatness of the Fabulous Moolah and June Byers, after seeing Lita and Trish Stratus's achievements, after women from Mexico and Japan have wowed their fans again and again, women's wrestling is not celebrated or respected enough.
Taking into consideration their impact on the sport, their success, and their in-ring ability, this list looks for the best female wrestlers going as far back as the 30s. This list does not include looks like a factor, even though some are not too bad to look at.
Now, step aside, men. It's ladies first!
10. Stacy Keibler
With the most famous legs in wrestling history, Stacy Keibler managed to stand out even amongst extremely beautiful women. She started her wrestling career at the age of 19 as a WCW's Nitro Girl whilst attending school full-time.
She was also a cheerleader for Baltimore Ravens as she continued to be a successful valet in WCW under the name of Miss Hancock. When WCW was sold to WWE, she jumped ship and continued her success as a valet while fighting in the occasional match.
Keibler quickly became one of the top Divas. Both a manager and an in-ring competitor, she wrestled Divas like Jillian Hill and Gail Kim, while she guided the careers of The Hurricane and Scott Steiner amongst others.
She eventually left WWE in 2006 to participate in TV's Dancing with the Stars. She now holds the tenth place in our list of the top 10 greatest female wrestlers of all time.
9. Sensational Sherri Martel
Sherri Martel could do it all. She spent most of her early career in the AWA, kicking the head and pulling the hair of Candi Devine, Madusa Miceli, and whoever else got in her way.
Sherri made her WWE debut by defeating her mentor, the Fabulous Moolah, for the Women's Title in 1987.
She was a force in the Women's Championship regardless of the promotion she was with. Sensational Sherri is a one-time WWE Women's Champion and a three-time AWA Women's Champion.
She was also inducted into the Hall of Fame in 2006. Martel holds the ninth place in our list of the top 10 greatest female wrestlers of all time.
8. Torrie Wilson
The classic, all-American blonde bombshell was one of the most desired Divas of her time. A gorgeous female wrestler who has even graced the covers of top-selling men's magazines like Playboy and FHM.
When she is not competing, Torrie Wilson can be found in the corners of superstars like Tajiri and Carlito. Wilson definitely deserves her place in the list of the top 10 greatest female wrestlers of all time.
7. Mickie James
With an impressive combination of athleticism and power, Mickie James has been one of the best women wrestlers wherever she has gone. She has won titles in almost every promotion, from the WWE to the TNA.
Fans who remember her from her WWE days will most remember her for her feud with Trish Stratus, who she eventually defeated.
She ended up winning the Women's Championship five times. She now holds the seventh place in our list of the top 10 greatest female wrestlers of all time.
6. Mae Young
Retired wrestler Mae Young began professional wrestling in 1939 and seventy years later, she was still bumping around with the best of wrestlers.
The Hall of Famer's unbelievable durability can be attributed to her rough upbringing during the Great Depression.
With her appearance on RAW in 2010, she achieved another milestone of becoming the first grappler to attend events in nine different decades.
5. The Fabulous Moolah
Fabulous Moolah set the standard for women wrestling. She was undoubtedly the best female wrestler for several decades and is also the longest-reigning champion for any sport, holding the Women's Championship for nearly 30 years.
Moolah was also the first woman to be inducted into the WWE Hall of Fame. She holds the fifth place in our list of the top 10 greatest female wrestlers of all time.
4. Chyna
In her short career, Chyna has crossed more boundaries than any wrestler can lay claim to. She was the first woman to enter the Royal Rumble, to win the WWE Intercontinental Championship, and to wrestle in the King of Ring tournament.
She has also held the WWE Women's Championship for a while too and left a lasting legacy as the most dominant female wrestler. Chyna holds her place among the top 10 greatest female wrestlers of all time.
3. Sable
If one Diva defines WWE's "Attitude Era", it is Sable. Starting out as a valet, her popularity quickly outshined the men she managed and sent her to the top of WWE. She was amongst the women responsible for turning female wrestlers into sex symbols.
Sable could mix it up in the ring as well and has won the Women's Championship on one occasion. She now holds her place among the top 10 greatest female wrestlers of all time.
2. Lita
Supremely agile, groundbreaking, and a risk-taker, Lita was incredibly talented. Besides, she also holds her place among the richest wrestlers of all time.
She helped prove that the pretty ones can be the toughest ones too. She was a trendsetter both inside and outside the ring. Seeing her in action, it's no surprise how popular she became and still is.
Her matches with Trish Stratus are amongst the best women's matches WWE has ever produced. She is a four-time Women's Champion and has many other accomplishments to her name. Lita surely deserves her mention among the top 10 greatest female wrestlers of all time.
1. Trish Stratus
One of the most popular and hottest WWE Divas of all time, Trish Stratus helped to establish the sexy, powerful, and smart diva angle WWE now uses. She started out as a manager but, once put in the ring, she quickly found her footing and proved to be a compelling worker.
Stratus quickly became the best Diva, winning the Women's Championship a record seven times. She definitely deserves the top place among the top 10 greatest female wrestlers of all time.
Conclusion
So, which one is your favorite from the list of Greatest Female Wrestlers. Let us know in the comments section below.
Greatest Female Wrestlers - Infographics